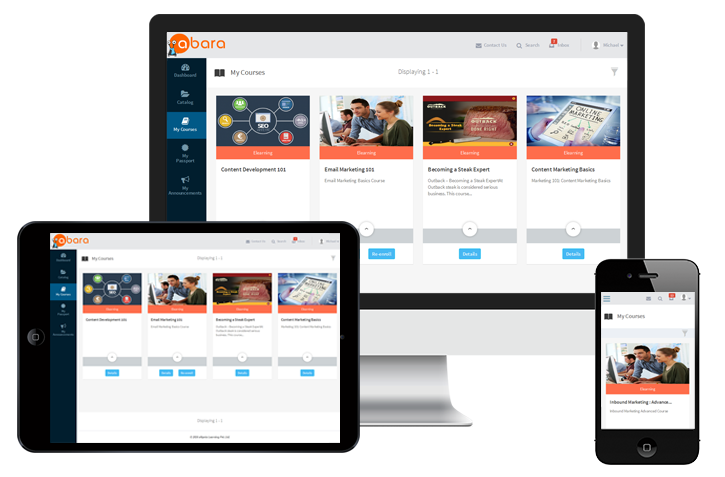 What are the features and benefits that make Abara LMSstand out in the market? Here is the list:
Fully responsive and smartphone-ready interface that supports popular mobile devices and operating systems. You get guaranteed 99.9% uptime on Amazon Cloud as well as automated backups. Add your logo and select your color scheme to match your company's or client's branding.
There are no extra charges or hidden fees – your content and bandwidth is unlimited with the Enterprise Edition. With the intuitive menu, it takes just 1-2 clicks to reach most standard functionalities.
Utilize gamification and leaderboards by adding badges and points. Create leaderboards to allow learners to see how they rank alongside their colleagues and compete for better performance. Display your badges on Mozilla backpacks.
Manage and deliver classroom training across multiple batches and locations. Track participation through attendance and assign instructor to classroom sessions. View any of the more than 14 pre-defined reports to monitor and measure group or individual progress against a single training plan, including other learning indicators such as competencies and certificates.
Each report offers an extensive filter set to help you re-arrange and view vital data. The reports can be exported to a range of formats such as MS Excel and PDF. Schedule reports at predefined intervals like daily, weekly, monthly, or yearly.
Prepare assessments comprising single choice questions, multiple choice questions, match the following and/or short answer questions. Build interactive assessments with documents and A/V inputs.
Allow your line managers to get access to the training plans and history of their team members with Abara LMS. Line managers can also approve or reject course requests of their team members.
Our Abara reviews also confirm that the software has an efficient, in-built shopping cart linked to a PayPal payment gateway, which can accept payments through PayPal and credit cards. This enables you to sell your courses online securely in bulk. You can also create discount coupons for a specific period/course(s).