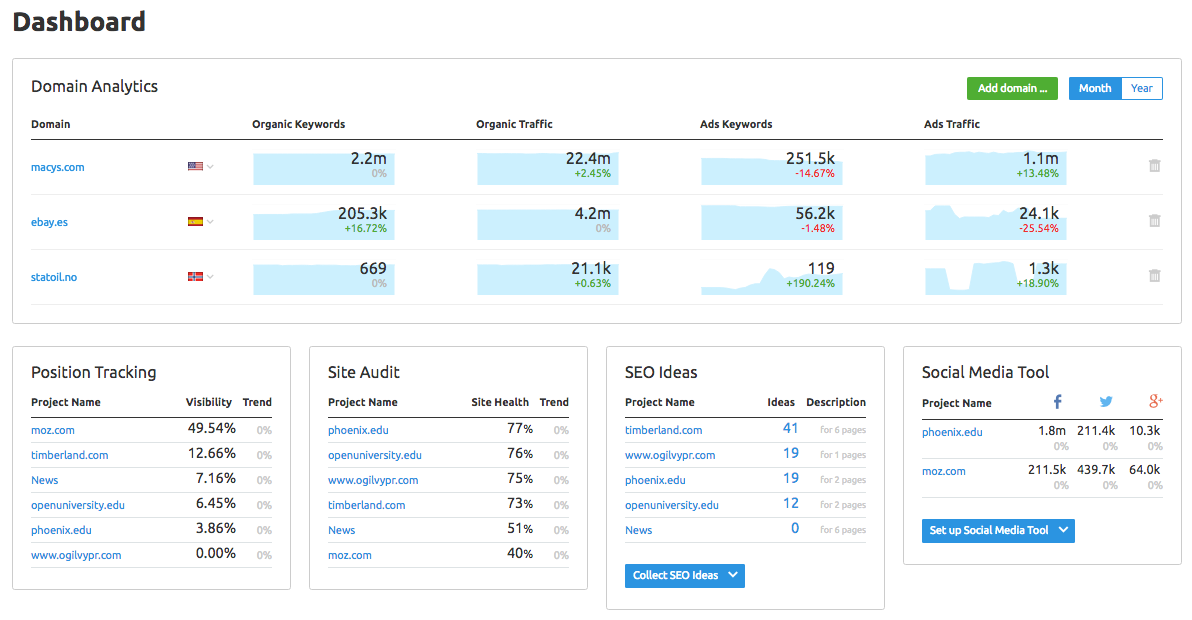 The main benefits of SEMrush are giving you a competitive advantage, empowering strategic advertising, expanding social media reach and optimizing tactical content marketing. Here are the SEMrush benefits:
Competitive Advantage
Marketing professionals who use SEMrush can gain an advantage over their competitors as the tool suite gives them data about their competitor, such as keywords competitors are using to boost their search engine ranking. Armed with that information, you can come up with a strategy to counter it.
SEMrush also lets companies know when new competitors pop up and how website rankings change, giving you information that will help you fine-tune your SEO plans.
Strategic Advertising
Companies can use SEMrush to discover how their advertising approach compares with their rivals and how popular their competitors are with consumers advertising-wise. They can also discover the ad spend and return their competitors have and adjust their budgets accordingly. It also gives them insight on how to localize their messages and enhance their campaigns.
Expanded Social Media Reach
The visibility SEMrush provides companies allows them to maximize engagement with their consumers and measure the success of their brand's social strategy. They can also use this to improve their audience reach and convert their engagement into sales.
Tactical Content Marketing
SEMrush lets digital marketers know which topics are popular on the internet, giving them time to spin these for their own benefit and connect it to their goods and services. They can also discover how popular they are among netizens, while also enabling them to expand their reach and take advantage of any promotional opportunities.