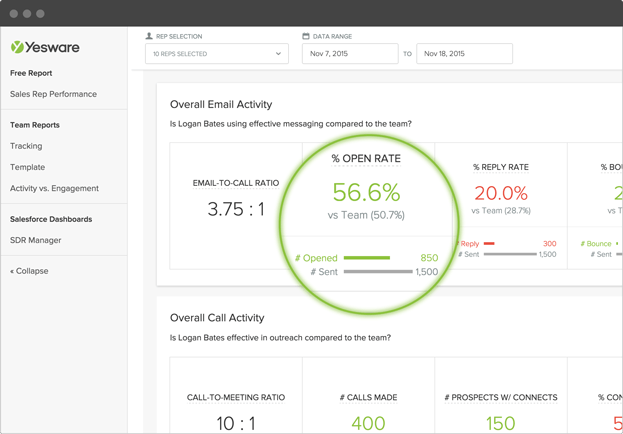 The main benefits of Yesware are its capabilities that make the job of different personnel including the sales staff and company manager easier, boost their work effectiveness and productivity, the capability to monitor staff activity, and notable tracking notification feature. Here are more details:
All-in-one solution
The software helps not only the salesperson who manages and sends email to customers but also the company manager who is reporting. Moreover, this tool lifts the burden of creating email templates and messages manually off the sales representatives' shoulder so they can focus on more important tasks such as closing deals. It can also help lessen the time spent on reporting. The sales manager, on the other hand, will get relevant and accurate data on the sales team's activity.
Tracking notifications
Bad leads can just waste your time and effort. Yesware comes with a tracking notification feature that helps the sales team discover prospects who will likely say 'yes' to the offered product or service. It determines who opens the emails and clicks on links and other elements, increasing the probability of conversion.
Boost Sales Team Effectiveness and Productivity
Yesware allows users to save and re-send messages, maximizing a sales team's productivity and effectiveness. Moreover, users can quickly create customized templates and include rich texts as well as links on it.
Staff Monitoring
The use of Yesware is not only beneficial to staff who are handling sales, but even to the personnel who is managing the team. It allows them to monitor the sales team's performance quickly and conveniently.
Automates Data Entry
The software automatically syncs all customer and prospect engagement activity, getting rid of the time-consuming, manual data entry process. Yesware also tracks presentations, emails, and calls directly from a user's inbox and allows users to update information directly from it.