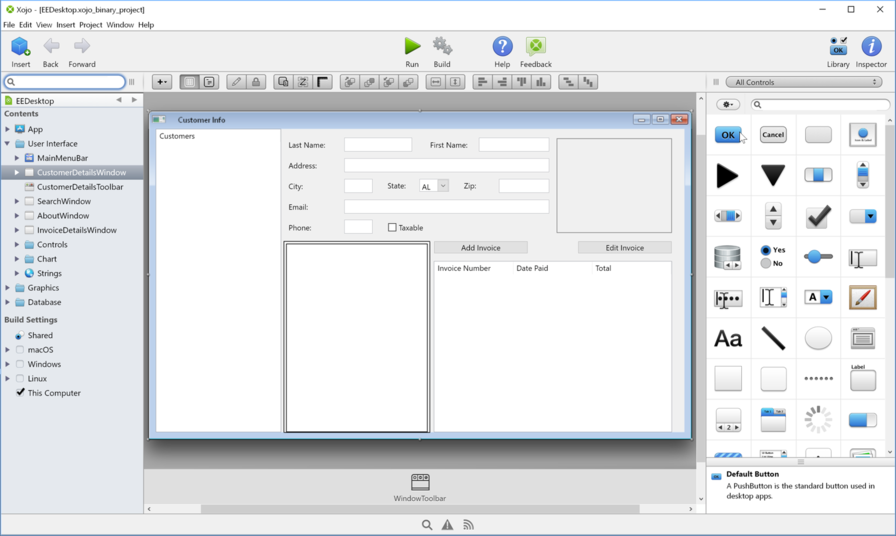 The main benefits of Xojo are its drag-and-drop user interface, over 40 built-in controls, object-oriented features, web application security features, and the capability to develop applications for Raspberry Pi. Here are more details:
Drag-and-Drop UI Builder
Xojo features a drag-and-drop interface that allows developers to build and design applications by simply dragging and dropping items onto their screen, and resizing and arranging them, which makes this tool valuable even for beginners.
More than 40 Built-In UI Controls
The software provides more than 40 built-in UI controls, providing developers the freedom to create and design their applications as they want while still functioning properly on mobile device or platform they are deployed.
Object-Oriented Features
The platform's object-oriented features are useful for desktop application development and for expert developers. It allows developers to put codes into numerous objects so they can effectively respond to various events accordingly and modify the object's properties such as position, height, and width. Some examples of objects are sliders, buttons, and windows.
Web Application Security Feature
Xojo comes with a web application security feature. Therefore, web applications that are built with this development tool are compiled to the binary code. Meaning to say, the web application's source code will not be stored on the server, making it tough for hackers to access as well as change the source codes of applications made using Xojo. To alter the Xojo web applications, they need to trace through the x86 assembly code which is time consuming and so far more complex than hacking AJAX, Java, PHP, JavaScript or HTML source code.
Develop Applications for Raspberry Pi
Xojo allows its users to develop console, web, and desktop applications for Raspberry Pi. Raspberry Pi is a tiny, single-board computer developed by the Raspberry Pi Foundation in the UK and is utilized in robotics and educational institutions.