Jan Koum and Brian Acton didn't get the jobs they applied for at Facebook, but they got something far better: $22 billion. That's exactly how much Facebook paid the duo in 2014 for their creation, a messaging app named WhatsApp. At the time, the transaction made news as the largest-ever acquisition of a venture-backed company. It remains Facebook's largest acquisition to date, as well.
So has this acquisition proved to be worth its weight in gold? In this article, we've compiled the latest available WhatsApp statistics to answer that. These numbers can also provide a clear picture of the company's performance in recent years.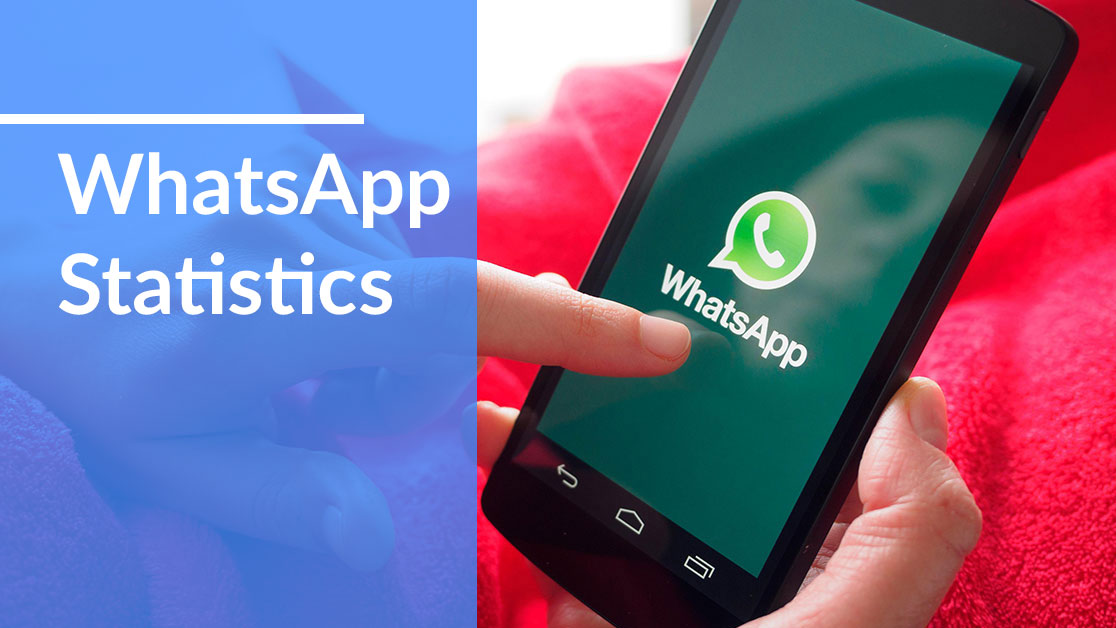 WhatsApp Statistics Table of Contents
WhatsApp's Financial History
Not a lot of information can be found on WhatsApp's financials before or after Facebook's acquisition. This may be caused by the fact that WhatsApp doesn't make a lot of money due to its business model. WhatsApp founders Koum and Acton hated the idea of earning money through ads, which is why the company didn't employ marketing or PR teams either.
As a result of this philosophy, WhatsApp survived its pre-Facebook years through funding from various sources. Here's a look at WhatsApp's financial history and performance.
In 2009, WhatsApp received $250,000 in seed funding from Brian Acton's former friends at Yahoo!.
The company's next round of funding amounted to $8 million, from the venture capital firm Sequoia Capital. The firm also got a 15% share of WhatsApp.
Sequoia Capital invested another $50 million in WhatsApp in 2013.
As a result, WhatsApp's value shot up to $1.5 billion in the same year.
At the time, WhatsApp also had 200 million active users.
By the time Facebook acquired WhatsApp in February 2014, the app had 400 million active users monthly.
In exchange for WhatsApp, founders Koum and Acton received $4 billion in cash, $12 billion in Facebook shares, and $3 billion in restricted stock units, for an original value of $19 billion. However, soaring Facebook stock prices boosted the deal's value to $20 billion by the time it was closed.
Source: Visual Capitalist
WhatsApp's Markets Around the World
Unlike many messaging apps today, WhatsApp's largest markets lie outside the US. The platform provides a more cost-effective way of sending text messages, especially in countries where texting can be prohibitively expensive. Not only that, but WhatsApp supports more types of content, like images and videos.
Here are some interesting statistics on WhatsApp usage around the world.
India sits at the top as WhatsApp's biggest market, with the most extensive user base of 340 million.
94.8% of Android devices in India have WhatsApp installed.
49% of active WhatsApp users in India belong to the 18 to 25 age group.
Similarly, Uruguay posted the highest growth—67.2%—of WhatsApp downloads from the Apple App Store last year.
Meanwhile, WhatsApp for Android saw a 108.8% growth in downloads in Japan during the same period, the highest in any country worldwide.
According to 2019 data, WhatsApp achieved the highest smartphone user penetration in the Netherlands, at 85.6%.
Over 80% of small businesses in India and Brazil use WhatsApp.
58% of smartphone users in the UK use WhatsApp.
51% of Malaysians also rely on WhatsApp as their main source of news.
WhatsApp hasn't dominated the market of only 25 countries worldwide. Most of these countries can be found in Asia.
Worldwide Usage Statistics
WhatsApp currently reigns supreme as the most popular mobile messenger app in the world, with a user base of 2 billion as of March 2020. The company also claims that, in 2018 alone, users on the platform sent more than 65 billion messages daily. That translates to an astonishing 750,000 messages sent per second.
The app is available in 180 countries and 60 different languages around the world. Interestingly, the app is also banned in 12 countries, partly because of security concerns and to protect local telecommunication companies.
On average, 1 million people register for WhatsApp every day. Meanwhile, 2 million fake accounts get banned on WhatsApp monthly.
70% of WhatsApp users also regularly use Facebook Messenger.
The average WhatsApp user checks the app 23 times a day.
WhatsApp users spend over 2 billion minutes every day, making calls on the app.
Moreover, between May and July 2018, 85.21 billion hours were spent on WhatsApp.
In 2017, users made 55 million video calls on the platform daily.
Users sent 4.5 billion photos via WhatsApp every day in the same period.
On New Year's Eve 2017, users sent 75 billion messages via WhatsApp.
As of the first quarter of 2019, WhatsApp Status had an estimated 500 million users. WhatsApp Status allows users to share photos, videos, and text that disappear after 24 hours.
As of the latest data, 5 million companies and 3 million users access WhatsApp for Business.
In addition, 15% of all WhatsApp users rely on the app for news.
There were also 1 billion WhatsApp groups in 2016.
65% of Generation Z online users have a WhatsApp account, while 74% of Gen Z internet users reported visiting or using the app.
The app was downloaded from the Apple App Store 2.89 million times in 2019.
In terms of users, WhatsApp ranks as the second-largest app from Facebook, ahead of Messenger and Instagram.
Usage in the US
WhatsApp doesn't enjoy the same popularity in the US as other messaging apps like Facebook and Snapchat. As of 2019, the US is WhatsApp's third-biggest market, with 68.1 million users. Here are some statistics to provide a clear picture of who's using WhatsApp in the US.
In March 2020, WhatsApp saw 843,026 downloads from the Apple App Store in the US, making it the fourth most downloaded app of the quarter.
With a 13.7% reach among mobile audiences, WhatsApp currently ranks as the third most popular mobile messaging app in the US.
In 2019, 68.1 million mobile phone users in the US accessed WhatsApp. This figure may grow to 85.8 million by 2023.
88% of American WhatsApp users access the app on their mobile phones.
The majority of WhatsApp users in the US—32%—use the app several times a day.
Similarly, 21% of these users reported using the app daily.
WhatsApp users in the US also used the app at an average of 143.4 times per month, with each session lasting 2 minutes.
With these usage numbers, WhatsApp users in the US spend an average of 292.4 minutes on the app per month.
One in every five US adults used WhatsApp in 2019. The app was most popular in the 18-24 age group, 44% of which used the app.
In 2018, 26% of US Internet users who used WhatsApp resided in urban areas, while 14% lived in rural areas.
82% of American WhatsApp users used the app to maintain contact with friends and family in 2019.
However, only 8% of smartphone users in the US expressed interest in communicating with brands through WhatsApp.
US Users' Top Reasons for Using WhatsApp
US Users' Top Reasons for Using WhatsApp
To keep contact with friends and family: 82
To keep contact with friends and family
%
US Users' Top Reasons for Using WhatsApp
To strengthen professional network: 13
To strengthen professional network
%
US Users' Top Reasons for Using WhatsApp
To get entertainment: 10
To get entertainment
%
US Users' Top Reasons for Using WhatsApp
To get news: 7
To get news
%
US Users' Top Reasons for Using WhatsApp
To follow brands or companies: 4
To follow brands or companies
%
US Users' Top Reasons for Using WhatsApp
Other purposes: 4
Other purposes
%
Source: AudienceProject
Created by CompareCamp.com
What to Expect from WhatsApp
The future of WhatsApp seems a little shaky, especially since founders Jan Koum and Brian Acton recently left Facebook. Disputes between the WhatsApp founders allegedly stem from a long-standing dispute on WhatsApp's user data privacy policies and revenue-making capabilities.
Despite these rumored disagreements, however, WhatsApp users can expect some new features in the future. For instance, we may finally see the final rollout of WhatsApp Pay, which Mark Zuckerberg intends to achieve in 2020. Using the Unified Payments Interface, WhatsApp Pay enables peer-to-peer money transfers and in-app payments. Facebook recently received the green light for a phased WhatsApp pay rollout in India, where it began a pilot run in 2018.
References:
Facebook Q1 2020 Earnings Call

Insights 2019 – Apps & social media usage in the US, UK, & Nordics

Social Media Demographics 2018

Podcast | What's Up with WhatsApp?

Facebook to Pay $19 Billion for WhatsApp

Gen Z Audience Report 2019




Exclusive: WhatsApp Cofounder Brian Acton Gives The Inside Story On #DeleteFacebook And Why He Left $850 Million Behind

WhatsApp Pay is set to roll out to 10 million users in India