The American public is well-known around the world as voracious consumers. It is evident with the presence of various shopping centers and retail stores scattered across the country, and one of the leading brands in the industry is the big box retailer Walmart.
Walmart and its founder are the embodiment of the American Dream. The Walton family entered the retail industry with a mom-and-pop store, and in just a span of a few decades, the Walmart brand became one of the most recognizable names in the world. Additionally, Walmart is the largest employer in the world with over 2.2 million associates in over 27 countries.
In this article, we'll explore notable and relevant statistics about Walmart to give you a clearer picture of the company's operations worldwide. This should give you an idea of how a small business can grow into a global brand.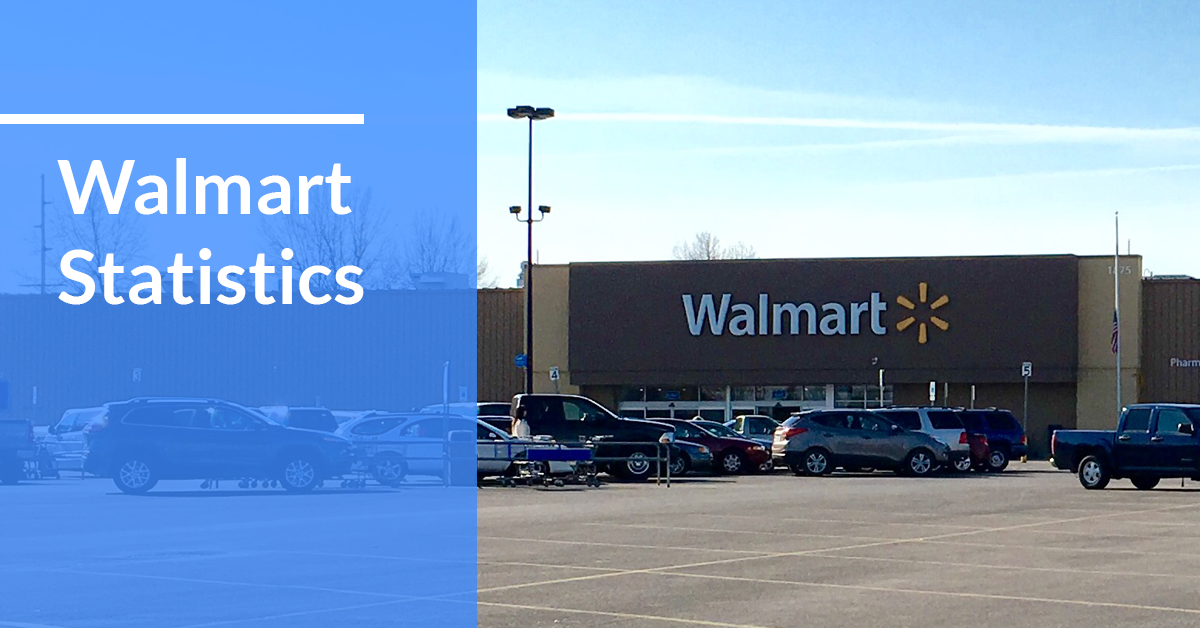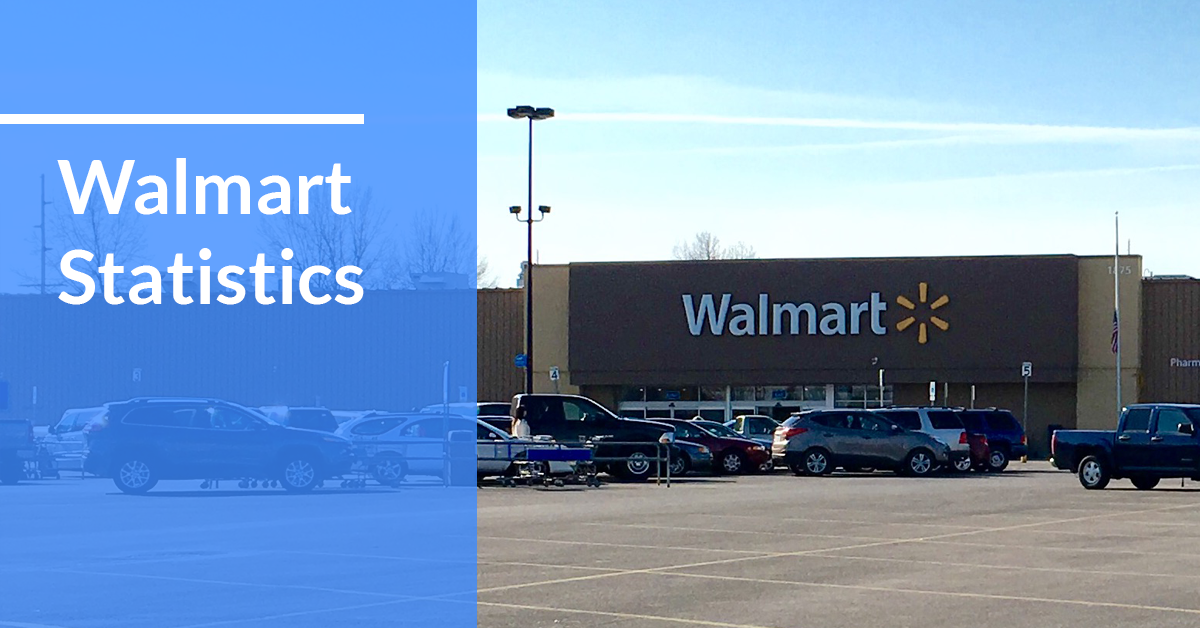 Walmart Statistics Table of Contents
Walmart Quick Facts
Walmart is considered a pillar in the retail industry. Its founder, Sam Walton, had this idea of starting a business around the idea of offering lower prices and great service—and it proved effective. And in just a span of 8 years, Walmart opened its doors to the American Stock Exchange by becoming a publicly-traded company. Since then, the company has continued to expand and widen its reach by penetrating various markets abroad.
Walmart was founded by Sam Walton in 1962.
Its first store opened in Rogers, Arkansas.
The company's headquarters is located at Bentonville, Arkansas.
By 1970, Walmart becomes a publicly-traded company and its first stock is sold at $16.50 per share.
Walmart became the fastest company to reach $1 billion in retail sales in 1980.
The CEO of Walmart is Doug McMillon.
The Chairperson of Walmart's Board of Directors is Greg Penner.
Walmart ranked tenth as the most valuable brands in 2020 with $77.5 in brand value.
In 2020, Walmart's ad spent was $3.7 billion.
In the past 8 years, Walmart spent over $30 billion with women-owned businesses.
Currently, Walmart is engaged with over 100,000 suppliers across the globe.
Crossgates Commons in Albany, New York houses the largest Supercenter in the world.
Walmart Stores Statistics
Around the world, Walmart has countless stores ready to serve its customers. Walmart Supercenters, discount stores, neighborhood stores, and Sam's Clubs are scattered all over the globe. Currently, all of Walmart's stores collectively occupy over a million square feet of land size.
Walmart stores and subsidiaries can be found in 27 countries.
Approximately, there are over 11,500 Walmart stores worldwide.
The average size of a Supercenter is 178,000 square feet.
For discount stores, 105,000 square feet is the average size.
Neighborhood stores have an average size of 42,000 square feet.
Only about 220,000 items are available for next-day delivery.
As of January 2020, Walmart had 3,200 grocery pickup locations and over 1,600 delivery locations.
Walmart Customer Statistics
It is a fact that Americans love Walmart. For almost six decades, the store has been a major part of their shopping. The rest of the world has also become familiar with the Walmart brand, and in 2020, Walmart reported that approximately 265 million people are visiting their stores and websites worldwide.
Each week, over 265 million customers and members visit Walmart online or in-store.
In 2015, a study found out that Oklahomans are the top spenders in Walmart with an annual per capita spending of $1,662.43.
As of January 2020, Walmart's next day delivery was available to 75% of the US population.
Caucasian accounted for 70% of the total Walmart customers in 2016.
Customers with an income between $25,000 and $49,900 shop more at Walmart.
In 2016, Baby Boomers were the largest group of Walmart shoppers.
People aged between 45 and 54 are the most frequent Walmart shoppers.
Walmart US Statistics
Walmart US is the biggest revenue segment for the company. Almost half of their stores are spread across over 2000 cities in the country. Texas remains the state with the most number of Walmart stores and one of its cities, San Antonio, has 29 of these stores—the most for any American city.
Walmart stores are located in 2,658 cities in the US.
The number of Walmart stores in the US was 5,355 in 2020.
There are 3,571 Walmart Supercenters across the US.
Texas has the most number of Walmart with the 603 stores.
San Antonio, TX has the highest number of stores – 29 stores.
Washington D.C. has the least number of Walmart stores with only 5.
Sam's Club Statistics
Walton wanted to help small business owners save money on merchandise purchased in bulk, and his solution was Sam's Club. As a membership-only warehouse club, customers need to pay an annual fee of $45 to $100 to be able to shop. Currently, there are almost 600 Sam's Club stores in the US and its territories, providing livelihood for over 100,000 associates.
In the US, there are 599 Sam's Club operating in 44 states in Puerto Rico.
The first Sam's Club opens in Midwest City, Oklahoma in 1983.
In 1991, Walmart opened its first Sam's Club in Mexico City through a joint venture with Cifra, a Mexican retail company.
In 2018, Samsclub.com had an average of 20.4 million monthly unique visitors.
Walmart International Statistics
The name Walmart first came outside the US in the early 90s. The first foreign market it joined was in Mexico in 1991. From there, the company continuously expanded to other major countries and territories either by building a Walmart store or acquiring local companies and making it their subsidiaries.
6,146 of Walmart stores are outside of the US.
By 1994, Walmart expands into Canada with the purchase of 122 Woolco stores.
China had its first Walmart store in 1996.
Walmart expanded in the United Kingdom with the acquisition of Asda in 1998.
Walmart entered the Japanese market in 2002 through its investment in Seiyu.
In 2010, Bharti Walmart opened its first store in India.
Walmart was introduced to South Africans in 2011.
As of January 2020, there were 6,100+ pickup and delivery in all Walmart locations globally.
Currently, Mexico has the most number of Walmart stores outside the US with 2,571 stores.
India only has 28 stores—the least among countries with Walmart's presence, so far.
Number of Walmart Stores per Country
Number of Walmart Stores per Country
Mexico: 2571
Mexico
Number of Walmart Stores per Country
Central America: 836
Central America
Number of Walmart Stores per Country
United Kingdom: 631
United Kingdom
Number of Walmart Stores per Country
Africa: 442
Africa
Number of Walmart Stores per Country
China: 438
China
Number of Walmart Stores per Country
Canada: 408
Canada
Number of Walmart Stores per Country
Chile: 367
Chile
Number of Walmart Stores per Country
Japan: 333
Japan
Number of Walmart Stores per Country
Argentina: 92
Argentina
Number of Walmart Stores per Country
India: 28
India
Source: Walmart
Created by CompareCamp.com
Walmart Employment Statistics
According to the latest list from Fortune, Walmart is the number one employer in the world. This comes as no surprise because of the over 11,500 stores they have across the globe. Additionally, Walmart also advocates for workplace equality.
In its annual report, Walmart employs more women and people of color than the national average, the majority of which are in management and have revenue-producing responsibility. They are also implementing a program that allows honorably-discharged veterans to make a living as Walmart associates. The company also continues to develop its workforce by providing training and seminars.
Walmart has over 2.2 million associates worldwide.
In 2020, Walmart employs approximately 1.5 million US associates at more than 5,000 stores and clubs nationwide.
700,000 Walmart associates are employed in other stores outside the US.
Walmart is the largest employer across 22 states in the US.
In the US, the average, full-time hourly wage is $14.26 for Walmart associates.
Store managers can earn an annual salary of up to $175,000 in the US.
There are over 200 Walmart Academies in the US.
As of March 2019, Walmart Academies trained more than 800,000 employees.
55% of Walmart's total US workforce is female and 43% of them are in management positions.
People of color comprise 44% of the total US workforce and 33% of them are in management.
26% of Walmart's IT and Engineering workforce is female.
By the end of 2020, Walmart committed to hiring 250,000 veterans.
Walmart Online Statistics
Walmart started out as a brick-and-mortar store like most of its peers and competitors at the time. However, the internet completely changed how businesses deal with customers. Companies like Walmart needed to capitalize on this new type of market to keep up with competitors that were born and bred in the digital age.
Walmart, however, has proven that it is capable of adapting to this new business landscape. At the beginning of the new millennium, they established their own website. They also upped their customer service by introducing business practices that made online shopping easier. These gimmicks made Walmart one of the leading e-commerce stores worldwide.
Walmart.com was launched in 2000 that allowed Americans to shop online.
In 2007, Walmart.com launched its Site to Store service.
Walmart is the seventh-most popular e-commerce site in the world.
In the US, Walmart ranks 17th in website traffic.
Walmart is currently 53rd in website traffic globally.
In 2019, Walmart had a share of 6% of US online consumer goods sales.
Over 100 million unique visitors visit Walmart.com monthly.
Walmart currently sells 60 million different items online.
Walmart Revenue Statistics
When the age of digitalization came, experts predicted that the era of brick-and-mortar stores was coming to an end. Many forecasted that the sales of big-box retailers like Walmart will plummet. However, Walmart has proven to these experts that they are tenacious and highly adaptable.
Seeing it as an opportunity rather than a threat, the Walmart brand made its move towards digitalization, and in 2018, they were declared as the number one leading fast-moving consumer goods retailers worldwide by revenue.
Walmart's reported total revenue was $524 billion as of January 2020.
Walmart was the number one leading fast-moving consumer goods retailers worldwide in 2018 with $514.41 billion in revenue.
According to forecasts, Walmart can earn a revenue of up to $400.39 billion in 2025.
In 2020, Walmart US accounted for 66% ($341 billion) of the total revenue.
The second-biggest segment is Walmart International which represented 23% ($120.1 billion) of net sales in 2020.
Sam's Club represented 11% ($58.8 billion) of Walmart's consolidated fiscal 2020 net sales.
Walmart: The Big Question for the Big-Box
It is without a doubt that after almost 60 years in the industry, Walmart has now mastered how it operates its brick-and-mortar stores. But is the age of brick-and-mortar coming to an end?
Well, the short answer is no.
The brick-and-mortar part of the retail industry isn't dying—it's changing. As a matter of fact, Amazon, a well-known e-commerce brand, is now considering putting up physical stores. Incorporating technology with the nostalgia of physical shopping is now becoming a retail industry trend.
For example, Walmart has now implemented same-day deliveries for select items, in-store pickups, and more, to match the services offered by its e-commerce competitors. This makes the whole shopping experience interesting, convenient and gratifying for customers.
But what do these statistics mean for you?
These statistics reflect the success and achievements that Walmart has enjoyed over the years. Like Walmart, businesses that provide great customer service reap greater rewards. If you're looking to improve your customer retention, you can start with learning about the top CRM tools that can help you.
---
References:
Largest U.S. Walmart Supercenter Is Located In Albany NY

SimilarWeb | Walmart.com

Walmart | Our Business

Walmart Inc. 2020 Annual Report

Walmart 2018 Annual Report

Brand Finance Global 500 2020

Walmart | Retail Opportunity

Walmart | Veterans and Military Families

Fortune | Global 500

Breakdown of Walmart shoppers in the United States as of 2016, by race

Breakdown of Walmart shoppers in the United States as of 2016, by income

Breakdown of Walmart shoppers in the United States as of 2016, by generation

Breakdown of Walmart shoppers in the United States as of 2016, by age

Amazon concedes market share in battle for online consumer goods sales

How AI helped Walmart go from 700,000 to 60 million items online

HOW WALMART IS GOING AFTER BRANDS LIKE KELLOGG'S FOR RETAIL AD DOLLARS

Walmart explains why it isn't racing to close its biggest gap with Amazon on next-day delivery