Where your most sensitive data is online and many of your activities are shared across networks today, you're more than ever vulnerable to cyber hacking. Or annoying spammers. Either, you want to secure your internet activities now and not after someone got hold of your credit card credentials. VPN services provide the answer.
In our TunnelBear reviews, we'll review a VPN service that fits an individual's need to guard his or her online privacy. It's a  light, budget-friendly VPN service, that, by the way, also suits small business needs. We'll run you through the pros and cons of this service and share our overall takeaway about it.
Why Use TunnelBear?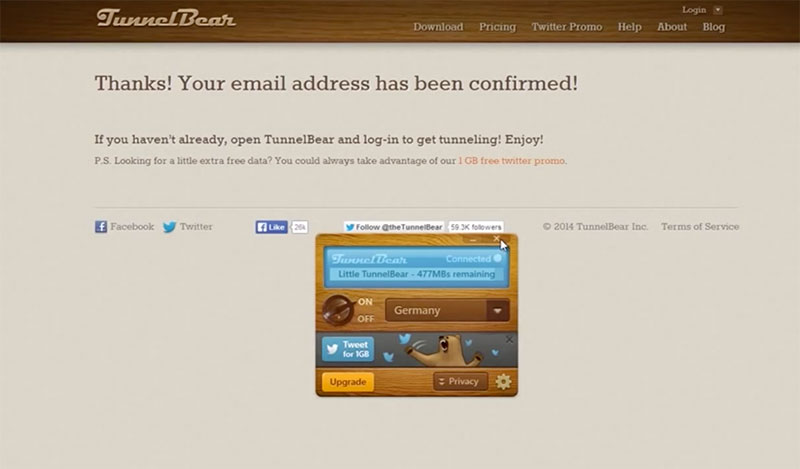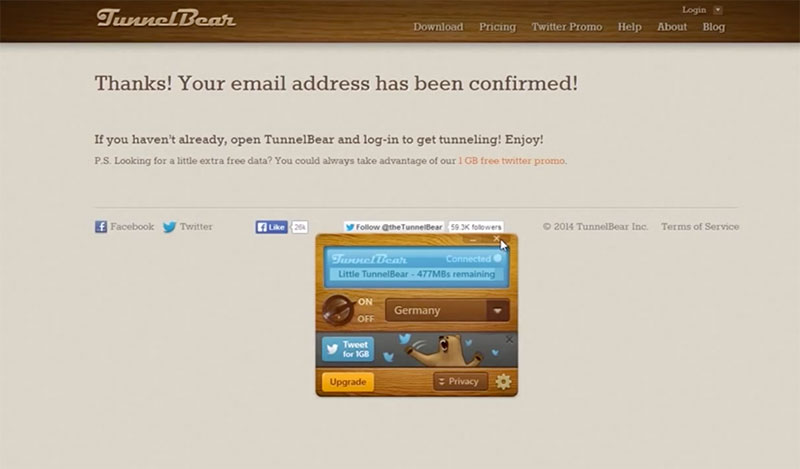 VPN doesn't only benefit businesses that need to protect corporate information; VPN has plenty of advantages to homes and for personal use, too. We think TunnelBear fits this market.
Security.

TunnelBear uses AES 256-bit encryption to protect your internet activities. Sensitive data like credit card details, login credentials and geolocation are kept from prying eyes whether you use a public wifi, office and home ISPs.

Privacy.

There are times when you need to log into a site that you don't want others to know or trace, for example, to avoid annoying ads or spams. VPNs like TunnelBear allows you to connect to a gateway city other than yours, allowing you to hide your IP address. It also blocks trackers to limit advertisers' access to your and your family's online behavior.

Reach.

You can access sites that block or restrict access from your area by using an IP address assigned by TunnelBear.

Connect.

A VPN service like TunnelBear helps you stay connected to your network while traveling to areas with internet restrictions. You can watch news, visit sites back home and manage your emails without worries.

Stream faster.

You can bypass network gridlock and stream faster through TunnelBear servers.
Pros and Cons of TunnelBear
More on our TunnelBear reviews – the VPN passed our assessment with an above-average score for individual use. Here are our thoughts:
Free.  

TunnelBear has a free service, but only for up to 500MB of data each month. If you're using it for streaming you'll reach the cap within a few days. Still, 500MB is enough for occasional visits to restricted sites or when you rarely need to submit sensitive data over the internet. The good news is, you can jack up the cap to 1GB by tweeting about the provider.




For better features, the paid plan is at $9.99 per month with unlimited data, not bad. You can even drive costs lower with an annual subscription for $4.99 per month. The plan gives you access to TunnelBear VPN servers in 20-plus countries, which is not possible with the free plan.

Easy to set up.

Most VPN services are quick to set up and TunnelBear is no exception. Just provide an email and password and your account is all set. By default you can start using the free plan, an installer is automatically downloaded. Upon logging in, you see a map of the world showing the VPN server locations. Simply click one location and the VPN protection is up. The same intuitive interface is found in its mobile UI. To upgrade, you can pay via credit card or bitcoin.

Design.

TunnelBear injects a playful theme in its VPN interface to make it less technical, and intimidating, for casual users. And it works. Where security protocols are difficult to grasp in other robust VPN services, it's not so with TunnelBear. The design is light but clear, helping you follow navigation with ease.

Multiple devices.

The VPN works with Mac, Windows, iOS and Android. It also has plugins for Chrome and Opera. Take note though that the browser plugins only protect your browsing data, not data on apps that run on your OS. In any case, there's no hitch accessing the VPN from different devices, especially if you're on the go or shuffling from office to office. Likewise, the provider lets you connect up to five devices under one account. That's a liberal serving for personal use, but it can be limited for companies. You can contact the provider for your unique requirements.

Wide network.

TunnelBear uses about 900 servers in 20-plus countries. It guarantees fast downloading and streaming. The provider said it's expanding its network. Currently, it includes areas with the one of the world's most active internet landscapes, such as the U.S., U.K., Canada, Australia, Brazil, Germany, France, Singapore, India and Japan. You will, however, find other VPN services with wider networks, up to 3,000 servers and 200 countries, but put into context its pricing and reliable service, TunnelBear fits the average individual's needs for online security and privacy. The only drawback is if you need to access sites in Russia, Turkey, Africa and the Middle East, the VPN service leaves them out.

Zero log.

TunnelBear doesn't save your online activities, which other VPNs do as a mandatory function. It is based in Canada, which has no laws for keeping user data. Plus, the provider doesn't serve ads, which gives it less incentive to track your activities. In fact, be wary about VPN services with ads. It's an irony: you're being tracked for a service that you get to avoid being tracked online. The provider also claims not to sell your data to third parties. Disclaimers like these boil down to the legitimacy of the company. In this context, we don't find any complaints about the provider, so two thumbs up for TunnelBear.

Block options.

Ad blockers are a damn-if-you-do-damn-if-you-don't case: use it and it compromises the viability of free content in the internet; don't use it and you're spammed forever by annoying and sinister ads. TunnelBear seems to find the middle ground: it gives you options what to block. A separate browser plugin lets you choose which elements to block, for example, just trackers but not ads. Other options include blocking social buttons, automatic Flash play and fingerprinting.

Speed.

TunnelBear passes average speeds in both downloads and uploads and in both local and international testing. It improves latency by about ten percent in domestic testing and over 200 percent in international setting. Likewise, it minimally affects domestic download speed that is almost negligible to the uninitiated, but improves international download speed by almost 100 percent. The impact on upload speed, however, is more evident, clocking at around six-eight percent slower than VPN-free connection in domestic and international tests.




The VPN service doesn't lack for limitations though. For one, there are no protocol options that could have given you more flexibility to choose the security level and pricing. The protocols are set in stone: OpenVPON for Android, macOS and Windows; and IKEv2 for iOS. Likewise, and this is a big deal for some heavy streamers, it doesn't allow P2P file sharing and BitTorrent.
Advanced Features
Vigilant Mode.

It prevents data leaks when you get disconnected from your wi-fi. TunnelBear blocks unsecured traffic until you get the connection back.

GhostBear.

It lets you bypass areas that block VPN traffic. Your connection is cloaked under normal HTTPS traffic. This feature is useful to access sites in the most censored areas, but it does affect speed by as much as fifty percent; hence, use it only when absolutely necessary.

Trusted Networks.

It whitelists your trusted wi-fi networks, so when you connect to an untrusted network the TunnelBear is automatically activated to protect your activity.
Conclusion
TunnelBear is light, affordable and easy to use. We can see it's hugely popular for streaming videos or ecommerce transactions at an individual level. Even for a small business looking to protect the data of its managers and key personnel, this VPN delivers the job. Don't expect enterprise functionalities though. On the bright side, you don't get enterprise pricing also, just a very low monthly or annual plan. We hope that you gain enough insights in this TunnelBear review to make an informed decision whether this VPN service is for you.