As the Internet becomes a more and more dangerous place, the threat from individuals who engage in unscrupulous activities such as identity theft and credit card fraud has become real. The need to protect personal and financial information has become of paramount importance as far as Internet users are concerned. As technology evolved, so have the capabilities of hackers, the reason for the development of new technologies that can keep such threat at bay. One of these is the virtual private network (VPN) software, a tool that can provide online users security by giving them the gift of online anonymity.
Our PureVPN reviews will focus on its features, benefits, pricing and what it can do for you.
What is PureVPN?
Hong Kong-based VPN service PureVPN is a robust cloud-based platform that ensures all security-conscious users get what they need–online anonymity. It supports Windows, Linux, macOS and mobile devices, having mobile clients for Android and iOS. A Chrome plug-in has been recently added to help users secure the browser's web traffic.

The plugin is also uncanny as it blocks ad and advertising trackers, and is able to offer some degree of malware protection. It can block some WebRTC elements, which allow sites to use certain elements of users' computers. However, these should be used, along with stand-alone antivirus software to ensure full protection against malware.
The app features proprietary solutions for use in routers and streaming, providing protection to all devices in a local area network for free. Another plus is that PureVPN supports P2P file sharing on more than 200 out of its more than 750 servers, good news for torrent junkies. A Split Tunneling functionality allows users to choose specific traffic to go through PureVPN, making sure certain online activities remain secure. It can likewise bypass censorship, enabling users to access blocked sites. Both unlimited server switching and data transfer are also in the offing, allowing users to surf as long as they want and at speeds that they want.
The vendor put emphasis on security when it developed the platform. PureVPN supports protocols that include  IKEv2, L2TP, PPTP, OpenVPN, and SSTP, all of which, with the exception of PPTP, provide 256-bit encryption. Every option comes with a speed and security rating, helping users choose the best option for themselves. However, the solution, by default, is set to auto, choosing the best protocol for any user.
In addition, the software's split tunneling capability is a nifty feature, allowing users to exempt specific apps from the VPN. Both IPV4 and IPV6 DNS leak protection are likewise supported. However, this are not enabled by default, requiring users to restart the VPN in admin mode to enable such feature. To complement this, information leakage is also prevented by a kill switch, which cuts off Internet connection whenever the VPN is disconnected. Except for metadata logs, the service does not keep any record of user information or activity, further enhancing online protection.
PureVPN's website is pleasant to the eyes, with the app's features immediately viewable to visitors. Sign up is a breeze, requiring only a name and an email address, which you need not verify. After signing up, you are invited to download the solution, after which you will receive a confirmation email with your account details. If ever you have difficulty installing the platform, an extensive knowledge base can provide you with everything you need to know about setting up the software. Read on below our TunnelBear reviews to know more about the pricing and technical specs.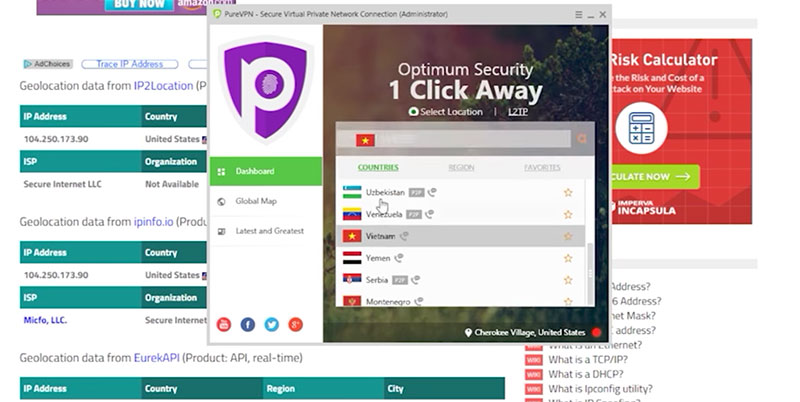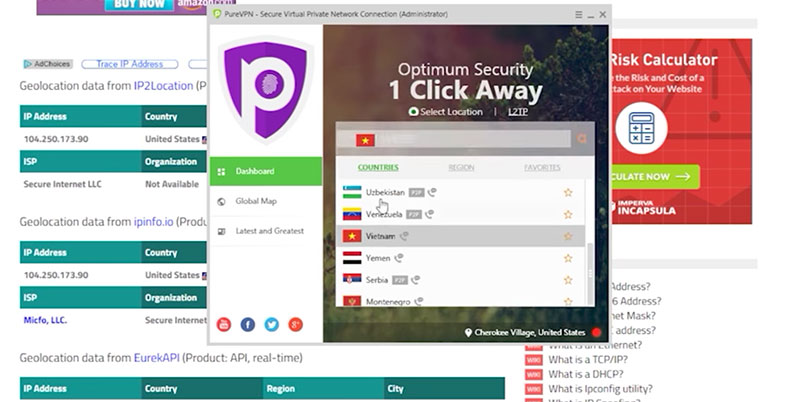 Speed
It is no secret that VPNs, most often than not, adversely impact Internet speed. This is mainly due to the fact that the security measures employed by such services have significant ramifications on speed. With PureVPN, it is the opposite as it has been found to improve download speeds to a certain degree, increasing latency by 6.7%. Such is true both in the domestic and international fronts.
Benefits
Ease-of-use

User data protection

Online anonymity

Faster Internet speeds

Protection of Internet accounts

Uniform features regardless of pricing models

Mobile support
Pricing
The software is available at $10.95 per month but a six-month and a two-year package can give you savings of up to 70%. A real bargain for a VPN solution of its kind. Payment can be made with credit cards, AliPay, Bitcoin and other cryptocurrencies, PaymentWall or Paypal, along with gift cards. The vendor does not make distinctions on these pricing models, offering the same service and features regardless of the package. No free trial or free version is offered but a 7-day money back guarantee can be availed for those who want to evaluate the solution first.
Support
Customer support is limited to live chat, which is available 24/7. However, you can request for a support ticket.
PureVPN is not your average VPN service, it is one of the most powerful tools of its kind in the market today. Whether you want to surf, stream videos, download torrent files or access blocked sites, PureVPN can help you. It is indeed a VPN worth checking out.