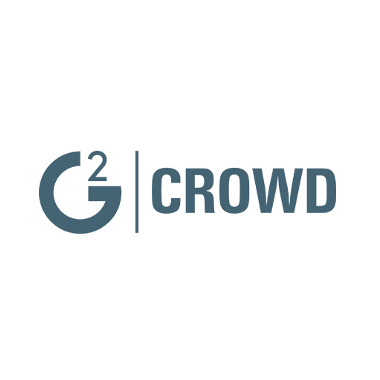 Nowadays, buyers go online to check out user reviews, peer recommendations, and feedback ratings before buying a product or service. More often than not, people view that the most difficult step in their buying process is finding out which product or service would answer their needs. That is why they go online to user review sites to check out reviews from other people or businesses before deciding whether the product or service is good for them.
In fact, the Local Consumer Review Survey 2014 findings showed that about 88 percent of survey respondents have read reviews online first to check out the quality of a local business (as opposed to 85 percent in 2013). The study also showed that 39 percent of respondents do read reviews on a regular basis (compared with just 32 percent in 2013). Contrast this with the people who did not read reviews last year: 12 percent, as opposed to 15 percent the previous year. What does this mean? Almost nine out of 10 people have looked at online reviews first in the last 12 months to make an informed decision on a local business. In addition, about four out of 10 do read online reviews as a regular action.
That is also pretty much the case in B2B software solutions. A recent Capterra survey showed that 71 percent of software buyers go check out recommendations and reviews by their colleagues and peers before buying a software solution.
That is why user review sites such as G2Crowd are popular these days, owing to their capacity to offer independent, credible reviews to help B2B prospects in their purchasing decisions. Such sites are also popular for B2B vendors looking for right platforms online to showcase their tools and engage potential customers.
There are also a good number of alternatives online to G2Crowd that both B2B vendors and buyers should check out if they want to expand their online presence beyond G2Crowd. Here are top five of them:
1. FinancesOnline.com
FinancesOnline.com is considered one of the best review platforms online. FinancesOnline.com gives out independent, unbiased reviews of countless B2B software solutions available on the market. However, compared with other sites that simply rely on user reviews, this site has an in-house panel of credible experts that conduct thorough product reviews.
Combining in-house expert reviews and assessments by ordinary users, the site thus provides very thorough overview of software solutions. With minimum effort, B2B vendors can gain a more established online reputation when FinancesOnline supplements the credibility of their tools with their independent reviews. Their platform also provides highly efficient lead generation campaigns for SaaS vendors. Even less known products can benefit from conversion rates at around 10% and if you own a more prominent brand the conversion rates can be higher than 20%. FinancesOnline.com also constantly looks for new B2B tools to review. It's easy to check if you're listed on their site, and if you're not you can just add your product to their directory and start our own lead generation campaign.
In addition, FinancesOnline.com has an innovative SmartScore System, aggregating a review score based on the product's main functionalities and features combined with other key criteria, including customer support, collaboration features, customization, mobility, and app integration.
The site's unique Customer Satisfaction Algorithm analyzes user reviews, social media mentions, and other online comments and gives each software a total score representing general customer satisfaction. Many B2B buyers will find the Customer Satisfaction Algorithm score practical, since it helps them look the product's social proof quickly and easily.
In addition, FinancesOnline.com gives out excellence awards and certificates, specialist or broad-based trust marks, and niche seals to certify the top quality of your solution, and thus improving trust in your product. The site's in-house experts can award one (or a few) quality awards and certificates to highlight the unique features of your tool. Its Verified Quality Seal can be featured both on the review page and on your website to further increase your sales. For your potential customers the seal is a solid guarantee of your solution's quality and a sign it has been rated positively by independent experts.
The site likewise offers alternatives and comparisons for a B2B buyer's purchasing process needs.
2. AppExchange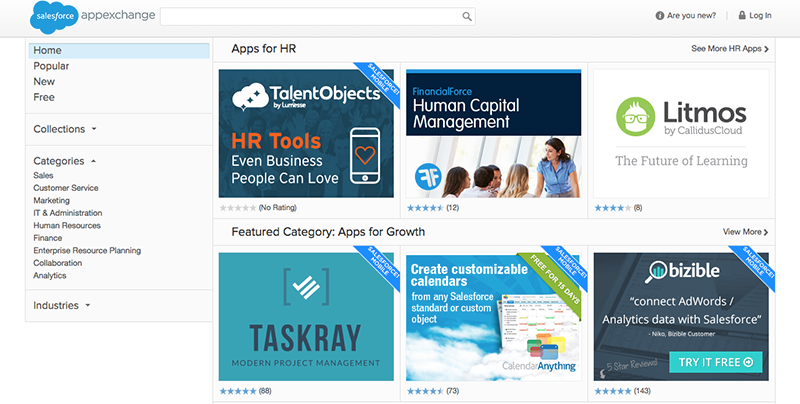 AppExchange is Salesforce.com's leading marketplace of different business applications that provide outstanding solutions for businesses operating with different needs and in a wide range of industries.
The site, which is among the leading web-based business app marketplaces, is home to at least 2,700 pre-integrated applications, increasing the power of Salesforce and helping expand businesses more easily. AppExchange is one of the most trusted and reliable cloud computing marketplaces online, so it is no wonder that it has become a very prominent user review site.
You can browse countless applications for your company on AppExchange. If you are a software vendor, you can look for system integrators and even custom app developers to expand your business.
3. Capterra
One of the top review sites, Capterra can help B2B buyers in selecting the right software solution for their business, comparing the programs available that match their needs, and providing them a platform to connect with the right vendors.
The site is one of the most comprehensive lists of software solutions online, helping millions of businesses all over the world find their ideal B2B software from the at least 300 software categories listed in their directory.
It also provides B2B buyers with helpful buyer's guides, instructive user reviews, and relevant blog posts to help them gather various software choices from an independent third-party source. It enables users to easily identify and navigate their choices.
Capterra also helps B2B software vendors engage these prospects more efficiently online. The site has software experts who can help businesses along the way and can even recommend a credible shortlist of programs that are matched to their specific needs.
4. BestVendor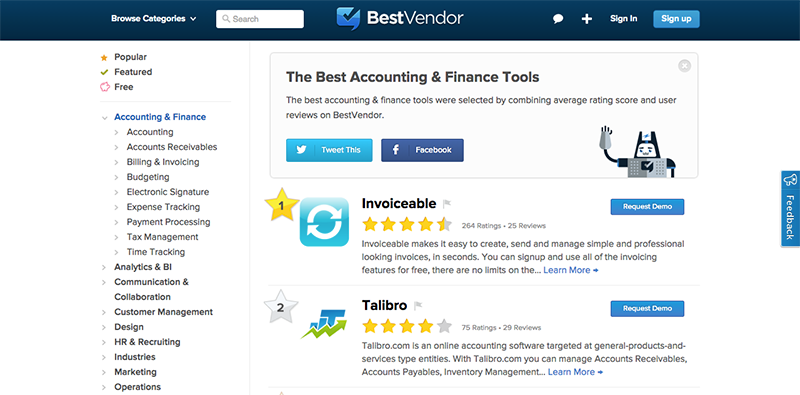 BestVendor's mission is to bring more transparency and sharing to software solutions, which is very helpful to small and medium-sized businesses that have limited budget and staff.
It is an independent review platform, providing businesses with information about tools and recommendations for selecting between different software solutions. It recently partnered with Docstoc, a top website for small businesses, to help start, grow, and expand the growth of small businesses.
BestVendor's functionality will not be affected by its affiliation with Docstoc, so businesses can continue to stay engaged with its vibrant community online by signing up, adding a product or tool, or writing a review.
The free Yelp-like resource can help B2B software professionals share recommendations and easily find the best software solutions, apps, and services.
5. IT Central Station
IT Central Station is a user review website relying on crowdsourcing to give you the best solutions for your business. It offers user-generated, independent reviews of B2B SaaS tools for the enterprise tech community.
A community manager of the site verifies first the identity of the reviewer. The vetting process involves accepting the review through an interview. If the interview is successful, the review is posted online with the approval of the reviewer.
With its vetted crowdsourced reviews, no wonder IT Central Station has become a dynamic platform for users who want information and other relevant data. Enterprise technology decision makers are prominent users of this site that offers user reviews in real-time.
In addition to its user reviews, it provides recommendations and expert advice for technology buyers. The information offered is usually very objective, relevant, and current.
The site likewise protects your business by prohibiting users to post anonymously and encouraging the use of real identities to promote expertise. The site allows knowledgeable experts, including real users and independent consultants, to share expertise in a vibrant community of decision makers.