A leaky faucet may not amount to much water, but over time, that leaky faucet will have filled about a gallon of water a day or approximately 29 gallons per month. That's a lot of wasted water—or in the case of stress, wasted potential and productivity for the stressed individual.
Stress in itself isn't bad. Eustress—positive stress— is beneficial and necessary for a person's well-being. But chronic stress leads to adverse health risks. These stress stats are eye-openers and will help promote better stress management and lower burn-out for people who are at risk.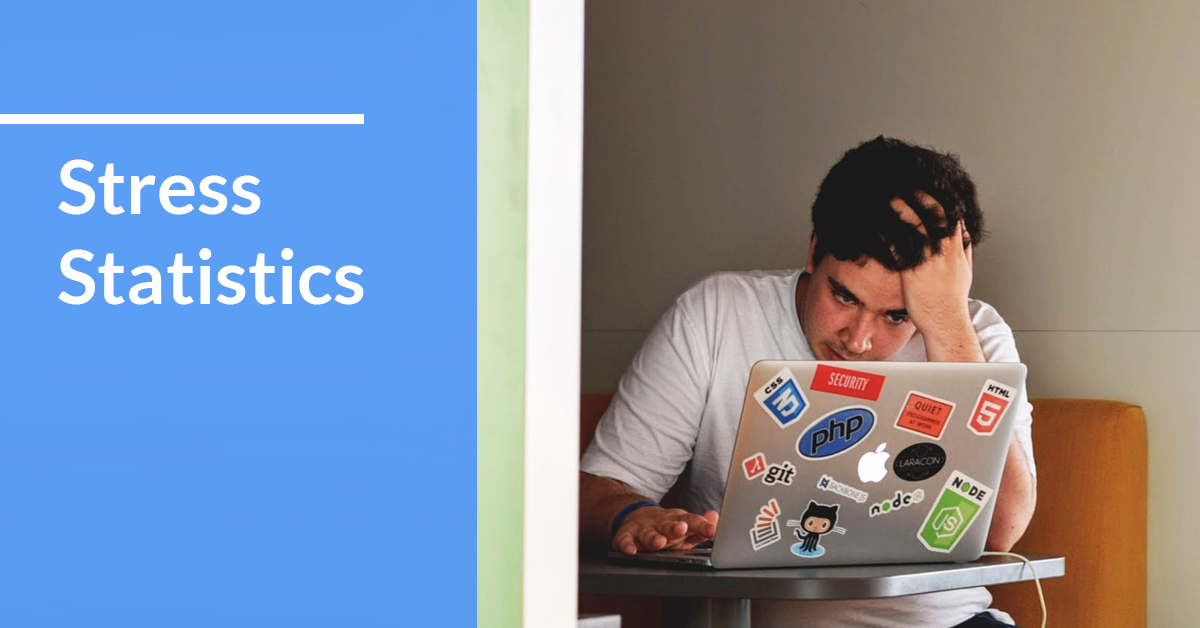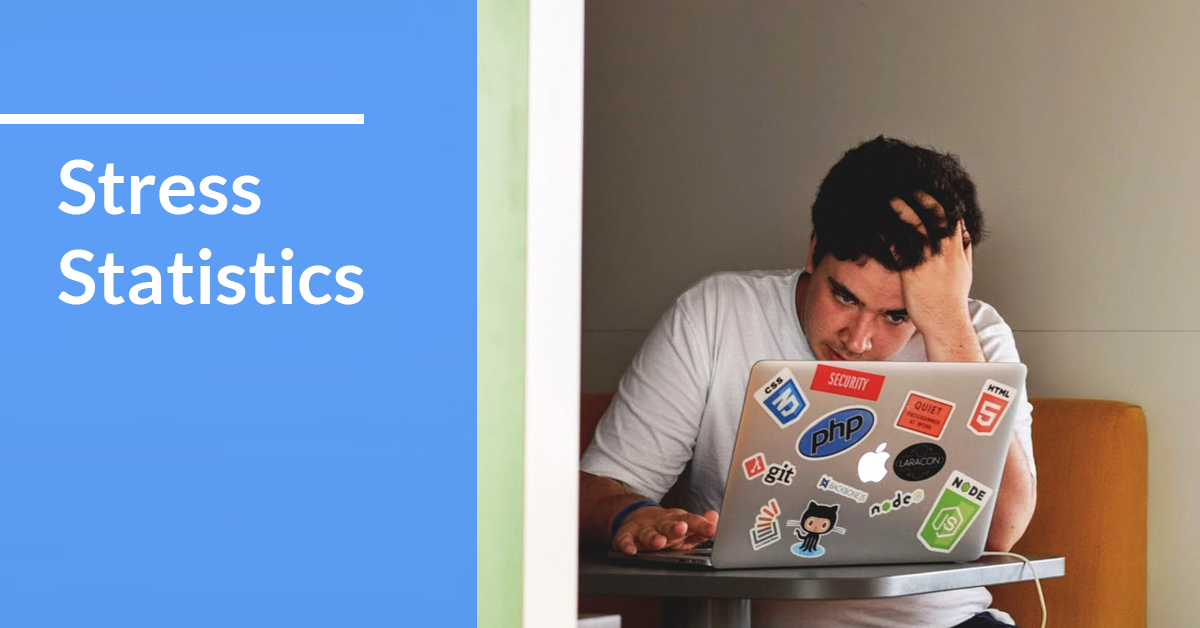 Stress Statistics Table of Contents
Key Stress Statistics
Americans are one of the most stressed out in the world. The current stress level experienced by Americans is 20 percentage points higher than the global average. The country's rate is similar to Louisiana's, the most stressed state. Globally, Greece has the highest reported stress level at 59%.
55% of Americans are stressed during the day.
The global average of the number of stressed people out of 143 countries is 35%.
Paraguay is the country with the highest positive experience index.
Afghanistan is the least positive country in the world with a positive experience index of 43% lower than its score in the previous year.
Stress causes 57% of US respondents to feel paralyzed.
63% of US workers are ready to quit their job to avoid work-related stress.
Chronic stress is commonplace at work with 94% of workers reporting feeling stress at work.
59% of Greeks have reported experiencing stress in the previous day.
Montana is the least stressed US state with a total stress score of 26.81 while Lousiana the most stressed with 59.94.
Causes and Sources of Stress
Living conditions, the political climate, financial insecurity, and work issues are some stressors US adults cite as the cause of their stress. Ineffective communications increase work stress to the point of frustration that workers want to quit. These stressors, unfortunately, are not something people can just ignore. Quitting a job would result in debt and financial instability which, in turn, would be added stressors.
35% of workers say their boss is a cause of their workplace stress.
80% of US workers experience work stress because of ineffective company communications.
39% of North American employees report their workload the main source of the work stress.
49% of 18 – 24 year olds who report high levels of stress felt comparing themselves to others is a stressor.
71% of US adults with private health insurance say the cost of healthcare causes them stress while 53% with public insurance say the same.
54% of Americans want to stay informed about the news but following the news causes them stress.
42% of US adults cite personal debt as a source of significant stress.
1 in 4 American adults say discrimination is a significant source of stress.
Mass shootings are a significant source of stress across all races; 84% of Hispanic report this, the highest among the races.
Stress and Relationships
People under stress admit to taking out their frustration on other people. Targets for venting out include strangers and those they have personal relationships with. Men and women report different levels of how work stress affects their relationships with their spouses.
76% of US workers say their workplace stress has had a negative impact on their personal relationships.
Seven in 10 adults report work stress affects their personal relationships.
79% of men report work stress affects their personal relationship with their spouse compared to 61% for women.
36% of adults reported experiencing stress caused by a friend or loved one's long-term health condition.
Source:Mental Health America
Effects of Stress on the Body and Mental Health
Aside from relationships, chronic stress impacts the mind and body leading to serious long-term health issues. Lethargy, headaches, and unsettled sleep are a few from a laundry list of negative effects of stress on the body. While on the mental health front, depression and anxiety are the chief negative effects of stress.
66% of US workers report they have lost sleep due to stress.
Depression and stress are linked and can lead to physical deterioration.
Over 75% of US adults report physical or emotional symptoms of stress such as headaches, tiredness, and changed sleeping patterns.
Depression ranks third among the top workplace problems following a family crisis and stress.
Of people who say they felt stressed, 16% have self-harmed and 32% had suicidal thoughts.
37% of adults who report feeling stress claim loneliness is an outcome of stress.
Three out of five US adults say they could have used more emotional support in the previous year to cope with stress.
The Cost of Stress
Besides the toll on health, stress also cost businesses and the economy trillions in absenteeism, low productivity, and healthcare costs. Though stress in the workplace is inevitable, providing stress management tools will mitigate the effects of stress and will lower healthcare and other stress-related costs to the business in the long run.
Depression and anxiety cost the global economy approximately $1 trillion in lost productivity.
An estimated 1 million workers are absent every day because of stress.
Job stress is estimated to cost the US industry more than $300 billion in losses due to absenteeism, diminished productivity, and accidents.
Over five hours of office work hours are lost weekly to employees thinking about their stressors.
Work-related stress costs $190 billion in annual healthcare costs in the US.
The UK is not doing any better with €20 billion in annual healthcare costs.
Employee Underperformance In Times of Stress
Source: Colonial Life
Created by CompareCamp.com
Stress By Age and Gender
Gen Z has higher levels of stress compared to other age groups. Women have higher perceived stress levels. This is bolstered with the results of a youth report where heterosexual males have the lowest stress levels. This is not to say that men are immune to stress—men are less likely to see doctors about stress symptoms and manage stress differently than women.
Americans aged 15 – 29 and 30 – 49 have the highest stress levels, 64% and 65% respectively. Worry is also high in both age groups at 50% and 52%.
Women experience more stress based on a self-rating stress survey, women rated themselves as stressed at 5.1 on a scale of 1 – 10 while men's stress levels are at 4.4.
36% of women report high levels of stress due to their acceptance of their physical appearance and body image, compared to only 23% of men.
Three-quarters of workers believe their generation is dealing with more stress than previous generations.
91% of non-conforming US LGBTQ youth report high levels of stress.
CIS boys have the lowest stress levels among gender identities at 79%.
30% of older people report not feeling overwhelmed or unable to cope with stress symptoms. In comparison, only 7% of young adults expressed the same sentiments.
Workplace Stress Statistics
Physically present, mentally disengaged best sums up the workforce steeped in chronic stress. The data is not encouraging when over 90% of US workers say they are under stress. What is even more disconcerting is 25% of employees believe they are at risk of burn out within a year. Approaches to stress management used for work stress are non-medical, an implication of the cost of healthcare.
83% of Americans experience workplace stress.
94% of American workers report feeling stressed at work in 2019.
Stress is a workplace constant with US and UK workers. The latter reporting experiencing 41% moderate stress 41% of the time compared to 39% for the US.
Workplace stress is closely associated with health complaints compared to family problems and financial issues.
56% of workers say stress and anxiety impact their productivity and while 51% say stress affects their workplace relationships.
Over 50% of US workers are not mentally engaged during work due to stress leading to low productivity.
One in four employees say they are at risk of burning out in the next 12 months.
Only four out of 10 employees who report stress to their employers get any kind of help.
44% of adults manage stress by exercising, 47% listen to music, and 37% spend time with friends and family.
Top Stressors at Work (1K+employees)
Source: Wrike
Created by CompareCamp.com
Top Stressors at Work (>1K employees)
Source: Wrike
Created by CompareCamp.com
School Stress Statistic
Heavy workloads, poor sleep schedules, not enough downtime, and poor time management are factors that may lead to academic stress. Academic stress is not confined to college-age students. 55% of juniors feel stressed and anxious about tests even when they are prepared. Although, students seek help in addressing the issues causing them stress, more help and coping options are not unwelcome.
Stress was ranked fourth by 5.9% of university clinicians as one of the primary mental health issues among college students for the academic year 2018 – 2019. Anxiety is first at 23.5%.
61% of college students seek counseling for anxiety, depression, academic performance, family issues, and relationship problems.
The mean student-to-counseling-staff ratio is 1,737:1.
Eight in 10 college students experience frequent bouts of stress.
Increasing university costs are one of the reasons 43% of full-time and 81% of part-time students are employed leading to fewer study hours and sleep hours.
Stress Management Statistics
A look at the stress management techniques employed by US adults to deal with their stress, an overwhelming majority are self-care practices. Though very helpful, it does not address the stressor at the root of the problem. Stress management programs would be beneficial not only for employees but for the company in the long run.
30% of Us adults eat comfort food "more than the usual" when faced with a challenging or stressful event.
51% of US adults engage in prayer—a routine activity—when faced with a challenge or stressful situation.
Coping mechanisms of Gen Z and Millenials experiencing stress in the US 44% of Gen Z and 40% of Millenials sleep in while exercising counts for 14% and 20% respectively.
49% of US adults report enduring stressful situations as a coping behavior to handle stress.
Less than 25% of those with depression worldwide have access to mental health treatments.
---
References:
Crash and Burnout: Is Workplace Stress the New Normal?

Leading populations experiencing a lot of stress worldwide 2018 | Statista

Most stressed states U.S. 2019 | Statista

Workplace Stress Continues to Mount

Causes of stress at work in employees in North America 2017 | Statista

Mental health statistics: stress | Mental Health Foundation

STRESS IN AMERICA 2019

Emerging significant life stressors U.S. 2018 | Statista

Highlights: Workplace Stress & Anxiety Disorders Survey | Anxiety and Depression Association of America, ADAA

Depression

APA | Stress

42 Worrying Workplace Stress Statistics – The American Institute of Stress

Mental Health Foundation reveals shocking statistics

The Cost Of Ignoring Mental Health In The Workplace

Workplace Stress – The American Institute of Stress

Colonial Life study: Stressed workers costing employers billions – weekly

Workplace Mental Health – Workplace Stress

Calculating the cost of work-related stress and psychosocial risks

Stress in America | The State of Our Nation

CDC – NIOSH Publications and Products – STRESS…At Work (99-101)

LGBTQ youth high stress level by gender identity U.S. 2017 | Statista

Workplace Stress on the Rise With 83% of Americans Frazzled by Something at

With the Right Partner, You Can Create an Exceptional Workplace

Primary mental health concerns for college students U.S. 2018-2019 |

By the numbers: Stress on campus

Stress: An Epidemic Among College Students – The American Institute of

Common activities when feeling stressed U.S. 2018 | Statista

Routine activities when feeling stressed U.S. 2018 | Statista

Coping with stress in the U.S. 2018 | Statista

Why Eustress Can Be Your Friend

Americans Are Among the Most Stressed-Out People in the World, Reporting Negative Emotions at Highest Rates in a Decade

Stress Management | How Men and Women Deal With Stress

The Effects of Stress on Your Body

Tips for Reducing Workplace Stress

The impact of stress on students in secondary school and higher education