Most travelers look for a "home away from home" place to stay in. Hotel rates tend to be higher but cheaper options either have hygiene and safety issues or are just far from the places they want to explore. Before its inception, there are already companies that offer such services, but Airbnb brought in a new and interesting twist to the market. Here are interesting facts why Airbnb blew up!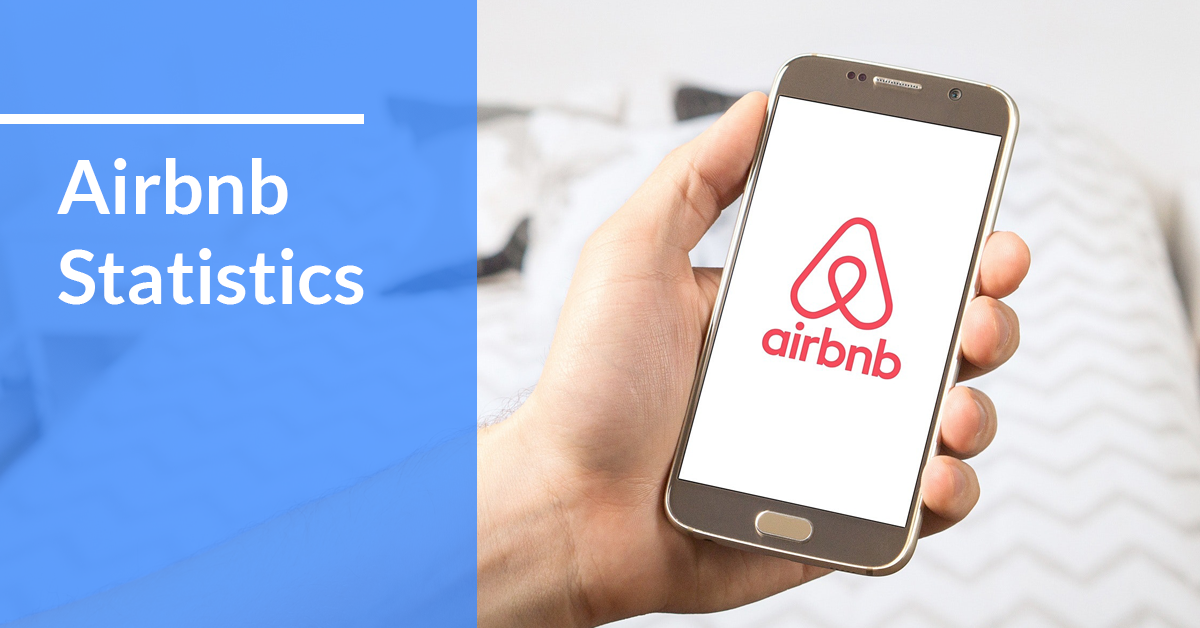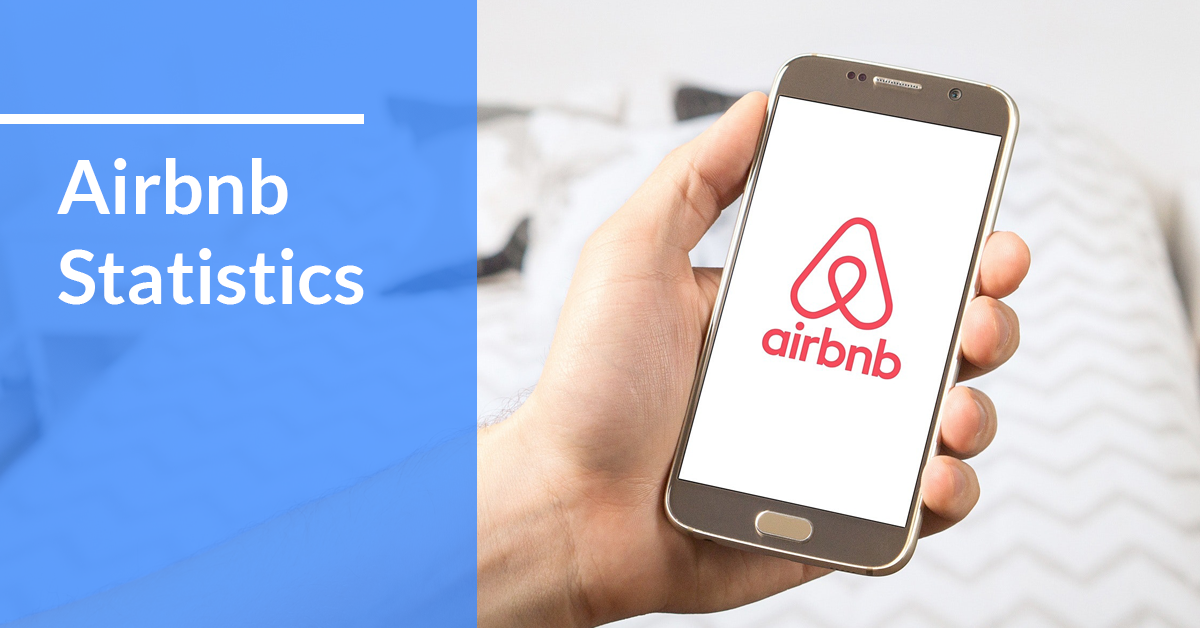 Airbnb Statistics Table of Contents
General Airbnb Statistics
It's been a little over ten years when the company's two founders laid an air mattress on their living room floor and rented it out to tourists under the guise of a bed and breakfast so they can afford to pay rent in San Francisco. Fast forward to today, the online accommodation site has an estimated revenue of $2.6 billion dollars with over 3,000 employees. Let's look at the numbers that helped Airbnb grow this much.
There are over 650,000 Airbnb hosts worldwide and around 6.1 million listings.
Over 100,000 cities worldwide have Airbnb listings as of January 2020.
10.4 million guests stayed in an Airbnb during the December 2019 holiday season — 2,574 stayed in castles, 121 in windmills, and 103 stayed in treehouses.
In 2018, Airbnb was valued at $38 billion, up from $31 billion the previous year.
Airbnb has hosted 400 million guests since its launch in 2008.
In San Francisco, the average guest spends 5.5 days and spends up to $1,045.
New York, Paris, and Tokyo are the three most popular cities for Airbnb booking experiences.
5.5% of the total demand for lodging in the US were composed of Airbnb listings in 2018.
Travelers used Airbnb's platform to book almost 100 million room nights in the q2 of 2019 alone.
Nightly rate or average daily rate of Airbnb listings stays pretty consistent at around $100/night.
In January 2020, Airbnb's main website had 91 million visits with 50% of traffic coming through mobile devices.
Airbnb Company Statistics
Like most startups, Airbnb started out small — with roommates Brian Chesky and Joe Gebbia providing three mattresses and homemade breakfast to guests who were unable to find accommodations in the city. Hence, the word "air" in the company name. Here are important corporate facts to understand how massive the company has become.
Airbnb has 34 offices worldwide.
In 2018, its yearly revenue was $3.6 billion.
Airbnb has a total of 14,384 employees. Some of the popular jobs in the company include software engineer, data scientist, and full-stack developer.
3.8 out of 5 stars was the score given by 1000 Airbnb employees who were surveyed about career opportunities, culture.values, management, salary/benefits, and work/life balance.
In 2018, Airbnb's workforce was composed of 52.5% male and 47.6% female while engineers were 77.9% male and 22.1% female.
In November 2018, Airbnb launched its iPhone app and Instant Book feature.
75% of Airbnb employees felt their pay was fair.
11 minutes and 31 seconds is the average time users spend on the Airbnb app.
The company tweets an average of 10x/day to its 721,000 Twitter followers.
Airbnb's US-based employees are composed only of 12.3% minorities.
As of March 2020, Airbnb has raised a total of $4.8 billion across 10 funding rounds.
Airbnb has over 400 agreements with local and national governments to automate the collection of tourism taxes in 2020. This resulted in over $2 billion of tourism-related taxes.
Airbnb User Statistics
Airbnb caters to a new generation of travelers that look for a unique experience. Typically, guests who book an Airbnb are seeking a more home-like ambiance, local cultural immersion, and greater value for money.
54% of Airbnb guests are female and have earned $32 billion since the company started in 2008.
Women in France earned more than $1 billion through the hosting platform in 2018.
60% of all guests who have ever booked on Airbnb are millennials.
More than 260 million guests have booked and stayed in Airbnb properties worldwide.
With over 400,000 hosts, seniors is the fastest growing host demography.
Senior women are consistently rated as the best hosts on Airbnb.
320,000 hosts age 60 and up had earned a total of $747 million through Airbnb in 2016.
53% of respondents to the Morgan Stanley study said they chose Airbnb because of the price while 30% use it because of location, 33% because of authentic experience, and 28% use it because of its easy to use site/app.
22% of Hosts said they chose to host after being an Airbnb guest themselves.
In 2016, 49% of Airbnb users said they use it as an alternative to hotels.
93% of travelers from the same Morgan Stanley study said that they were satisfied with the service they got.
64% of Airbnb guests feel that home-sharing is a better way to take care of the environment.
88% of reservations are for 2 to 4 people.
44% of Americans have engaged in some way in the "sharing economy."
Airbnb Rentals Statistics
Airbnb is initially popularized as a home rental tool. But as the company evolved, the company began offering users the opportunity to have unique experiences by renting unusual accommodations.
Airbnb instantly bookable listings are up to 3.6 million – a 62% year on year growth rate.
Nature lodges have seen the biggest increase, as bookings shot up by over 700% in 2019. Ryokans (traditional Japanese inns) comes in second with a 600% increase.
The hotel industry loses an estimate of $450 million in direct revenues per year to Airbnb.
Airbnb is 8%-17% cheaper than a regional hotel's average daily rate in Europe.
Hotels like Marriott International started adding home-rental offerings to their portfolio.
Airbnb introduced Experiences in 2016, which allows travellers to experience new flavors and culture. 29% of the total experiences booked on the website are experiences involving food and drink.
There are more than 40,000 Airbnb Experiences across the globe as of 2019.
Throughout Airbnb's lifetime, there were over 570,000 guest arrivals in boats and 300,000 in RVs.
Airbnb in the US Statistics
Despite starting out in the US and having large global brand popularity, there are still a large number of people in the US who are not familiar with the platform. Read up to find out how big (or small) Airbnb is in the US.
In 2018, only 18% of respondents in a Statista survey stated that they are very familiar with Airbnb while 21% said they are not at all familiar with the platform.
33.9 million adults in the US use Airbnb in 2017, up from 29 million the previous year. This figure is expected to reach 45.6 million by 2022.
Women in the US made $4 billion from hosting on the platform in 2018.
Airbnb can be 6% to 17% cheaper than hotels in some US markets.
SmartAsset research found that Miami and San Diego are the most profitable cities for Airbnb hosts since these two cities have more affordable housing systems.
There are over 660,000 listings in the US.
New York, Seattle, San Francisco, Washington D.C. and Los Angeles are some of the cities where Airbnb has a firm root.
In 2018, the US topped the list of countries that saw a direct impact from Airbnb with $33.8 billion total combined host income and estimated guest spending.
Airbnb generated over 130,00 jobs in the US alone in 2016.
$1,000 is the average monthly revenue from Airbnb in New York.
34.1% of listings in New York are multi-listing and more likely to be owned by a business than private owners.
55% of Airbnb users in the US and Europe said they were "very satisfied" with their experience in 2017.
In 2017, 36% of respondents in a survey done by Statista said that privacy concerns were a reason not to use Airbnb.
Airbnb Growth Statistics
Airbnb started their overseas expansion in 2011. The company generates revenues through service fees to hosts and guests. They opened their first international office in Hamburg, Germany. From there, the company never looked back and continued their worldwide expansion.
Airbnb experienced a 153% global compound growth rate since 2009.
In 2017, Airbnb generated $93 million in profit on a 2.6 billion revenue according to Bloomberg.
Over half a billion stays in Airbnb transpired since the company started.
There are more or less 7 million listings across the globe in over 220 countries and regions.
2 million people are staying in Airbnb rentals worldwide at any given night.
Outside of the US, the largest direct economic impact was seen in France, with an estimated amount of $10.8 billion.
Based on Q2 revenues in 2019 and 2018, Latin America has the fastest growing market for Airbnb with 54% growth rate followed by Asia-Pacific at 52%.
Since Airbnb's introduction of Instant Book in 2014, it hit the ground running and its inventory now stands at close to 3.6 million units as of June 2019.
Airbnb helped increase the number of guest arrivals to the least visited destinations in the world between 2016-2018

Moldova (increase 180%)
Vanuatu (increase of 187%)
New Caledonia (increase of 175%)

Airbnb supported 730,000 annual jobs in 2016.
Airbnb's Future: What's Next?
Although 50% of Airbnb users in the 2016 survey conducted by Morgan Stanley said that they gladly used it to replace a traditional stay, the home-sharing platform still needs to up their game by partnering with large companies to get their employee travel needs as well as attract business travelers. It's high time to be proactive with the "Business Travel Ready" listings since almost 70% of night bookings for the US lodging industry are business stays.
And while Airbnb has established itself in major markets, it is seeing tremendous growth in mid-sized cities such as Indianapolis, Columbus, and Minneapolis. But in terms of increase in booking percentage, one city stood out the most — Gangneung in South Korea. The city experienced a 2175% increase in bookings thanks to its close proximity to the Pyeongchang Winter Olympics. If Airbnb can continue capturing the market for rentals around major events, this can mean exponential growth for the company as well.
---
References:
Reasons not to use Airbnb in U.S./Europe 2015-2017 | Statista

Airbnb: average rent per guest arrival 2016-2018 | Statista

Direct economic impact of Airbnb in selected countries 2018 | Statista

Airbnb: company value 2016-2018 | Statista

Sharing economy: familiarity with Airbnb U.S. 2018 | Statista

Airbnb customer satisfaction US/Europe 2015-2017 | Statista

Airbnb Statistics (2020): Users, Listings & Fun Facts

Airbnb Statistics [2020]: User & Market Growth Data

Airbnb users by age US/Europe 2017 | Statista

Airbnb – Statistics & Facts | Statista

Airbnb: average guest arrivals per listing 2016-2018 | Statista