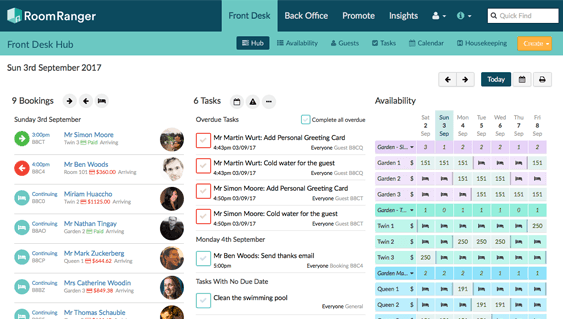 To start, you can manage all your distribution and bookings in one place. Make use of a single calendar to manage bookings from multiple channels such as booking.com, airbnb, Expedia, Hotels.com, and more. Bookings made via online channels are automatically created in the application and synced with your other booking websites. Plus, you get commission-free bookings on your website and Facebook. Reduce the possibility of double bookings. Attract more guests by connecting to all the popular booking sites.
Use a single system to manage important tasks such as accounting, marketing, housekeeping, payments, and bookings. Create tasks lists to make sure all the work is done on time. Improve efficiency by automating routine tasks such as housekeeping. Make sure all employees have access to the info they need. View and track changes to bookings, payments, and tasks. The best part is RoomRanger is cloud hosted so you don't need the help of your IT department to manage it. You can access the system and your data from anywhere using your smartphone.
With RoomRanger, you can easily manage your finances such as accounting, expenses, and invoicing, You can accept credit cards without monthly fee and create invoices quickly. Inventory adjusts automatically as you buy and sell new stock. Ease your tax filing process by categorizing your sales and expenses.
Finally, you can easily generate financial reports that provide insights on your hotel's financial state. You can export this data to other applications too. Analyze the data from multiple viewpoints. Find out which services, products, and rooms rake in the most profit. Separate your guests by segments such as demographics. Identify and focus on high-value guests. Learn which processes are most profitable and which are most expensive. Make use of up-to-date info with live data. Last but not the least, you can visualize booking trends and patterns easily.