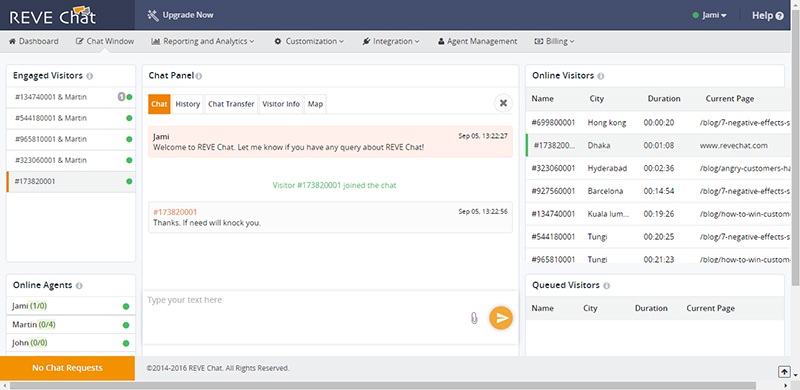 Simple Yet Robust Solution
REVE Chat is a straightforward and simple live chat platform that can be easily integrated into your website in a few seconds. It provides an extensive set of tools ranging from the standard live chat feature to the more interactive video and voice chat modules as well as the versatile and familiar Viber and Facebook messaging options. This user-friendly yet robust platform simplifies the manner in which companies engage their site visitors.
Routes Queries to Right Unit
REVE Chat enables your visitors to get the most out of their site visit. If they need assistance, they can contact your agents immediately. If a visitor asks a specific question that needs an expert answer, the software routes such queries to the right unit so that qualified agents take the call.
Mobile Friendly
REVE Chat mobile apps for Android and iOS devices enable your reps to provide live chat support and immediate assistance to your visitors from anywhere using their smartphone or tablet. You can use the software's mobile SDK to quickly integrate it with your mobile app.
Improves Sales Conversions
REVE Chat reviews indicate that the platform helps to boost online sales conversions by empowering your agents to deliver efficient assistance to your visitors. Your reps can simultaneously engage multiple visitors which enhances support efficiency.
Customers can Provide Feedback
The tool allows your customers to provide their valuable feedback which is important for business growth. You can effortlessly collect customer feedback and derive operable insights from it to understand their needs and demands, and improve your services and products.