In today's business landscape, there are various ways to get ahead of competition. There is a myriad of tools available—from sales to marketing and even HR, that give businesses the edge over others. Additionally, hiring great talent is a crucial factor. With outsourcing, business owners can hit these two birds with one stone. Indeed, countless businesses are engaged in this practice today.
Outsourcing is one of the many facets of the gig economy; it gives small and big businesses the ability to access global talent. This makes hiring more affordable and, sometimes, makes finding more capable talents easier. Read more about the important statistics below to be informed about the impact and relevance of outsourcing not only in the US but also around the world: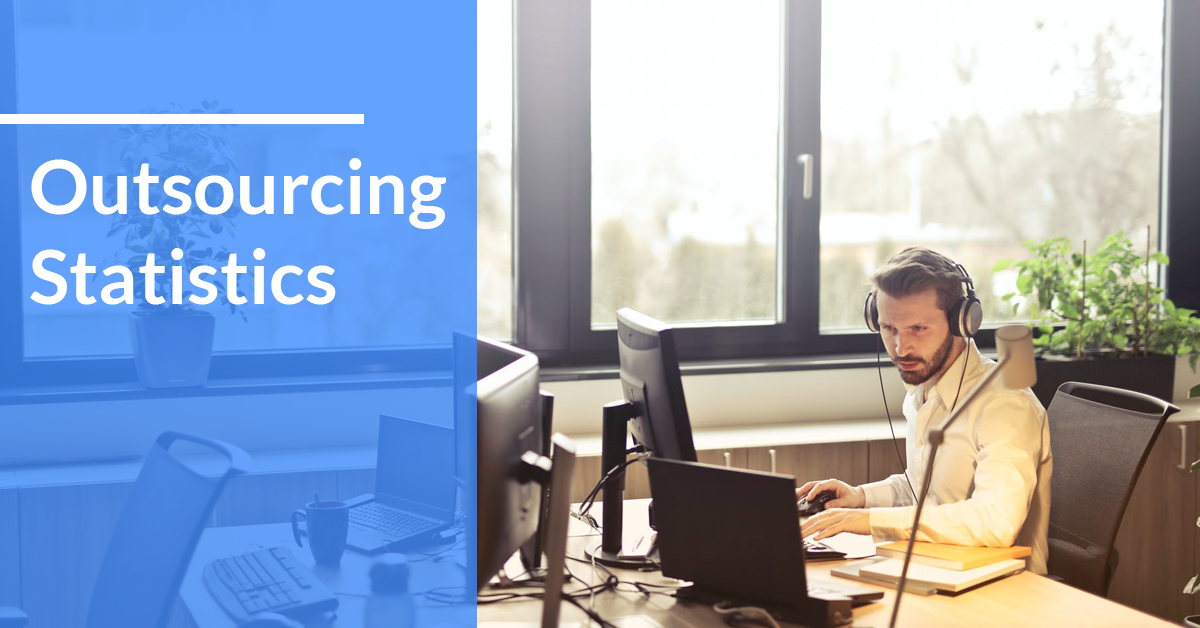 Outsourcing Statistics Table of Contents
General Outsourcing Industry Statistics
Employees are the lifeblood of most organizations. Investment in manpower should be one of the top priorities for businesses. However, hiring native talent is not only time consuming, but tends to be costly. On top of that, countries across the globe implement strict compliance with their labor laws that usually contain a clause about minimum wage, which some smaller businesses might not be able to afford. Outsourcing talent can ease some of these challenges.
Countries such as India, the Philippines, and Poland are one of the top choices for most businesses to headhunt outsourced employees. With the widespread availability of the Internet, global talents are more accessible than ever. There are various platforms where you can hire freelance workers around the world. For starters, the statistics below will give you an overview of the outsourcing business as an industry.
The average annualized contract value in 2017 was $32.6 million — an of 53% increase from 2016's $21.3 million.
$100 billion of revenue was generated by the defense sector accounts — the biggest outsourced deals.
One-third of small businesses currently outsource their business processes, and another 52% planned to do so in 2019.
In 2018, only 9.4% of the average IT budget was allocated to outsourcing.
In 2017, the healthcare sector saw the most significant outsourcing growth by up to 36%.
There's an estimated 9% to 11% growth on benefits such as life and pension insurance in the BPO industry since end-to-end third-party administration grows.
The banking industry outsources 40% of help desk positions.
The telecommunications sector consistently places as one of the top contributors in the global outsourcing industry.
By 2020, more than 80% of logistics leaders plan to increase their outsourcing budget by more than 5%.
Source: Teleperformance; Frost & Sullivan
US Outsourcing Statistics
The United States is undeniably one of the leading countries that is fond of outsourcing their business processes and talents. For example, IBM, a homegrown tech brand, has various call centers across Asia because the pay is cheaper and the literacy of employees is more or less the same as in the US.
Customer support isn't the only business function that gets outsourced. Additionally, back-office support, human resources, and even IT are often outsourced. Indeed, outsourcing creates a positive impact on businesses, most especially startups. On the other hand, the American workforce is not happy about the nature of outsourcing because it takes away hundreds of thousands of opportunities from them.
A whopping 84.2% of outsourcing deals originated in the US in 2017.
The government and defense sectors are the two biggest users of outsourcing.
Call center workers in the US earn on average only 15% more than their counterparts in India.
Only 9% of businesses decided to stop their outsourcing efforts after the Great Recession.
The US is the third-largest supplier of gig workers, next to India and Bangladesh.
Outsourcing harms the US economy according to 71% of Americans.
Global Outsourcing Statistics
Global talent has never been more in-demand.
The emergence of the gig economy changed the way how companies and job seekers look at employment. Experts predict that most of the American workforce will be freelancers soon. Also, freelancing is becoming more prevalent around the world. Through the gig economy, job seekers' options are not limited to opportunities in their cities and countries. Using various freelance platforms, they can now be employed by companies across the globe. The statistics below will show you a clearer picture of the global outsourcing industry.
The global market for outsourcing was worth $92.5 billion in 2019.
In 2019, the revenue of the global business process outsourcing (BPO) was $66.5 billion.
Aside from the United States, outsourcing deals also came from the United Kingdom, Spain, and Australia.
India is still the preferred country for outsourcing.
In 2017, the IT-BPO industry in India had an aggregated revenue of $154 billion.
The Philippines has 21 out of the top 25 offshore call center projects.
Knowledge process outsourcing comprises 34% of the outsourcing industry in the Philippines.
The outsourcing industry contributes to 10% of the Philippines' economy.
In 2020, Ukraine's IT industry market might reach a value of $5.7 billion.
Ukraine has the most number of IT professionals in Central and Eastern Europe and is popular for IT outsourcing.
Ukraine's workforce is projected to increase to over 200,000 by 2020.
In 2018, the developers in Ukraine were around 165,000 and were expected to increase by up to 125% by 2025.
Well-funded companies such as Smartling, Shape, Jelastic, CurrencyCould, Elementum, RateSetter, DisclosureNet, CloudMade, and AdsWizz outsourced development to Ukraine.
Poland is one of the biggest players in IT in Eastern Europe, though it also specializes in finance and accounting.
Source: Information Services Group; TPI
Outsourcing Pros and Cons Statistics
Outsourcing business processes typically yield significant returns, but it is not without risk. For one, outsourcing is not compatible with all business models. You can't outsource your front-of-the-house processes in a physical store unless it's fully automated. Most outsourced jobs usually fall into back-office and customer support.
Automation is also a form of outsourcing. Some businesses choose to use software to automate their business processes from marketing to finance. In turn, this puts the jobs of countless people around the world in doubt. However, some people are still willing to take this risk because the pay for outsourced jobs is usually higher. Read more about relevant statistics on the pros and cons of outsourcing:
In the Philippines, the average compensation for those in the outsourcing industry is $7,605 annually.
An outsourced IT worker in China is paid $7,000 for an entry-level position.
78% say they feel positive about their outsourcing relationship with other companies.
On average, 18% more are saved by companies that outsource payroll management than those who do it in-house.
For 68% of outsourcing companies who are considering moving to cloud technology, data security is a top concern.
Outsourcing Trends & Statistics
With the looming threat of automation, what lies ahead for those who want to join the outsourcing industry?
For businesses, automation is a great thing. It can greatly reduce costs by making manual work obsolete. On the other hand, this is not a good thing for most employees. However, there are still several jobs that are still out of automation's reach. A lot of companies are planning to increase their outsourcing efforts mostly in the field of AI and technology. To cope with this, job seekers are advised to undergo re-skilling and upgrade their skill sets to better prepare themselves for the future.
65% of businesses that outsource application hosting will increase their outsourcing efforts in the future.
37% of organizations doing application development are planning to increase the amount of outsourced work.
Strategic planning functions will never be outsourced by 89% of companies.
The global market for BPO will reach $262.2 billion in 2022.
Higher-level jobs will be outsourced more in the future.
More than 93% of organizations are considering or have already adopted cloud services to improve outsourcing.
To accommodate new technology, 40% of India's workforce would need to upgrade their skills over the next five years.
Automation threatens more than 1 million outsourced jobs in the US, India, Poland, and the Philippines.
Source: William Blair; IDC; Statista
Outsourcing: Is It Worth the Investment?
The future of outsourcing is bright.
Outsourcing is cost-effective, making it ideal for small businesses with limited budgets. Organizations can either use software to replace two or more manual laborers or hire the same capable talents from other countries at a lower rate. The statistics we gathered are meant to help you come up with substantial strategies for your business. Thousands of businesses are already outsourcing business processes and jobs around the globe.
Tech and telco giants are among one of the biggest users of outsourcing, globally. These companies set up headquarters in countries such as the Philippines and India to move some facets of their operation. On top of the already wide minimum wage gap, these countries further attract big brands to open up shop by giving generous tax incentives.
Aside from that, there is a wide array of automation software businesses can choose from depending on what business process you want automated.
---
References:
IT Outsourcing Statistics 2019/2020–Outsourcing Trends and Cost/Service
Experiences for 11 Key IT Functions

Current Trends in Outsourcing – Outsourcing Insight

Life & Pensions Insurance BPO Will See 9-11% Growth in 2020 as End-to-End

Outsourcing Statistics: 23 Facts and Trends

Gartner Says 85% of Logistics Leaders Expect Their Outsourcing Budget to

How Outsourcing Jobs Affects the US Economy

27 US Outsourcing Statistics and Trends – BrandonGaille.com

Where are online workers located? The international division of digital gig

Why Do American Companies Outsource? | Bizfluent

Managed Services and As-a-Service Market Insights

The Widening Impact of Automation

Up to 40 per cent IT staff need re-skilling

Largest Onshore, Nearshore & Offshore Call Center Projects of 2016

KPO in PH: Guide to Knowledge Process Outsourcing in the Philippines

Business Process Outsourcing (2020 Guide + 7 BPO Trends)

Export-oriented segment of Ukraine's IT services market: Status quo and prospects

Report: Ukraine has become Eastern Europe's #1 IT outsourcing and software development powerhouse

What Entrepreneurs Should Know About Outsourcing to Ukraine

9 tech companies that outsource development to Ukraine

Outsourcing in Poland – Emerging Europe | Intelligence, Community, News

Comprehensive guide to payroll salary compensation, benefits, and

Deloitte's 2016 Global Outsourcing Survey

The Hidden Reality of Payroll & HR Administration Costs

The Deloitte Global Outsourcing Survey 2018

Disaster Recovery Tops List of Outsourcing Cost Savings | Computer

Global Business Process Outsourcing Bpo Services Market – Market Reports

The Widening Impact of Automation Article – Kearney