And they lived happily ever after…or maybe not. As much as we all want a happy ending to marriage, divorce can sometimes be the only path for some couples. If you want to assess your own risk, check out our divorce statistics on major life factors that can influence divorce.
Divorce has many facets, so looking at relevant data can help us gain insights into what socio-economic issues lie beneath the surface of filing the paperwork. For example, the divorce rate in the US is going down, but not because couples are deciding to stay together. On the contrary, they're just not getting married at all. With a slew of issues connected to divorce, such as staggering costs and ugly child custody battles, couples are delaying marriage out of divorce fears.
Meanwhile, in China, several cities have reported a surge in divorce rates as people emerged from quarantine due to the Covid-19 pandemic. Couples cited "lack of space" as their top reason for filing the divorce request, which highlights the importance of having personal space—not just for individuals but for married people as well.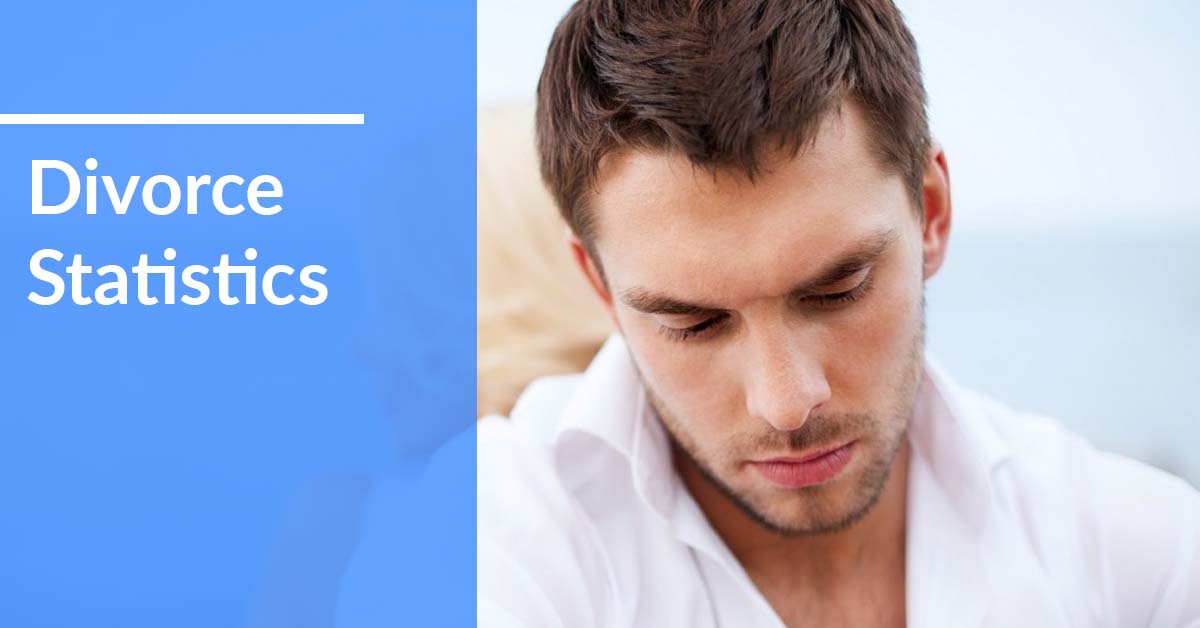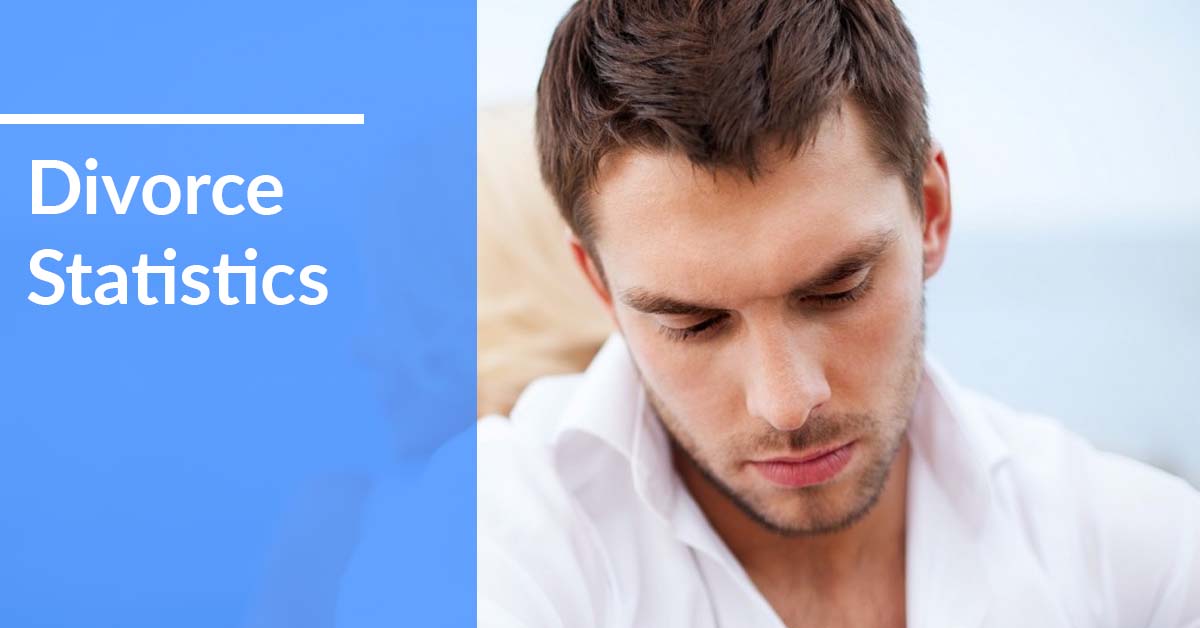 Divorce Statistics Table of Contents
Global & US Divorce Statistics
Thanks to cutting-edge business intelligence software and accessible information, organizations and researchers can uncover hidden patterns and correlations from the data they gather. For example, you can not only learn about the divorce rate by country but also look into how general demographics like age, income, and even education and profession can become indicators of divorce.
Data analysts usually use census data and the crude divorce rate (CDR) when determining divorce rates of different nations. The United Nations Population Division defines the crude divorce rate as "the annual number of divorces per 1,000 population." This simply takes the total number of divorced couples per year divided by the total population then multiplied by 1,000.
Russia has the highest divorce rate by country at 4.8, followed by Belarus with 4.1, and Gibraltar with 3.1.

Portugal has the highest rate of divorce in Europe (69 per 100 marriages), followed by Luxembourg and Ukraine with 65.9 and 56.7.

70.3% of all European marriages that ended in divorce have lasted less than 20 years.

OECD countries show mixed trends in divorce rate with increased CDRs in 18 out of 33 member nations and decreased CDRs in another 12.

Divorces in the Gulf Cooperation Council (GCC) are rising. Qatar's divorce rate increased by 71|% over a 15-year period.

Saudi Arabia reported a 50% increase in divorces in 2017.

In 2019, divorce rates before consummation in the Saudi city of Jeddah rose to 45%, especially among those aged 26 to 30.

The UAE Statistics Center reported that 50% of marriages did not last beyond three years, and 28% did not past the first year.

Kuwait's Ministry of Justice in 2017 revealed that around 60% of marriages in the country had ended in divorce.
Divorce statistics in the US
CDC data shows that the divorce rate in the US has been steadily declining since 2000. The country's CDR in 2018 stands at 2.9 compared to a high of 4.0 18 years ago.
Experts put the chances of a married couple getting divorced at 42% (down from 50% in the 1980s).

The divorce rate for second marriages is 60% and 73% for third marriages.

By state, Nevada has the highest divorce rate at 4.4. Illinois has the lowest rate at 1.5.

Regionally, the South has the highest divorce rate: 10.2 per 1,000 for men and 11.1 per 1,000 for women. By contrast, men and women in the Northeast had the lowest rates of divorce, 7.2 and 7.5.

The average length of a first marriage that ends in divorce is 8 years.

Divorce season is during the spring and summer, where there's a spike in the number of divorces.

58% of Americans believe that divorce is much better than staying together in an unhappy marriage.

73% see divorce as morally acceptable.

The cost of a divorce can be as little as $8,400 or as much as $17,500.

An average divorce case can take up to 12 months; cases that go on trial can take longer to complete.

Infidelity is the top reason for divorce.
Major life-factors that can influence a couple's divorce risk
Income & Finances
Couples with an annual income of more than $50,000 a year can lower their risk of divorce as much as 30% compared to those with lower than $25,000 per year.

The greater the mismatch between a couple's credit scores, the more likely they'll separate within the first 5 years.

Couples who argue about finances once a week are 30% more likely to end their marriage.

59% of Americans who have gotten divorced within the past 5 years said finances played a role in their divorce.
College Degree & Divorce Rate
Probability that a first marriage will last at least 20 years
Pew Research Center
Created by CompareCamp.com
Education
Obtaining a bachelor's degree can lower your divorce risk by as much as 25%.

78% of women with a college degree are more likely to stay married for 20 years at first marriage. Among women with a high school education or less, the share is only 40%; 65% of men with a bachelor's degree are likely to stay married for 20 years at first marriage, versus 50% of men with a high school diploma or less.
Occupation
Gaming managers have the highest divorce rate at 52.9%, whereas actuaries have the lowest at 17%.

The industry that has the highest average divorce rate is Office and Administrative Support at 40.61%, whereas Architecture and Engineering have the lowest at 27.54%.
Social Media
A 20% annual increase in Facebook enrollment was associated with anywhere from a 2.18% to a 4.32% increase in divorce rates.

1 in 3 divorces starts as an online affair.
Addiction
Alcohol –

Almost 50% of marriages where one partner is a heavy drinker ended up in divorce; couples with the same drinking habits (neither heavy drinkers or both heavy drinkers), 30% ended up divorcing.

Smoking –

Couples with only one partner who smokes have a 70-90% risk of getting divorced.

Substance Abuse –

7.3% of marriages end in divorce due to substance abuse.

Pornography –

One study observed that men who started watching porn increased their risk of divorce from 5% to 10%; for women, it was from 6% to 18%.

56% of divorce cases involve one party having an obsessive interest in pornographic websites.
Millennial Divorce
A declining divorce rate, however, may not be a cause for celebration. That's because a deeper dive into the statistics reveals that there are fewer marriages, to begin with as millennials wait longer to get married or not marry at all. Different studies point to the same reasons keeping younger Americans from tying the knot: financial concerns and the trauma from being products of divorced parents themselves.
The divorce rate from 2008 to 2016 declined by 18%

—

all attributed to people younger than 45 years old.

The average age of couples going through their first divorce is 30 years old. Spouses aged between 25 and 39 make up 60% of divorces.

Marrying over 25 years of age can lower your divorce risk by as much as 24% compared to marrying under 18.
One major difference that's making it more simple for millennials to handle their divorce compared to their boomer counterparts in the past is today's technology. For example, various legal case management software make it easier for millennials and their attorneys to organize financial and legal documents needed for their case.
Another thing that helps is financial planning. More millennials are signing prenups without the stigma connected to them in the past. They do this to protect their financial independence, considering that money problems and income are often linked to marital issues that can lead to marriage dissolution.
Millennial and Gray Divorce
The Balance/The Washington Post
Created by CompareCamp.com
Gray Divorce
Though there's a decline in overall divorce rate, "gray divorces" are on the rise among older people between 50 and 65. The usual assumption that major life transitions like an "empty nest" or retirement fuel gray divorces have no strong correlation. Instead, the same reasons found in most divorces in younger people—quality of marriage—is also salient for older couples.
The divorce rate for people aged 50 and above has doubled since the 1990s. For people aged 65 and above, the rate has tripled.

About 1% of married Americans over age 50 get divorced each year.

55% of gray divorces involve couples who have been married for 20 years.

Remarried couples are also 2.5 times more likely to divorce compared to couples in a first marriage; thus, ending in a "gray divorce."

People who went through a gray divorce had worse feelings of depression versus those whose spouses died.

Women 63 and older who went through a gray divorce have a poverty rate of 27% compared to only 11% for men.

Divorced women aged 50 and above saw their living standards drop to 45%, compared to a 21% drop for men above 50.

The odds of a gray divorce were about 38% lower for couples with more than $250,000 in assets compared with those with $0 to 50,000.

Denver has the highest rate of gray divorces at 28% of residents 65 and older.
Women
An interesting phenomenon is that more women are filing for divorce than men, even though they have the higher potential of financially losing out at the end of the process. Based on traditional ideas of women being the ones who initiate marriage, this recent trend of them being the first to call it quits is shattering gender stereotypes.
Women initiated 69% of all divorces, compared to 31% for men. The study from the American Sociological Association theorizes that this could be due to women experiencing marriage as uncomfortable and oppressive.
Black women between 50 and 59 years old are most likely to get divorced, while Asians between 25 and 29 are the least likely to have their marriages dissolved.

54% of divorced or widowed women do not want to remarry compared to 30% of divorced or widowed men.

Women are more likely to get divorced shortly after a high-level promotion.

Women's household income drops 41% after a divorce.

Living on one income was the biggest financial fear of women going through divorce, but 91% of women also see divorce as a chance to focus on their careers by studying, working, or starting a business.
Who's Filing for Divorce?
American Sociological Association
Created by CompareCamp.com
Men
A common perception in divorce is that women take all the beating, but how it affects men is seldom talked about. Though men usually come out financially richer after a divorce, they also suffer the most issues when it comes to health and well-being.
A man's divorce risk is nearly 33% higher when he is not working full-time.

If a man provides 80% of the household income, he might not suffer a huge financial loss after divorce and might even marginally improve his financial condition.

Divorced men have higher rates of mortality, substance abuse, depression, and lack of social support.

The risk of suicide among divorced men was over twice that of married men.
Same-Sex Divorce
Same-sex marriage is relatively new in the US compared to Europe; thus, data is harder to come by, and legal challenges surrounding same-sex divorce in different states are also prevalent.
Same-sex divorce rate is 1.1% per year, while the divorce rate for straight couples was 2% per year based on data available in 2014.

The divorce rate among lesbian couples is double that of marriages between other sex combinations.
Children of Divorce
We cannot leave out children when we look at divorce statistics, especially since the process can dramatically impact many important aspects of their life growing up and as an adult. Several types of research show that children of divorce are affected not just emotionally but also mentally, physically, and academically. Also, they have a higher chance of falling into financial insecurity due to the mother's decreased income.
Likelihood of Living in a Household Below the Poverty Level
Created by CompareCamp.com
The first year or two after divorce is toughest for kids.

Children living with a divorced parent are more likely to live in a household below the poverty level (28%) compared with other children (19%)

Children living with single parents score lower on measures of academic ability and achievement than do children with two continuously married parents.

Adolescents with divorced parents are more likely to experience physical injury, illness, and health issues.

Children of divorced couples experience increased mental health problems.

Divorce may decrease a child's social and psychological maturation and increase their risk of emotional distress.

Adolescent children of divorced parents report more alcohol and other substance use than children of married parents/intact families.

Children who experience parental divorce are more likely to engage in risky teen sexual behavior.
Economy
Though many people may perceive divorce as a purely personal and family-related affair, it turns out that it can also have detrimental effects on economic growth.
Divorce negatively affects productivity and human capital.

Divorced households used an extra 73 billion kilowatt-hours of electricity and 627 billion gallons of water compared with married households.
---
References:
Saudi divorce rates rise by 50%

Saudi city: 45% divorce rate before consummation

Concerns over rising divorce rates in Emiratis

Alarm sounded as divorce rate in Kuwait reaches 60%

What Is the Divorce Rate, Anyway? Around 42 Percent, One Scholar Believes

32 Shocking Divorce Statistics

Divorce rates by State: 1990, 1995, and 1999-2018

Divorce Rates Highest in the South, Lowest in the Northeast, Census Bureau Reports

Number, Timing, and Duration of Marriages and Divorces: 2009

Is divorce seasonal? UW research shows biannual spike in divorce filings

Family Meals, Cohabitation and Divorce

U.S. Divorce Rate Dips, but Moral Acceptability Hits New High

The cost of divorce: How much do you pay to get divorced in California vs. Colorado?

How Much Will My Divorce Cost and How Long Will It Take?

Reasons People Give for Divorce

Social Indicators of Marital Health and Well-Being

Credit Scores and Committed Relationships

Bank on It: Thrifty Couples Are the Happiest

Experian Credit and Divorce Survey

The link between a college education and a lasting marriage

Divorce and Occupation

The occupations with the highest and lowest divorce rates in the US

Social network sites, marriage well-being and divorce: Survey and state-level evidence from the United States

Surprising Stats on Social Media & Divorce – Infographic

RIA Reaching Others: Does Drinking Affect Marriage?

What's love got to do with it? Homogamy and dyadic approaches to understanding marital instability

Key Substance Use and Mental Health Indicators in the United States

Divorce rates double when people start watching porn

Hearing on Pornography's Impact on Marriage and Family

The Coming Divorce Decline

How Long Do Average U.S. Marriages Last?

Led by Baby Boomers, divorce rates climb for America's 50+ population

Divorce Is Costly. Divorce in Retirement Is Costly and Complicated.

Till Death Do Us Part? No way. Gray Divorce on the Rise

Antecedents of Gray Divorce: A Life Course Perspective

Depressive Symptoms Following Later-life Marital Dissolution and Subsequent Repartnering

Gray divorce boosts poverty level for women

Divorce destroys finances of Americans over 50, studies show

Who is at Risk for a Gray Divorce? It Depends

Gray Divorce in the U.S. – 2020 Edition

Women More Likely Than Men to Initiate Divorces, But Not Non-Marital Breakups

The Growing Racial and Ethnic Divide in U.S. Marriage Patterns

Chapter 2: The Demographics of Remarriage

All the Single Ladies: Job Promotions and the Durability of Marriage

Retirement Security: Women Still Face Challenges

Building A Financial Fresh Start: A Study On Divorced Women By Worthy

Money, Work, and Marital Stability: Assessing Change in the Gendered Determinants of Divorce

How Will Divorce Affect Me Financially?

The Influence of Divorce on Men's Health

Marital status and suicide in the National Longitudinal Mortality Study

Do gay marriages have a lower rate of divorce?

First Comes U-Haul, Then Comes Court: The Shockingly High Lesbian Divorce Rate

Deconstructing the Impact of Divorce on Children

Dynamics of Economic Well-Being: Poverty, 2009–2011

Single-Parent Households and Children's Educational Achievement: A State-Level Analysis

Family Structure and Adolescent Physical Health, Behavior, and Emotional Well-Being Callie E. Langton

Parental divorce or separation and children's mental health

The impact of family structure on the health of children: Effects of divorce

Parental Divorce and Initiation of Alcohol Use in Early Adolescence

Effects of Divorce on Children's Sexual Activity

The Divorce Revolution Perpetually Reduces U.S. Economic Growth: Divorce Removes a Fourth of Head-of-Household Productivity Growth

Divorce Squanders Earth's Resources