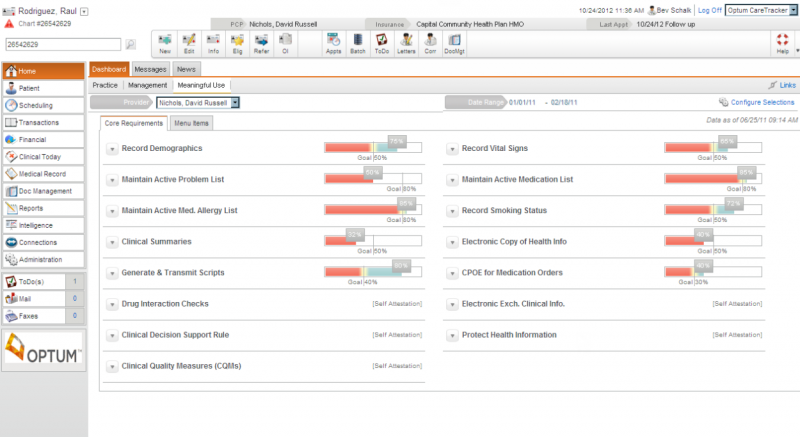 The main benefits of Optum Physician EMR are its dashboard, its progress indicator, and its claims management feature.
The dashboard that comes with Optum Physician EMR lets physicians see how they are progressing when it comes to meeting Meaningful Use requirements such as protecting health information, recording demographics, electronic exchange of info, maintaining an active problem list and an active medical allergy list, CPOE for medication orders, clinical summaries, electronic copy of health info, generating and transcribing scripts, recording smoking status, drug interaction checks, maintaining an active medication list, recording vital signs, clinical quality measures, and a clinical decision support role.
A progress indicator is provided for each Meaningful Use core requirement so users have a visual of how far along they are to accomplishing their Meaningful Use targets. This helps practitioners become Meaningful Use compliant.
Claims can be checked and reviewed before being sent to payers, thanks to Optum Physician EMR's claims management feature. Clinical errors and clinical coding are spotted by an automatic pre-screening, which lowers the risk of denials and reduces uncovered and unbilled revenue. Since resubmission and reworking of claims are avoided, administrative costs connected to payers and provider feedback cycles are reduced.
Optum Physician EMR users can also access a library of best practices, assessments, care plans, and other references, which in turn gives them the ability to look through particular populations and focus on at-risk patients. Intervention can then be implemented earlier, avoiding complications and ensuring that the patient's health is preserved.