The pursuit of romance has changed throughout history. In the digital age, algorithms play a significant role in establishing romantic connections as more and more people turn to online dating to meet potential love interests. Based on online dating statistics, there are more than 30 million online dating users in the United States. 
What makes online dating popular these days can be attributed to the digital revolution in human courtship. More people are now more comfortable with assessing compatibility by forming virtual connections first before taking things further by agreeing to the actual dating experience. 
In this article, we will look into the numbers behind OkCupid, one of the popular online dating sites in the US. Through the OkCupid statistics listed here, we aim to give you an insight into what makes online dating sites a hit among American adults, and how OkCupid and other sites are turning digital dating into a billion-dollar industry.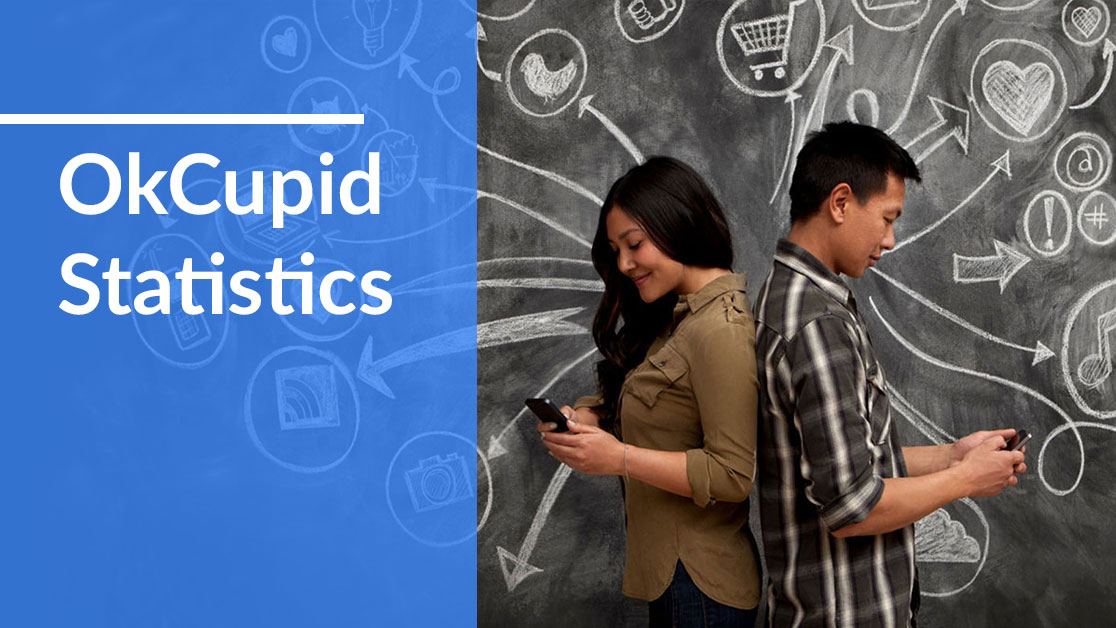 OkCupid Statistics Table of Contents
Quick OkCupid Statistics
OkCupid was created in 2004 by four friends as a free online dating site where people can establish meaningful connections. It became one of the biggest dating sites in 2012 and has since consistently been among the top online dating sites used in the United States.
OkCupid's User Engagement, Usage Rate, and Market Share
Source: Survey Monkey Intelligence
Created by CompareCamp.com
InterActiveCorp reportedly purchased OkCupid in 2011 for $50 million.

OkCupid.com recorded more than 1 million visitors per month in 2012.

This online dating site has more than 50 million members as of 2020.

An average of 100,000 users is online at any one time.

There are currently 5,000 in-app questions users can choose from to find matches who share common interests.

OkCupid is the first online dating site to include 22 gender and 13 orientation options.
General User Demographics
Source: Morning Consult National Tracking Poll #200473
Just like any online dating site, OkCupid only caters to adults. As one of the dating sites that openly and actively advocates inclusivity, OkCupid has a large pool of users from different walks of life, areas, and who have different types of relationship preferences.
A total of 9% of American adults use OkCupid as of April 2020.

11% of OkCupid users are males compared to only 6% of female users.

The majority of OkCupid users in the US belong to the 18–29 age group (14%), followed by users between the ages of 30 and 44 (10%).

11% of American users earn more than $100,000 a year; 10% earn between $50 to $100,000, and 8% of users have an income below $50,000 annually.

9% of OkCupid users in the US live in suburban and rural communities, and 8% live in urban areas.

In 2016, users who prefer monogamous relationships became a minority at 44%.

In 2014, 8% of members are looking for a relationship with the same sex.
The Language of Love
Another advantage of online dating sites is how they bring people from different parts of the globe together. As a global online dating platform, OkCupid gathers that majority of its millennial users are more open to the idea of dating someone outside the United States.
Percentage of Users Who Claim Dating Someone from the Same Country Is Very Important
(by age group)
Source: OkCupid; Rosetta Stone 2018
Created by CompareCamp.com
74% of millennials are more open to dating someone who does not come from the same country.

73% of millennials find bilingual/multilingual more attractive than someone who only speaks one language.

60% of users are open to dating someone who doesn't speak their language fluently.
92% of single users are interested in learning a new language.
Online Dating Culture Across the United States
OkCupid currently has 5,000 in-app questions to help their users narrow down their matches to those whom they share views and interests with. These questions also reveal interesting insights into the behavior of American adults on online dating sites. 
Conversations by Age Difference
Conversations by Age Difference
She's <5 years younger: 34
She's <5 years younger
%
Conversations by Age Difference
She's equal or 5+ years younger: 27
She's equal or 5+ years younger
%
Conversations by Age Difference
She's <5 years older: 19
She's <5 years older
%
Conversations by Age Difference
She's equal or 5+ years older: 12
She's equal or 5+ years older
%
Conversations by Age Difference
Equal ages: 9
Equal ages
%
Source: OkCupid
Created by CompareCamp.com
80% of the conversations are started by men, and most of them are with younger women.

Less than 1/3 of conversations show that the older party is the woman, and 12% of these conversations reveal a five-year gap.

Women in their 40s receive a higher response rate from males in their late 20s (60% response rate)) compared to men in their 50s (36% response rate).

61% of men are more open to casual relationships compared to only 32% of women.

29% of men are willing to engage in an open relationship, and 13% of women are on the same boat.

61% of conversations involve an older man and a younger woman. A five-year age gap is also observed in nearly half of these conversations.
59.7% of OkCupid members think that having a degree is good but not a dating requirement. Meanwhile, 19.6% see the lack of a college degree as a dealbreaker.

 Among millennials, 22% of female users and 16% of male users consider college degree as mandatory.

42.43% of women and 52.10% of men who attended graduate school do not consider having a college degree a mandatory requirement for dating someone.
OkCupid Users on Politics, Environmental, and Social Issues
OkCupid's approach to matching members via their common interests goes beyond hobbies, favorite Starbucks drink, or most-watched shows on Netflix. Just this year, OkCupid gives users the capability to filter out climate change deniers from potential matches. The in-app questions also dip into the pool of local and international politics, so users will have a higher chance to be matched with others who share their support or disapproval of certain political figures, policies, etc.
Percentage of Users Concerned About Climate Change
Percentage of Users Concerned About Climate Change
Millennials: 84
Millennials
%
Percentage of Users Concerned About Climate Change
Gen Z: 82
Gen Z
%
Percentage of Users Concerned About Climate Change
Gen X: 76
Gen X
%
Source: OkCupid
Created by CompareCamp.com
The use of environment-related terms (climate change, global warming, recycle, Greta Thunberg, etc.) increased by 240%.

97% of OkCupid users believe in climate change.

84% of millennial users are concerned about climate change's potential impact compared to 82% and 76% of Gen Z and Gen X users, respectively.

88% of female Gen Z users and 74% of Gen X men consider climate change concerns as part of their dating criteria.

The mention of "women's rights" increased by 73% in 2017. 
OkCupid and the Online Dating Industry
The online dating segment is a billion-dollar industry that is growing at a promising pace. With an expected annual growth rate of 9.3%, the online dating industry is predicted to have a market volume of $2.5 billion by 2024. 
OkCupid ranks among the top 10 online dating providers that paying customers use in the US.

OkCupid records an average of 106.24 minutes per month of user engagement in 2019, placing it among the most popular dating apps in the US by user engagement.

As of September 2019, OkCupid has an audience size of 1.7 million, placing it on the 6th spot among online dating sites.

OkCupid is the fifth most popular online dating site by audience reach (0.95%). 
Online Dating in the Time of Global Pandemic
In the wake of the coronavirus pandemic, OkCupid has recorded a 700% increase in user activity. In the US alone, there is a 12% increase in matches and more than 25% increase in conversations among OkCupid users. Virtual dating has turned into a trend, and the little possibility of having physical contact has yielded some positive results. OkCupid statistics reported that the number of users looking for long-term relationships has increased in March, and there has been a significant decrease among users looking for casual attachments. Whether the change of heart of some users can be attributed to having more time to reflect amid the time of social isolation, it is a step in the right direction.
---
References