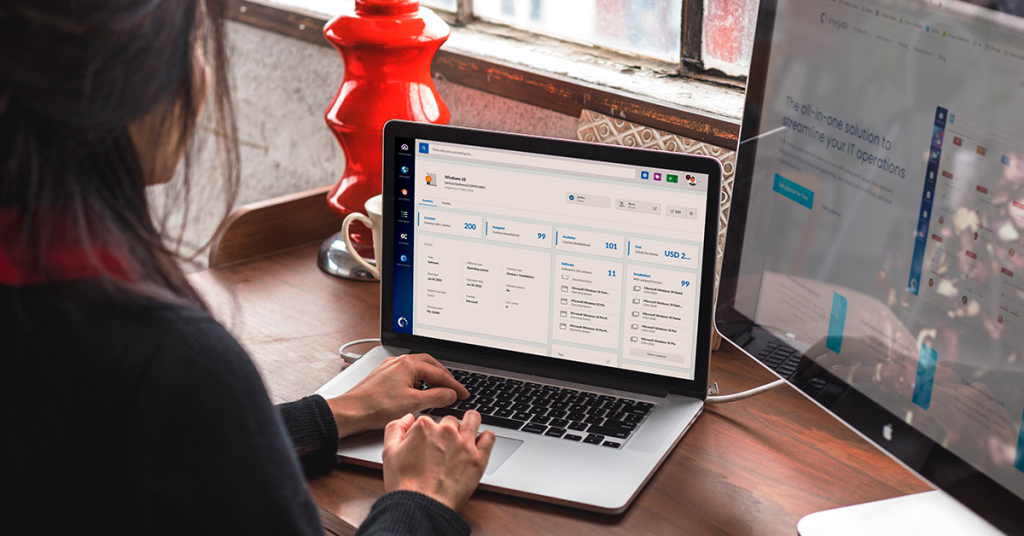 IT Asset Management (ITAM) is an absolute must to manage, control, and protect your organization's IT assets. But to do it right, you need to have the right IT Asset Management solution on your side. Otherwise, you'll just be half-doing it.
However, picking the best one for your needs is not an easy thing to do. But worry not because we're about to list the six indispensable features you need to look for during your research process.
Keep reading to find out!
Why do you need an Asset Management solution?
Hardly any company worldwide doesn't use IT assets in their daily operations. One way or another, every business needs them – and, thus, needs to manage them.
You might think, "Yes, I know, but I already do that with a spreadsheet." And let us tell you that that's far from ideal. Using Excel for ITAM allows you to have an IT inventory; that is true. 
However, it's just a snapshot from a specific period. And since it's done manually, it's highly possible that it contains duplicates and inconsistencies due to the tools' lack of normalization. Plus, it will be quickly outdated, making it an unreliable source to base decisions on.
So, as with Inventory Management in general, you need a tool that can do the job for you. This necessity explains why the ITAM software market was valued at USD 6.60 billion in 2022, and why it is estimated to grow at a 7.91% rate during the forecast period spanning from 2023 to 2030.
What does an Asset Management solution do?
An ITAM solution's main purpose is to maintain an updated IT inventory, monitor it, and feed you trustworthy information to guide your decision process.
It manages the lifecycle of your IT assets, from acquisition to disposal, contributing to implementing a proactive approach to ITAM. Essentially, it's the best tool to have a complete view of your IT state – including software, hardware, cloud-based, and data assets.
And if you have all of this, then you are ready to establish your own ITAM strategy! If you manage to implement it, you will not only work more efficiently but also be able to get the most out of the practice – including maximizing the value of your assets and your tool, reducing risk, and boosting performance.
But for software to accomplish this, it needs to be loaded with a series of crucial features. Let's see which ones.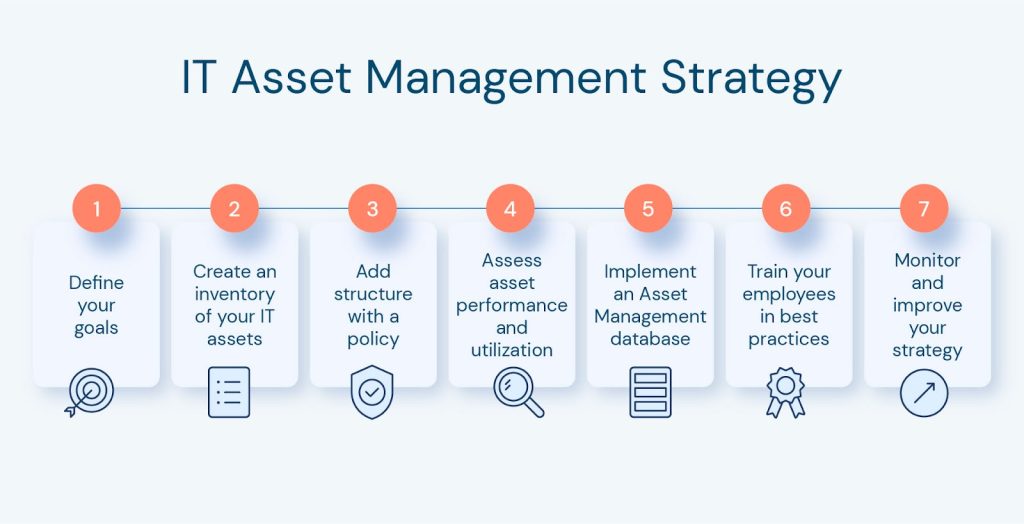 6 must-have features to look for in IT Asset Management solutions
If ITAM software piques your interest, there are several options available that can do the trick. So, how do you decide which one? 
Besides considering your organization's current needs, the tool of your choice must offer you the following characteristics to perform according to the expectations.
1. Inventory Management Capabilities
First, an ITAM solution must provide you with a way to manage your IT inventory. In order to do that, it should offer:
Network Discovery – To populate the inventory, keep it updated, and help you spot unauthorized devices on your network.

Software agent – To install on your company devices and report their activity.

Cloud synchronization – To link existing assets, such as users, to your ITAM instance.
All these are not only ways to populate your inventory but also tools that provide you with complete information and contribute to the monitoring part of IT Asset Management.
In addition, make sure that the tool counts with physical tagging options such as QR codes to ease device tracking.
2. Software Management Capabilities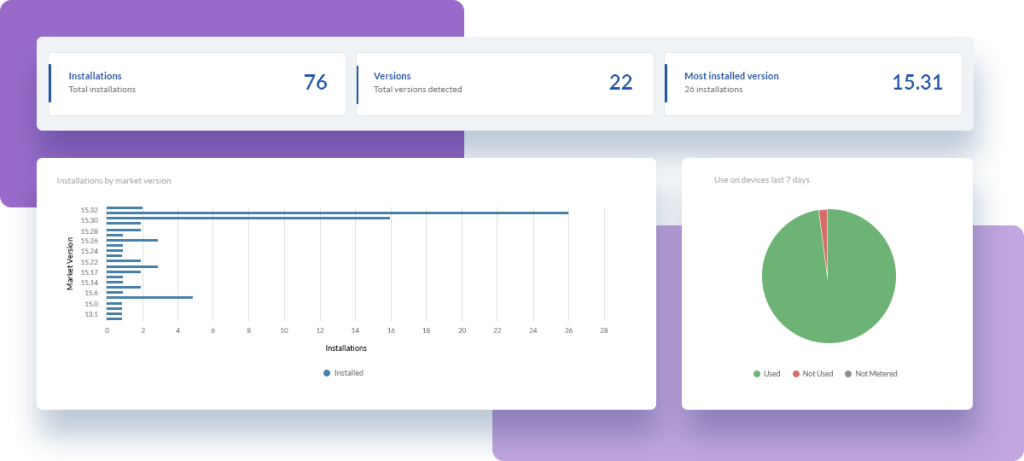 In the previous step, you unified your inventory, bringing software, hardware, and cloud together. But that's not enough. You also need some specific capabilities to monitor software. In particular, look for the following:
Software metering – To monitor how many licenses you own and how much they're used.

License Management – To track, manage, and control the distribution of your software licenses.

Software deployment – To deliver and update software applications in a controlled way.
Plus, if your Asset Management solution offers Contract Management, you can keep an eye on your business' software license agreements to avoid fines and penalties in case of misuse.
3. CMDB
Your IT assets don't work isolated. They relate with each other and with their users. And that's precisely what a Configuration Management Database (CMDB) allows you to see. 
With it, you can create a map to display asset relationships. This is particularly helpful to understand what is affected in case of downtime, apply changes, and stay compliant and secure.
4. Automation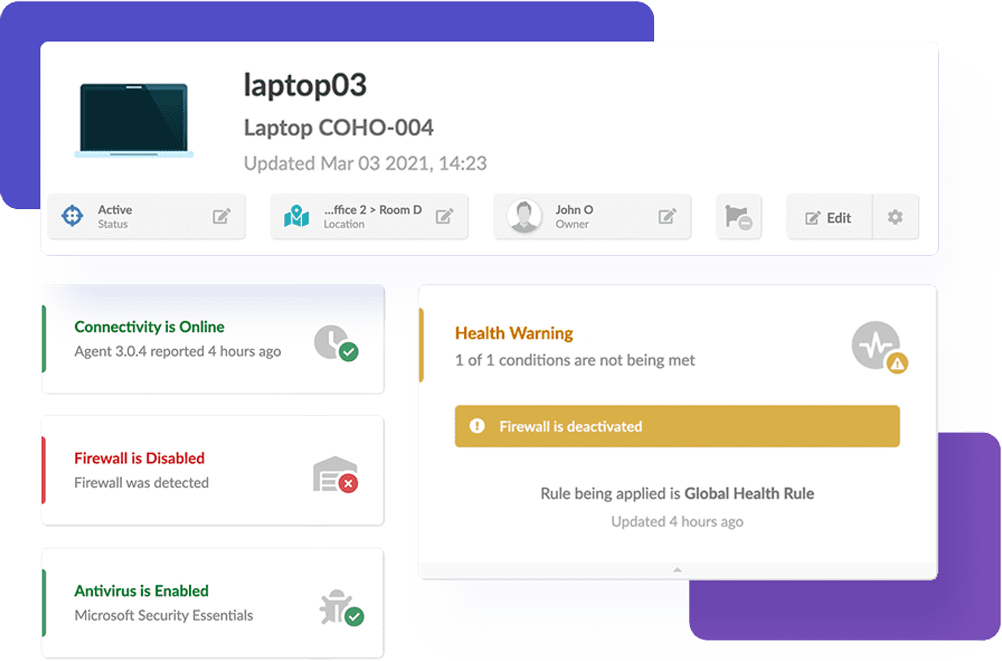 Another indispensable feature in ITAM software – and anything nowadays – is automation. This capability saves time and reduces human error since the system is in charge of reminders, notifications, and repetitive tasks.
Some features in this realm include:
Health rules (a set of parameters to display the health of your assets and quickly spot issues).

Smart tags (labels that classify assets according to your needs; for instance, they could flag unauthorized software installations or outdated applications).
5. Reporting and analytics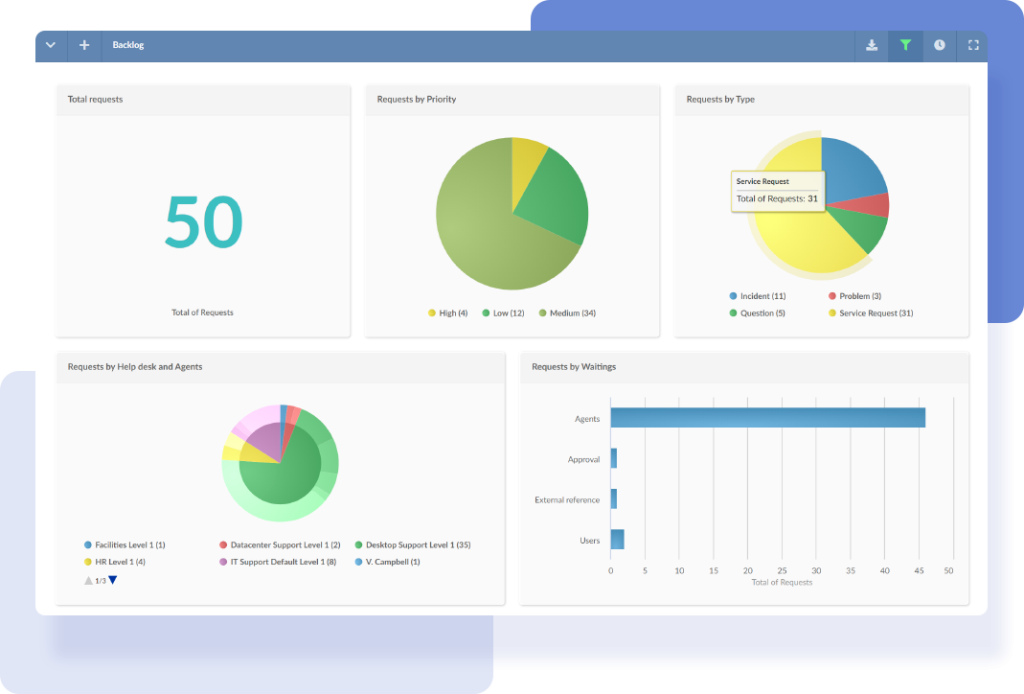 Having all these features without robust analytics is a shame, really. Your IT Asset Management software has to provide you with the following:
Customizable dashboards – To have a centralized panel with the metrics most relevant to your daily operations.

Robust reporting – To be able to analyze the performance during a period and adjust in consequence.
Both features are essential to track your IT assets' performance, identify areas of improvement, and get ahead of potential issues with hardware and software. So, make sure to automate them so that they arrive in your inbox periodically! 
This will save you a lot of time, keep the auditing process consistent, and ensure your IT practice is always compliant. 
6. Seamless integration with your service desk
At last, having a detached tech stack makes your team work harder and contributes to silos. If your ITAM solution is integrated with your ITSM tool, your help desk agents can have all the information regarding the assets a user owns as soon as they submit a ticket. In addition, you can also build workflows into your service desk that trigger actions in your ITAM instance.
So, it's the ultimate integration to empower your technicians and provide optimal support.
In conclusion
IT Asset Management solutions are essential in today's business environment. You cannot lack them to keep your IT state organized and up to date.
Having ITAM software on your side comes with several perks, including:
Lowering the risk of fines and penalties due to non-compliance.

Monitoring your IT assets through their complete lifecycle.

Avoiding unnecessary spending thanks to a smart and effective assignment of resources, such as devices and software licenses.
But to be able to deliver, ITAM tools need to have several key features to enable Software and Hardware management, as well as data analysis and solid integrations.
After all, it's all about one thing: if you know what you own, you can manage your company intelligently.