Millennials are perhaps one of the most talked-about generations of today—and for a good reason. As the first truly digital generation and the last generation of the 20th century, Millennials sit between the ages of digital innovation and technological advancement. They're born between 1980 and 2000 and, as millennials statistics show, they have become one of the most prevailing demographics in the world.
To learn more about this generation—how they compare with other generations, what their preferences are, what they bring to the future, and the like—we've prepared this article that details a series of millennials statistics. Hopefully, by the end of this reading, you will have all the information you need to understand Millennials and their role in today's society. Moreover, this should help you gain a better idea of how you can capture this market.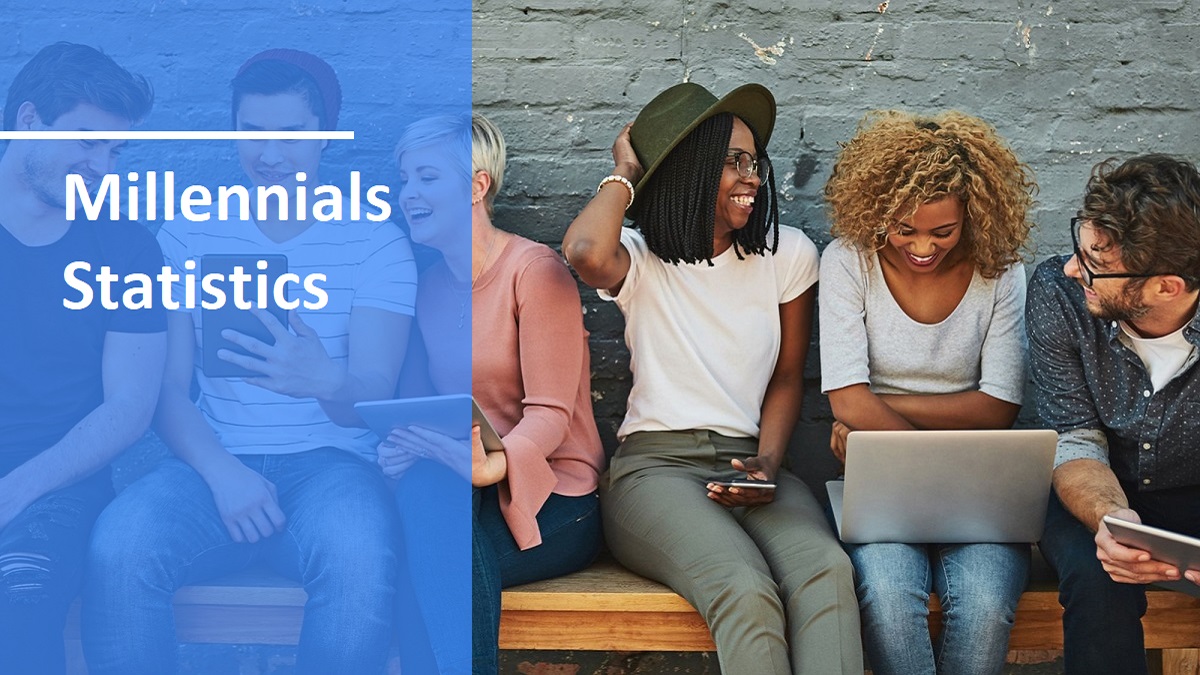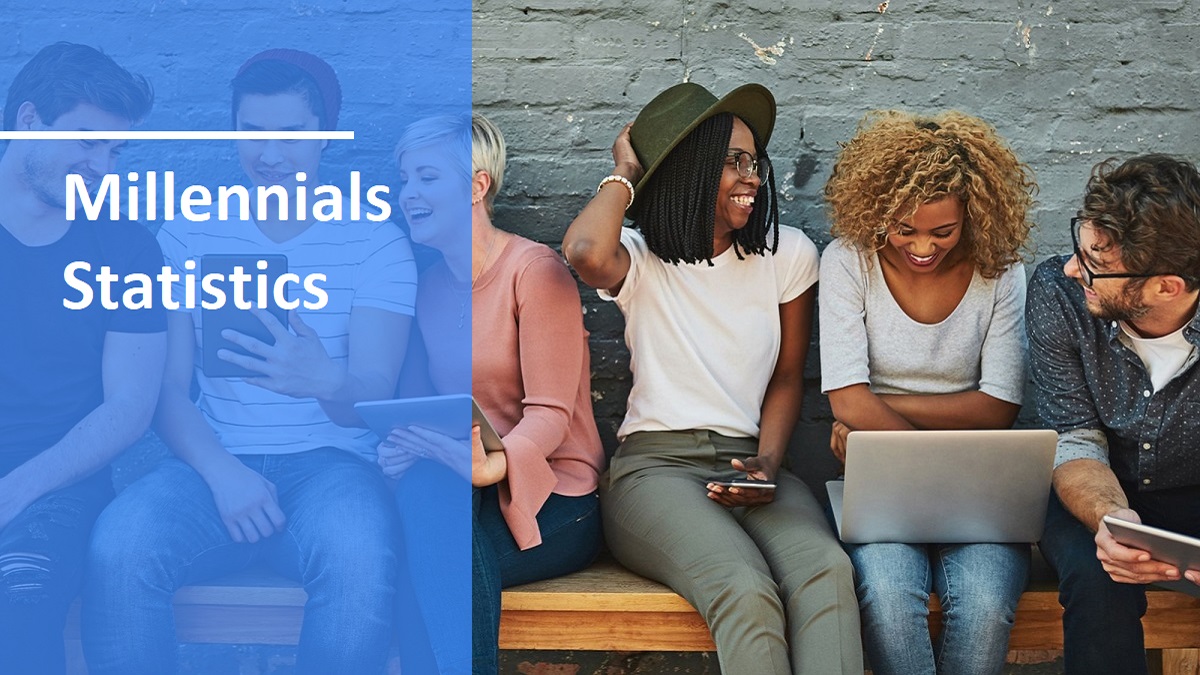 Millennials Statistics Table of Contents:
General Statistics on Millennials
Millennials have their own characteristics that make them distinct from the other generations. These include perspectives, skill sets, outlooks in life, views in career, and many more. Before delving into them, however, let's first see some of the general information regarding this generation.
In 2019, millennials represented over 1/4 of the US population.
There were 83.1 million millennials in 2019.
Millennial women between the age of 21–36 are 7% more likely to earn at least a bachelor's degree than men.
Millennial women are also 36% more likely to have at least a bachelor's degree compared to their Silent generation predecessors.
More millennial men have at least a bachelor's degree compared to their Silent counterparts (29% vs 15%).
71% of young millennial women have jobs, while 26% aren't in the labor force.
Source: Pew Research Center
Economic Impact of the Millennial Generation
It's projected that by 2020, over one-third of the global workforce will be comprised of millennials. Not only that, since they're a big chunk of the world's population, millennials also have a direct and indirect impact on the global economy. The following statistics will provide a glimpse of how influential millennials are to the economy.
Around 80 million Millenials in the US alone spend approximately $600 billion each year.
Furthermore, Millennials are expected to account for 30% of retail sales by 2020.
It's projected that by 2020, millennials will make up 35% of the global workforce.
71% of millennials shop online using their mobile phones.
93% of millennials want lifelong learning and are ready to spend their own money and time on further training.
77% of millennials are willing ta take a salary cut if it means long-term job security.
By 2020, millennials' spending will reach $1.4 trillion.
4 out of 5 millennials consider having an opportunity to learn a new skill as the top factor when considering a new job.
In addition, 62% of millennials are confident that if they lost their primary source of income tomorrow, they could find a better if not equally good job within three months.
Data on the Outlook of Millennials
As we've covered, millennials are sitting between two generations that are radically different from each other. Naturally, this means that they will retain some of the aspects of the previous age and will also be the pioneers of the coming time. Let's look into some of the outlooks of the millennials that may or may not be unique to their generation.
More than half (57%) of millennials are not married, which reflects broader societal shifts regarding marriage.
65% of unmarried millennials claim that they want to get married one day.
The main reasons why millennials have not gotten married yet are they're not financially prepared (29%), they haven't found the one with the qualities they're looking for (26%), and they're not ready to settle down (26%).
62% of millennials are confident that losing their primary source of income isn't that big of a deal since they'll be able to find something equal or better within the next three months.
The most common living arrangement for millennials aged 18 to 34 is living with parents.
70% of Americans believe that reading online about a topic is far less successful than attending live events in terms of expanding their perspective.
44% of millennials are unsure of whether they want to have children or not.
73% of millennials online believe that the internet is a beneficial tool for society.
Among Americans, women (21%) are more likely than men (19%) to live under one roof with multiple generations.
For 80% of Americans, promoting a positive change is more attainable through coming together in-person.
71% of US citizens prefer attending live events since it gives them a stronger feeling of connection with other people.
Two-thirds of millennials are optimistic when it comes to their immediate work prospects.
57% of millennials take traveling and seeing the world as their top aspiration.
Meanwhile, 49% of Millennials want their own home.
Also, 46% of Millennials prioritize making a positive impact on society or community than starting families and having children.
Lastly, 14% of millennials strongly agree that the advantages of technology outweigh the risks.
Millennial Culture Statistics
There are a lot of factors that affect trends, including technology, culture, etc. This isn't any different for millennials who have their own set of trends to bring to the table. We point out some of these trends below.
93% of the millennials aged 23 to 38 own smartphones.
88% of millennials live in metro areas.
Nearly 100% of millennials use the internet. However, only 19% of them are exclusively using smartphones to browse the net.
In the past 50 years, young millennials (22 to 37 years old) earn more than the young adults of preceding generations did.
3 out of 4 millennials prefer spending their money on an experience than buying something.
Moreover, 48% of millennials attend live events to have something cool to share on social media channels.
On average, millennials spend 2 hours and 38 minutes on social media per day.
49% of millennials between 23t o 38 years old say social media influenced them to spend money on experiences.
71% of millennials feel positive about the use of social media and digital devices.
Only 27% of millennials use Facebook.
Lastly, most millennials (32%) plan to make their next online purchase using a desktop computer or a laptop.
Where Do Millennials Prefer to Shop?
Where Do Millennials Prefer to Shop?
Drugstores: 91%
Drugstores
91%
Where Do Millennials Prefer to Shop?
Department Stores: 84%
Department Stores
84%
Where Do Millennials Prefer to Shop?
Discount Stores: 83%
Discount Stores
83%
Where Do Millennials Prefer to Shop?
Apparel Stores: 80%
Apparel Stores
80%
Where Do Millennials Prefer to Shop?
Consumer Electronic Stores: 68%
Consumer Electronic Stores
68%
Source: Accenture Analysis 2019
Created by CompareCamp.com
Understanding Millennials Doesn't Have to Be Difficult
The statistics listed above show how millennials differ from their predecessors and their posterity. They are, by far, the most flexible generation as they have grown to adapt to the fast-paced world we now live in. This reflects on many aspects of their life. In careers, for instance, they continually upskill to stay competitively employed. On the other hand, in terms of new technologies, they've become accustomed to learning the ins-and-outs of the latest gadgets and software.
However, this doesn't mean that they're only capable of merely adapting to whatever the world throws at them. As seen in the magnitude of their economic impact and how they are influencing various business landscapes, millennials have proven that they are also capable of changing the ebb of the globe.
To conclude, it is important now more than ever for businesses to understand this generation. After all, they currently make up the majority of the workforce and the consumer market. With these statistics on hand, you can gain better insights as to how you can connect with them and keep up with the emerging millennial trends of today.
---
References:
Millennials stand out for their technology use, but older generations also embrace digital life

Young adult households are earning more than most older Americans did at the same age

Defining generations: Where Millennials end and Generation Z begins

Millennials overtake Baby Boomers as America's largest generation

A record 64 million Americans live in multigenerational households

For First Time in Modern Era, Living With Parents Edges Out Other Living Arrangements for 18- to 34-Year-Olds

Millennial employees are a lot more loyal than their job-hopping stereotype

How Millennials Are Bridging Cultural and Political Divides Offline

Millennial Careers: 2020 Vision

Who are the millennial shoppers? And what do they really want?

Infographic: 73% of Millennials Use Their Phones to Shop Online

This graph tells us who's using social media the most

The Deloitte Global Millennial Survey 2019

Survey Says: Not All Millennials are Hooked On Social Media

Millennials drive spike in online shopping