Cryptocurrency isn't as mysterious as it used to be after almost two decades. Right now, it's safe to say that bitcoin has outlived its fad label and has become a serious digital currency. Cryptocurrency statistics show that it has become accepted enough to spawn a growing number of alternatives, ranging from privately-owned currency to outright Bitcoin challengers in the open market.
However, at this point, people are still divided over crypto, not only because it would be difficult to wean the entire world from the currency they have grown accustomed to. One side of the arguments wants to keep pushing forward, extolling the virtues of crypto as the transparent, trustworthy, and decentralized way to handle finances. On the other hand, traditionalists are wary of the nature of cryptocurrency, alleging that these have no tangible assets and are more volatile than the stock market.
In this article, we'll detail how much progress cryptocurrency and blockchain developers (like www.trinetix.com) has made over the last 11 years. With this, we hope you'll get a better understanding of its value and risks and, ultimately, make the most out of it.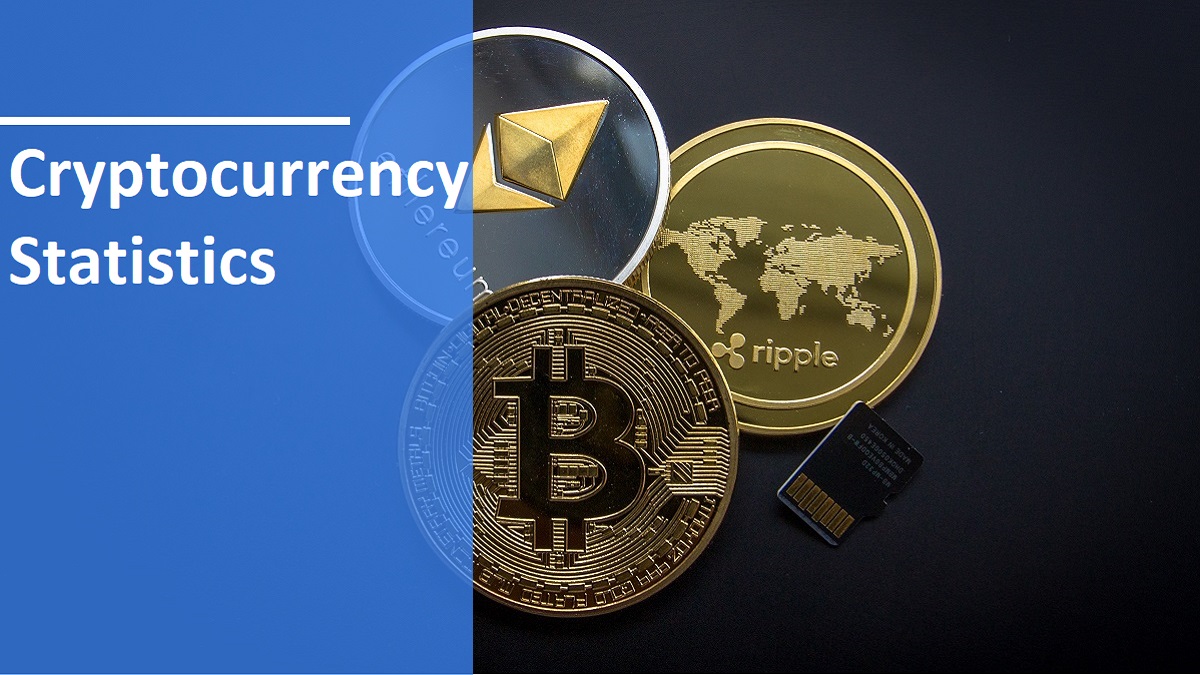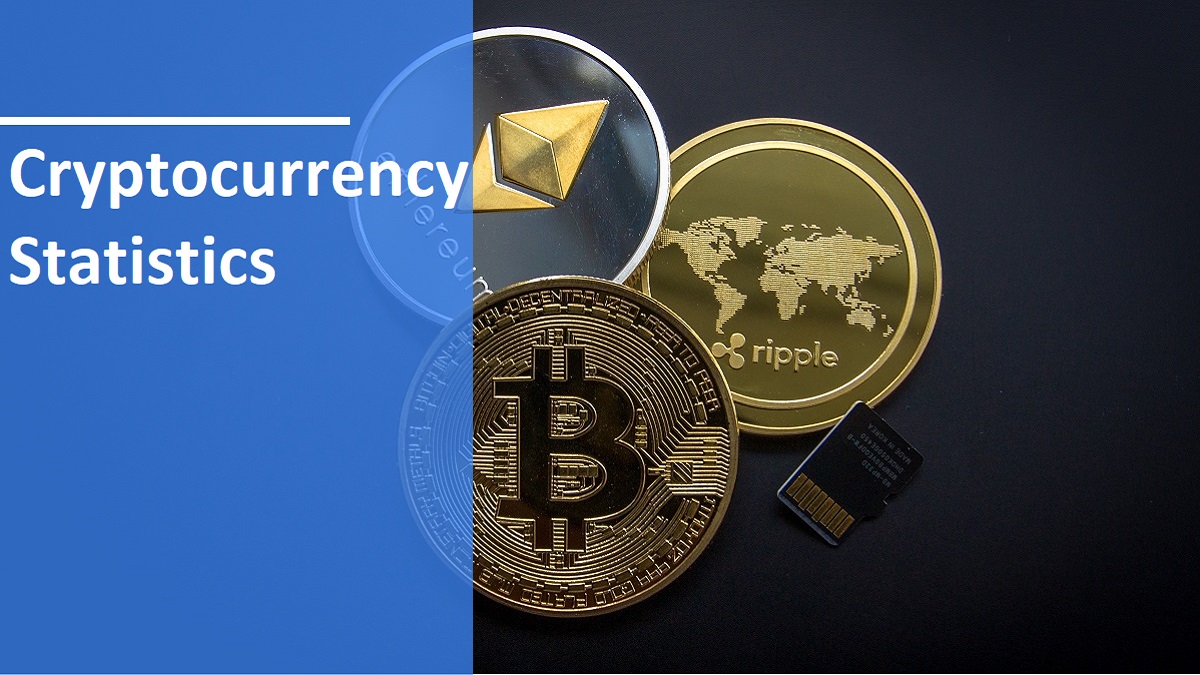 Cryptocurrency Statistics Table of Contents
Are you on the fence of which camp to believe? Perhaps you are merely curious about the potentials of cryptocurrency? Below, we have gathered information on how far this 2008 concept paper has gone and how much money is currently tied to it. Whether you're thinking of investing, or just want to know more about the future of money, the following 60 cryptocurrency statistics will surely be interesting and helpful to you:
1. Cryptocurrency Exchange Statistics
Gone are the days when bitcoin was the only currency out there. Now, there are a lot of competing coins and tokens in circulation. Most of them will fare badly or die out, but there are several hardy coins that are making waves as worthy investments.
As of the latest count, CoinMarketCap reports that there are a total of 5,464 cryptocurrencies in circulation with a market capitalization of $245 billion.

Bitcoin rules the roost as the most popular cryptocurrency, but there are a lot of players on the field with significant holdings. Bitcoin is more than twice the size of the rest of the cryptocurrencies, which total $84.14 billion. As of May 14, 2020, it is worth $174.98 billion in market capitalization.

Furthermore, Bitcoin is the most expensive cryptocurrency as of May 14, 2020, with a value of $9,563.64. Coming in second is Maker at $329.73, and the third is Bitcoin cash at $240.16. The popular Ethereum placed 4th at $201.46.

Trading-wise, however, Tether is the cryptocurrency that trades the most volumes daily, with over $46.5 billion in transactions a day. Tether belongs to a crypto class called stablecoins, which are cryptocurrencies designed to minimize price volatility.

Additionally, the Asia-Pacific region continues to be the largest market for cryptocurrency, with more than a third of the total (38%). Europe takes second place at 27%, while the US and cryptocurrency exchange in Canada combine for 17%. Latin America, Africa, and the Middle East make up the remaining 21%.

There is a growing female interest in cryptocurrency, as the first quarter of 2020 reported a 43.24% growth among female crypto users. This is compared to a 15.5% increase in the previous quarter.

While the middle age market seemed a safe bet to invest in crypto, the 18-24 and 65+ age groups gained the most users during the same period, registering growths of 46% and 41%.

As far as individual countries go, Turkey has the largest number of crypto users, with 20% of the total worldwide. Three South American countries follow with Brazil, Colombia (both 18%), and Argentina (16%) occupying 2nd to 4th. Meanwhile, Japan, known as an active trading country, placed 18th with only 3% of the total market.

Kaspersky Labs published survey results that said only 10% of global consumers fully understand how cryptocurrencies work. 45% have heard about it, but do not understand how they work. 29% say they have some idea how cryptocurrencies work, while 16% have never heard of it.

Moreover, lack of knowledge didn't seem to faze some people, as only 4 in 5 people (81%) have not purchased cryptocurrency at least once, but 14% would consider doing so in the future.

In the same survey, 35% of respondents said they believe the whole cryptocurrency thing is a fad and will fade away once a more stable option is introduced.

The average cost on how much it costs for a white-label crypto exchange is: $2,000 to $10,000
The Most Valuable Cryptocurrencies 2020
Selling prices of the top 10 cryptocurrencies as of May 14, 2020
The Most Valuable Cryptocurrencies 2020
Bitcoin: $9,649.33
Bitcoin
$9,649.33
The Most Valuable Cryptocurrencies 2020
Maker: $333.84
Maker
$333.84
The Most Valuable Cryptocurrencies 2020
Bitcoin Cash: $241.66
Bitcoin Cash
$241.66
The Most Valuable Cryptocurrencies 2020
Ethereum: $202.61
Ethereum
$202.61
The Most Valuable Cryptocurrencies 2020
Bitcoin SV: $192.77
Bitcoin SV
$192.77
The Most Valuable Cryptocurrencies 2020
Dash: $74.99
Dash
$74.99
The Most Valuable Cryptocurrencies 2020
Monero: $63.63
Monero
$63.63
The Most Valuable Cryptocurrencies 2020
Litecoin: $43.36
Litecoin
$43.36
The Most Valuable Cryptocurrencies 2020
Z-Cash: $42.93
Z-Cash
$42.93
The Most Valuable Cryptocurrencies 2020
Numeraire: $28.36
Numeraire
$28.36
Source: CoinMarketCap
Created by CompareCamp.com
2. Blockchain Statistics
Blockchain is what makes cryptocurrency possible and virtually impossible to alter without the community's approval. Each Blockchain holds the information pertaining to all the cryptocurrency's coins or tokens that are in circulation and ensures the integrity and credibility of each transaction.
The average blockchain size is at 1.297GB as of May 2020. This is a tad shorter than the 3.05GB record set last Feb 18, 2019.

Bank wire transfers remain the dominant form of transaction in terms of cryptocurrency deposits and withdrawals. It took up 83% of deposits and 82% of withdrawals in 2018. Meanwhile, cash still holds a prominent spot at 44% and 41%, respectively.

The latest recorded rate of coinbase block rewards and transaction fees paid to miners is valued at $7.82 million as of May 13, 2020. This is six times lower compared to the $49.81 million recorded on Dec 14, 2017.

Besides, the latest average transaction fee (not including blockchain rewards) recorded is $3.3o, which is a far cry from the highest recorded fee of $54.63 per transaction on Dec 22, 2017.

The average transaction time for a blockchain to be added to the public ledger and incorporate miner fees is 14.48 minutes. While this is longer than the average of 10 minutes per transaction, it's by far shorter than the median rate of 28.95 minutes, which happened only twice on Jun 13, 2012, and Aug 22, 2017.

Furthermore, the number of transactions added to the mempool per second is currently at 2.35 (May 14, 2020), which is nowhere near the all-time record of 7.567 transactions per second on May 2, 2019. It's also not as low as the lowest recorded rate of 1.133 transactions per second last Jan 27, 2018.
3. Blockchain Technology Statistics
Bitcoin and other cryptocurrencies owe their steadfastness to blockchain technology. As a result, other industries began to realize its potential uses for other applications like document management, property registrations, health records, and others.
At $3.9 billion this 2020, the blockchain technology market has grown more than double from its 2018 numbers. Even more exciting, it's projected to swell to $23.3 billion by 2023.

Among the industries, Financial Services have become the leader in industries spearheading blockchain development, with a 46% share. This is followed by industrial products and manufacturing, and energy and utilities (12% each), with healthcare (11%), government (8%), retail and consumer (4%), and entertainment and media (1%) bringing up the rear.

When asked about the advantages of blockchain technology, 23% of respondents said that the technology offered "new business models and value chains," while another 23% said it was due to "greater security /lower risk."

In the same survey, respondents identified "Implementation" and "Regulatory Issues" as the most significant barriers to blockchain technology investments, with both getting 30% of the vote. Compared to last year's results where regulatory was 39%, and implementation was 37%, it seems that blockchain is slowly going mainstream and getting more believers in the technology.

Mobile wallets remain the preferred blockchain wallet, with 62% of storage providers supporting the format as of 2018. Similarly, web wallets are gaining ground, rising to 53% acceptance, up from 38% in 2017.

Lastly, there are 47 million registered blockchain wallet holders worldwide as of April 2020. This is an increase of 2.5 million wallets from the end of 2019.
Source: Deloitte's 2019 Global Blockchain Survey
4. Data on Cryptocurrency and Coronavirus
The coronavirus pandemic made an impact on the global economy during the first months of 2020. That said, you might be wondering, did the outbreak affect the crypto market in the same manner? In some ways, the answer is yes. However, for the most part, cryptocurrency has its own rules.
CoronaCoin, a new cryptocurrency, was introduced in March 2020. Its total numbers decrease as more people die or get infected by the virus. The scarcity of tokens leads to gains in the value of the digital currency. With a finite number of tokens minted (7,604,953,650, based on the world population at the time), the total number of coins is reduced every day by burning: CoronaCoin burns coins equal to the number of deaths during the same period.

The current rate of the CoronaCoin as of May 13, 2020, is $0.00009432.

The cryptocurrency website CoinMarketCap reported that Chinese visitors to the website, which previously ranked #13 in the number of page views, dropped to #24 within the week when Wuhan province was placed on lockdown.

Cryptocurrency crime tracker site Chainalysis reported that revenue generated by crypto scams fell by 33% from January to April. It was even higher from March 13 to 31 when crypto scam revenues dropped to 61%. During this period, scams usually namedrop the virus outbreak as a reason to solicit or phish unsuspecting victims. However, the fall in prices due to the pandemic may have greatly reduced revenue chances for these scams.
Source: Crypto Market & User Trends Q1 2020
5. Statistics on Cautious Cryptocurrency Consumers
While some cryptocurrencies are currently enjoying high prices and active trading days, there are still investors who have held off going all the way. And some have given up and went back to the safety and familiarity of fiat currency and paper money. The overlying reason was a lack of trust but manifested in different ways. To answer the question "Why have you stopped using cryptocurrencies?" the following answers we recorded (some respondents answered more than once):
31% said that the market was too volatile.

23% said they lost money due to a decrease in value.

23% say it's not profitable for them anymore.

22% believe that the currency does not translate to real assets.

15% reported they lost money due to fraud or hacks.

14% just don't trust cryptocurrencies anymore.
Reasons Why People Stopped Dealing with Cryptocurrency
(Respondents can give more than 1 answer)
Reasons Why People Stopped Dealing with Cryptocurrency
Market was too volatile: 31
Market was too volatile
%
Reasons Why People Stopped Dealing with Cryptocurrency
Lost money due to decrease in value: 23
Lost money due to decrease in value
%
Reasons Why People Stopped Dealing with Cryptocurrency
Not profitable for them anymore: 23
Not profitable for them anymore
%
Reasons Why People Stopped Dealing with Cryptocurrency
Currency is not backed up with real assets: 22
Currency is not backed up with real assets
%
Reasons Why People Stopped Dealing with Cryptocurrency
Lost money due to fraud or hacks: 15
Lost money due to fraud or hacks
%
Reasons Why People Stopped Dealing with Cryptocurrency
Just don't trust cryptocurrencies anymore: 14
Just don't trust cryptocurrencies anymore
%
Source: Kaspersky Labs Cryptocurrency Report 2019
Created by CompareCamp.com
6. Bitcoin Statistics
Bitcoin — the one that started it all. It began as a concept presented in 2008 by the enigmatic Satoshi Nakamoto, whose real identity (or identities) remains unknown. Bitcoin is still king of the cryptocurrencies and outperforms all other tokens combined.
The total number of Bitcoins in circulation as of May 14, 2020, is 18.377 million. Every day, more bitcoins are mined and added to the total.

The number of Bitcoins in circulation will continue to rise daily until the limit of 21 million Bitcoins is achieved, which experts project at sometime around the year 2140.

The total value of Bitcoins is $171.42 billion. This is markedly lower compared to the total market cap on Dec 17, 2017, when a total of 16.747 million Bitcoins were valued at $330.77 billion.

Bitcoin's exchange rate as of May 2020 is $8,903.32. Compared to its 2010 value of nine cents, bitcoin value grew by 216% at a compounded rate over ten years.

The total trading volume on major bitcoin exchanges last May 14, 2020, was $235.92 million dollars. This is nowhere near the insane all-time high of $4.957 billion made during Dec 08, 2017, when bitcoin prices were highest.

A single Bitcoin will fetch $53,617.28 by 2025 if its present value holds up. Note, however, that the present value is around $2,000 short of the projected price of $10,723.46, although the year is only halfway through.

The US dollar is the most traded currency for Bitcoin, with 76.24% of the total 1,575,444.11 transactions made on May 14, 2020. The Yen follows at 15.23%, with the Euro third at 4.11%. The remaining 4.42% are other currencies: Turkish liras, South Korean won, British pounds, Polish zloty, Russian rubles, Canadian dollars, and Brazilian reals.

According to Coin Dance, at least 111 countries accept Bitcoin as legal currency.

As of 2019, there are 153 million Bitcoin user addresses in existence, with 147 million (96%) possessing less than a thousand Bitcoins in their account.

There are over 350,000 Bitcoin transactions daily, with an average of 14,904 every hour of 4 transactions per second. The 400 millionth transaction of the blockchain was registered in April of 2019.

Like any other currency, people tend to drop some loose change now and then. Experts estimate that around 1.5 million Bitcoins have gone missing over the years. They surmise these missing coins ended up on decommissioned, broken, or lost hard and flash drives. While the info on these missing currency is still in the blockchain, the latter is a bit longer than it was a decade ago and may take some effort to dig up.

Apart from missing Bitcoins, there are also 970,000 BTC stolen in two separate heists. 850,000 were reported stolen during the Mt Gox hack in 2014, while an additional 120,000 were lifted from Bitfinex two years later. Information about these coins are still in the blockchain, and these coins may still be in circulation or out of the hands of the perpetrators at this time.

The US is the top country that runs Bitcoin nodes, with 2,352, or 21.84% of all nodes. Germany came in second at 1,860 nodes (17.27%), while nodes that did not indicate their home country placed third at 1,794 (16.66%). In case you're wondering, China is in ninth place with 251 nodes or 2.33%.

Average bitcoin transactions per day as of May 2020 is 321,190. While on the high side, it's lower compared to Dec 2017 when transactions averaged 407,127 when bitcoin prices are record high.

Males dominate the love for bitcoin. They outnumber the fairer sex 91% to 9%. This adds to the stereotype Age and generation-wise, 50% are millennial, while 28.33% are between 35 and 44. Boomers comprise just 1.43% of Bitcoin users.
7. Ethereum Statistics
At the heels of Bitcoin is Ethereum, currently the second most popular cryptocurrency. It is built on the blockchain concept and developed as a decentralized software platform. That said, it lets contracts and applications build and run without any interference from a third party. Ethereum applications run via its exclusive cryptographic token called ether.
Ethereum's current market cap as of May 2020 stands at $22.35 billion. It's a long way off from Bitcoin's cap at $165 billion, but excitement over the upcoming proof-of-stake system, which veers away from Bitcoin's proof-of-work design.

Besides, digital asset manager Grayscale Investments bought an estimated 50% of all mined Ethereum in 2020, raising its total stake to 1.1% of all Ethereum coins in circulation, roughly equivalent to $234.7 million. Like most investors, they're betting large on the upcoming new version of the crypto that features the Proof-of-Stake concept.

Ethereum's record highest price is at $1,432.88. This was when they processed 1,179,321 transactions on January 13, 2018. While the current price is at $202.03, Ethereum has been steadily increasing over the previous months.

In addition, Ethereum set a record block size at 58.22MB last Jan 12, 2020. It has since settled down to 26.83MB as of May 12.

Lastly, the highest number of Ethereum transactions recorded in a single day was 1,349,890, which occurred on January 4, 2018. The lowest was during August 9, 2015, when it posted 1,329 transactions on a Sunday.
8. Data on the Blockchain Billionaires
In any industry, there are pioneers, and there are naysayers. While it's too early to declare which side is ultimately right, some of the pioneers have already seen their faith pay off in spades. Here are the six crypto billionaires as ranked by the Hurun Global Rich List 2020 that ranks the world's billionaires, along with a special entry:
Chanpeng Zhao is the top crypto winner with $2.6 billion in wealth. Currently ranked 1097 in the Hurun billionaire list, the 42-year old Zhao is the founder of Binance, a cryptocurrency exchange that started in July 2017.
Zhan Ketuan of Bitmain ranked #1805 with $1.6 billion. Also known as Mikree, he is the co-founder of Bitmain, the world's largest computer chip company for cryptocurrency mining.

Xu Mingxing of OKCoin ranked #2000 with $1.4 billion. Xu is somewhat controversial due to an arrest in connection with investor disputes for the global Bitcoin trading platform.

Chris Larsen of Ripple holds #2142 with $1.3 billion. He is an angel investor who founded Ripple Labs, Inc, the developer of the Ripple payment protocol and exchange network.

Li Lin, 38 of Huobi, ranked #2476 with $1.1 billion. Huobi is a Singapore-based cryptocurrency exchange which is one of only three major exchanges in China.

Brian Armstrong of Coinbase with $1 billion, and ranked #2642. Coinbase is an American digital currency exchange based in San Francisco, California.

Satoshi Nakamoto is presumably the person (or persons) with the most Bitcoins at 980,000. This is valued at $8.7 billion in today's rates. Whoever he or they may be, they are credited with the development of bitcoin, the author of the bitcoin white paper, and designed and deployed bitcoin's original reference implementation.
The Blockchain Billionaires of 2020
Net Worth of Cryptocurrency and Blockchain Billionaires (in billion USD)
The Blockchain Billionaires of 2020
Chanpeng Zhao (#1097): $2.6 bn
Chanpeng Zhao (#1097)
$2.6 bn
The Blockchain Billionaires of 2020
Zhan Ketuan (#1805): $1.6 bn
Zhan Ketuan (#1805)
$1.6 bn
The Blockchain Billionaires of 2020
Xu Mingxing (#2000): $1.4 bn
Xu Mingxing (#2000)
$1.4 bn
The Blockchain Billionaires of 2020
Chris Larsen (#2042): $1.3 bn
Chris Larsen (#2042)
$1.3 bn
The Blockchain Billionaires of 2020
Li Lin (#2476): $1.1 bn
Li Lin (#2476)
$1.1 bn
The Blockchain Billionaires of 2020
Brian Armstrong (#2642): $1.0 bn
Brian Armstrong (#2642)
$1.0 bn
Source: Hurun Global Rich List 2020
Created by CompareCamp.com
Exciting Times Ahead for Cryptocurrency
Like any other investment, buying into cryptocurrency should be a result of meticulous research mixed with an honest assessment of what you can afford to use as seed money. For every bitcoin billionaire out there, there is an equivalent number of investors who hedged their bets in favor of tangible currencies.
Always remember that if projected payoffs are significant, the involved risk is equally large as well. Remember that the number of people who actually understand the system are less than those who already invested here. Perform due diligence, and don't be afraid to learn a whole lot more before you get involved. Otherwise, the correct answer to the question of how to be a cryptocurrency millionaire will probably be "start by being a billionaire first."
---
References:
The Number of Women in Crypto Has Exploded in Q1 2020

CoinMarketCap Sees Fewer Chinese Users Amid Coronavirus Pandemic

How Common is Crypto?

Kaspersky's Cryptocurrency Report 2019

Blockchain Charts

2nd Global Cryptoasset Benchmarking Study

Size of the blockchain technology market worldwide from 2018 to 2023

Industries seen as leaders in blockchain technology development worldwide as of 2018

Deloitte's 2019 Global Blockchain Survey

Blockchain wallets hit over 47 mln users globally

Coronacoin profile

Covid-19 Has Wiped Out 33% of Cryptocurrency Scammers' Revenue, But That's Not the Whole Story

Bitcoin Halving, Explained

Coinmarketcap: Bitcoin

Bitcoin Price Prediction, BTC Forecast

Most traded National Currencies for Bitcoin

Bitcoin Legality by Country Summary

How Many People Own Cryptocurrency

Bitcoin hits massive milestone with its 400,000,000th transaction

'Lost Coins' Study Estimates BTC's True Supply

How Many Bitcoins Are There Now in Circulation?

Global Bitcoin Nodes Distribution

Bitcoin Transactions per Day

Google Analytics Reveal Surprising BItcoin Demographics

Coinmarket: Ethereum

Grayscale Buys 50% of All Ethereum Mined in 2020

Etherscan

Hurun Global Rich List 2020