In today's stress-packed world, it's no surprise how more people are looking into new ways to improve their quality of life and relieve stress and anxiety. Meditation is not exactly new—it's an ancient mind and body practice known to develop mindfulness, increase relaxation, and enhance overall well-being. But with the increasing number of people doing meditation every day, it might as well be the newest health trend in town.
In the past few years, meditation has hit the mainstream, joining the likes of yoga, Pilates, and other alternative treatments for improving physical and mental health. With that in mind, we uncovered some of the latest meditation statistics you need to know if you're joining this latest health craze. Below, you'll find some mind-blowing facts about what benefits await those who practice meditation.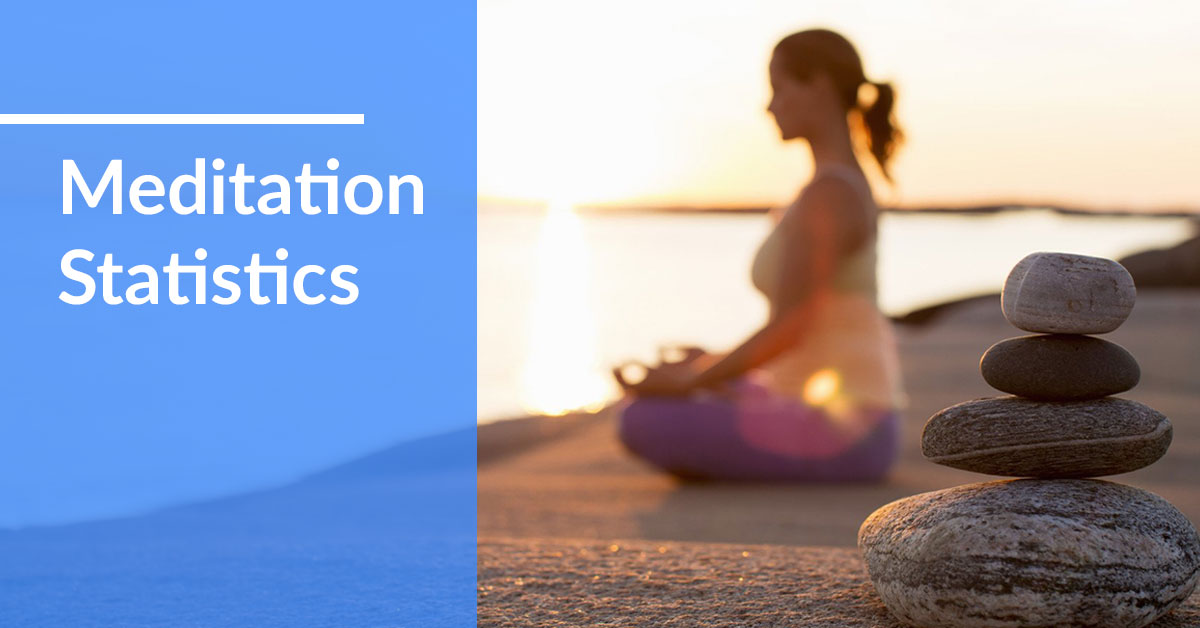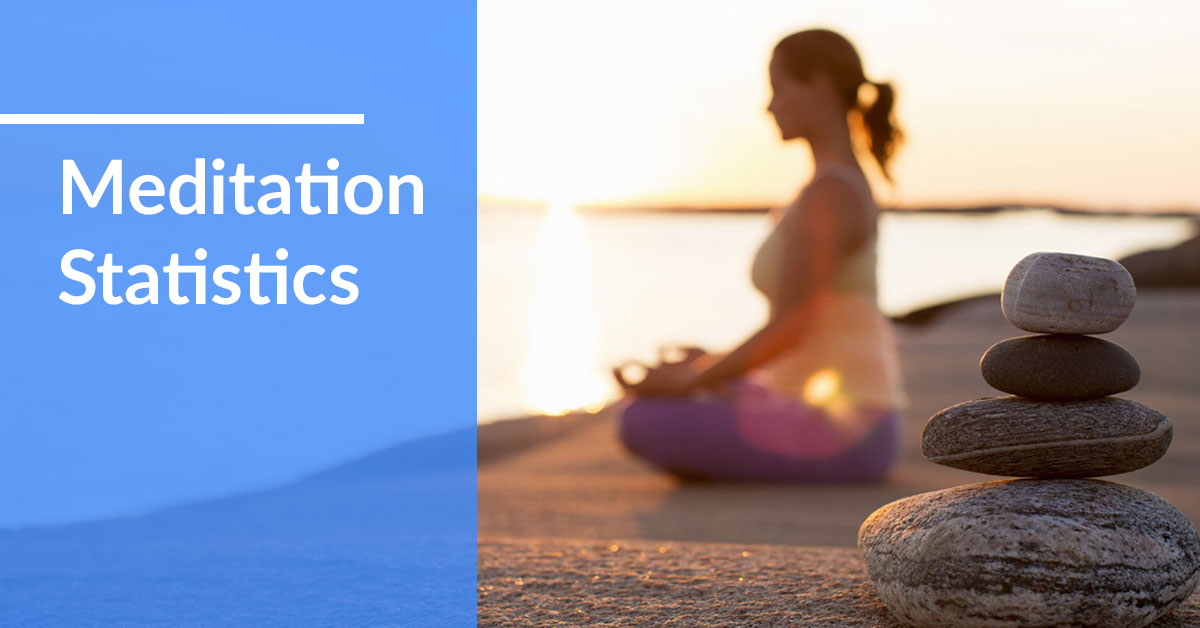 Meditation Statistics Table of Contents
The Growing Popularity of Meditation
Over the years, healthcare professionals have shifted from prescribing pills to recommending physical activities to treat ailments. The likes of exercise, outdoor plays, trips in nature, yoga, and mindfulness have shown a number of scientifically-proven benefits. Similarly, meditation has become one of the fastest-growing health trends, with a growing number of meditation studios popping up all over the world.
Millions of people have discovered the benefits of meditation, and the number of people taking advantage of its health benefits is increasing day by day. Children, teenagers, and adults have been found to have participated in one or more forms of meditation at one point in their lives. Check out the statistics below:
More than 35 million Americans have considered giving meditation a try.
14.2% of Americans say that they have practiced at least one form of meditation.
5.4% of children in the US have tried some form of meditation.
70% of people who have been meditating have been engaging in this practice for more than two years.
The number of people who practice meditation globally is estimated at 200 to 500 million.
Since 2012, the number of people who practice meditation has tripled.
Meditation is the second most popular mind and body practice in the USA.
16% of people in the age group 45 to 64 years old practice meditation.
Women are more likely to practice meditation; 16% of women have tried out meditation, whereas only 12% of men have done this practice.
In the age group 18 to 44 years old, there are 13% who practice meditation.
13% of people aged 65 and above have done meditation.
Almost 10 times more children have practiced meditation since 2012.
40% of adults who live in the USA meditate at least once a week.
The popularity of meditation varies across different population groups—15.2% of white adults, 13.5% of black adults and 10.9% of Hispanic adults have tried meditation.
Source: The Good Body (2019)
Benefits of Meditation
Public interest in meditation has soared over the years, and for a good reason. Various studies have shown that the practice of mindfulness and meditation results in improved concentration/focus and emotional regulation. It's also scientifically proven to improve anxiety levels, reduce blood pressure, lower the risk of depression, and increase body satisfaction.
Meditation involves the practice of calming the mind and enhancing your senses for improved awareness of an object of focus, usually one's breathing process. By implementing a series of breathing exercises, the mind and body experience relief from stress and anxiety. This makes meditation one of the most-sought practices for people who wish to improve their mental health.
With these benefits, meditation has become the fastest growing health trend all over the world, becoming second only to yoga in terms of popularity. Below, we compiled some of the latest findings regarding meditation's effects on one's well-being.
Meditation reduces insomnia by 50%.
Mindfulness meditation reduces post-traumatic stress disorder by 70%.
Practicing meditation for only four days can already increase your attention span.
The main motive of 76% of people who practice motivation is well-being.
Meditation in a span of six to nine months can reduce anxiety levels by 60%.
People who practice meditation are less likely to suffer from heart diseases.
Mindfulness meditation relieves back pain by 30%.
Meditation lowers blood pressure for 80% of the people who practice it.
60% of people who practice meditation find that it improves their energy, while for 50%, meditation aids in their memory and focus.
Meditation reduces depression relapses by about 12%.
Regular meditation practice increases telomerase, an enzyme known to delay the onset of Alzheimer's and similar diseases.
Source: The Good Body (2016)
The Value of the Meditation Market
For business owners in the health and fitness industry, a meditation studio proves rewarding as more people seek the healing benefits of meditation. That, plus how the latest employment trends reveal that more companies are embracing the idea that the mental health of employees is tied to their performance. As a result, a fraction of the company budget gets allocated to activities that help employees relieve stress and improve their focus.
Some businesses have already offered meditation training at work, while companies such as American Express, Ford, and LinkedIn hold employee-training sessions regularly. This drove the growth of meditation apps, increasing its market value and strengthening its foothold in the alternative care industry.
Group or private meditation and mindfulness accounts for 7.4% of the alternative care market.
Headspace, an industry-leading meditation app, holds $30 million in funding and has garnered over 12 million downloads.
The market value of the meditation industry is poised to double from $1.2 billion is 2017 to nearly $2 billion by 2022.
The meditation market's revenue growth is forecast at 11.4%, up to $2.08 billion in 2022.
Meditation studios have generated over $659 million in revenues.
Online courses, websites, and apps for meditation generate over $100 million in revenue per year.
Today, the meditation industry is valued at $1 billion, comprising of meditation studios, websites, books, online courses, DVDs, apps, and supplies.
Source: Market Research (2019)
Meditation in the Workplace
With companies trying to look for innovative ways to improve employee performance, mindfulness and meditation are now becoming common buzzwords for many employees. Various studies have shown that mindfulness improves focus and productivity. Because of this, many employers have attested to its power to reduce workplace stress, increasing employee focus and productivity, and improving mental health.
Meditation rooms are the hottest work perk offered by the likes of Apple, Salesforce, and Nike. In these rooms, employees experience a quiet surrounding where they can practice mindfulness meditation or just lay still and clear their minds for about ten minutes. And this trend is not merely out of altruism—studies have shown that meditation improves critical thinking and creativity.
Two weeks of mindfulness training results in reduced mind wandering for participants prone to distractions.
Meditation increases employee productivity by 120%.
Employers who implemented meditation programs for their employees saw an 85% decrease in absenteeism.
Businesses with meditation programs for employees experienced a 520% profit increase.
60% of employees experiencing anxiety in the workplace showed marked improvement upon practicing meditation.
Employers Who Offered Meditation Programs in the Workplace
Source: National Business Group on Health (2018)
Created by CompareCamp.com
The Rise of Meditation Apps
As the number of people gaining interest in meditation skyrockets, various meditation apps are emerging at a breakneck speed. The growth of meditation apps is propelled forward by the idea that users can experience calmness and peace from the comforts of their own homes. Because of this, mental health apps are now on the rise, becoming an essential tool for people struggling with the hustle and bustle of daily life.
People's growing obsession with self-care and mental health means booming business for meditation apps. The following statistics are clear evidence of the thriving meditation app market.
There is a 65% year-on-year increase in the number of yoga and meditation app searches.
In 2019 alone, 52 million users have downloaded top meditation apps.
Android is forecast to rake in revenue of $74 million from meditation apps.
By the year 2027, the mindfulness meditation app market is predicted to have a value of $4,377.95 million.
Users prefer using self-care and meditation apps in iOS devices rather than on Android smartphones.
From 2019 to 2029, the meditation application market is poised to grow at an 8.5% CAGR.
In 2018, the meditation app market was valued at 134 million.
Leading meditation apps Headspace and Calm account for 70% of the overall meditation app market share.
In 2019, the top self-care apps garnered $195 million in revenue.
Source: App Inventiv (2019)
Meditation as a Health Trend
The meditation statistics we uncovered only reveal one thing—more people are turning to this ancient practice in an attempt to reap its positive benefits on physical and mental health. And it's good news for those in the meditation and mindfulness industry, which include instructors, studio owners, and app developers since it promises a wide range of business opportunities. Likewise, individuals who wish to pursue the practice and enhance their well-being will find various options and tools to do so.
From relieving stress and anxiety to promoting emotional health, meditation offers a number of benefits to anyone who practices it. With the many well-designed studies proving its effectiveness, it's no surprise that meditation statistics indicate positive growth today and in the years to come.
---
References:
6 Scientifically Proven Benefits Of Mindfulness And Meditation

27 Meditation Statistics That You Should Be Aware Of

$1.2 Billion U.S. Meditation Market Growing Strongly as It Becomes More Mainstream

Why Meditation and Mindfulness Training Is One of the Best Industries for Starting a Business in 2017

Employers Enhance Emotional and Mental Health Benefits for 2020

Top 10 meditation apps pulled in $195M in 2019, up 52% from 2018

Mindfulness Meditation Application Market Continues on an Uphill Ride, as 'Self-Care' Trend Pushes its Way into Consumer Priorities, Finds Fact

12 Science-Based Benefits of Meditation

Here's How Popular Yoga and Meditation Really Are