The luxury market represents one of the most exclusive and sought-after products and services in the world. From luxury travel and fine food to sports cars and designer fashion, this industry offers commodities that everybody wants, but only very few can afford. While only the ultra-rich can keep up with luxury trends, people from all walks of life aspire to be part of that coveted market someday.
Over the years, the fortunes of luxury brands went along with the bullish economy, posting growth year on year, and it was anticipated that 2020 would continue with the trend. That is, until the first quarter of 2020, when a disease called COVID-19 disrupted the industry's gameplan. The ensuing pandemic tempered the public's appetite for luxury goods, and companies quietly shifted strategies and adjusted targets.
As the luxury market continues to retool itself in light of these developments, we'd like to share the 21 latest luxury trends for 2020/2021 that give a glimpse of what the future holds for the ultra-premium market.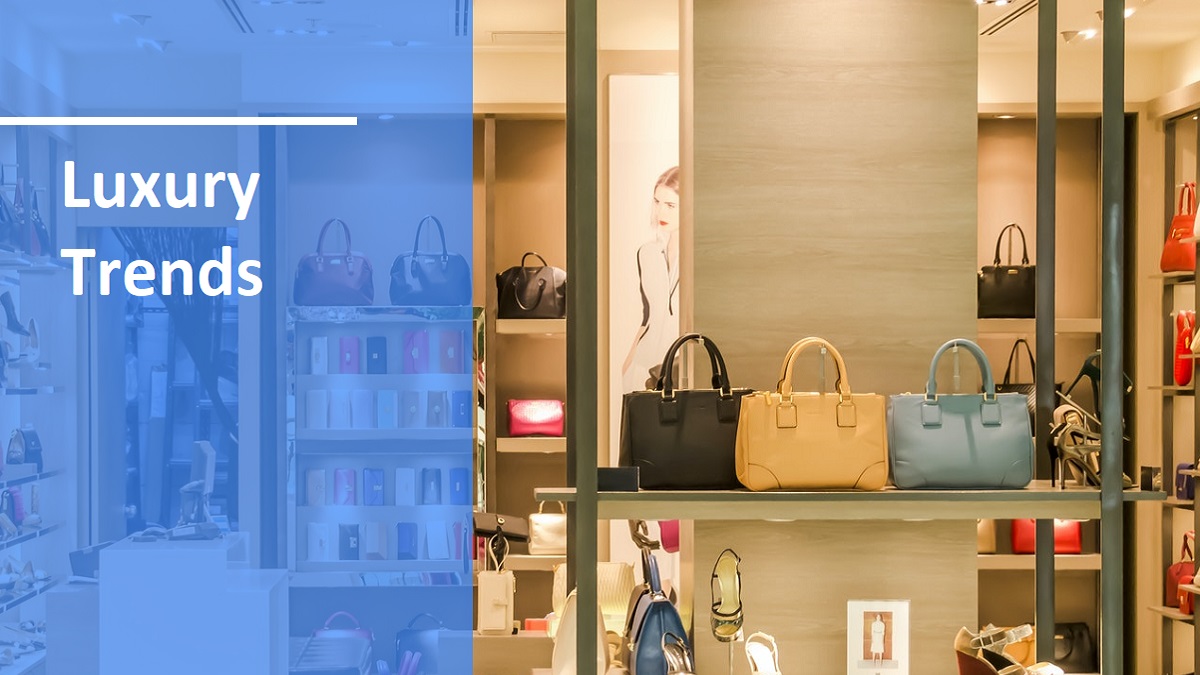 Luxury Trends Table of Contents
With the emerging consumer consciousness over what is perceived to be an excess in consumption, luxury consumers, led by the new generation of buyers, have started looking beyond the brand and its history in search of something more meaningful. They now see brands as extensions of themselves, and the values that espouse. This is why the industry's major players need to heed the signs and go beyond luxury. Below are some of the insights that have slowly gained traction:
1. High-End Products Over Luxury Experiences
According to Bain & Company, the global luxury market ended 2019 at $1.42 trillion with moderate growth at 4%, which signified that a slowdown trend already started before the onslaught of the coronavirus. The market was buoyed by growth from luxury vehicles (7%) and fine food (6%), but offset by lower than expected growth from hospitality sales (2% instead of target 5%). This may be pointing to a significant shift in the luxury landscape: consumers have begun opting to spend their money on products instead of experiences.
Global Luxury Market 2019
Total per category (in million $)
Global Luxury Market 2019
550: Luxury cars
550
Luxury cars
Global Luxury Market 2019
281: Personal luxury goods
281
Personal luxury goods
Global Luxury Market 2019
206: Luxury Hospitality
206
Luxury Hospitality
Global Luxury Market 2019
76: Fine wines and spirits
76
Fine wines and spirits
Global Luxury Market 2019
53: Gourmet food and fine dining
53
Gourmet food and fine dining
Global Luxury Market 2019
42: High-end furniture and housewares
42
High-end furniture and housewares
Global Luxury Market 2019
34: Fine art
34
Fine art
Global Luxury Market 2019
24: Private jets and yachts
24
Private jets and yachts
Global Luxury Market 2019
2: Luxury cruises
2
Luxury cruises
Source: Bain & Company
Created by CompareCamp.com
2. Lower Demand Due to COVID-19
With the pandemic, where travel is severely limited, and most industries are put on hold, the downtrend will further accelerate. Overall, Bain & Company predicts that the market will fall by as low as 30% to 35% this year, as there are no clear indications as to when the pandemic will end.
Aside from the abovementioned, we can also see that the luxury market might not immediately bounce back post-pandemic. After all, as the world transitions into the "new normal," the public will surely have vastly different purchasing priorities.
3. China Remains the Biggest Market for Luxury Goods
China remains the biggest spender when it comes to luxury items and services, taking up 33% of the market while accounting for 90% of the market growth and 29% of all online sales. Pre-pandemic estimates predict that the Chinese share of the luxury market will rise to 40% by 2025. According to a CNN report, the slowdown of the Chinese economy resulted in a 6.8% decrease in GDP in the first quarter compared to last year. Consequently, there was a 12.5% reduction in consumer spending reported as well. All is not lost, however, as CNN also predicts that China will bounce back and end the year with a 1.2% growth.
China's Share in the Global Luxury Market (2019)
Source: Bain & Company
Created by CompareCamp.com
4. The New Age of Consumers
In terms of age groups, Matter of Form reports that millennials account for 32% of the luxury market and are seen to swell to 50% by 2025. Gen Z, currently occupying 8%, is poised to make up 40% of buyers by 2035. With the arrival of the new generation of customers, expect changes in preferences and perceptions of value.
As of now, we are already seeing a shift in taste among luxury buyers. For starters, consumers from these age groups are looking for brands that operate sustainably. They are also more drawn to companies that collaborate with influencers they are familiar with. That said, luxury brands will need to take a closer look at the vastly different interests and demands of these particular age groups if they want to remain competitive.
5. Collaborations Kick Into High Gear
Speaking of millennials, they have come to appreciate finished goods produced by collaborations between designer brands and fashionable streetwear outfitters, which include Louis Vuitton x Supreme, Fendi + Fila, and others. The mix of new and bold with old and trusted seem to resonate with younger buyers, as per data from Matter of Form, 67% of Gen Z and 60% of millennial purchases include a collaboration or special edition item. In particular, 62% of Chinese consumers have latched on to the trend and bought something as well.
Source: Matter of Form: The Luxury Report 2019
6. Demand for More Ethical Labor Practices
With the rise of millennial buyers, labor practices are also beginning to get scrutinized. The nonprofit watchdog KnowTheChain surmised that luxury brands may have gotten away from ethical examination because buyers always assumed the high prices covered fair labor and safe practices.
Unfortunately, the KnowTheChain audit scores for some high fashion labels were disappointingly low: Hermes at 15/100, LVMH 14/100, Ferragamo at 13, and Prada at 5. Other brands fared better with Kering, scoring 45/100, Burberry at 52/100, and Ralph Lauren 58/100. In contrast, leisurewear such as Adidas (92/100) and Lululemon (89/100) scored near the top. As such, low-scoring brands should expect some repercussions from woke buyers, especially as the market shrinks this year.
7. Consumers are Purchasing More Responsibly
Today's luxury purchasers are moving away from being defined as purveyors of the excessive and the extravagant. While they cannot remove themselves from the luxury setting, they want to be seen as ethical and responsible consumers that opt for meaningful experiences.
According to the 2019 True Luxury Global Consumer Insight report, responsible consumers are primarily concerned with the environment (37%), animal care (27%), and ethical manufacturing (21%). As such, companies like Jaguar Land Rover have started promoting leather-free cushioning and fully vegan materials for their 2020 automotive lineup. Meanwhile, Bugatti and Bentley are getting ready to launch their electric models, while Mercedes Benz is featuring electric cars made from recyclable materials.
What Luxury Buyers Consider Before Purchasing
Source: Edelman's Earned Brand Report 2020
Created by CompareCamp.com
8. Restraint After the Outbreak
Given the tendency of outbreaks to occur in waves, plus the fact that a vaccine has yet to be approved, there is uncertainty on how long we must wait before things return to normal. As such, people are hedging their bets by reshaping how they spend their money. In a Kandar survey conducted in China in March, people have increased spending in food and beverages (40%), household cleaning (48%), and medical/life insurance (38%).
And who are the biggest losers? The same survey reported that 61% of respondents reported reducing or canceling their luxury purchases for the year, and 21% have indicated this may be a permanent decision even after the outbreak.
Luxury goods are traditionally one of the industries poised for a bounceback during recovery periods, and the lucrative Chinese market also has a tradition of "revenge spending" once buyers are freed from isolation. However, the foreseen spike in sales beginning in the 4th Quarter of 2020 may not be enough to offset the current losses.
9. Luxury Goods as Investment
Luxury items being sold are now being looked at beyond the first wear. Moda Operandi's January 2020 survey reports that 73% of women said they are willing to pay more for higher-quality items in their wardrobe, with half of them admitting they're looking for quality, timeless pieces that will never go out of style. In addition, 36% of buyers believe that they are making a long-term investment, 13% know they can resell the item and 12% planning on passing these items to their children someday.
What Women Want
Insights on Why Quality Matters in Luxury Item Purchases
Source: Moda Operandi survey Jan 2020 (published in Fortune Magazine April 30,2020)
Created by CompareCamp.com
10. Luxury for Rent
Aside from resale, Forbes has noted that luxury retail rental shops, such as Rent The Runway, are also sparking renewed interest in the circular economic model. The current slowdown made a lot of people conscious of their assets, and some had started rummaging through closets to find items that could fetch a decent amount of cash.
Given that estimates place the wastage of the fashion industry from unsold inventory that goes into the trash at $500 billion, this business model may appeal to clients who espouse sustainability, especially among Millennials and Gen Z customers.
Most fashion houses have starting experimenting by providing tacit support, although Chanel has filed lawsuits at some websites for supposedly lowering their goods' value through resale and selling counterfeit items.
11. The Growing Resale Market
With the push for investment comes the emergence of the resale market. Matter of Form currently values it at $23.8 billion with a faster growth rate vs the brand new market, which is projected to grow to $31 billion by 2021. This growth is attributed to the easier accessibility of authentic items via legitimate websites, shorter ownership when bought, broader access to iconic products, and a less extravagant price tag.
Thredup, a secondhand resale website, reported that 34% of luxury shoppers sell secondhand items while 26% buy secondhand. Most buyers are Millennials and Gen Z, who don't mind secondhand as much as the previous generations, as shown by their adoption rates for the trend, which is 2.5 times faster compared to Gen Xers and Boomers.
Source: ThredUp 2019 Resale Report
12. Return to Base for Manufacturing
Unsurprisingly, even luxury goods get some of their components from low-cost labor countries. However, the pandemic showed how vulnerable the supply chain becomes when a worldwide crisis erupts. Forbes believes that China will play an important part here because if the supply chain of high fashion brands went home, not only will the cost of manufacturing the products become higher. It is also likely that the Chinese market will shift their preferences to local brands.
13. Home is the New Sexy
Online fashion retailer Moda Operandi casually notes that searches for "sweats" and "sweatpants" have grown by 50% and 85%, respectively, during the first quarter of 2020. With a lot of people wisely staying at home to avoid contamination, getting the season's best formal or beachwear or casual clothing may be an exercise in futility. With meetups confined to video calls, comfortable but still designer brand house wear has become the de facto attire.
Madeleine Thompson's signature cashmere tops and bottoms were among the top sellers, while the Balenciaga Track Logo Mesh Sneaker in pink was sold out almost as soon as it was posted online. Moda also reported an 80% sales increase in home decorations since March 9 of this year. Until restrictions are relaxed or lifted entirely, we'll probably see more luxury items for the home in the next few months.
Web Searches for Housewear
Searches on the Moda Operandi website 2020
Source: Moda Operandi Runway Report: Spring Summer 2020 (published in Fortune Magazine, Apr 30, 2020)
Created by CompareCamp.com
14. Giving Back to the People
Moda International also noted a rise in full-price spending if shoppers were allowed to give back. Earlier in March, the site launched a "Shop for a Cause" initiative, where a percentage of the full-price sales were donated to COVID-19 charities. This increased daily average full-price sales, as well as a 34% increase in new or previously-dormant customers who have not bought anything from Moda the previous year.
Other brands have made their own initiatives, including DKNY, which released a line of shirts whose proceeds will benefit relief efforts in New York; Bulgari, which donated 10% of its sales during May 1 to 8 to Save the Children's fight against COVID-19, and Tiffany & Co committing $1 million to COVID-19 relief efforts.
15. Supporting the Do-Gooders
Given social media-heavy awareness among consumers, people have become more sympathetic to the plight of their fellow men. The coronavirus pandemic is a particular example of natural selection among brands at work. According to an Edelman's Earned Brand survey taken during the first weeks of March 2020, 71% of consumers stated that brands and companies that put profits first before people would lose their trust forever. 65% say that their likelihood to buy from a brand or company depends on how well they respond to the pandemic. 37% have started using a brand because of the innovative or compassionate way they responded to the crisis.
The Corona(Virus) Effect
How a Brand's Behavior during the Pandemic can Change Market Perception
Source: Edelman Trust Barometer 2020
Created by CompareCamp.com
16. More Brands Joining the Front Lines
The ongoing pandemic has its shares of good souls, and the luxury market is no exemption. Apart from donating proceeds from sales, a number of fashion houses have joined the fight against the coronavirus.
Last April, Bulgari donated hundreds of thousands of 75ml medical-grade hand sanitizing gel to the governments of Italy and the UK. Meanwhile, Louis Vuitton reopened its workshop in rue du Pont Neuf to produce hospital gowns. The Armani group switched its Italian production plants to manufacture single-use medical overalls. Gucci made and donated 1.1 million masks and 55,000 medical overalls, while Prada produced 80,000 medical overalls and 110,000 masks for delivery to Italian health care workers.
These are just some of the examples of the initiatives of the biggest fashion names that have answered the call to help, and as such, will earn some goodwill from customers even after the virus has been contained.
17. The Rise of Online Luxury
Online shopping has been growing through the years, and with the worldwide travel restrictions in place, it can only grow further, even when fashion houses are reporting lower sales between 10-30% in the first quarter of 2020. Adjusted data from the Statista Consumer Market Outlook 2019 expect the share of online sales to grow by 64% between 2018, 14% this year, and 18% by 2023, in time for Gen Y and Gen Z becoming the majority clients for luxury goods.
With the ongoing lockdowns in a number of countries and major cities, we can foresee an actual bigger online share as 2020 goes on, even if the overall market for luxury goods is expected to tumble down this year by 30-35%.
Source: Statista Consumer Market Outlook 2019
18. Fast Fashion Slowdown
Another effect of digitization may ultimately lead to the retirement of bi-annual fashion shows and a break in seasonal collections, which are deemed ecologically unsustainable. According to Forbes, there are fewer buyers who are willing to travel for shows. At the same time, Giorgio Armani mentioned in an open letter to WWD that the industry might be producing too many clothes with too little time in-between seasons.
19. Increase in Branded Event Experiences
While luxury experiences have taken a backseat versus tangible items, branded event experiences help lead to more sales. A lot of brands have started embracing the "phygital" revolution, which helps create immersive experiences for customers. This can help them stay relevant in a market where price is a secondary consideration.
An example would be the Porsche Experience Center (PEC) in Shanghai, as China is the auto manufacturer's top market. At PEC, potential buyers can book test drives, play racing simulators, drive off-road tracks, and dine in a themed restaurant, all designed to maximize selfie opportunities.
Matter of Form reported that 74% of consumers have confirmed that taking part in such activities made them more likely to buy the promoted product. Also, 98% of luxury consumers themselves create digital or social content at these events.
The Branded Luxury Event Experience
Survey on the Influence of Luxury Branded Events towards Eventual Purchase
Source: Matter of Form: The Luxury Report
Created by CompareCamp.com
20. The Incredible Shrinking Logo
As the pandemic rages on, more and more social media watchers are becoming sensitive to inadvertent displays of opulence. We've seen a lot of backlash against Ellen De Generes's comparison that quarantine "is like being in jail" while relaxing in her mansion, or David Geffen hoping everyone is staying safe while aboard his half-billion-dollar yacht.
Forbes believes that during and post-coronavirus, conspicuous consumption might be less acceptable for a while, which will lead to receding logo sizes. A happy side effect to this development is that smaller logos can weaken counterfeit trade, which HRB.org estimated at around $4.5 trillion, 60-70%of, which consists of fake luxury merchandise.
21. Global Luxury Will Rise Again
Bain & Co is optimistic that once the pandemic is declared over, luxury brands can emerge from the crisis stronger and engineer a sustainable recovery by 2021 and beyond. The luxury customer base is expected to expand to 450 million in 2025, up from 390 million in 2019, thanks to the growing middle class, especially from Asia.
What's Next for the Luxury Industry?
COVID-19 is an industry disruptor unlike any, as it totally shut down not just individual nations but the entire planet as well, in terms of consumption. The ongoing crisis affected not only the sale of goods and services but also disrupted supply chains in both the manufacturing and logistics sides. However, all hope is not lost, as getting a vaccine (or a cure) is just a matter of time.
The pandemic spared no industry as it shifted the purchasing behaviors of consumers worldwide. Of course, before the crisis, a simmering movement has already begun, where luxury is no longer defined by how many items you have, but what each purchase stands for. This, in turn, led to the re-examination of the market. Even traditional practices, such as fashion shows and seasonal collections, are slowly going out of favor, while sustainable, environment-friendly, and socially-aware practices are being lauded. After the coronavirus, we may see the luxury market not only bounce back but also change for the better.
---
References:
Forbes article: How luxury fashion shopping habits are shifting during the coronavirus pandemic

CNN: China's economy just shrank for the first time in decades

Bain.com: Luxury after Covid-19: Changed for (the) Good?

Kantar WeChat survey 2020

Wavemaker Global Week in Review: April 2020

KnowTheChain 2018 Report

ThredUp 2019 Resale Report

2019 True Luxury Global Consumer Insight

Forbes: Five New Trends That Will Reshape Luxury After COVID-19

Circular Economy in the Luxury Retail Space: Expectations vs Reality

Edelman Trust Barometer 2020

How The Fashion Industry Is Stepping Up To Fight Covid-19

CNN: Fashion industry answers the call for masks and personal protective equipment to fight Covid-19

Architectural Digest Middle East: Louis Vuitton is making PPE masks and gowns at its reopened workshops

Luxe labels Gucci, Armani, Bulgari make protective gear to fight coronavirus

Giorgio Armani Writes Open Letter to WWD

Vox.com: Celebrity quarantine posts are inflaming tensions between the haves and have-nots

Statista Consumer Market Outlook 2019

HRB.org: How Luxury Brands Can Beat Counterfeiters