LinkedIn is not the only channel for networking and job hunting professionals online, but it has cornered a large part of the market. From a talent sourcing platform, LinkedIn has moved to lead generation, sales, and B2B marketing and is actually at the forefront in B2B marketing. Bill Gates famously wrote "Content is King" in 1996 and this excellently describes how LinkedIn leveraged the possibilities of creating revenue from content on the internet. LinkedIn is not the first, of course, to make use of content on social platforms to grow businesses or gain leads, but it was in a unique position to dominate B2B and B2C marketing since the platform's members are its core audience.
If you want to follow in LinkedIn's footsteps and launch your own effective content marketing campaigns or you simply want to know more about LinkedIn as a platform, this article lists statistics and data that will prove useful.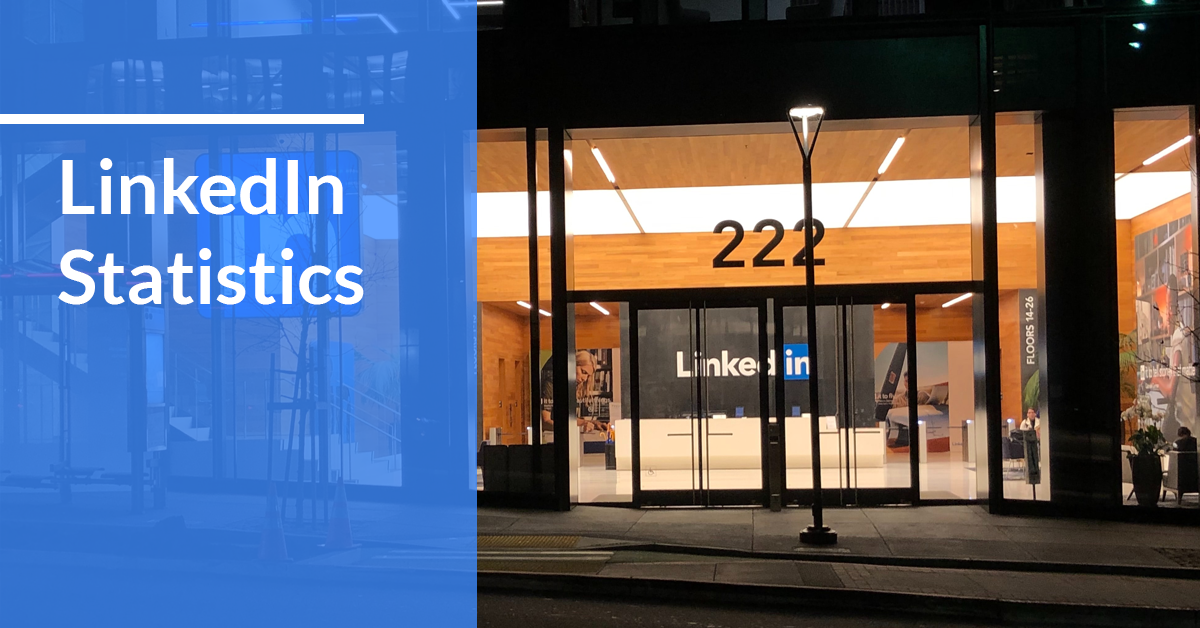 Linkedin Statistics Table of Contents
LinkedIn Facts & Statistics
LinkedIn is a social platform for business professionals launched in May 2003; it reached 1 million users in August 2004. The networking platform now has 690 million members and gaining more at the rate of two new members every second.
With 80% of its members driving business decisions, LinkedIn has its share of influencers and thought leaders amassing followers. Bill Gates leads the list with 26.9 million followers.
LinkedIn is available in 24 languages.
The country with the most LinkedIn members is the US at over 169 million.
More than 50 million companies have a LinkedIn page.
32.1% of site traffic on LinkedIn is from the US.
A member spends an average of 10 minutes, 27 seconds per session on LinkedIn.
Four out of five LinkedIn members drive business decisions.
Bill Gates is the most followed Linkedin member with 26.9 million followers.
The most followed page on LinkedIn is Ted Conferences with 178 million followers.
Four in 10 LinkedIn members have a Premium account.
Linkedin has 16,000 full-time employees across 30 cities around the globe.
LinkedIn User Demographics
LinkedIn members are young, educated, and earn above-average incomes. Millennials and Gen-Xers make up the majority of LinkedIn members. Of the 169 million members in the US, more than half have a college degree and two-thirds have an annual household income of $100K. 7 out of 10 Linkedin members are from outside the US. Gender-wise, women only account for 43% of the global audience.
There are close to 690 million members on LinkedIn spread out in 200 countries.
Seven out of 10 LinkedIn users are from outside the US.
LinkedIn's global male audience outnumber female users 3:2.
The US has the highest number of LinkedIn members in the world at 169 million.
27% of US adults use LinkedIn.
LinkedIn users aged 30 – 49 years old account for 37% of its users in the US.
There are over 87 million Millennials on LinkedIn.
51% of college graduates use LinkedIn.
60% of LinkedIn users have an annual household income of $100K.
30% of US users live in urban areas.
LinkedIn User Statistics
LinkedIn members are business owners and upper-level management, their decisions move businesses and industries forward.
A LinkedIn member will have an average of 500 – 999 connections but maxes out at 30, 000. It was also found connections are 60% more likely to engage in co-worker's posts.
There are 5.4 million small business owners on LinkedIn.
11 million members of LinkedIn hold C-level positions.
4 out of 10 LinkedIn users are millionaires. 80% of LinkedIn's members drive business decisions.
The median number of LinkedIn connections is between 500 – 999.
57% of LinkedIn's web traffic is from mobile.
LinkedIn users are 60% more likely to comment, like, message, and share a co-worker's content compared to other connections.
There are 180 million senior-level influencers on LinkedIn.
63 million of LinkedIn's total members are decision-makers for their brands and companies.
LinkedIn Content Statistics
LinkedIn has reinvented the platform to go beyond sharing professional accomplishments and networking for the next project. Influencers and thought leaders abound with shareable quotes, updates, and articles. LinkedIn publishes 130 million articles each week.
Post engagement has grown 50 year-over-year and B2B marketers are taking notice. With over 9 billion content impressions, 97% of marketers have used the platform for their content marketing. LinkedIn video is an effective way to grow a business but traditional articles are still in demand. Sixty-six percent of LinkedIn users are interested in reading content with industry insights and 45% of C-level management read LinkedIn articles.
97% of B2B marketers use LinkedIn for their content marketing.
80 million professionals use and share content on LinkedIn SlideShare.
36% of LinkedIn users get their news from LinkedIn.
84% of marketers found LinkedIn video to be an efficient way to grow a business.
51% of video marketers have used LinkedIn video in a B2B campaign.
60% of LinkedIn users are interested in industry insights-type of content.
A LinkedIn post typically reaches 20% of followers.
Employees are 70% more likely to engage—like, comment, or share—their company's content.
People believe content coming from an employee is trustworthy, 53% than the CEO, 47%.
LinkedIn content engagement has increased by 50% year over year.
To date, LinkedIn has 9 billion content impressions.
Over 130 million articles are published on LinkedIn each week.
Upper-level management makes up 45% of LinkedIn article readers.
LinkedIn Marketing Statistics
Content is the heart of B2B marketing. More than 75% of B2B marketers believe LinkedIn is the most effective social platform to achieve business growth. LinkedIn's cost-per-lead is more cost-effective, 28% lower than Google AdWords but reaches 12% of LinkedIn's audience, 390 million,who have twice the buying power compared to other web audiences.
There are 9.4 million members with a marketing position.
LinkedIn makes up 20% of all US B2B ad revenue.
Over three-quarters of LinkedIn marketers consider LinkedIn the most effective social platform at helping their business achieve its objectives.
59% of B2B marketers generate leads on LinkedIn compared to less than half on other social platforms.
45% of social media traffic to a company's homepage is generated from LinkedIn.
LinkedIn has the highest visitor-to-lead conversion rate of 2.74% which is three times higher than Facebook and Twitter.
LinkedIn Marketing Solutions reduced the cost per lead by 44%.
LinkedIn's cost-per-lead is 28% more cost-effective than Google AdWords.
89% of marketers use Linkedin for B2B lead generation.
A single ad on LinkedIn has the potential to reach 12% of people over the age of 12.
LinkedIn's audience has 2x the buying power of the average web audience.
94% of B2B marketers prefer to use LinkedIn to publish content.
LinkedIn Recruitment Statistics
LinkedIn is indispensable to hiring with 95% of recruiters using LinkedIn to source talent. The platform has been used by employees to make career decisions and broaden skills. It was also found that employees hired through LinkedIn are 40% less likely to resign in the next six months.
95% of Fortune 500 companies used LinkedIn Talent Solutions for recruiting.
Close to 95% of recruiters use LinkedIn to source and recruit talent.
More than 75% of employees in a new job used LinkedIn to help make career decisions.
New employees recruited through LinkedIn are 40% less likely to leave in the next 6 months.
There are 36K skills listed on LinkedIn.
Creativity is the most in-demand soft skill while blockchain is the most in-demand hard skill.
100 million job applications go through LinkedIn monthly.
---
References:
LinkedIn | William H. Gates

LinkedIn | TED Conferences

Kinsta | Mind-Blowing LinkedIn Statistics and Facts (2020)

Statista | LinkedIn: distribution of global audiences 2020, by gender

LinkedIn | About US

Statista | Countries with the most LinkedIn users 2020

Pew Research Center | Social Media Fact Sheet

The LinkedIn Millennial Playbook | LinkedIn Marketing Solutions

Statista | LinkedIn usage reach in the United States 2018, by household income

Hootsuite | Top LinkedIn Demographics That Matter to Social Media Marketers

Insights and Research – People Insights | LinkedIn Marketing Solutions

SourceCon | New LinkedIn Research Shows That 44% of Its Members Visit the Site Every Month

LinkedIn Ad Targeting Options | LinkedIn marketing Solutions

Business of Apps | LinkedIn Usage and Revenue Statistics (2020)

Targeting Advertising on LinkedIn – Our Audience | LinkedIn MArketing Solutions

Add Teammates: A New Way to Nurture Professional Relationships With Your Coworkers

LinkedIn | Making the Case for B2B Marketing on LinkedIn (Infographic0

Slideshare | About

99 Firms | LinkedIn Statistics

NapoleonCat | Everything You Should Know About LinkedIn Video

Buffer | 7 Essential LinkedIn Marketing Stats: When to Post, What to Post and How to Improve

Hootsuite | 20 LinkedIn Statistics That Matter to Marketers in 2020

Word Wizard | Everything I Know About LinkedIn Posts That You Should, Too!

eMarketer | US B2B Digital Advertising Trends

Hubspot | LinkedIn 277% More Effective for Lead Generation Than Facebook & Twitter

Recruiting Solutions For The Perfect Hire | LinkedIn Talent Solutions

US News | How Headhunters Use LinkedIn to Find Talented Candidates

LinkedIn | The Ultimate List of Hiring Statistics

LinkedIn | The Skills Companies Need Most in 2020—And How to Learn Them

LinkedIn | Discovering New Jobs on LinkedIn Just Got Easier