Although the US Environmental Protection Agency (EPA) categorizes hurricanes as a natural disaster, as most of us do, hurricanes are good for the planet. They do a bit to regulate our planet's temperature, keeping us (comfortably) alive most of the time. They only become disasters when we are in the way.
However, there are ways to mitigate hurricane risks and damages. And, the first step is to have a better understanding of hurricanes statistics, what they are, their historical effects, and getting to know the 2020 season forecast. We intend to help you do just that. In this way, you'll be able to increase your hurricane knowledge and disaster awareness so that you can improve your calamity preparedness.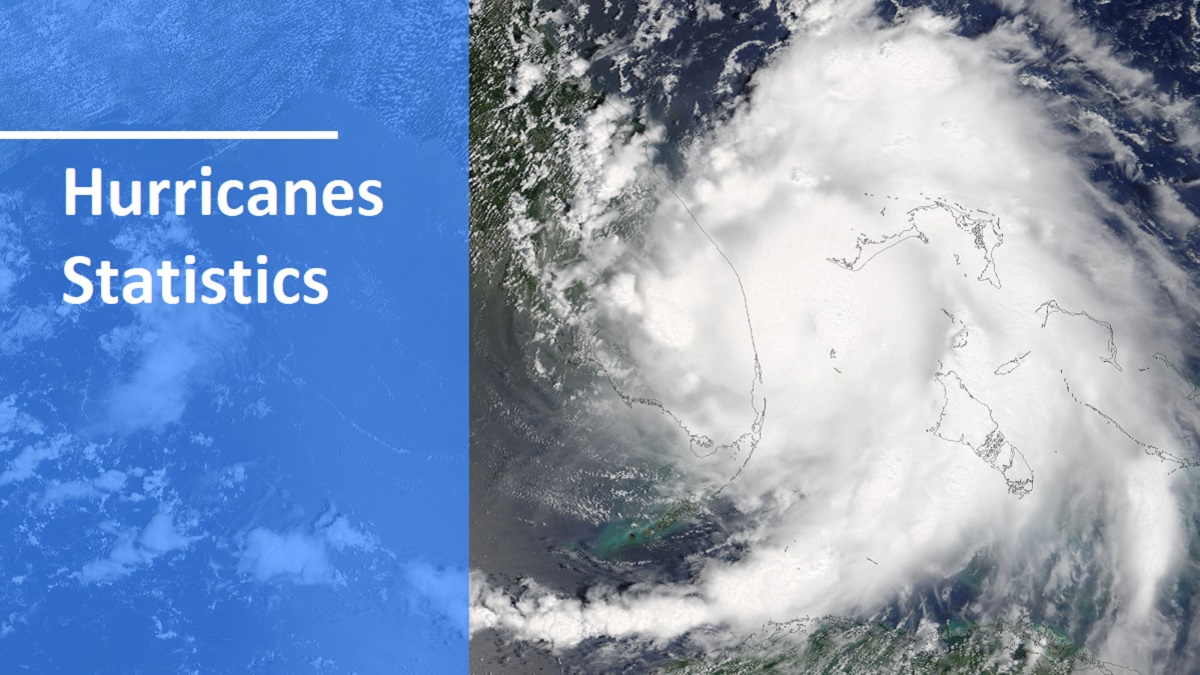 Hurricanes Statistics Table of Contents
1. Statistics on How Hurricanes Form
Typhoons, hurricanes, and cyclones. They are all names for one thing: a kind of storm, a tropical cyclone in the scientific literature. However, people call tropical cyclones coming from different places differently. For instance, when these occur in the western Pacific Ocean or the Eastern Hemisphere, they are called typhoons. We call them hurricanes when they form in the Western Hemisphere or from the Atlantic and the eastern Pacific Ocean. Moreover, we call them cyclones when these storms brew in the Indian Ocean and the South Pacific.
One important factor for a hurricane to occur is ocean temperature. Mostly, temperatures need to rise to more than 80°F at depths of 150 ft.
Tropical cyclones, generally, need to be greater than 5° on either side of the equator for the Coriolis effect to provide enough rotation.
Storms must reach 74 mph in order to be classified as a hurricane. If it reaches speeds of 111 mph, it is upgraded to an intense hurricane or typhoon.
They can span up to 1,000 miles in diameter and 10 miles in depth.
Most hurricanes form between 10° and 30° from the equator. They mostly occur in the tropics, hence, the name. Although they can also occur in the mid-latitudes. Because of trade winds, tropical cyclones usually move westward and curve polewards into the mid-latitudes.
Hurricanes are categorized via their sustained wind speed on what is called the Saffir-Simpson Hurricane Wind Scale.
Category 1 hurricanes have sustained winds of 74-95 mph; category 2 hurricanes are at 96-110 mph, category 3 hurricanes at 111-129 mph, category 4 hurricanes at 130-156 mph, and category 5 hurricanes have sustained wind speeds of 130-156 mph
Sources: National Hurricane Center and Central Pacific Hurricane Center
2. Historical Hurricane Statistics and Facts
There is no question that climate disasters such as hurricanes have a grave economic impact. Since 1980, there were 265 recorded climate disasters. The cost of such disasters was estimated to exceed $1.775 trillion. And, they don't just destroy property. They also claim lives. In this section, we'll list the deadliest and costliest hurricanes in US history.
The five deadliest hurricanes in US history
The Great Galveston Storm (1990) – the estimated death toll is from 8,000 to 12,000.
Hurricane Maria (2017) – the estimated death toll is around 5,000. Initial estimates were only 64 in Puerto Rico; new reports showed incredibly more.
The Okeechobee Hurricane (1928) – the estimated death toll is around 3,000.
Hurricane Katrina (2005) – the death toll is 1,833. Tens and thousands of people were displaced.
The Chenière Caminada Hurricane (1893) – The Great October Storm killed nearly 1,400 people, almost the population of a town.
And, two of the deadliest hurricanes in American History are also the top two when it comes to the costliest.
The costliest hurricanes in US history
Katrina (2005) with 1,833 deaths – $125 billion ($170 billion when normalized for 2020)
Harvey (2017) with 89 deaths – $125 billion ($131.5 billion)
Maria (2017) with 2,981- $90 billion ($94.5 billion)
Sandy (2012) with 159 deaths – $65 billion ($74.1 billion)
Irma (2017) with 97 deaths – $50 billion ($52.5 billion)
Ike (2008) with 112 deaths – $30 billion ($36.9 billion)
Andrew (1992) with 61 deaths – $27 billion ($50.5 billion)
Michael (2018) with 49 deaths – $25 billion
Ivan (2004) with 57 deaths – $20.5 billion ($28.7 billion)
Wilma (2005) with 35 deaths – $19 billion ($25.8 billlion)
The Five Deadliest Hurricanes in US History
(by estimated deaths)
The Five Deadliest Hurricanes in US History
12,000: The Great Galveston Storm (1990)
12,000
The Great Galveston Storm (1990)
The Five Deadliest Hurricanes in US History
5,000: Hurricane Maria (2017)
5,000
Hurricane Maria (2017)
The Five Deadliest Hurricanes in US History
3,000: The Okeechobee Hurricane (1928)
3,000
The Okeechobee Hurricane (1928)
The Five Deadliest Hurricanes in US History
1,833: Hurricane Katrina (2005)
1,833
Hurricane Katrina (2005)
The Five Deadliest Hurricanes in US History
1,400: The Chenière Caminada Hurricane (1893)
1,400
The Chenière Caminada Hurricane (1893)
Source: USA Today
Created by CompareCamp.com
3. Hurricane Statistics by Year: The Atlantic Basin from 2005 to 2009
The US Atlantic coast is deemed as the most vulnerable area for hurricanes. The Atlantic hurricane season lasts six months. That's from the 1st of June to November 30th. Moreover, it is most vulnerable during the most dangerous month of the Atlantic hurricane season: September. On the other hand, the Pacific hurricane season lasts six and a half months, from the 15th of May to the 30th of November. However, Pacific hurricanes don't usually reach the US because of the East Coast's geographic location and cooler waters.
In the US, about 12 storms make landfall every year. Around two to three of these are at Category Three to Category Five.
An average season has 11 named storms, six hurricanes, and two major hurricanes (Category Three or higher).
Damages from hurricanes from 2000 to 2009 increased to more than $244 billion.
The infamous 2005 Atlantic basin hurricane season
We witnessed one of the busiest Atlantic hurricane seasons ever in recorded history in 2005. It had the infamous Hurricanes Katrina, Rita, and Wilma.
In 2005, there were 28 named storms, and 15 of them were hurricanes. Seven were categorized as major, and four reached Category Five status. This is also the year of Hurricane Katrina.
From August 25 to 29 in 2005, Hurricane Katrina hit the Mississippi/Alabama Gulf Coast with a 27-foot storm surge causing the deaths of 240 people. Moreover, when the New Orleans' levee failed, it caused more than 1,500 deaths with $81 billion in damages.
Also, from September 20-24, 2005, the Category Five Hurricane Rita made landfall as a Category Three hurricane near the Texas and Louisiana border. Experts recorded $18.5 billion in damages. Moreover, experts attributed seven deaths directly to Hurricane Rita.
Additionally, on October 15-25 of the same year, Hurricane Wilma was classified as a Category Five hurricane. It made landfall on Cozumel, Mexico as a Category Four. It later made landfall in Cape Romano, Florida as a Category Three dealing $19 billion in damages. Wilma dealt a total of 23 deaths with five in the US, 12 in Haiti, and four in Mexico. Jamaica and the Bahamas recorded one death each.
Source: III, 2020; National Centers for Environmental Information
2006 to 2009: The not-so-quiet Atlantic basin
Comparatively, the Atlantic hurricane seasons during this time were a little tamer. However, it was not that quiet. It is not without its disasters. It is in this five-year span that Hurricanes Ike and Tomas were recorded.
In 2006, there were five total hurricanes recorded, and none made US landfall. No deaths were attributed to them.
There were only six hurricanes in 2007. Only one made US landfall, and there was only one recorded death.
In 2008, authorities recorded a total of eight hurricanes, but only four made landfall in the US. These include Hurricane Hanna, which made its landfall as a tropical storm. There were a total of 41 storm-related deaths in the US. However, in the same year, Hurricane Ike, a Category Four that landed as a Category Two storm in Galveston Island, Texas dealt about $30 billion in damage. Direct deaths numbered up to 103 across the Gulf Coast, Hispaniola, and Cuba.
There were only three total hurricanes recorded in 2009. Only one of them made landfall as a tropical storm, and that was Hurricane Ida. Also, there were six hurricane-related deaths that year.
4. Statistics on the Major Hurricanes in the Last 10 Years: 2010 to 2019
The 2010s was an interesting one for meteorologists and climate watchers. This was a hot time for the public discourse over the legitimacy of human causes for climate change claims. And, as hurricanes are essentially powered by heat, many feel that anthropogenic emissions of greenhouse gases and pollutants should get part of the blame.
The 2010s are widely considered as the hottest decade in recorded human history. Global temperatures were about two degrees Fahrenheit over the pre-industrial average in the years of 1850 to 1900.
Hurricane damages from 2010 to 2019 are estimated to have reached $410 billion.
The decade is divided by climate science communicators into three eras: (1) the Sriracha Era of 2010 to 2012 with spicy open ocean activities but little landfall, (2) the Cronut Era of 2013 to 2015, which had significantly low activities, and (3) the Tide Pod Era that brought crazy damage levels.
2010 to 2012: The Sriracha years and Hurricane Sandy
This era started a little spicy. Yes, the Sriracha Era opened the decade with record-setting open ocean storm activities but with little landfalls.
Each year in this era recorded 19 named storms. This ties them with the Atlantic basin hurricane seasons of 2010, 1995, and 1887 for the third-busiest years for tropical cyclones.
The year 2010 marked the second consecutive season with no US hurricane rainfall. This is also the 14th time that no hurricanes landed on US soil. The last time that there were two consecutive seasons without landfall was 2000 and 2001.
In 2010, authorities monitored 12 hurricanes. Also, no single hurricane made landfall. However, there were 11 storm-related fatalities. These include deaths caused by high winds of less than hurricane force.
Despite 19 named storms, only Hurricane Irene and one tropical storm made landfall in 2011. Hurricane Irene was the first tropical cyclone since 2008 that hit the US.
No major hurricanes landed on the US coast in 2012. However, Hurricane Michael registered Category Three strength for six hours. This also marks the seventh consecutive year without a major hurricane strike.
In 2011, authorities recorded seven hurricanes. Only one made US landfall, Hurricane Irene. Irene was slow-moving, and its storm-force winds extend outwards 300 miles. Around 44 deaths were recorded in the US and at least 48 lives in total. It dealt a $7 billion dent in damages in the US.
We witnessed 10 hurricanes in 2012. Only one hurricane made landfall, and that was Isaac. However, post-tropical storm with hurricane-force winds Sandy made its landfall near Atlantic City, New Jersey. It caused 72 direct deaths in the US and at least 147 in countries such as Haiti and Cuba. It brought $65 billion in damages.
2013 to 2015: The humdrum of the Cronut era
The hot opening of the Sriracha Era was followed by a low activity period of the Cronut Era. These years marked little activity.
The year 2013 saw 13 named storms, two hurricanes, and no major hurricanes. Also, no hurricanes made landfall in the US for the entire year. There was only one storm-related death.
In 2014, there were only six hurricanes tracked in the Atlantic basin. Only one made landfall, Arthur. Moreover, authorities recorded only one storm-related death.
In 2015, authorities monitored four hurricanes with two major hurricanes, but none made landfall. Also, they recorded three storm-related deaths.
2016 to 2019: The Tide Pod era, getting crazy
The Tide Era registered numbers that were well above averages. It is also in this four-year span that Hurricanes Harvey, Irma, Maria, and Michael did significant damage along their respective paths. All of them mentioned, except for Michael, happened in 2017.
There were seven hurricanes in 2016. Three were major hurricanes. Four had made landfall. Hurricane Matthew was the first Category Five since Hurricane Felix in 2007. It was also the first Category Four since Hurricane Cleo struck Haiti. However, it was only a Category One when it made landfall in Myrtle Beach, South Carolina. Authorities recorded 36 storm-related deaths.
In 2017, there were 10 hurricanes, and four made landfall in the US. Six were major hurricanes. There were 147 storm-related deaths. Hurricanes Harvey, Irma, Maria, and Michael caused significant damage. The highest estimated insured property losses from these three are as follows: Hurricane Harvey at $20 million, Hurricane Irma at $30 million, and Hurricane Maria at $30 million.
The worst year in terms of cost in hurricane history
The 2017 season was the most costly in history. Early estimates of the total losses were more than $200 billion worth of damages caused by 17 named storms. This is already significantly higher than the $159 billion in damages caused by the infamous 2005 season. However, later estimates pegged total damaged caused at $306.2 billion.
2018 was a year when eight hurricanes were recorded, and only two made US landfall. Two of these major hurricanes impacted the US mainland, causing about $49 billion in damages. 48 recorded deaths were storm-related.
In 2019, there were a total of six hurricanes. Only two made landfall. There were two Category Five storms, Hurricanes Dorian and Lorenzo, that were remarkably long-lived. These cost the economy $6.7 billion and claimed 15 lives. These deaths are all from storms that didn't make landfall in the US.
5. 2020 Hurricane Season Statistics
A team from Colorado State University published their forecast of the 2020 Atlantic basin hurricane season on April 2nd. And, forecast values are noticeably higher than the historical average. If this is correct, we will have to brace ourselves for a significantly active 2020 hurricane season.
Experts predict that there will be 16 named storms with 80 named storm days. Eight will be hurricanes with 35 hurricane days. Also, they predict that there will be four major hurricanes in 2020 with nine major hurricane days. These are all well above the 1981 to 2010 average.
Moreover, the accumulated cyclone energy (ACE) is expected to be at 150. This is significantly higher than the average of 160 of the years 1981-2010.
Also, when using the Net Tropical Cyclone (NTC) activity measure, their forecast values reached an average seasonal percentage mean of 160%. his value is also significantly higher than the average of 116% for the time period of 1981-2010.
So, what does this all mean? It means that experts think that the 2020 Atlantic basin season will be very active. They also came up with the probabilities for major hurricane landfall strikes. And they are significantly higher.
Probabilities for major hurricanes making US landfall in 2020
There is a 69% chance that at least one major hurricane landfall will hit the entire US continental coastline. The average for the last century is 52%.
The average probability for the last century for at least one major hurricane landfall will hit the US East Coast, including Peninsula Florida is 31%. Experts' forecast indicates that there is a 45% probability of this happening this 2020. This registered a 14 percentage point increase.
Experts' forecasts indicate a 44% probability for at least one major hurricane landfall to hit the US Gulf Coast from the Florida Panhandle westward to Brownsville. Also, the average for the last century is 30%.
Moreover, they calculated that there is a 58% chance for at least one major hurricane to backtrack into the Caribbean. The average for the last century is 42%.
Probabilities of Major Hurricanes Making Landfall in the US
(as of April 2, 2020)
Source: Philip Klotzbach and associates, Colorado State University
Created by CompareCamp.com
Time to Improve How We Prepare for Hurricanes
If you look at the data and statistics presented here, there seems to be a trend towards more extreme weather events. There is a significant difference between the 2000s and 2010s. The latter had more significant record-setting highs, especially in damage. And, the current 2020 hurricane forecast seems to indicate worse things come. Thus, many believe that it is high time for better human interventions.
And, the most basic way, most think, is by creating and sticking to policies that reduce our carbon footprint. However, some have radical ideas specifically targeted at hurricanes:
Downwelling. Stephen Salter, with Bill Gates and other climate scientists, proposed self-propelled or anchored devices that mix warmer surface water in the eye of the hurricane with cooler water underneath. This can weaken or stop formed storms.
Wind farm array. Mark Jacobson and colleagues simulated major hurricanes like Katrina and Sandy hitting an array 78,000-strong wind turbines off the coast. They found that this could weaken storms up to 98 mph and decrease storm surge by up to 79%.
These radical human interventions might work. However, they are short- to middle-term fixes. If we indeed partly, collectively, and unconsciously caused extreme weather events through populating the world and using nature-disrupting technologies, then it also takes our conscious effort to keep environmental conditions favorable for us.
---
References:
Saffir-Simpson Hurricane Wind Scale

US Hurricane Statistics

Hurricane Statistics Fast Facts

Tropical Cyclone Climatology

Facts + Statistics: Hurricanes

2005 Report, Hurricanes and Tropical Storms

2011 Report, Hurricanes and Tropical Storms

2012 Report. Hurricanes and Tropical Storms

2016 Report, Hurricanes and Tropical Storms

2017 Report, Hurricanes and Tropical Storms

Why do hurricanes hit the East Coast of the U.S. but never the West Coast?

2018 Report, Hurricanes and Tropical Storms

2019 Report, Hurricanes and Tropical Storms

2010 Report, Hurricanes and Tropical Storms

Hurricanes of last decade stormed into the history books

2017 Hurricane Season Was the Most Expensive in U.S. History

U.S. Billion-Dollar Weather & Climate Disasters 1980-2020

Extended Range Forecast of Atlantic Seasonal Hurricane Activity and Landfall Strike Probability for 2020

2017 U.S. billion-dollar weather and climate disasters: a historic year in context

The 5 deadliest hurricanes in American history now include Hurricane Maria — with new death toll

Exclusive: Were the Warning Signs of Katrina Ignored?

Hurricane Suppression System – Salter Sink

Can We Engineer a Way to Stop a Hurricane?

Water alteration structure applications and methods

Offshore wind farms could tame hurricanes before they reach land, Stanford-led study says