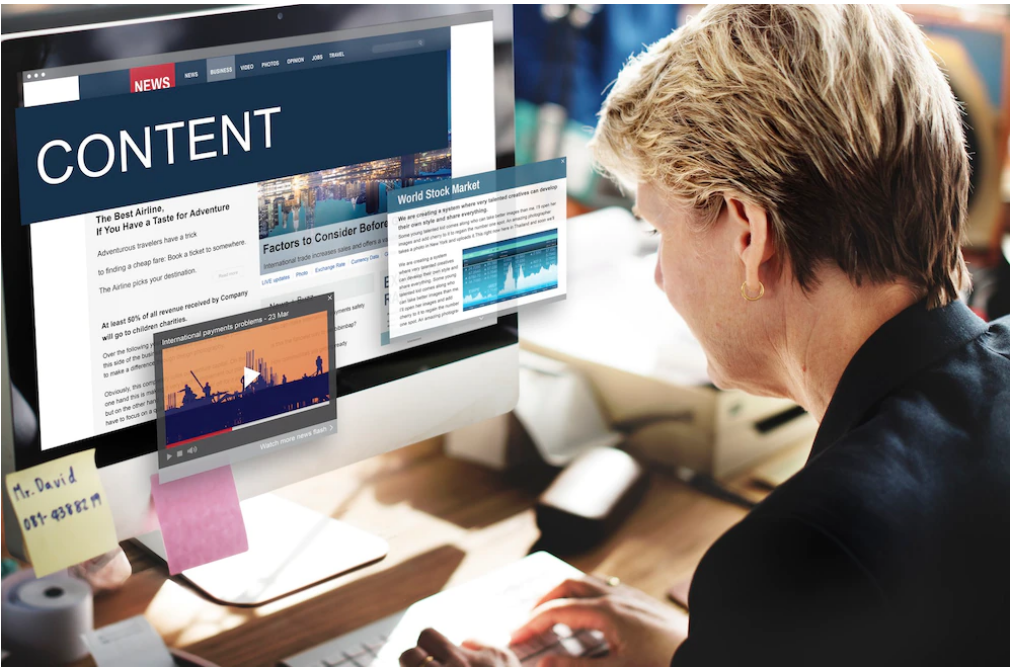 Content marketing is the leading way of making a business successful. So, how do you grow yours with it? 
Content is king, and content marketing is the kingdom. According to experts, around 57% of marketers rely on custom content as their top marketing strategy. This tells us the importance of content and its role in elevating a business.
And, since it costs 62% less than most traditional marketing methods, it's the primary choice for many people. But, how do you go about using it? Today, we'll tell you 10 content marketing tips for your growing business. So, let's get started. 
What Is Content Marketing?
Content marketing is a marketing strategy that uses content to attract customers, engage with them, and build trust. The strategy is successful because it helps companies get their brand in front of their target audience.
Content marketing can be used for various purposes, including lead generation, product launches and contests, customer retention, and building the company's reputation. It is not just a way to advertise products or services but also an opportunity to educate your customers about what you do.
What you need to remember about content marketing is:
Content marketing is a great way to reach out to your target audience and build credibility

It is also a great way to generate leads for your business

Content marketing can be done in many ways, but one of the most popular is through blogs. 

Blogs are not only a great way to get your message across, but they help you build credibility as well
Blog posts can be used for different purposes, such as lead generation or educating potential customers on the product or service that you sell. They are also an excellent way to build credibility and trust with your target audience by providing them with valuable information that they will find helpful in their lives.
Importance Of Content Marketing For Growing Businesses 
Content marketing is creating and distributing content to attract, engage, and retain a clearly defined audience to drive profitable customer action. Businesses need to understand that content marketing is not just about marketing their products or services. 
It's also about building trust with their customers. Content marketing helps businesses create a two-way communication channel that helps them understand what their customers want and need. If a few points could describe its importance, then they would be:
Content marketing is an integral part of a marketing strategy

It is a form of marketing that uses content to attract and retain customers

It can be used for lead generation, customer retention, and even for branding a business
The importance of content marketing cannot be overstated, as it has been proven to be one of the most effective forms of digital marketing. Content is the king in this era and has become more critical than ever.
Grow Your Online Business With 10 Content Marketing Tips
Growing your online business requires you to have patience, understanding, and a grasp of these ten tips: 
1. Research A lot 
Good content is made with research, and there are no two ways about it. You need to understand the topic and the subject to write something that sticks. And to do that, you need research.
So, take notes, understand the topic's depth, read opinions, check out reviews, and understand what experts are saying. If you do that, you'd know a lot more than the familiar people about specific topics. 
2. Focus On Quality
The quality of any content depends on how well the writer formulates a few things, such as:
Headlines and intros

Sentences and paragraphs 

Keyword inclusion

Readability
If you learn to handle these four fundamental essentials of content marketing, you can quickly write quality content. 
3. Become A Storyteller
Storytelling is essential to your content marketing because people like stories. And nothing is better than learning a similar or relatable story.
Now, success stories and case studies are a part of content marketing. However, you can still tell stories in your blogs, websites, and even emails. So, become a storyteller. 
4. Use Metrics To Your Benefit
Using the right metrics can give you a lot more understanding of the things you're getting suitable for your content creation—and the things you aren't. 
You can use Google Analytics to analyze what's wrong with your website, blog, or content in general. This will help you use these metrics to your benefit.
5. Avoid Plagiarism At All Costs 
Plagiarism is one of the leading causes of websites not ranking higher. On top of that, it can ruin the credibility of a website, blog, or business. So, what you need is a plagiarism checker to scan your content.
Once you scan it, here's what you should see: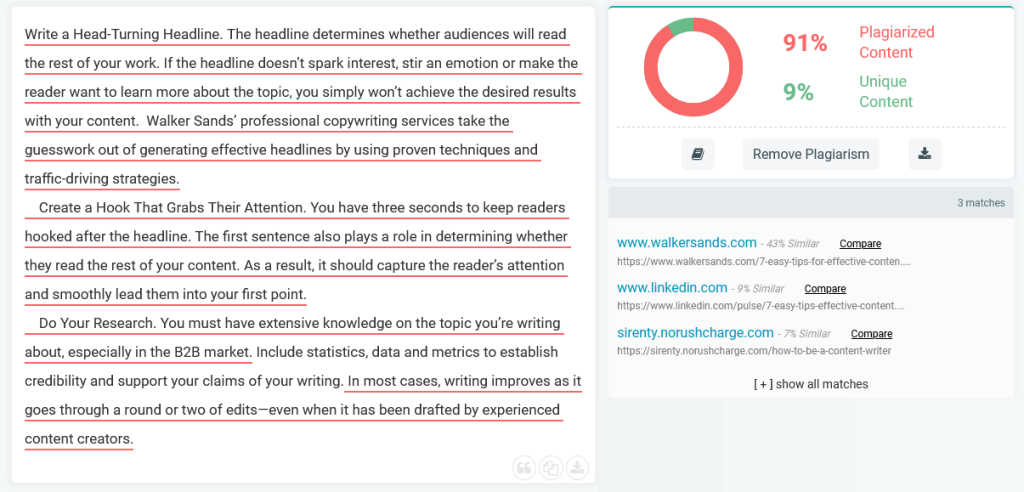 Now, this is the exact same thing that you don't want to see. Therefore, you'll have to rewrite the plagiarized section. Then, cite the original source that the tool has helped you detect. Once done, your content should be plagiarism-free.
6. Use On-Page Tactics
On-Page SEO is one of the key tactics of online marketing. It can help you achieve better visibility in searches and draw more traffic to your website. So, here's what it entails:
Using the right keywords

Employing metadata, such as meta description, meta title, etc.

Adding backlinks and interlinks

Using images and media with alt titles 

Using headings and subheadings to break down content into sections
Once done, this will ensure that your content is suitable for Google and that the crawlers detect it correctly. 
7. Affiliate Marketing 
Affiliate marketing is one of the leading ways of generating traffic and garnering an audience for your business. Therefore, try to find established names in your niche or industry and commit to affiliate marketing programs with them. 
8. Conversational Content 
The conversation is the best way, and that's why you cannot afford to be academic in online marketing. There are always exceptions, of course. However, people nowadays are short on patience and don't have time to read lengthy or draggy content pieces. So, try to keep it conversational. 
9. Content Tones
Content tones are a vital ingredient in the success of any content marketing strategy. Therefore, you need to stand out by delivering content in various tones. But, if you find that hard to do, then all you need is a dependable paraphrasing tool: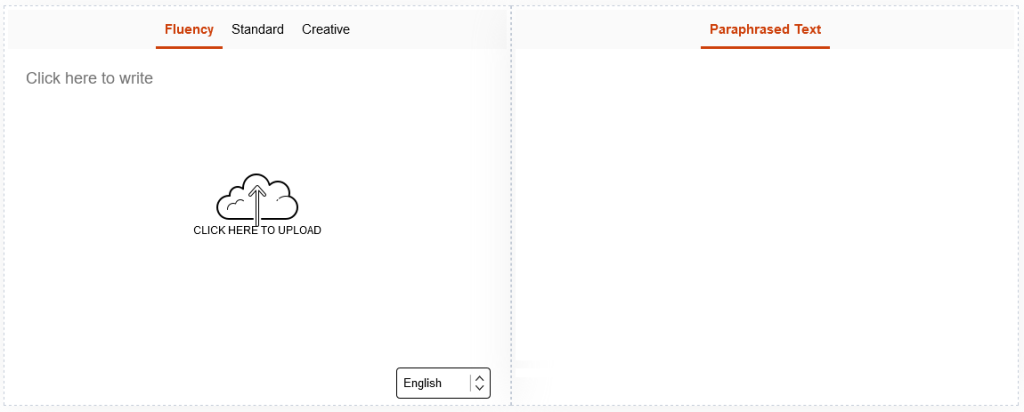 Like this one from Rephrase.Info, you can rewrite your text into three different content tones using this tool and rewrite up to 500 words at a time. So, tend to various content tones to ensure your content marketing strategy is effective. 
10. Evaluate & Analyze
Evaluating is the best way to understand what you're doing right and figure out what you're doing wrong. Once again, you can try to use marketing tools, but you can also get in touch with your audience directly. This will help you assess and analyze how to improve your content creation tips. 
Conclusion 
These 10 tips can help you become a content marketer in no time. Not only that, they can help you elevate the quality of your existing content marketing strategy. Therefore, employ these tips, and you will surely get amazing results for your company.