Did you know the top-performing SaaS blogs can round up almost 45,700 organic search visits?
SaaS content marketing can prove to be a very powerful tool for lead generation. But for it to perform well, you need to create engaging content that provides value to the readers.
SaaS content marketing, however, is known to be quite complex, largely because of the longer sales cycle in this domain. Some tried and tested ways to create engaging content can help you boost your SaaS sales though. And we're here to help you with that.
In this guide, we'll provide you with tips for building a solid content strategy for your SaaS business.
Importance of Content Marketing for SaaS Businesses
SaaS companies today understand the value of good content. Through effective content marketing, they've been able to –
Drive more qualified and organic traffic to their website.
Engage and guide customers through their customer journey.
Increase authority, trust, and brand awareness.
Educate their prospective customers on their services and products without coming off as

salesy

.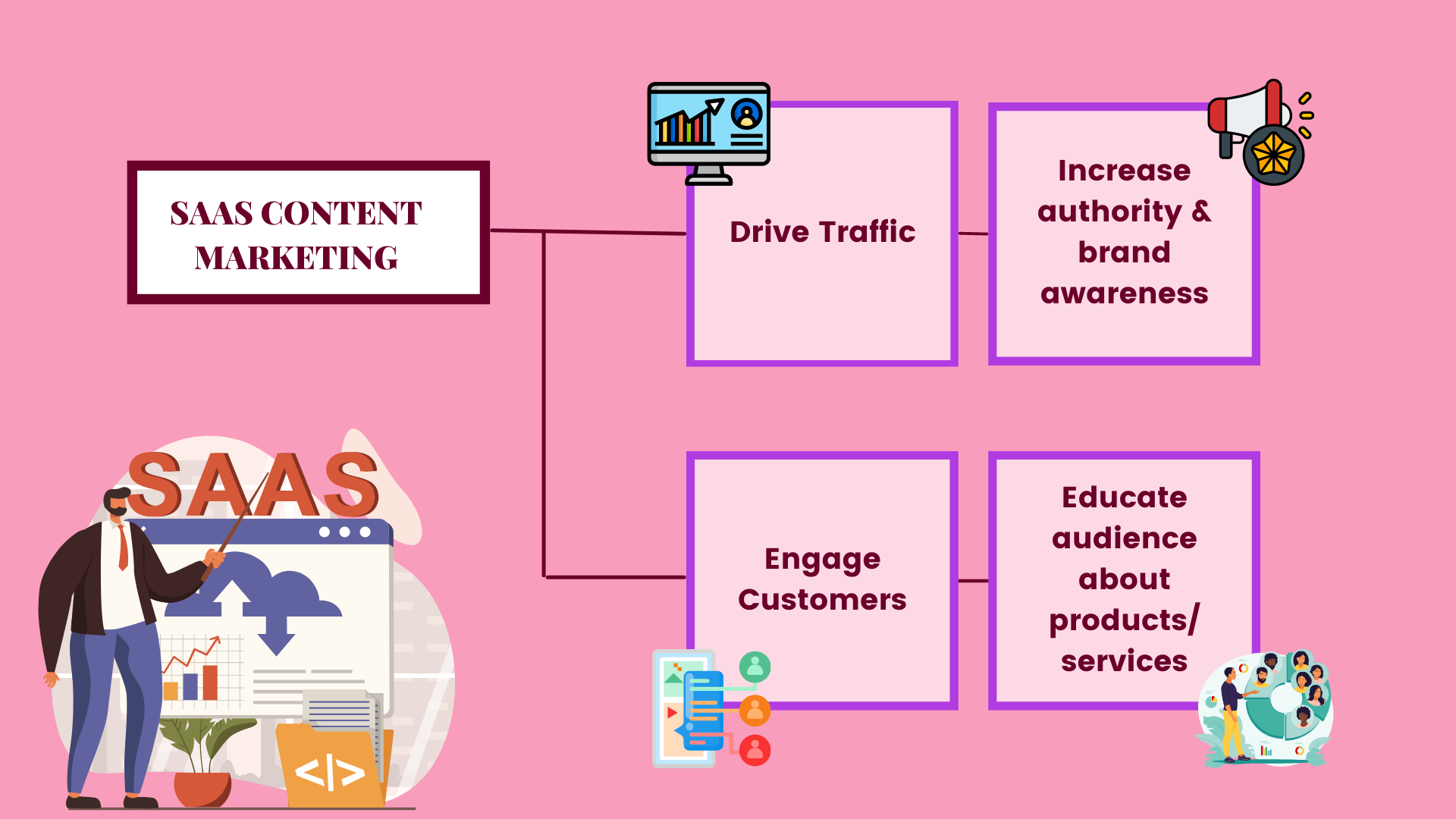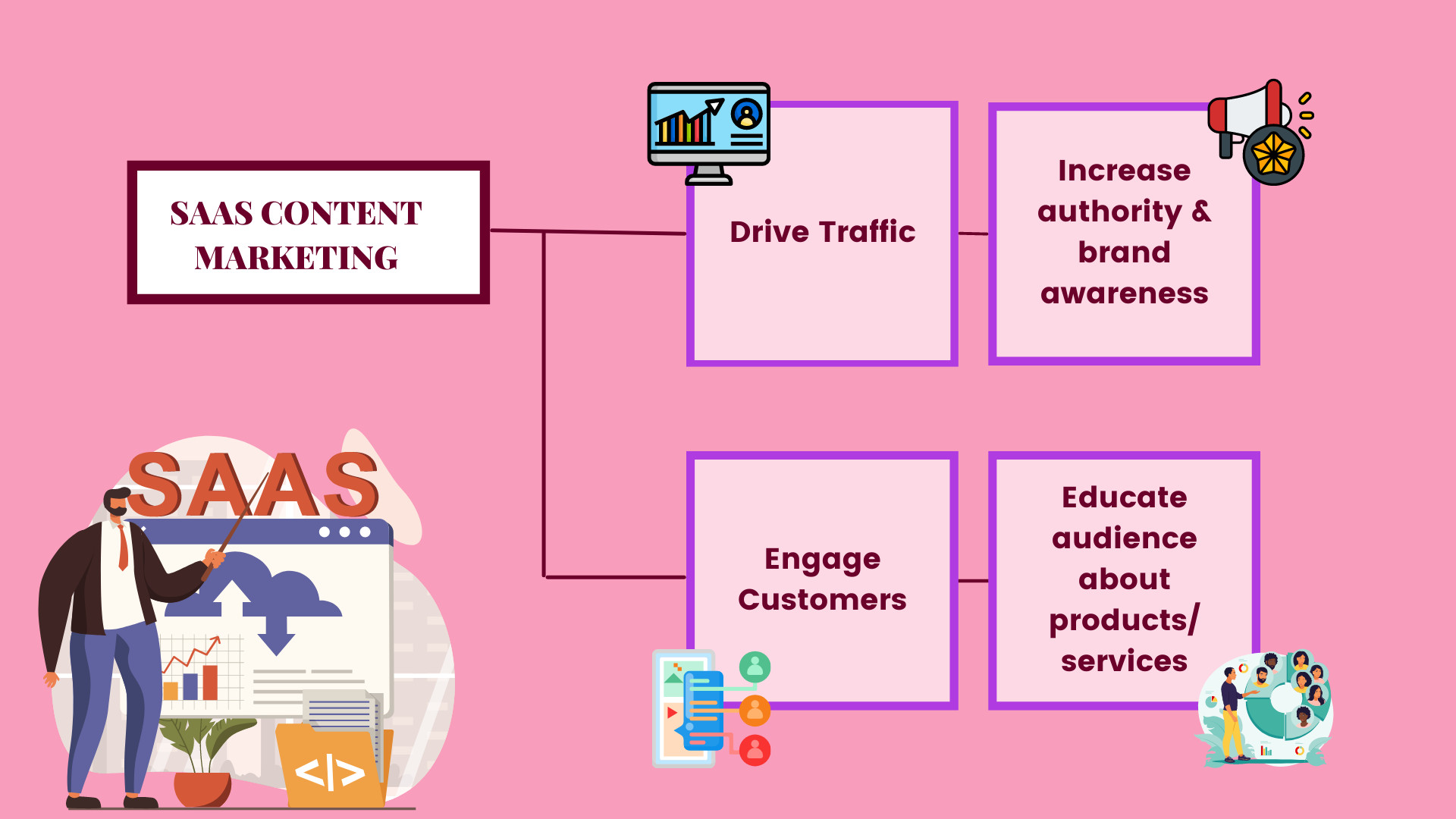 But creating marketing content for a SaaS business is quite different from other forms of content marketing. Here's why –
SaaS products/services come with a longer sales cycle. They often also include trial periods and demos. This means that your content strategy has to be focused on acquiring new customers and retaining them.
Since you are providing an ongoing service, the content will have to be created in such a way that it complements this aspect.
The SaaS industry is still growing, but the competition here can often get a little intense. This makes it essential to create unique content that makes your brand stand out in the crowd.
At the end of the day, you want to create content that captivates, educates, converts, and also retains the customers long after they've purchased your product/service. If you don't have an in-house team to create such content for you, a Content Marketplace can be a great place to avail the services of expert freelance writers. But if you plan to create content in-house, here's everything you need to know.
How is Content Marketing Working Out for SaaS Companies?
Semrush recently carried out a study, in which they asked SaaS and IT companies how their content strategy was working out for them. Here are some of the key takeaways from the report –
92% of SaaS companies say that their content marketing efforts have been successful
75% of SaaS businesses are planning to allocate more to their content marketing budgets this year.
65% of SaaS companies reported that their content marketing strategy was fairly advanced and developed.
These stats clearly indicate that content marketing yields results for SaaS companies. If done well, you could turn your SaaS marketing game around with exceptional content.
Tips for Creating Engaging Content for Your SaaS Business
Before you start building your SaaS content strategy, it's important to first assess your company's situation. Some important questions to ask yourself at this point are –
Who's your audience? What do they want to see?
What problem will your SaaS product solve for them?
Who are the direct competitors in your niche?
What will your brand do differently?
With this in mind, let's look at some great tips on creating engaging and effective SaaS content.
Tip 1: Keep your audience at the center of the content creation process
The type of content you produce is largely dependent on your audience base, and the platforms they use to consume content. Every SaaS company in every niche will have its own unique audience, and this will vary depending on its business model and industry. But their audience typically falls into the following categories –
Existing customers
Potential customers (prospects)
Partners
Influencers
When you are researching your target audience, remember to look into each of these audience demographics. Dive into the different perspectives of each demographic. This will allow you to create content using their worldview, making the content more relatable and relevant for them. As you get to know them better, you'll be able to improve the quality and value of your content. For these reasons, it's important to keep your audience at the center of your content creation efforts.
A common mistake made by many marketers is when they create content around a fictitious avatar or buyer persona. Remember to always weave your content around the real wants and needs of real buyers. The best way to understand your real buyers is by interacting with them on through various social media platforms. Take the wealth of information derived from these interactions, and let it guide you as you create relevant and engaging content for them.
Tip 2: Choose your content topics carefully
The topics you choose for SaaS content should be dependent on two things –
The primary focus of your SaaS business
What you wish to accomplish with the content
For instance, if your product is an SEO tool, you might want to come up with a topic for a how-to guide on keyword research, site auditing, and link building for beginners. If the purpose of creating the content is increasing or building brand awareness, it would be a better idea to present the content in the form of video graphics or infographics.
While this is good as general advice for choosing topics, you need to come up with something that sets your brand apart from the others. To create engaging content, you need to come up with niche topics that your audience will find interesting. You can always go ahead with a regular topic, but a content piece built on that will not be as actionable as one built on niche topics.
Here's how you can find creative topics for your SaaS content –
1. Try to get into the mind of your audience: To create content that your audience will want to read, you need to first understand their pain points. This brings us back to our first tip – interacting with customers and prospects through questionnaires, polls, or interviews. Another great way to get topics for your content is by review mining, what your customers and even your competitors' reviewers are saying.
2. Keep up with social media trends: If you listen to social media carefully, you can get many topic ideas for your content. Look at what trends, questions, and issues are cropping up lately, and pick up your topics from one of these trends.
3. Interview industry leaders: Tap into the expertise of influencers and industry leaders to come up with truly unique topics for your content. If conducting interviews is not feasible, you can examine the topics appearing in conference presentations, LinkedIn conversations, and industry magazines. You can also follow conversations on relevant online communities where experts from your niche discuss different topics and share their valuable insights.
Tip 3: Use SEO techniques to gain traffic
So you've determined your audience and also chosen your topic, but how will you ensure that your content reaches the right audience? Search Engine Optimization (SEO) is the best way to gain organic traffic from your content. When you are creating SaaS content, make sure that you follow the following SEO guidelines to rank higher in search engines –
1. Keyword research: You might already be familiar with this aspect of SEO. Try Google scraping to find the top keywords, which will be relevant to your niche.
2. Backlinks: Look for ways to gain backlinks from authoritative websites, since this is also a big determiner for your search rankings. Also, make sure that you include a good mix of inbound and outbound links.
3. Content structure: This is a very important SEO aspect for articles and blog posts. Make sure that your content is divided into headings and subheadings, with keywords included in each. Pay close attention to the length and also the depth of your content.
4. Technical SEO optimization: Make sure to optimize post title, canonical link, and meta description for SEO. These are important metrics Google usually looks out for.
Tip 4: Create content that helps in growing your business
When you are creating content, you need to think if it will drive sales conversions. The truth is that there is a lot of content in the digital space, which means that most people will skim through your content. You need to create your content in such a way that they know about your offerings from the get-go. Your content should already be geared towards selling your product, but at the same time, it shouldn't sound salesy. This is known as product-led content marketing.
Here are some best practices for ensuring conversions with your product-led content –
1. Weave your product into the narrative: Find ways to mention your product as an ideal solution to the consumer's problem, within your content, This will help build awareness about your SaaS product.
2. Always include a CTA: A CTA or call-to-action, urging your audience to check out or learn more about your product, should be included in each post naturally. These are great for getting more leads.
3. Incorporate social proof: A great way to increase the standing of your SaaS brand in the market is by creating content in the form of success stories and case studies. This will show your prospects how many people are already benefiting from your product/service.
4. Look for ways to capture email addresses: You can think of creating content in the form of newsletters, free guides, e-books, or a mini-course. This can then be offered to your audience in exchange for their email addresses.
Tip 5: Define your strategic goals from the start
By setting up strategic goals for SaaS content marketing from the start, you'll be able to optimize your content to achieve these goals. In these strategic goals, you should clearly state what you want to achieve through your B2B content marketing efforts.
Here are some examples of strategic goals –
Developing a two-way relationship with the target audience to strengthen the business.
Increasing brand recognition among prospects who are higher up in the sales funnel.
Building a list of contacts, containing leads who are most likely to transition into customers.
Encouraging customer loyalty and brand advocacy.
Final Thoughts
With this, we've hopefully provided you with some great tips on creating engaging content for boosting SaaS sales. Equipped with this information, you can now level up your SaaS content marketing game and drive greater conversions and traffic to your business. Remember that the secret to driving revenue in your SaaS business is to make your customers happy. So whenever you're creating content, keep your customers at the center of it.