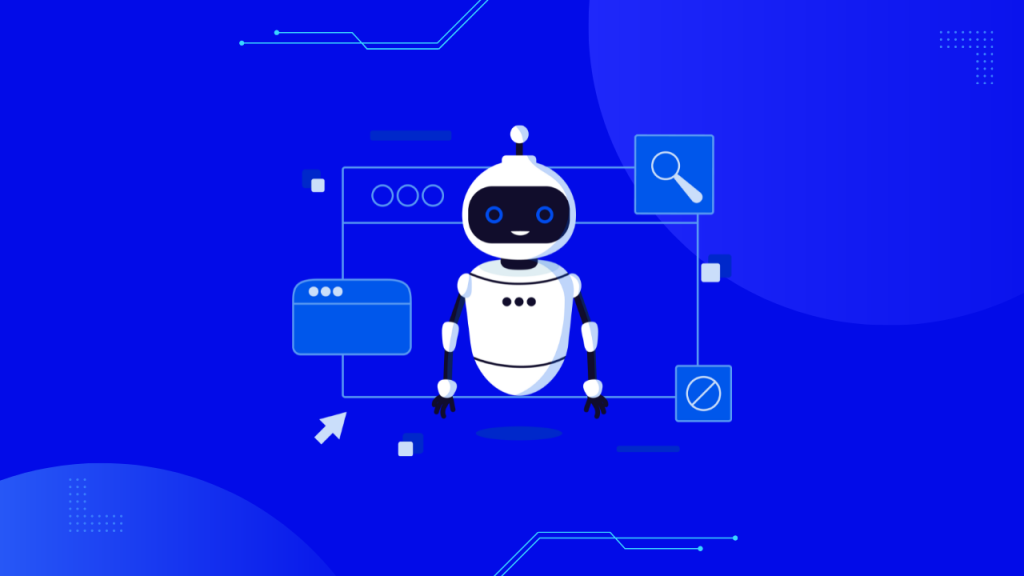 Planning a trip is fun for everyone, but going on a trip takes hours of research.
From researching hotels to booking a reservation, AI chatbots solve the problem of guests and hoteliers. It acts as an interface between guests and hoteliers that facilitates a smooth flow of communication. 
Using chatbots, hoteliers can enhance the user experience by providing personalized recommendations to guests and solving their queries.
One of the prominent advantages of a chatbot is that it reduces the wait time, books a restaurant reservation on the go, and eliminates the need for a customer support agent.
AI is becoming the backbone of various industries, and the hospitality industry is still relevant with such advancements. Out of all these advancements, one development that is helping hoteliers understand their guests' needs is the usage of chatbots.
According to Statista, nearly a quarter of travel and hospitality companies use chatbots in their daily business operations. From answering customer queries to managing bookings on the go, chatbots are there to transform the way hotels used to serve their guests. 
Do chatbots help hotel managers?
Yes, chatbots help hotel managers improve work productivity, reduce the cost of hiring customer support agents and allow the staff to focus on important tasks. Ultimately, Chatbots have redefined a guest's experience by providing round-the-clock service.
In this blog, we will explore what exactly an AI chatbot is and the various ways through which it revolutionizes the hotel industry.
Stay tuned with us.
What is an AI chatbot for hotels?
AI chatbot for hotels is a software program allowing hoteliers to have seamless conversations with their guests. These chatbots increase customer engagement and save dollars spent on hiring human staff.  
AI chatbots help guests find the information they need and are responsible for increasing hotel reservations. 
So, consider AI-powered chatbots as the primary contact point for guests to interact with hotel managers.
Chatbots are revolutionizing the hospitality industry in various ways
1. Enhances guest service
Research studies from the economic times say that chatbots will handle at least 30% of customer service tasks by 2024. AI-powered Chatbots satisfies customer intent by understanding their needs and preferences.
These intelligent systems perform various tasks ranging from handling routine queries, giving instant replies, and providing personalized recommendations to guests.
Chatbots maximize guests' satisfaction by answering FAQs in multiple languages, managing bookings and reservations, and even giving suggestions about local attractions. 
Thus, chatbots are changing the game of hospitality industry and freeing staff to focus on other important areas.
2. Chatbots provide personalized recommendations 
AI-powered chatbots work best when it comes to managing relationships with human beings. It provides hyper-personalized suggestions to guests by analyzing guests' behavior and noticing their preferences. You can think of chatbots becoming watchdogs for your guests.
Chatbots are making their guest stay more interactive in every possible way they could. It provides an enhanced stay experience ranging from pre-booking stage to post-departure. 
For Instance – Chatbots analyze demographics, duration of stay, track their spending patterns, and suggest various services accordingly.
3. Acts as the best channel for reservations and building loyalty
As you already know, chain hotels and individual properties wanted to reduce their reliance on online travel agencies. With chatbots, hoteliers need not worry about spending bucks on OTAs and thus end up saving commission payments that would have been given to OTAs like Airbnb, Booking.com etc.
By integrating chatbots with the booking engine, the booking process becomes more convenient for first-time visitors, and thus, hotels get more direct bookings.
Today, many visitors intend to book rooms through a website, so it becomes important for a hotelier to serve their guests by integrating chatbots that provide round-the-clock service and guide them at every stage of the booking journey.
4. Removes the language barrier
Chatbots provide multilingual support to guests by communicating in multiple languages. So, hoteliers need not worry about hiring multilingual staff who can serve guests by communicating with them in multiple languages.
Think of a situation where the guests stay at your hotel, and your hotel staff doesn't understand their native language; you may end up disappointing the guests.  Chatbots integrated on your website can talk to guests and make unlimited conversations on the go.
According to research studies conducted by booking.com, 73% of travelers prefer to book a stay with a hotel that offers information in their language.
So, language isn't a barrier because a bot uses NLP standards, so it's easy for it to understand and talk in any language with the guest.
5. Great place for upselling and cross-selling
Chatbots are a great hub for hoteliers to cross-sell and up-sell hotel services that match guests' preferences and needs. With chatbots, hoteliers can increase their average booking value and revenue per guest.
For Instance – When guests arrive at your hotel, a chatbot can send notifications such as recommending a room upgrade, offering extras such as breakfast or spa services, and sharing live information about restaurant availability. 
6. Skyrocket hotel revenue
The hotel industry spends extra dollars on paid advertising to generate traffic. By integrating chatbots on websites, hoteliers can save their bucks by engaging with traffic that comes to the website. 
Chatbots act as a direct reservation channel for hoteliers to get direct books, and undoubtedly, they can be integrated anywhere.
In addition, the bounce rate of websites decreases because it's the job of the chatbot to engage with visitors till the time they are on the website. 
7. Get access to a pool of data 
AI chatbots are good at recording users' data which can further be used for answering customer queries. Chatbots that record every stage of customers' conversations get various insights about guests, such as users' travel history, purchases, etc.  
To sum up, hoteliers can get a 360-degree overview of their customers and then use this data to provide personalized recommendations. 
8. Reduces burden on customer service staff 
As there are current labor shortages in the hospitality industry, using AI-powered chatbots helps hotel customer teams get rid of being overworked. AI chatbot is already there to take the extra customer service load and handle complex tasks effectively. 
Future of AI chatbots in the hospitality industry 
Chatbots are increasingly becoming popular in the hospitality industry. Now, going with mobile and contactless tech is AI. All it means is that chatbots promise to provide a brighter future, and the hospitality industry is heading toward an intelligent future.
AI chatbots are using predictive analytics to identify guests' needs and provide personalized services. 
More and more hotels are using AI chatbots to automate repetitive tasks such as taking orders, managing bookings, providing best-in-class customer support, and answering FAQs to customers. 
Wrapping up
You might get an understanding of chatbots revolutionizing the hotel industry.  
To sum up, chatbots are transforming the way hospitality industry used to conduct its operations, from enhancing customer service to streamlining hotel operations.  
Chatbots are a blessing for hoteliers. Not only will it help hotel guests get instant replies, but also it will help hoteliers generate vast revenue within a few seconds.
 If you want to stay ahead of other hoteliers and provide exceptional customer experiences, an AI chatbot is going to level up your hospitality business.