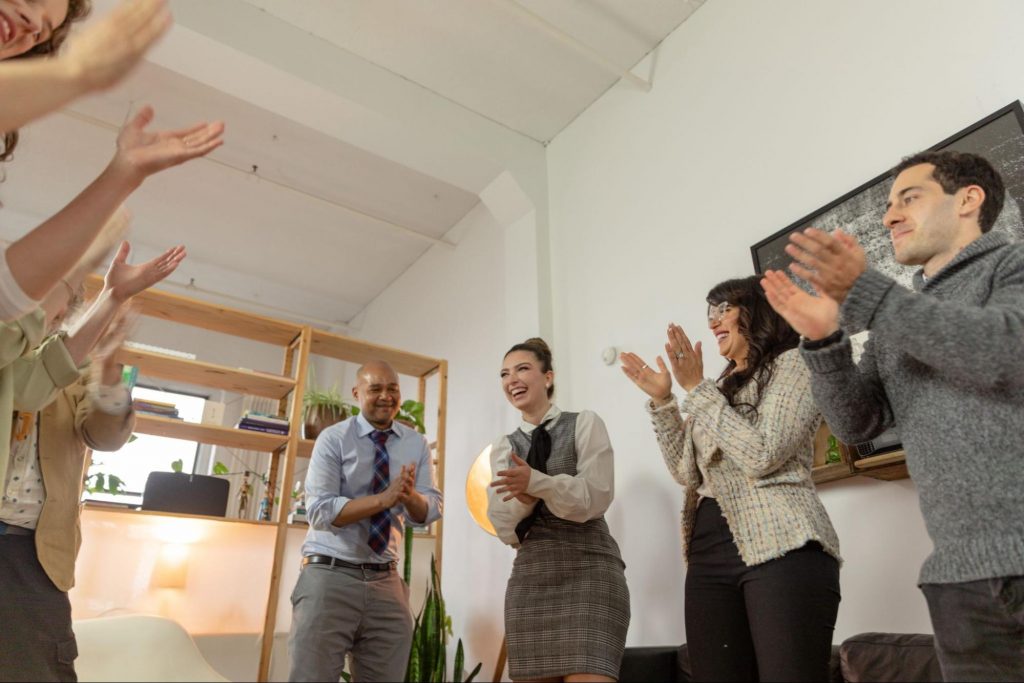 When it comes to staying at your jobs for a longer time, the younger generation looks ahead of a salary. They are looking for work environments that value their commitment and reward them. Also, according to a recent study, 26% of employees say that recognition of their work is important if employers want them to stay in their company.
Now, this is where the term "Employee Recognition" or Employee Rewards" comes into the picture. It refers to employers giving their employees valuable feedback, acknowledgment, and rewards for their hard work and creativity. But is employee recognition that important? 
We used to work just fine without needing such terms of endearment. Yes, people did work without getting proper recognition and rewards, and only some companies had the "Employee of the Month" system. 
But, those days are gone. With changing times, the demands and needs of people have changed. That's why we've come up with the 7 latest employee rewards trends that you can incorporate into your current employee recognition program. Let's get started.
1. Rise in Digital Adoption & Transformation
With changing times, everything has started going digital. Though it was predicted that slowly offices would introduce remote work culture and digitization would be the future, the pandemic has already accelerated that change.
The use of digital tools has exploded in the past couple of years. Companies now have started adopting different types of tools for managing daily tasks, complex projects, remote teams, communication, collaboration, automation, documentation, and much more. So, the recognition and rewards area is also not an exception to this transformation.
You can now introduce a new rewards system on the digital platform by going all-digital. There are many platforms available for rewards and recognition. All-in-one employee engagement platforms like Empuls help you recognize and reward your employees with a catalog of over 20,000+ reward choices.
You can also send an email to the team to appreciate and congratulate the best employee of the month. That can be easily automated with the help of email marketing software. This way it will encourage your employees to perform better and result in a productivity boost. 
By choosing the right digital platform, you can engage your employees better and increase the retention rate to a great extent. 
2. Adopt a Personalized Approach
Personalization is one of the key factors that HRs should keep in mind while arranging employee recognition programs or giving rewards. Instead of giving the good-old trophy to the best employee, which will stay on their shelves for years with dust sitting on top, it's better to think out of the box.
Gen Z employees are joining startups with young bosses instead of MNCs because the former knows how to approach each individual personally.
For example, an employee working in a startup had recently completed a task properly hours before the deadline, and the client loved it. In such a case, the boss got happy and, as a reward, provided the employee with a gift card worth 100 bucks to their favorite bookstore.
On the other hand, a young employee completed a high-end project with additional pointers that the client loved a lot. Here, the boss was happy with the employee and further nominated him for the best "Employee of the Month" award.
Now, you decide which company an employee will prefer. The one that recognizes the employee's talent and choices and provides rewards that will benefit their day-to-day life, or the one that gives a generalized reward? 
We know that approaching each employee personally is difficult, but what one can do is get feedback on the employees' favorite reward options and categorize them accordingly. So, the next time anyone achieves a target, the managers will know how to reward them.
3. Gamification
As the name says itself, Gamification is the process of applying typical elements of game playing (e.g. point scoring, leaderboards, goals, etc.) to various work activities to improve employee engagement and interaction. It's like earning Mario coins for completing work activities. Sounds fun, right?
Now, how can this strategy help in employee recognition?
Let's say three teams are working on three different projects. Now, what you can do is introduce a weekly points system for employees of all three teams.
The team with the highest group scores will be declared the winner, and each employee will get rewards for winning the challenge and individual rewards based on their scores. Meanwhile, the employees of other teams will get rewards, gift cards, and other options based on their scores.
By doing so, you are engaging the employees in a healthy tournament where everyone wins due to their creativity and effort. Besides, the gamification strategy will not bring any kind of partial feelings amongst the employees, as all rewards will be justified.
4. Peer-to-Peer Recognition
Though getting awards from bosses and managers does feel good, getting recognition and praise from colleagues is a completely different feeling. Why? That's because colleagues see you every day working on the tasks, putting in effort, and upskilling continuously. 
Your colleagues know your work journey better than anyone else and having them appreciate your efforts does increase your morale. The best way to enable peer-to-peer recognition culture in the company is to arrange a casual gathering or party, where employees can speak about their colleagues and what they like the most about them. 
Getting appreciation from a colleague improves morale and strengthens the team bond among employees. 
5. Tie Employee Wellbeing & Health to Rewards
An organization that cares for its employees' mental and physical well-being will have the highest employee retention rate. Though the pandemic is almost over, the after-effects are still there, due to which most people are suffering every day.
While some are having issues with depression, and anxiety, others are facing issues with their physical health. As an organization, it's your job to make sure that your employees are at their pink of health while working.
In order to do so, employers can tie rewards to employee health goals. You can provide exclusive gym memberships, arrange cycling to work Wednesdays, or introduce professional therapists to the employees when they achieve great results.
By taking care of your employees, you can help them overcome their issues and slowly take the path to a healthier life. Besides, these schemes also show that the organization does consider the well-being of the employees and not just ask them to take a leave if they are not feeling well. 
6. Utilize Digital Gift Cards & Vouchers
Gen Z loves vouchers and gift cards more than anything. Why? That's because these vouchers help them enjoy the most by spending less money. Most companies, especially startups, have introduced the concept of digital gift cards and vouchers for their employees, which has worked quite well.
Now, why should you opt for such strategies? Let's say there's a virtual office party. Though you have stated that the employees can bring drinks and foods of their choice and interact with each other, most employees won't turn them in. Why? That's because they would rather sleep in.
What if you provide a specialized discount coupon or voucher for the employees from a food delivery app? They can order whatever they want and use the voucher to pay the amount. By doing so, the employees will get to have their favorite dinner, and the virtual party will be a success.
But what if you provide digital gift cards that your employees can use for online shopping and travel? Won't that be great? If properly used, this strategy can improve your company's employee satisfaction rate. 
7. Encourage Learning by Linking it to Rewards
The next employee recognition and rewards trend is linking the progress of training courses with rewards and rewarding stellar performers with company-sponsored courses to enable upskilling. 
You can also ask highly skilled employees to serve as mentors, so they can showcase their skills to a larger audience and others can benefit from their expertise and experience.
Upskilling the employees should be the top priority of each organization. Having skilled employees can help the company in gaining more profit and attain yearly goals.
Final Words
Employee recognition is the need of the hour. Millions of people are on the verge of leaving their job due to no recognition and satisfaction. By introducing new strategies to connect with employees, companies can increase their retention rate. 
It's quite common for people to leave jobs after a month or so if the onboarding process is not good or if the work culture doesn't meet their requirements. In such cases, the company has to bear the loss of training the employee, arranging another recruitment process, and going through different recruitment software tools to fill up the position. 
Instead of spending money on these things, it's better to invest in creative heads and methods that will help improve the employee engagement rate in your company. Provide them with personal rewards, arrange tournaments, gift vouchers and tickets to concerts and matches, and any other thing that you can think of.
Employee recognition is not only just providing the best hard-working employee with an award and cash prize. It's about recognizing the effort put up by each individual in projects and appreciating them for their work by rewarding them. Once you figure out the best reward strategy for your office, you will surely see improvement within a year or so. But, until then, you should keep on the hit and trial method so that your employees don't leave you.