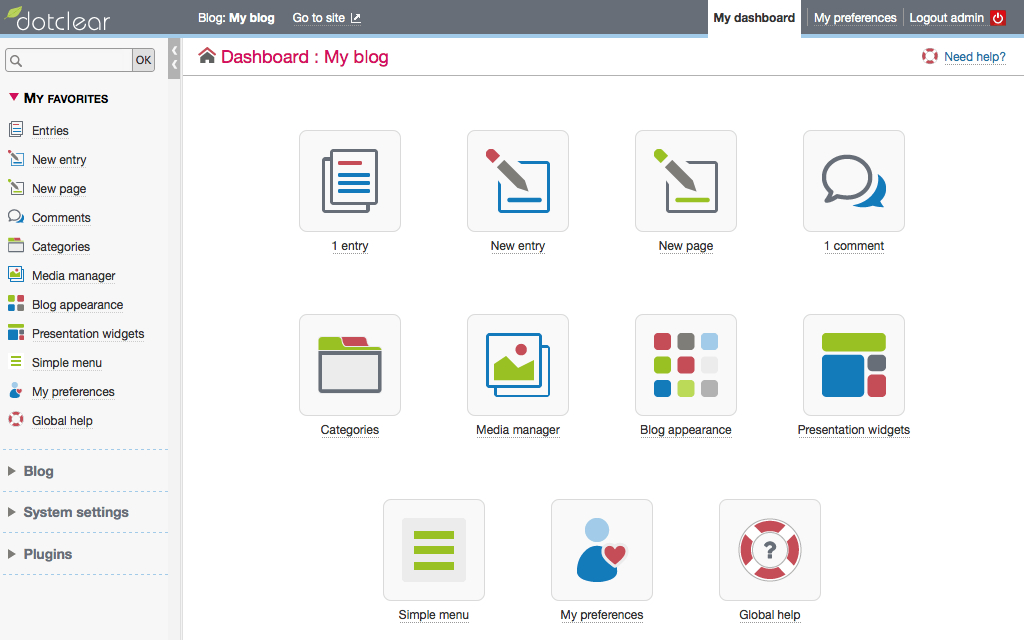 The main benefits of Dotclear are, it supports automatic software deployment, allows users to preview blog pages and contents, doesn't require technical knowledge and skills when it comes to customizing blogs, permits blog commenting enablement and blog comment moderation, produces blog contents in various languages, and offers team management and security features. Here are the details:
Automatic Software Deployment
Dotclear is blog software that is easy to deploy. Users can install it in an automated manner, enabling them to complete the software deployment process in just a matter of a few minutes. This way, they will be able to utilize the capabilities of the blog software right away.
See How your Blogs will Look Like in Real-Time
The blog software helps users come up with blog articles, contents, and posts that are flawless especially in terms of design. The software permits them to have an idea of how blog content will look like while they are creating and editing them. This is made possible through the aid of its WYSIWYG (What You See Is What You Get) editing features.
Easily Customize Blog Pages and Content 
Dotclear doesn't require technical knowledge and skills. Users can modify the look and feel of their blogs even if they are not familiar with the dynamics of coding. As a result, they can customize their own blog pages and contents in any way they want.
Enable Blog Commenting and Blog Comment Moderation
Blogs are powerful if they engage audiences or site visitors. This means readers must be given the chance to state what they think and feel about the contents of blogs. What's great about Dotclear is that it enables users to incorporate a blog commenting feature into their blogs. Thus, audiences can post blog comments and users can review those comments on a dashboard. Blog comments that are unfriendly or inappropriate can be removed right away. Users can also interact with their audiences by replying to the comments posted by the latter.
Extend the Reach of your Blogs
Dotclear supports multiple languages. Because of this, users are given the ability to translate blog content to various languages so audiences can consume them regardless of their nationality or location. This makes it easy for users to extend the reach of their blogs.
Access Team Management and Security Features
Team management features are included in Dotclear as well. Blog management tasks such as comment moderation, media management, and blog content posting can be assigned to specific team members. Users can also set access permissions to ensure that the right contents, files, and information are delivered to the right persons based on their roles.