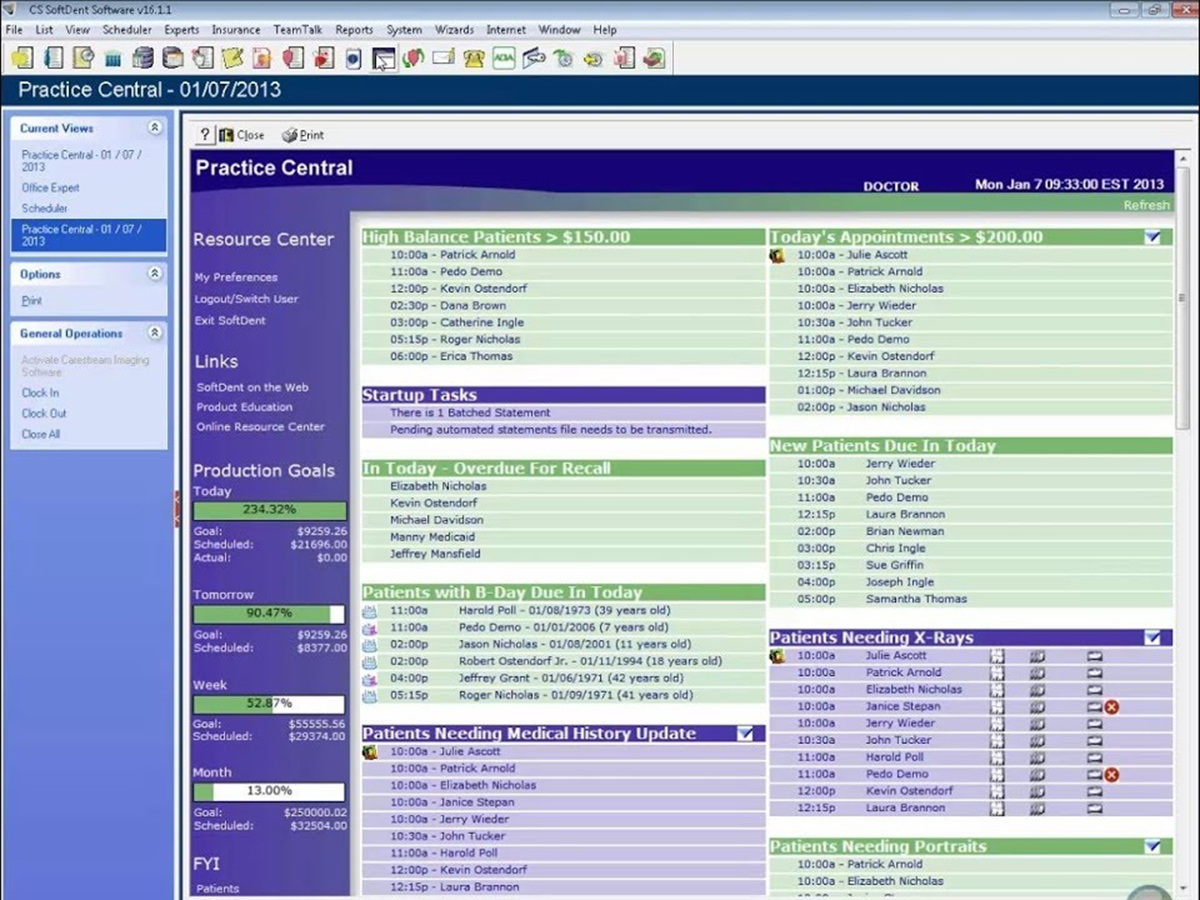 The main benefits of CS SoftDent are it consolidates all the information dentists and clinic staff need in a central repository, allows easy appointment scheduling, provides multiple digital communication services, and permits users to store and handle documents and records in an electronic way. Here are the details:
Consolidates All The Information You Need In A Centralized Place
CS SoftDent stores and organizes all important pieces of information dentists and their staff needs in a centralized area, whether those pieces of information are related to patients, dental diagnostics and procedures, or financial aspects. This gives users easy access to information, allowing them to improve how they attend to the needs of patients and deliver services.
Easily Perform Scheduling Tasks On A Dashboard
The dental practice management software package is built with a dashboard where users can directly perform many of their scheduling tasks smoothly. For instance, they can easily find out which treatment rooms are available at the moment and transmit room availability information to patients. CS SoftDent also makes sure that they can accommodate as many patients as they want each day, enabling them to boost staff productivity and generate more profits.
Streamlines Communications, Coordinations, And Engagements
CS SoftDent innovates how users communicate with their patients and coordinate with their colleagues and staff. It offers a suite of services by which they will be able to communicate, coordinate, and engage with people inside and outside of their clinic in a digital way. Sending notifications and reminders to patients as well as canceling and rescheduling of appointments are now streamlined. If they want to add notes to the patient charts they prepared to give further instructions to clinic staff or leave their own feedback and opinion on the charts accomplished by their colleagues, that is made possible as well.
Enable Electronic Document Management
Dental practitioners will surely love using CS SoftDent because it lets them digitally store and handle all the information, documents, and records they need as they perform their jobs. As a result, they will be able to perform charting, evaluate findings, prepare treatment plans, and keep track of laboratory results much faster than ever before.