Gone are the days of shopping with your purse full of bills and loose change. Nowadays, consumers are given plenty of options to pay for their shopping—cheques, wire transfer, digital wallets, and cards. In the US, one of the most popular payment methods is through credit cards. This comes to no surprise because millions of Americans are credit cardholders.
As more people are transitioning to cashless payment methods, the credit card industry around the world will continue to see year-over-year growth. In this article, we've gathered credit card statistics to give you an idea of the industry's status quo.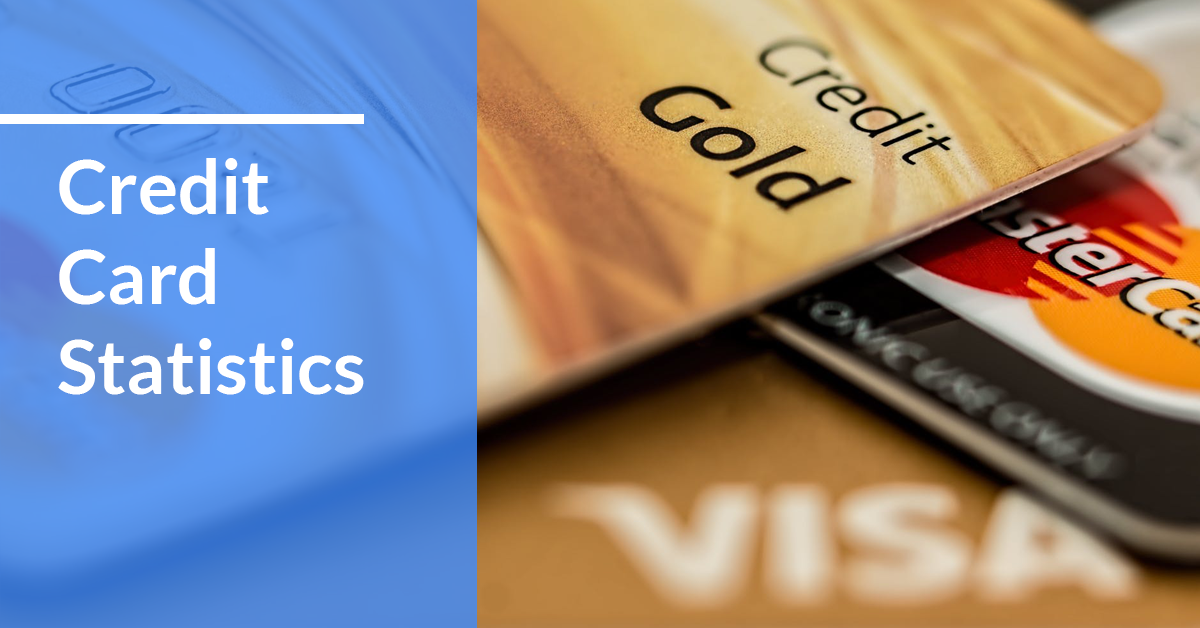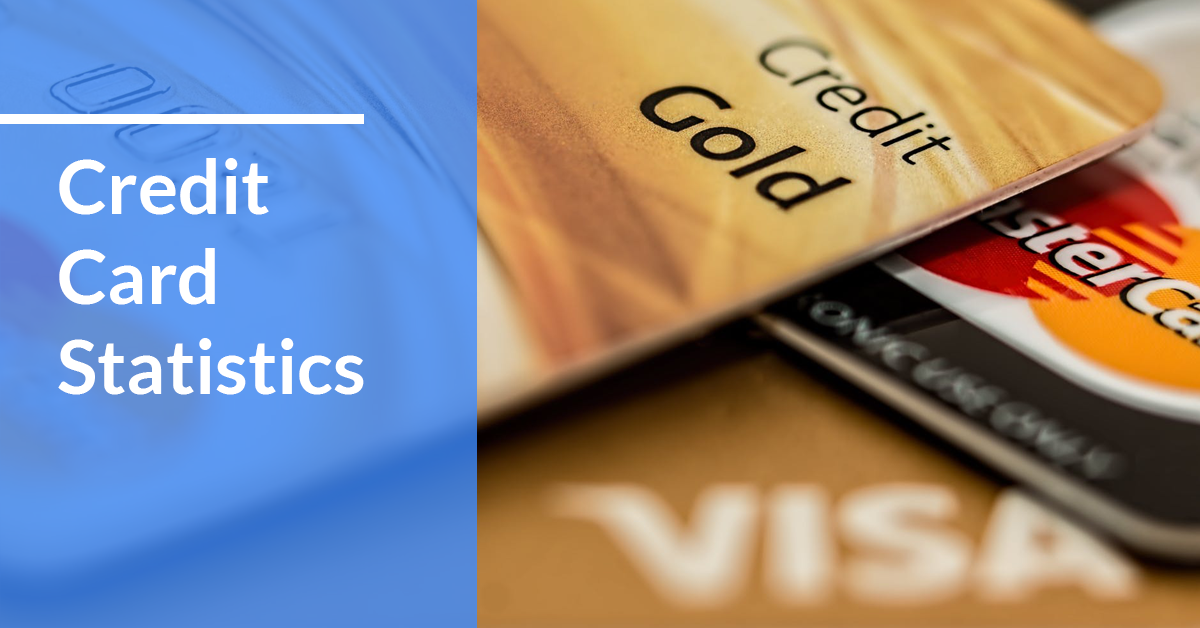 Credit Card Statistics Table of Contents
Market Share Statistics
There are a handful of credit card providers around the world. As the world moves forward to a cashless and tap-to-pay scheme, the value of the credit card as an industry will only continue to skyrocket. Among the top credit card issuer is Visa with over 300 million cardholders in the US alone. Additionally, credit card transactions account for billions, if not trillions, of dollars annually.
In 2018, 81.5% of credit card balances outstanding were by the top 10 credit card providers
$41 billion general-purpose credit card transactions happened in 2018 accounting for about $3.8 trillion in dollar volume
Visa is the largest card issuer in the US in 2020 with 336 million active users
By credit payments, Visa is still the largest credit card issuer in the US with $1.95 trillion credit payments volume
Credit Card Ownership Statistics
The number of credit card holders is continuously growing. Nowadays, more and more people are starting to own multiple credit cards from various issuers. And although the number of credit card applications took a dip in volume, the rejection rate has seen its lowest since 2013. This means that credit scores of Americans, in general, have drastically improved in the last seven years.
There are 1.06 billion credit cards in use in America
Worldwide, there are approximately 2.8 billion credit cards
An average of four credit cards are owned by consumers in the US
In 2018, 80% of American adults have at least one credit card
57% of Americans use credit cards for convenience and do not carry over a balance
About 67% of small businesses have a company credit card
As of February 2020, the application rate for credit cards was 26.3%
The rejection rate for credit card applications dropped to 9.7%, the lowest since October 2013
Source: Federal Reserve of New York
Credit Card Use & Availability Statistics
Consumers use their credit cards in various transactions. From shopping to dining, people are getting more comfortable doing cashless transactions. Moreover, the emergence in popularity of digital wallets directly affects how cardholders utilize their credit cards.
Only 24% of small businesses use their company credit card as their primary method of business spending
In the US, 33% of consumers prefer credit cards over debit and cash
15% of families spend more money than they receive each month
44% of consumers are more likely to use a credit card in their shopping or transaction
48% uses their credit card when online shopping
From 2017 to 2019, the average credit card utilization remained at 30%
10% of US consumers have already loaded their credit card in their mobile wallets in 2018
34% of consumers used credit cards to pay at department stores and dine-in restaurants in 2018
Credit Card Debt Statistics
If you look into it, credit cards can be considered as a double-edged sword. On one side, you can buy anything under your credit limit. On the other hand, unchecked shopping streaks can give a cardholder crippling debt. In 2019, almost 40% of US households juggle the country's overall credit card debt. That same year, the credit debt even reached as high as $1 trillion.
These scary stories about debt have a huge effect on how young people perceive and use credit cards. Across various studies, it was found out that cardholders aged 38 and below have a smaller debt compared to other age groups. And as the age grows, the credit debt also grows.
Consumer credit debt in the US reached $1.057 trillion in March 2019
The overall credit card debt in the US for 2019 was $830 billion
An average American adult has a credit debt of $4,192
In the US, excluding unused and store cards, the average credit debt is $5,554 per cardholder
As of 2019, 37% of US households are part of the revolving credit card debt
In 2018, one quarter reported a credit card debt of $810 billion
$6,626 was the average credit card balance in 2019
To finance the shortfall, 43% of families in the US borrow and use credit cards
People ages between 43 and 47 have the highest credit card debt at $4,000
Consumers between 18 and 22 have the least amount of credit card debt with $738
With only an average of $2,047, Gen Z has the least amount of credit card debt
Gen X has the most credit card debt with an average of $7,750
The state of Iowa was reported to have the lowest average credit card debt in the US with $5,155
Alaska has the highest credit card debt in the US with an average of $10,091
In the first quarter of 2019, the youngest Millennials, age 23, had an average credit card balance of $2,288, while the oldest, age 38, carried an average credit card debt of $6,675
Source: The Federal Reserve
Credit Card Delinquency Statistics
According to various studies, more than 80% of Americans are currently living in debt. Without financial literacy, debt can cause long-term problems for individuals. For people living with debt, two things are usually in their minds: to pay or not to pay.
Fortunately, the delinquency rates in the US have seen an improvement year-over-year. In the fourth quarter of 2019, the credit card delinquency rate was lower compared to the same quarter in 2018. Additionally, experts predicted that the delinquency rate is even lower in 2020.
As of December 2019, the average debt of a credit card delinquent was $651
The consumer credit delinquency rate reached 2.48% in the 4th quarter of 2019 – a decrease of 44% from the same quarter in 2018
Experts predict a 2.01% national credit card delinquency rate in the US in the 4th quarter of 2020
The average delinquency rate in the US was 4% as of 2019
Predominantly white communities have credit card delinquency rate is at 3%
The delinquency rate is at 7% for communities of color
Louisiana has the highest delinquency rate in the US at 28.3%
At 10.4%, Minnesota is the state with the lowest credit card delinquency rate in the US
Nevada is the most improved state when it comes to credit card delinquency rates – showing a decrease of 17.2% from 2014 to 2019
Credit Limit & Score Statistics
Credit scores play a huge role in the approval and rejection of a credit card application. In the US, credit scores vary per state. The race is also a factor in the overall credit score in the US. In one study, predominantly white communities have higher credit limits and scores than those states who have more communities of color.
The average VantageScore was 682 in 2019
The average FICO score was 703 in 2019
Minnesota has the highest FICO score with an average of 733 in 2019
With an average score of 667, Mississippi ranked as the lowest state FICO score
In 2019, Minnesota was the state with the highest VantageScore for both men and women with 715 and 720, respectively
Louisiana (for men) and Mississippi (for women) were ranked as the states with the lowest VantageScore with 656 and 653, respectively
New Jersey has the highest credit limit among the states with an average of $37,845
Aside from FICO scores, Mississippi also has the lowest credit limit with $21,676
Credit Card Fraud Statistics
It's all fun and games until your credit card data gets stolen. That's the case for over a million Americans who become victims of fraud annually. Most of the fraud victims are from ages between 30 and 39. This is why almost 80% of consumers want their card issuers to have anti-identity theft and anti-fraud programs in place before availing their products.
There were 650,572 reported cases of fraud in 2019
Of the over 1 million reported cases of fraud, 15% were related to payment methods
Credit card fraud accounted for more than 280,000 of all fraud cases – making it the number one fraud case in 2019
The age group of 30 to 39 reported the most number of identity theft cases with 170,255
Of the 170 thousand identify theft cases, 74,572 were credit card fraud
California had the most number of reports with 101,639
27% of US consumers said that credit card is the safest way to pay in-store – lower than 2017's 29%
38% of shoppers are confident that credit card is the safest way to shop online
In 2018, 30% of consumers were extremely concerned that their data may be stolen in the future
Identity theft protection is the top choice at 79% for consumers before availing the products and services of financial institutions
43% of cardholders believe that the stores or merchants were responsible where their information was stolen
Rewards & Cardholder Satisfaction Statistics
There are two ways to get the desired reaction from people — either by stick or carrot. However, businesses cannot risk losing customers by punishing them just to get the desired response; which is why most use the carrot method to yield better and long-lasting results. People want instant rewards – that's a fact. Which is why it came to no surprise that they prefer cash rebates as rewards from their card issuers.
Using J.D. Power's scale, Discover is the number one issuer with a score of 842
In 2018, 66% of US consumers were interested in using their mobile phones to redeem their loyalty or rewards points for immediate discounts when making a purchase
80% of cardholders have cash-back on preferred card & have redeemed as their reward from the issuer
Features for Why Use One Credit Card Over Another in 2018
Features for Why Use One Credit Card Over Another in 2018
Types of rewards: 79
Types of rewards
%
Features for Why Use One Credit Card Over Another in 2018
Finance charge/interest rate: 67
Finance charge/interest rate
%
Features for Why Use One Credit Card Over Another in 2018
Card brand (e.g., Visa, Mastercard, American Express, Discover): 55
Card brand (e.g., Visa, Mastercard, American Express, Discover)
%
Features for Why Use One Credit Card Over Another in 2018
Payment options/flexibility: 53
Payment options/flexibility
%
Features for Why Use One Credit Card Over Another in 2018
Customer service provided by the issuer of my card: 43
Customer service provided by the issuer of my card
%
Features for Why Use One Credit Card Over Another in 2018
Mobile capabilities, including alerts: 39
Mobile capabilities, including alerts
%
Features for Why Use One Credit Card Over Another in 2018
Balance transfer options: 34
Balance transfer options
%
Features for Why Use One Credit Card Over Another in 2018
My card design: 12
My card design
%
Source: TSYS
Created by CompareCamp.com
Credit Card: Towards a Cashless Future
The recent emergence of various payment methods like Google Pay and Apple Pay that integrate cards further reinforces the case for a cashless future. Moreover, as credit scores across the US continuously improve, more people are going to be inclined to get their credit cards.
However, as payment methods change through time, thieves and fraudsters are also looking for new ways to take advantage of cardholders. This is why credit card issuers have imposed an array of security features like two-factor authentication, one-time passwords, and more. One of the major examples is Visa and how it is utilizing near-field technology to promote contactless payments.
This article is not only meant to inform but also to show you the looming change that will impact the way we pay for our transactions. Also, take caution when using credit cards in your shopping to avoid incurring huge amounts of debt. Additionally, take extra measures to protect yourself from fraudsters lurking and waiting for you to make one small misstep.
---
References:
Federal Reserve | Report to the Congress on the Profitability of Credit Card Operations of Depository Institutions

WalletHub | Number of Credit Cards and Credit Card Holders

Experian | Millennials Carry Lower Than Average Credit Card Debt, but It's Growing Quickly

Experian | A Look at U.S. Consumer Credit Card Debt

Forbes | Small Business Credit Card Trends And Their Future

Federal Reserve | Changes in U.S. Family Finances from 2013 to 2016: Evidence from the Survey of Consumer Finances

Federal Reserve of New York | Center for Microeconomic Data

Experian | A Look at Highest Credit Limits Among Generations and States

2018 TSYS U.S. Consumer Payment Study

Experian | 2019 Consumer Credit Review

Average U.S. FICO Score Hits New High

Urban | Americans' Debt Styles by Age and over Time

Experian | State of Credit 2019: Rounding Out the Decade

Federal Reserve | Survey of Consumer Finances (SCF)

Urban | Debt in America: An Interactive Map

FRED | Delinquency Rate on Credit Card Loans, Top 100 Banks Ranked by Assets

TransUnion | 2020 Predictions: Consumer Credit, Balance and Delinquency Rates

Experian | Credit Scores Lower in States With High Ratios of Delinquent Accounts

TransUnion | Consumer Credit Origination, Balance and Delinquency Trends: Q1 2019

NFCC | The 2019 Consumer Financial Literacy Survey

Fool | Average Credit Score in America: 2020 Report

Federal Trade Commission | Consumer Sentinel Network

Credit Card Rewards War Reaches Inflection Point as Competition Grows, J.D. Power Finds