Coworking has seen tremendous growth over the last few years. What started out as a place for freelancers and work from home professionals to work, is now a full blown industry that has changed the way people view office space.
Coworking, as well as flexible workspaces, are shared working spaces that offer an environment conducive to productivity, innovation, and collaboration. These types of workplaces were pioneers in implementing human approach to design, a trend which is catching up among companies, landlords, and real estate developers.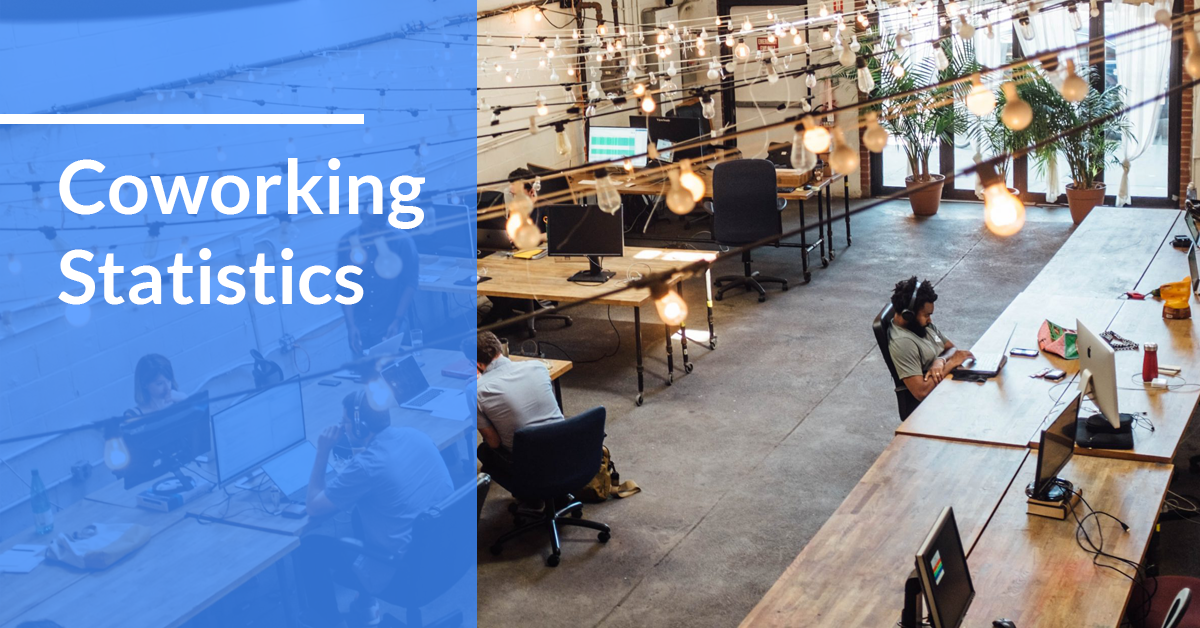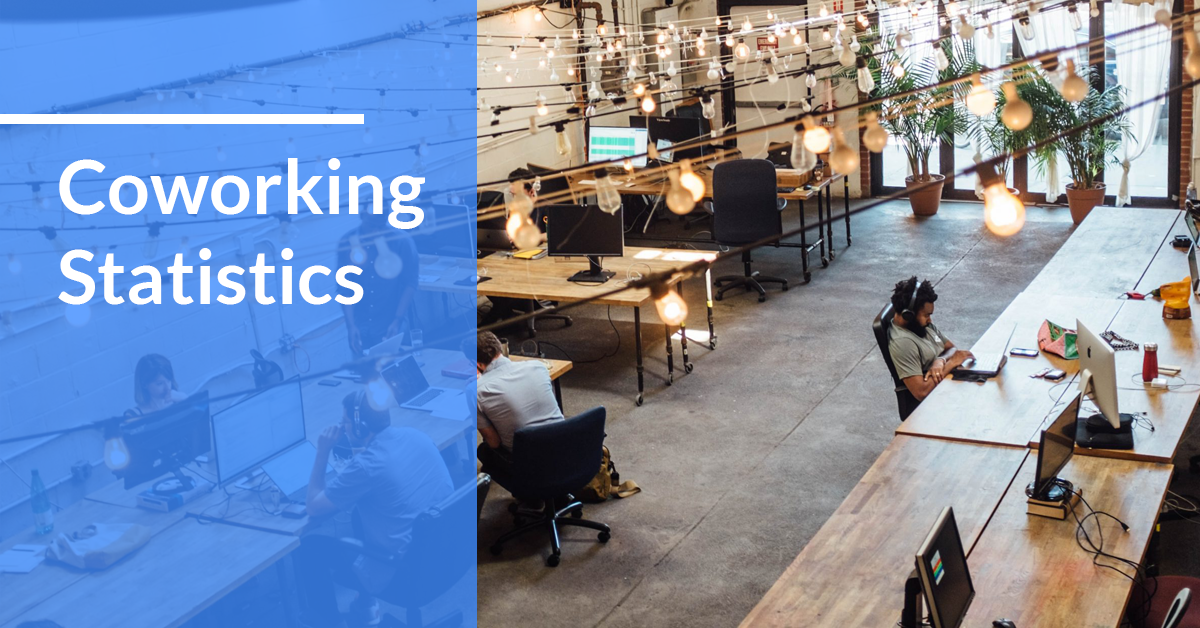 Coworking Statistics Table of Contents
Coworking Space Industry Growth Statistics
The market for coworking spaces has undergone remarkable growth over the last couple of years and continues to grow. Far-reaching trends have affected remotely placed teams through enabling technologies such as project management software, impacted how companies design job openings and recruitment processes, and how work in general is rendered. Here are some important numbers to better understand the coworking trend.
An estimated 35,000 flexible workspaces worldwide, representing 521 million square feet of flexible space in 2019
By 2022, the number of coworking spaces is expected to grow at an annual rate of 6% in the US and 13% for the rest of the world
Between 2014 and 2018, the number of coworking spaces expanded by +205% while the number of operators expanded by +138%
The average coworking space requirement is increasing year after year, with the average client taking 7 desks
72% of coworking operators say they expect to see further industry consolidation, with 58% believing consolidation is a great opportunity
Globally, the estimated market value of flexible workspaces is at $26 billion
The number of coworking spaces worldwide is expected to soon reach 20,000 and reach 25, 968 by 2022, a 42% increase from 2019
An average increase of 2,595 new spaces has been happening every year since 2015
Luxembourg, Singapore, and Ireland are the top three countries with the highest density of coworking spaces relative to their population. Luxembourg came in first with 8.5 new spaces every year for every 1,000,000 inhabitants
In 2019, majority of the industry's growth came from brand-new businesses (65.3%) while chains and second or more locations make up the remaining 34.7%.
Coworking space has seen an increased from 200 in 2010 to 10,000 in 2017.
In 2019, 90% of coworking spaces generate profit if they can meet at least four conditions: more than 200 members, profit-oriented, do not subsidize their operations through other businesses and older that one year.
43% of all flexible workspaces generate a direct profit from their operation.
Coworking growth in 2018 reached almost 20%.
In 2019, 11% of flexible workspaces host 300 or more people.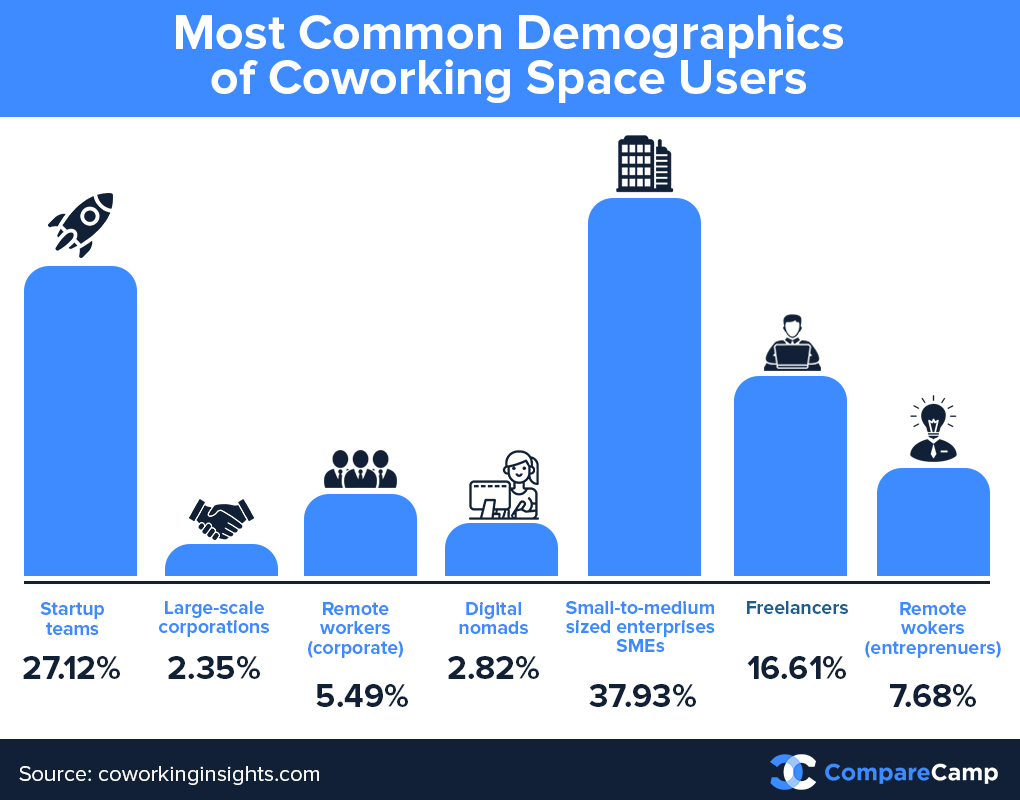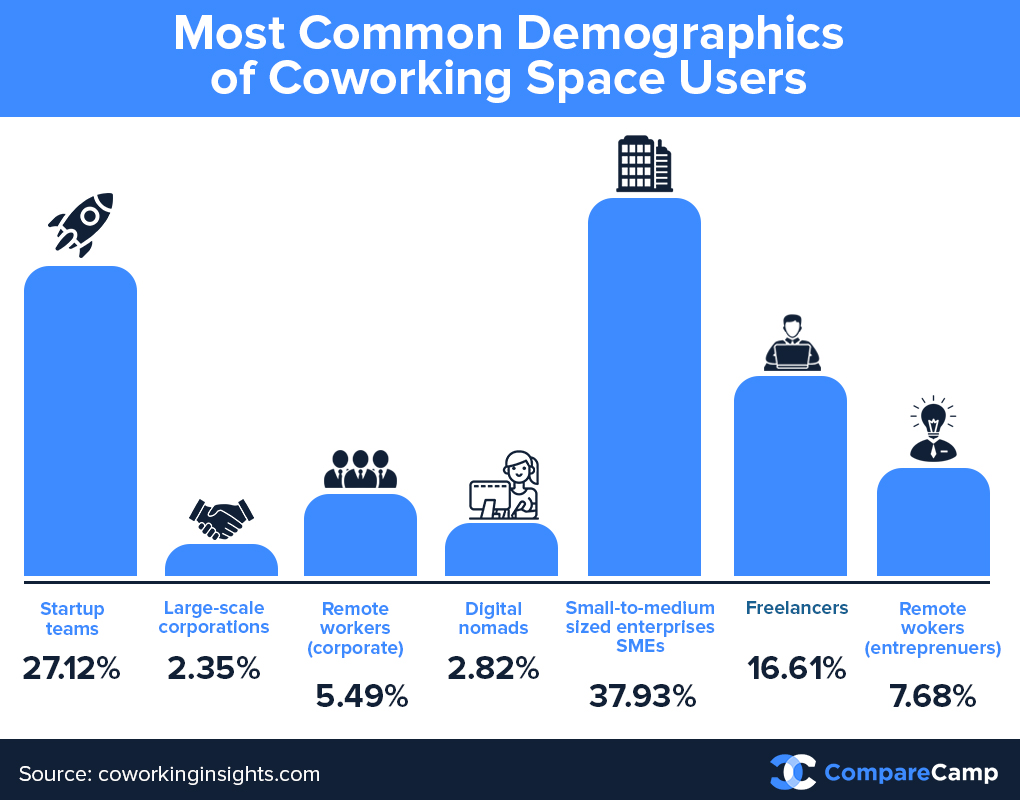 Coworking in the US Statistics
Coworking is a new but fast-growing trend in the US. From only 14 spaces in 2007, the number of coworking and other shared and collaborative office spaces increased to 4,043 in 2017.
52% of coworking spaces are profitable while 31% are only breaking even
There were 542,000 people working in coworking spaces in the US in 2017. This was expected to increase to about 1.08 million people in 2022
San Francisco is the city with the most number of coworking spaces with an impressive 51.45 spaces per 100,000 people. Coming in second is Miami with an average of 49.21 coworking spaces. (Sources of Data: Yelp and U.S. Census Bureau])
The average monthly rate for coworking space is highest in Washington D.C. at $843 while the lowest is in Houston at $220
At $1,250 per month, Colorado has the most expensive monthly cost per single coworker in the US. Followed closely behind is Massachusetts at $1,213 per month
North Dakota is the least expensive state for coworking with a monthly cost of just $239. Arizona, Arkansas, Indiana, and Kentucky are behind at relatively the same price
The flexible workspace market is expected to represent 30% of US office stock by the year 2030
Manhattan leads in terms of coworking space with a total of 7.7 million square feet and 245 locations.
Los Angeles comes in second in terms of a number of coworking spaces with 158 locations.
In 2019, California was the top state in terms of yearly openings with 111. Texas is second with 100 yearly openings, mainly because of its increasing employment rate.
70% of Americans said that an enjoyable work atmosphere is the main reason why they rent a coworking space.
31% of flexible workspaces in the US were predicted to experience strongly increasing revenue while 58% were mildly increasing.
Leading serviced office companies worldwide
Flexible workspaces are not just about having hot desks and fast and reliable internet connection. These coworking spaces lead the pack because they offer unique features such as boutique and customized services.
WeWork – 341 locations in 65 cities around the world. WeWork currently has 50 locations in New York city and well on its way to becoming the largest private office tenant in Manhattan. Moreover, 40% of coworking spaces within WeWork's vicinity are negatively affected by its popularity.
Regus- The first company to offer and market office space options
Knotel – was able to raise over $95 million in funding in just one year, and with more than one million square meters of workspace and 45 locations, it's quickly becoming one of WeWork's main competition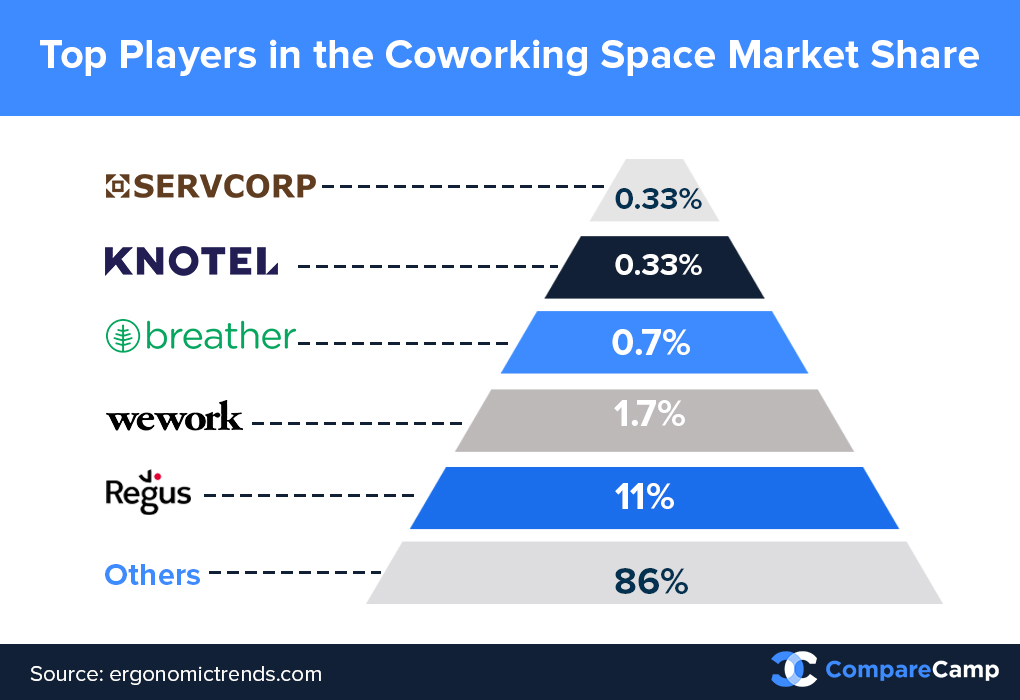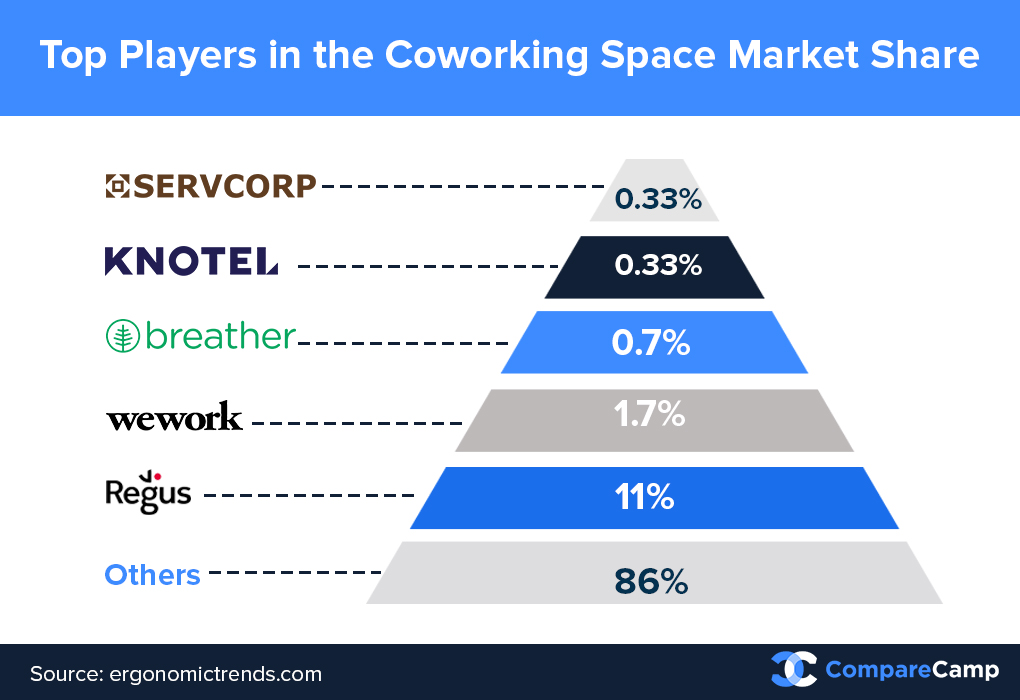 Coworking Space in Asia and the Pacific
Contrary to the West where the growth of flexible workspaces has been traditionally linked to the booming freelance and startup culture, Cushman & Wakefield report that the main drivers for the growth of coworking spaces in Asia over the last two years is the increasing demand from corporate occupiers.
Coworking in Asi-Pacific has the highest share of the overall office stock at 2.1% compared to roughly 1% share in Europe and North America
In 2018, flexible workspaces accounted for 45% of prime grade net absorption in Singapore, 16% in Shanghai, 10% on Hong Kong Island, and 8% in the five central wards of Tokyo
On average, coworking spaces in Asia have an average of 73 members
5% of Asia's office space portfolio is composed of coworking spaces, which is expected to grow to 15% by 2030
Instant Offices said that in 2018 the flexible workspace market in Asia is the fastest growing in the world, with 6 out of 10 of the largest market for flexible office space
In 2018, Bangalore and Chennai had the highest growth for flexible office centers with 29% and 27% respectively
New Delhi had the highest growth in the number of coworking spaces worldwide as of June 2019
The Asia Pacific region accounted for 35% of all coworking spaces across the globe
Southeast Asia is home to 6 out of 10 of the largest global markets for flexible office space – be it coworking spaces, serviced offices, or executive suites
Booted by its large startup ecosystem, India is predicted to become one of the fastest-growing markets for coworking spaces
By 2022, China is projected to become one of the largest markets for coworking spaces, at 5,000 spaces
23% of the top-grade office spaces in big Asian city centers are now shared spaces.
In 2018, the average coworking space in Asia has 205 members, which is more than any other continent.
Most Requested Coworking Amenities
What exactly is it about flexible workplaces that make it appealing to everyone? In 2017, after speaking with workspace owners, operators, and community managers, Allwork. Space found out that the workplace experience was complemented by amenities that cultivated one's mental and physical health. Moreover, industry veterans point out that amenities that increased productivity, fostered community, and added an element of fun were among the top picks for an optimal coworking experience.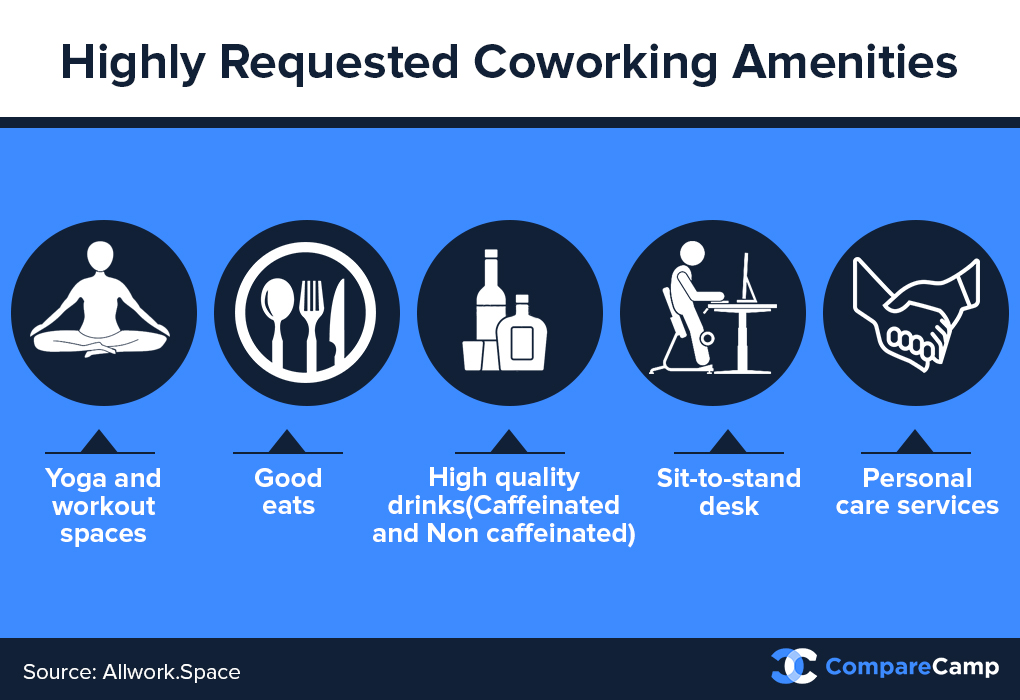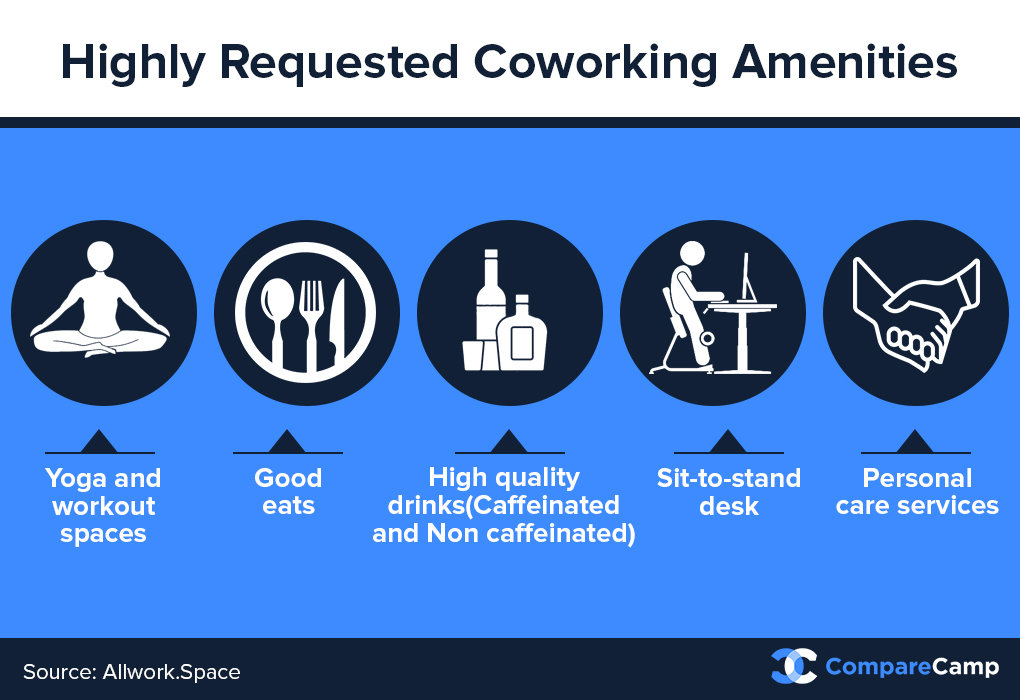 Coworking Space Users Statistics
Research shows that co-working spaces extremely improve a professional's productivity, which makes these shared offices not just an economical decision but also an effective business growth strategy. Although coworking was popularized by freelancers, it has now become an integral part of many different types of workers' daily routines, including large-scale corporations and small-to-medium sized enterprises (SMEs).
Digital nomads and freelancers now just make up 19.43% of today's coworking users while remote entrepreneurs and remote corporate employees account for 13.17%
Every sixth member of a coworking space considers themself a digital nomad.
Coworker study revealed that the two most common demographics who use coworking spaces are SMEs and startup teams which account for 37.93% and 27.12% respectively
Personality-wise, 30% of people that frequent coworking spaces identify themselves as extroverts, 22% as introverts, and the rest as mixed (ambiverted)
82% of users reported that coworking has expanded their professional network
64% mentioned that coworking networking was an important source of work and business referrals
In 2019, the number of coworking members across the globe increased to 3.1 million from 1.74 million in 2015.
55% of flexible workspace users still work in the same space they started out in.
185 was the average number of members per coworking space worldwide in 2019.
In 2018, demand of flexible workspace solutions from corporate clients increased by 21%.
45% of coworking space members worked in a home office before shifting to coworking space
January and September are the peak seasons for new members. People usually join in January to make up for reduced working hours in December, which also makes it the month with the lowest membership across the globe.
Coworking: Should You Try It?
There's no denying the benefits one can get from working in a coworking space. It's highly conducive compared to a coffee shop and with all the perks and amenities they offer, definitely more exciting than libraries. Almost 90% of coworkers report that they are happier since joining a coworking space and more than half (55%) strongly feel that they are part of a community.
On average, coworkers interact with 1 to 4 members per day, and 83% report that they feel less lonely since becoming part of a coworking space. Whether you're an individual looking to increase your productivity, a startup not ready to hire an office space yet, or a businessman who frequently travels, coworking offers a lot of benefits that can justify the cost, especially if you're looking for perks such as free coffee, gourmet food, and workout amenities.
But keep in mind that not all coworking spaces are created equal. It's important to do your research well in order to identify the best type of flexible workplace to cater to your needs.
---
References:
New Research: 71% of Flexible Workspace Users More Engaged at Work

Global Coworking Growth Study 2019

Number of coworking spaces in the United States from 2007 to 2022

32 Awesome Coworking Space Statistics that will Surprise and Inspire You

Yelp

US Census

The Instant Group | Annual US Market Summary

Colliers

The State of Coworking Spaces in Asia

Flexible Workspace Report 2019

Flexible workspace in Asia Pacific – Statistics & Facts

Cities with the largest growth of number of coworking centers worldwide as of June 2019

Share of coworking spaces worldwide in 2019, by region or country

The Largest Coworking Companies in the US: 2020

2019 CMCAs Official Data Report

THE TOP 16 FAVORITE COWORKING AMENITIES OF 2017

Global Coworking Growth Study 2019

62 Thought-Provoking Coworking Statistics

2019 Profitability of Coworking Spaces

2019 State of Coworking: Over 2 Million Coworking Space Members Expected

32 Awesome Coworking Space Statistics that will Surprise and Inspire You

2019 USA Coworking Statistics

WeWork harms 40% of all coworking spaces in its close vicinity, however…

The State of Coworking Spaces in Asia

GCUC CANADA 2018 GCS SLIDES.pdf

The Members: How, When & Why Do They Work in Coworking Spaces?