Companies can automate their accounting tasks and processes with an efficient accounting software solution. Take a look at these stats gleaned from a recent survey by the Cloud Accounting Institute: 73% of companies said they utilize cloud accounting solutions. Businesses are looking to invest in and benefit from cloud forecasting, budgeting, and corporate performance management products. About 52% of respondents intend to make use of big data cloud. Many companies opined frankly that current accounting systems restrict their business efficiency. Integration of software is also a major concern for businesses.
Now, let's look at the findings of the 2015 State of Small Business Report: 70% of companies outsource tax preparation. 88% of small companies are satisfied with their accounting facilities. Only 42% of small enterprises have a chief financial officer (CFO). 50% of small businesses outsource their payroll activities. Only 40% of small business owners said they have knowledge of finance and accounting. Finally, only 17% of companies utilize an asset management solution to track physical assets.
The above stats and survey findings show that most businesses with to invest in a quality accounting software solution to boost their efficiency and productivity. Luckily, they don't have to pay out of their noses for this system as there are numerous good free accounting software platforms available. In this article, we review the key features and benefits offered by the best free accounting software in 2017.
Top Free Accounting Platforms in 2017
For the benefit of developing teams and sole accountants, many vendors offer free accounting products that they can try out to save money. If your business demands grow, you can easily transition to a paid package as most vendors offer refund guarantees, annual reductions, and affordable prices.
To help you make the right choice, we've shortlisted the 12 best free accounting software in 2017:
1. Wave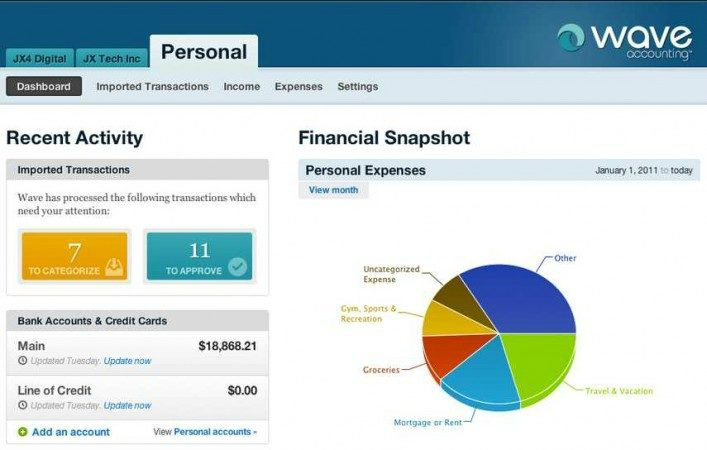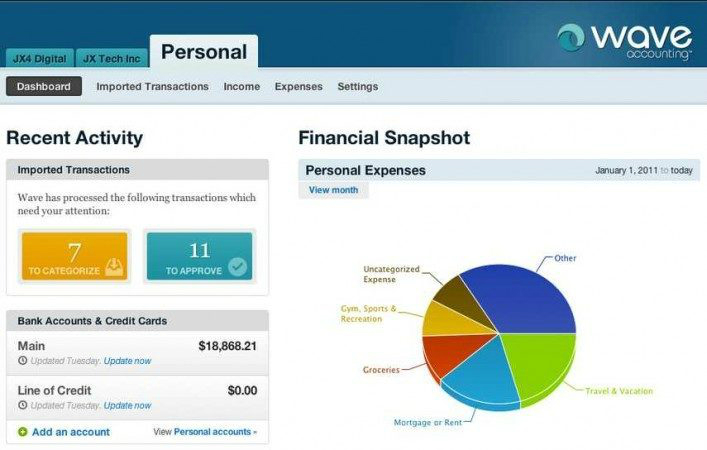 Unique selling point: payroll management
Wave is offered free of cost and is currently used by more than 2 million small businesses and freelancers across the globe. This product is considered a leading open source platform for finance control. Even though it is free, the software's suite of features compare favorably with expensive accounting tools.
Wave is designed for the needs of startups and small teams, and enables them to efficiently manage tasks such as handling taxes, managing employees, tracking expenses, and chasing payments.
With Wave, you can create and send professional invoices to your clients, get paid quickly, and track all financial transactions. Besides, you can easily collect credit card payments which is a useful feature for your customers as well. The app also stands out for its efficient organization capacity. You can read essential info on clear dashboards and generate detailed reports on your company's financial activities.
The highlight of this platform is payroll management as it enables you to calculate salaries accurately, pay your employees using direct deposits, and deliver the pay stubs to them. This software is accessible on all operating systems and devices, and offers an open developer API to enable smooth integrations.
Who can use Wave?
Small teams and sole proprietors who wish to calculate taxation and payroll, manage expenses, and deliver invoices using a single platform.
What features are free?
Wave is an open-source accounting platform that is offered free of cost. You don't need to fret about unexpected expenses, recurrent fees, or paid upgrades. Simply create an account and use the following free features:
Time tracking

Taxation

Payroll & expense management

Lendings management

Direct payments

Customizable dashboard

Custom reports

Billing & invoicing

Accounting & finance control
2. Roboeyelabs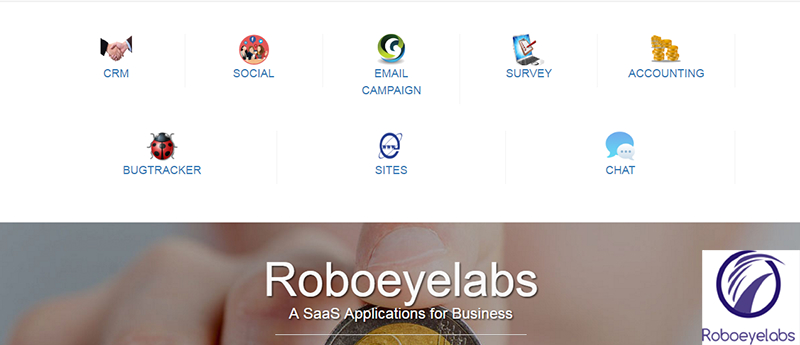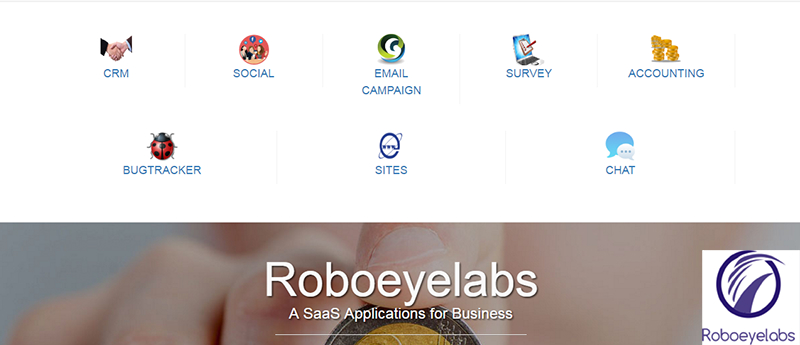 Unique selling point: CRM
Roboeyelabs is a free system that combines CRM and accounting in a streamlined manner. This smart tool combines key accounting functionalities such as expense tracking, revenue recognition, purchasing, cash management, billing and invoicing, accounts payable, and accounts receivable. Plus, it can support your marketing efforts by integrating with QuickBooks and Xero.
The highlight of this software is the neat CRM kit that collects customer data for accurate creation of sales pipeline to help you identify and maximize business opportunities. Plus, it automates invoice generation and delivery. The solution is cloud-based which means you don't need to worry about maintenance and upgrades. Pricing is flexible and you can start with the free plan and graduate to a paid option starting at just $1/month.
Who can use Roboeyelabs?
It is ideal for small and medium-sized sales teams that use their invoicing process to gather customer info and boost customer relationships.
What features are free?
The free Bronze plan lacks sales management tools including lead management and pipeline creation features. Plus, it does not offer Rest API for open connectivity.
You will however get these main features for free:
Transactions

Reports

Quotes

Products

Payments

Invoices

Contacts

Bills
What features need payment?
The 2 paid plans offer social CRM and sales functionalities. Here are their prices: Silver Plan is offered for $1/month, while the Gold plan costs $2/month.
These are the features in the paid plans:
Social CRM

Rest API

Pipeline & opportunity management

Lead management

Email notifications & alerts

Customization
3. Mango Billing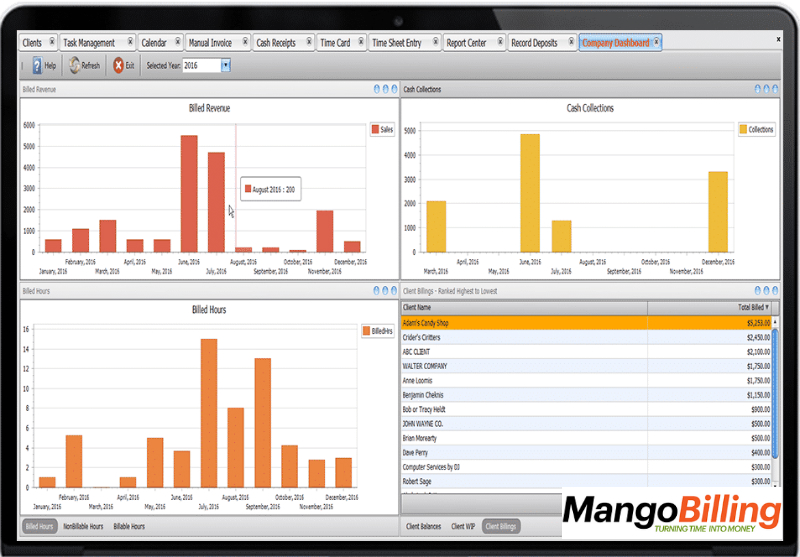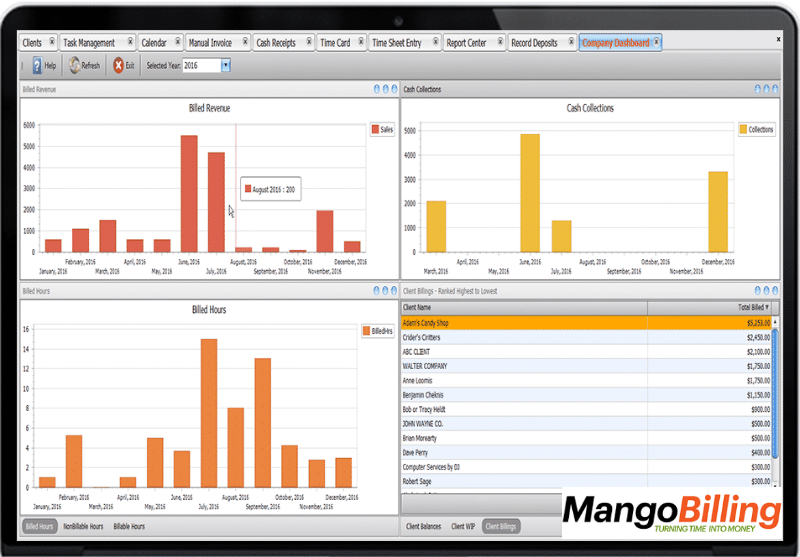 Unique selling point: due date management
Mango Billing is a time and billing platform for small and medium-sized companies with a well-equipped free package. The app enables you to control your due dates and expenses, generate custom timing reports, and set up and maintain accounting assignments. In addition, the system provides Outlook-style calendars and spreadsheets, and can be effortlessly accessed from desktop and mobile devices.
Why have we included Mango Billing in our list of best free accounting software in 2017? The main reason is the app improves your time and billing effectiveness. You can set up and insert your recurring tasks in the system after which it arranges them in cycles. This means after a task is finished the next one gets automatically appointed. You can categorize dates and tasks in the way you want and get a clear overview of date ranges any time. Mango also stands out for its robust reporting capabilities that you can utilize to generate stats and insightful reports easily and quickly.
Who can use Mango Billing?
It is designed for finance consultants, sole accountants, and teams with up to 15 members. They can utilize its basic billing tools and to enhance time management.
What features are free?
The free plan offers billing and time functionalities and is meant for single users with up to 2 clients per month.
Here are the free features:
To-do lists

Time & expense tracking

Sync with Outlook and Google Calendar

Retainer management

Reminders

Recurring appointments

QuickBooks integration

Outlook-style calendars

Mobile access

Firm-wide centralized scheduling

Filters

Dashboards

Accept credit cards
What are the paid features?
The paid packages offer all the features of the free plan but are meant for larger teams serving more clients. Here are the paid plans:
Solo Plan ($19/month, 1 user, unlimited clients)

Basic Plan ($59/month, 4 users, unlimited clients)

Pro Plan ($99/month, 8 users, unlimited clients)

Enterprise Plan ($159/month, 15 users, unlimited clients)
4. Turbo Cash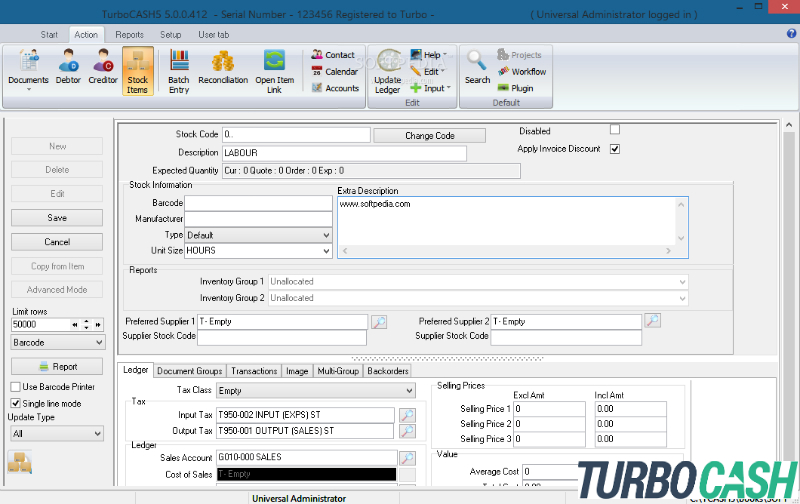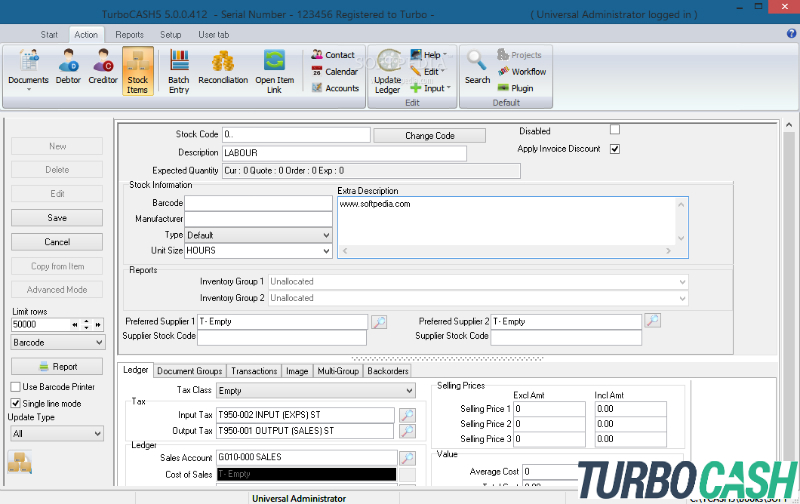 Unique selling point: Point-of-sale features
TurboCASH is another top rated free and open-source accounting solution that can be easily configured for any corporate environment. It offers sophisticated point of sale and cashier tools that provide all the regular benefits of double-entry accounting. This system is desktop-oriented, but still facilitates data migration and supports import and export of transactions as CSV files.
You can benefit from TurboCASH's large community of users that includes consultants and researchers from whom you can get useful tips on how to effectively use the software to improve your financial processes. Large teams and professional users can pay $60/month to utilize the application's advanced capabilities.
Who can use TurboCASH?
It is designed for consultants, sole accountants, and owners of small retail businesses. Large teams can also try the freemium plan.
What features are free?
The open source plan offers most of the platform's basic accounting and invoicing features. The plan accommodates unlimited number of users and they can create and distribute unlimited number of invoices.
Here are the free features:
Tax compliant for 80 states

Rollback database

Report drill down

Repeating entries

Open source data

Multi-language

Invoicing

Inventory

Full reports

Debtor credits

Cashbook

Access to user community
What are the paid features?
TurboCASH's premium package costs $60/month. It includes the following features:
World class general ledger

IFRS & GARB accounts

CSV, SQL, Firebird

Cloud applications

Access to premium consultant services
5. Compiere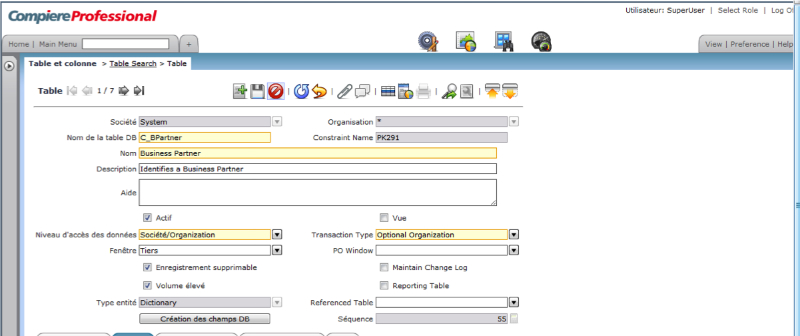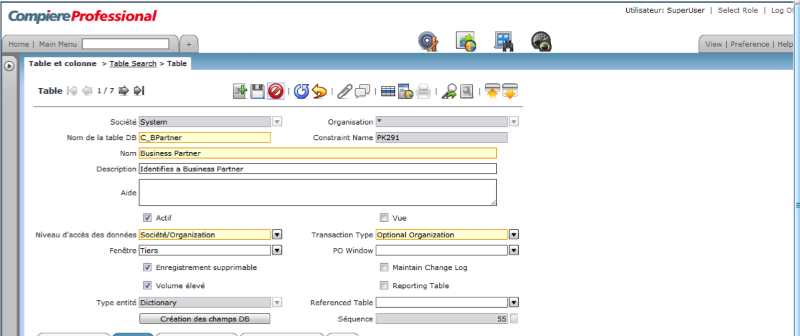 Unique selling point: enterprise resource planning (ERP)
Compiere's strong point is its ERP functionalities that small and medium businesses can utilize to control their resources, manage warehouses, and automate their manufacturing processes. This end-to-end solution is an adaptable and modern finance planning system that you can use for free. If you want advanced tools, try the Enterprise Edition that allows you to customize key processes such as visual dictionaries, performance management, and multisite ERP.
Besides ERP, Compiere can also be used for customer service and management as well as a sales-oriented CRM to track customer interactions. In addition, you can generate all types of regular financial reports for detailed analysis.
Who can use Compiere?
It is designed for companies that wish to use ERP tools for inventory management and to customize their manufacturing workflows. Sole proprietors can utilize the free version.
What features are free?
The free plan offers all essential manufacturing control and ERP functionalities. It accommodates unlimited number of users and offers unlimited storage.
Sales

Performance management (standard reports, business view layers, management dashboards)

Multisite ERP (global financial management, order management, purchasing, materials management, manufacturing, warehouse management)

Finance control

eCommerce

Dynamic Web services

Data dictionary

Customer history

CRM (Web store, sales, and service)
What are the paid features?
The paid enterprise edition offers customization capabilities as it allows you to convert the solution into a model-driven and adaptive business suite, and deploy it either on premise or in the cloud. The pricing is quote-based and the vendor offers discounts for annual subscriptions.
Here are the paid features:
Visual dictionary edition

Extensive features with no need for IT expertise to use them

Deployment by choice (on-premise or web-based)

Data backup by Consona

Customization

Access to application source code
6. GnuCash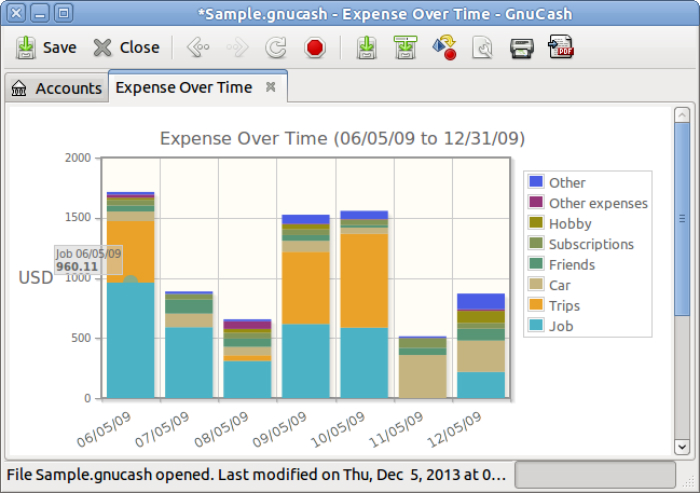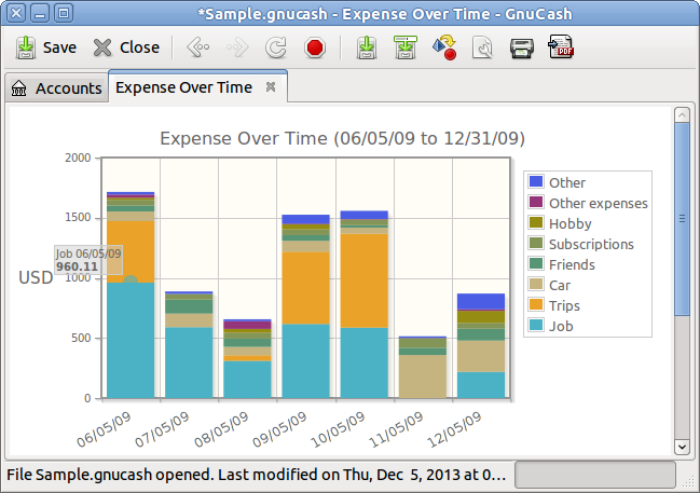 Unique selling point: double-entry accounting
GnuCash is a leading free accounting and finance solution that is compatible with Linux, BSD, Solaris, Mac OS X, Windows, and GNU systems. The platform is easy to use yet robust and is offered in multiple languages. Plus, you can easily customize it to meet international accounting standards. This software is ideal for international and large teams that wish to resolve their financial issues in a cost-effective manner.
GnuCash enables you to easily track expenses, incomes, bank accounts, and stocks. Its interface resembles a regular checkbook and allows you to effortlessly manage your accounts and generate accurate reports. The highlight of this application is double-entry accounting which empowers you to match and reconciliate HBCI, QFB, and QIF transactions. In addition, the tool allows you to perform financial analyses and generate profit reports with charts and graphs.
Who can use GnuCash?
It is ideal for small, medium, and large businesses that wish to use an end-to-end finance platform for free. It is also recommended for outsourcing and international businesses that wish to manage transactions in multiple geographies.
What features are offered free?
GnuCash is a flexible free accounting system that can easily scale as your database grows, which means you don't need to invest in a paid product.
Here are GnuCash's key features:
Stock/bond/mutual fund accounts

Stock, income, and expense management

Scheduled transactions

Reports/graphs

Quotes

QIF/OFX/HBCI import, transaction matching

Professional accounting principles

Multiple languages

Multiple currencies

Financial calculations

Double-entry accounting

Data storage & exchange

Checkbook-style register

Bank accounts tracking
7. Invoice Expert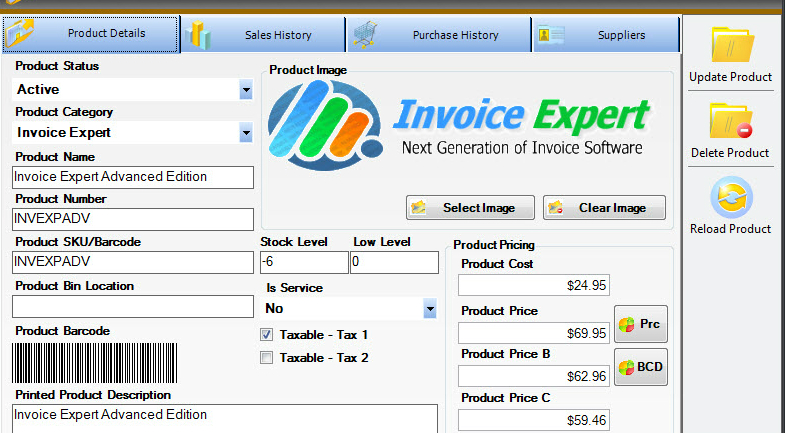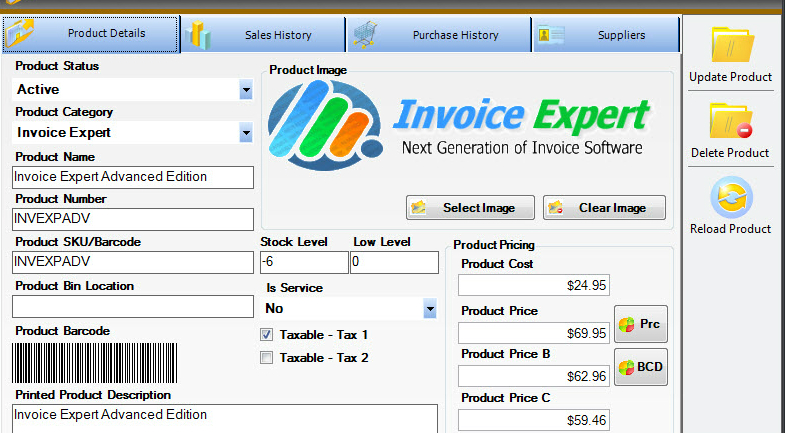 Unique selling point: customer management
Invoice Expert is another free product that fuses inventory management with billing and invoicing capabilities. You can select from the Lite Edition (for teams with up to 100 customers and products) and the Advanced Edition with unlimited customers/products. For both plans, you don't need to pay support charges or hidden fees and can upgrade effortlessly.
Invoice Expert can fulfill the inventory management, invoicing, and billing needs of professional service providers, internet-based businesses, retail stores, and other companies. It also offers an effective customer support and management suite. Premium users are provided quoting and personalized invoice designer tools that make the software stand apart from the crowd. In addition, the platform's multiple connectivity and networking options enable it to integrate easily with any software environment.
Who can use Invoice Expert?
It is ideal for professional service providers, internet-based businesses, and retail stores. On-budget teams can opt to pay for the one-time purchase license.
What features are offered free?
Invoice Expert's free Lite Edition doesn't limit storage or the number of users. But you do not get technical email help and need to rely on forum support.
Here are the key free features:
Product management (100 products)

On-premise deployment

Online forum support

Multiple invoice templates (no personalized designer)

Inventory management

Customer management (100 customers)

Billing and invoicing
What are the paid features?
The premium Advanced Edition accommodates unlimited number of customers and products and allows you to use a personalized invoice creator. Plus, you get premium email support. The package costs $69.95 (one-time download license) and offers a 30-day refund policy if you are not satisfied.
Extra features in the Advanced Edition:
Personalized invoice designer

Premium email support

Unlimited customers

Unlimited products
8. Express Accounts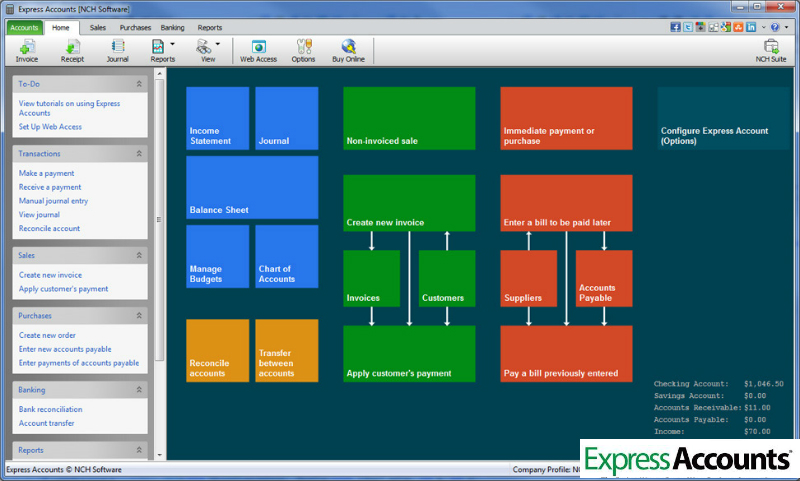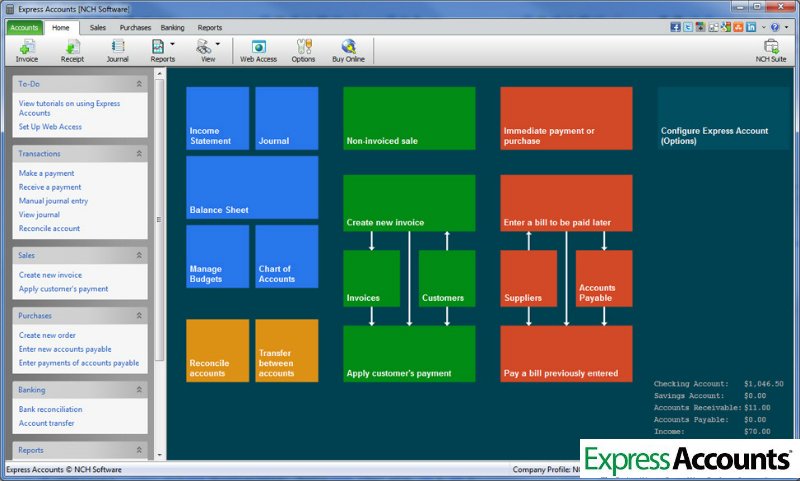 Unique selling point: inventory software integration
Express Accounts is an accounting and bookkeeping solution for small businesses. The product is free for teams with up to 5 members. They can use it to easily track deposit and payment transactions, generate detailed reports to analyze their operations' health, and utilize the reports to enhance the work of their accountants. Paid users can also use the free features and the advantage is they can utilize the system for more than 5 users.
Express Accounts offers a free dedicated mobile app. You can deploy it on-premise (Windows and Mac OS) if you wish. The free plan enables you to combine accounts payable and accounts receivable to perform detailed financial analyses. In addition, the vendor safeguards your data in secure backup locations. The highlight of this software is its Inventoria integration which allows you effectively manage inventory data.
Who can use Express Accounts?
It is recommended for professional accounting teams and startups that wish to manage their inventory and stock data. It is also good for sales teams in startups.
What features are offered free?
Sales management

Mobile access

Generation of sales orders, invoices, and professional quotas

Bookkeeping

Analyses and 20+ financial reports

Accounts receivable

Accounts payable
What are the paid features?
The premium paid version offers the following added advanced capabilities:
Automatically integrated data backup

Employee productivity management

Inventoria integration

Profit and loss income statements

R

unning multiple businesses on a single installation
9. Expensify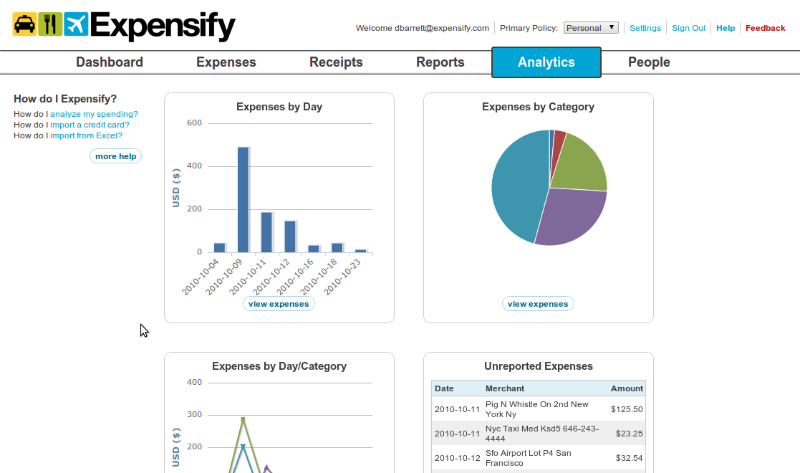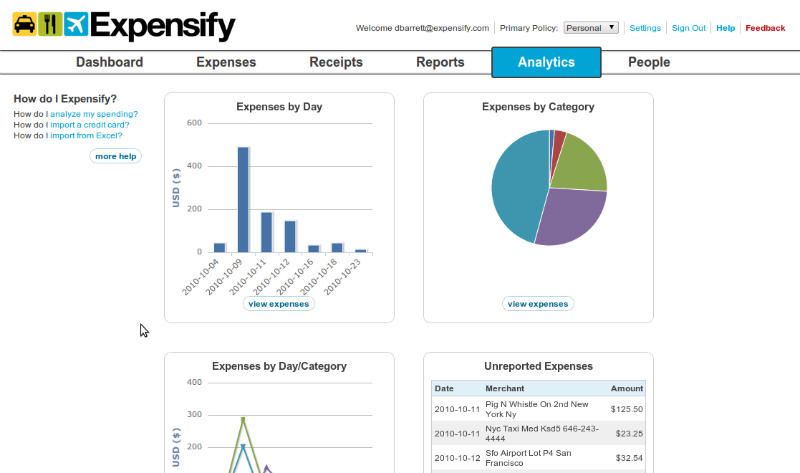 Unique selling point: travel expenses management
Expensify is an affordable option that is recommended for low-tier market users and starters. It offers several benefits designed around a transparency maintenance mechanism. Businesses can utilize it to manage travel expenses, balance debt-to-income ratios, maintain summaries of multiple accounts simultaneously, and enhance finance control.
Expensify automates expense reporting as it is integrated with multiple financial transaction institutions, credit card providers, and payment modes. It utilizes sophisticated GPS technology to record the miles of your staff members' business travels and calculates the reimbursements. For international trips, it uses currency converter and rate exchange calculator. Plus, it can integrate seamlessly with the eCommerce, ERP, and CRM solutions you use.
Who can use Expensify?
It is ideal for businesses in any industry that wish to manage travel expenses and improve their financial operations.  
What features are offered free?
Expensify's free basic plan offers all key accounting functionalities and doesn't restrict receipt storage. The limitation is you cannot access the platform's direct integrations with business intelligence, ERP, and accounting software.
Here are the free features:
10 free SmartScans per month

Advanced tax tracking

Auditor access

Automatic accounting sync

Automatic approval

Automatic reimbursement

Automatic reporting & submitting

Basic approval hierarchies

Candidate reimbursement

Corporate cards

Credit card import

Direct deposit reimbursement

Duplicate expense detection

Free mobile app

Real-time expense reports

Unlimited receipt storage
What are the paid features?
Expensify offers two paid packages:
Team Plan – $5/user/month

Corporate Plan – $9/user/month
With these paid plans you get premium support, integrations to third-party software, and many advanced security and expense management features.
Here are the features:
Advanced policy enforcement

Corporate card reconciliation

Custom report exports

Direct integration with Xero and QuickBooks

Direct integrations with Dynamics, Intacct, NetSuite and more

Multi-level tagging

Online next day ACH reimbursement

Unlimited SmartScans per month
10. Odoo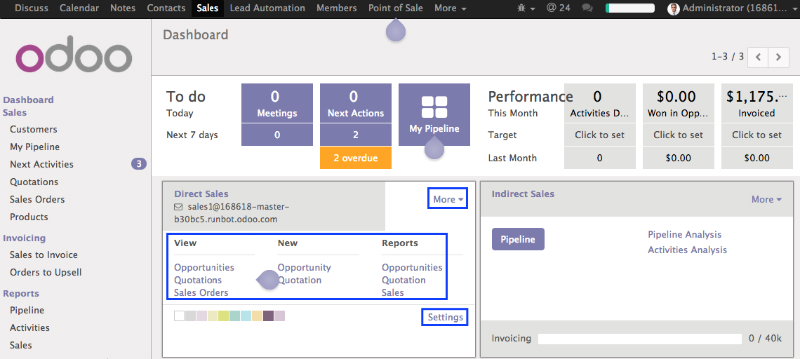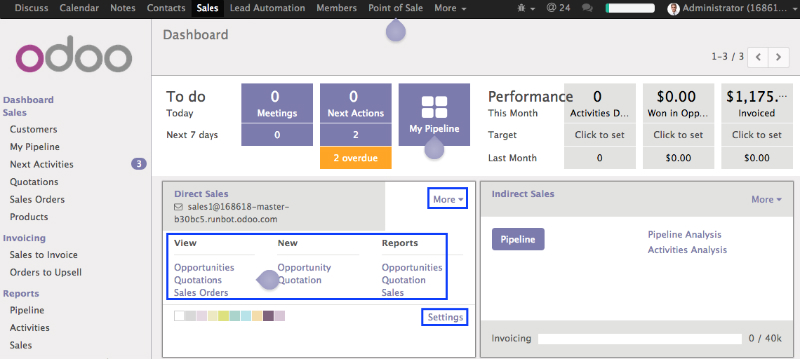 Unique selling point: inventory management
Odoo combines project management and sales, and improves them with a range of eCommerce, POS, and MRP functions. In addition, it can integrate all your sales channels and also offers robust inventory management functionalities which make it one of the top business management platforms currently in the market.
Odoo is a cut above conventional ERP solutions because it is a modular application. You can utilize more than 1000 modules and also add more as you go along. In addition, it is a highly flexible software product that you can easily customize for your company's specific needs.
Who can use Odoo?
It is recommended for businesses of all sizes that wish to invest in a business process management product that combines project management, marketing, accounting, sales, and ERP features.
What features are offered free?
Odoo provides a free basic plan for 1 app that accommodates up to 50 users. This free plan covers all the main ERP and sales functionality of the software.
Free plan features:
1 App

Accounting

Automated Calendar

Automated Invoicing

Automated Stock Update

Cloud Hosting

CRM

E-Commerce

eSignature

Inventory Management

Leave Management

Marketing

MRP

Point of Sale

Project Management

Reporting

Sales Management

Suitable for up to 50 Users

Timesheets

Website Edition
What are the paid features?
Odoo presents 2 paid packages:
Online Plan (€20/user/month)

Enterprise Plan (€25/user/month, minimum 5 users)
The paid packages are superior when it comes to customer support, customization access, deployment options, and number of users.
Extra features with the paid plans:
More than 50 users

Customization

Implementation service and assistance

Mobile apps

Premium support
11. ZipBooks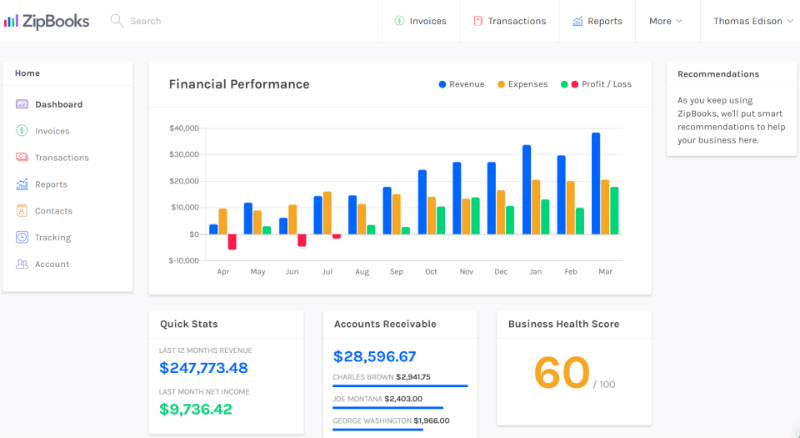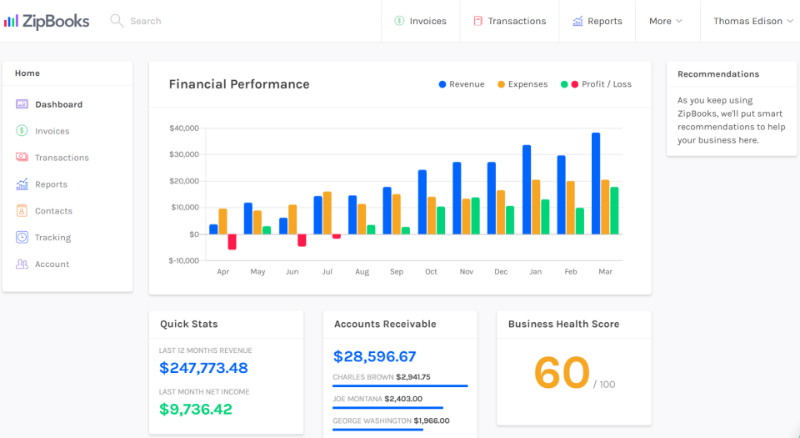 Unique selling point: data intelligence
ZipBooks is a simple yet robust invoicing and accounting product that enables you to organize your finances and convert your data into actionable intelligence. You can utilize it to improve financial control and deliver top rate service to your customers. The software empowers accountants to send professional invoices, get payments via PayPal or credit cards, and minimize their workload by utilizing the solution's auto-billing tool.
ZipBooks organizes data in a color-coded scheme and enables businesses to save time by simplifying reconciliation. Plus, you can track your expenses and account payables, and closely monitor all your financial transactions. The highlight of this platform is data intelligence as this free accounting solution is capable of generating insights on profitable customers, and allows you to compare the performance of multiple competitors.
Who can use ZipBooks?
It is ideal for corporate teams and single users who wish to manage complex accounting processes and utilize their financial info for intelligent forecasting.
What features are offered free?
ZipBooks' free Starter plan offers unlimited invoicing and bookkeeping. It includes top features of the software such as business health score, analytics, and PayPal integration. Plus, the number of users is not limited and you get access to the well-stocked knowledge base.
Starter plan features:
Analytics & business health score

Connect & manage bank

Invoice quality score

PayPal & credit card payments

Unlimited bookkeeping

Unlimited invoicing

Unlimited recurring invoices with auto-bill

Unlimited users

Unlimited vendors & customers
What are the paid features?
ZipBooks offers 3 paid packages that include the basic invoicing and bookkeeping features, while offering added sophisticated analytics tools. The 3 plans are:
Smarter Plan ($15/month)

Sophisticated Plan ($35/month)

Services Plan ($125/month)
Here are the key of features the paid plans:
Advanced intelligence

Auto-import of expenses into customers' invoices

Team collaboration and secure sharing

Time tracking

Unlimited bank connections

ZipBooks Scholar (personal bookkeeper for monthly reports and tax saving analysis)
12. Zoho Invoice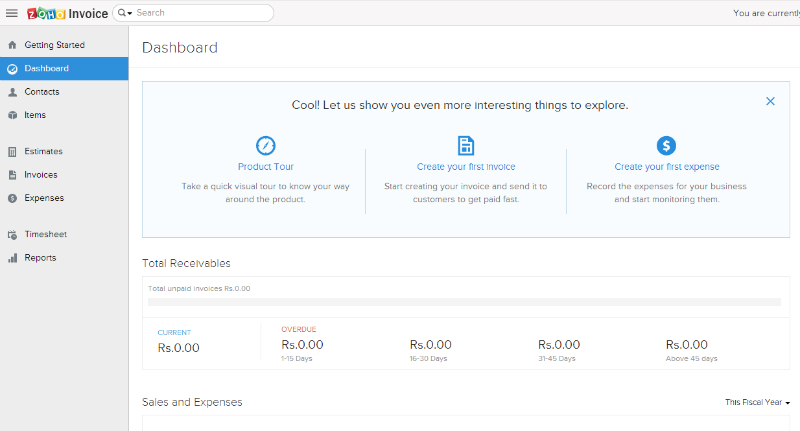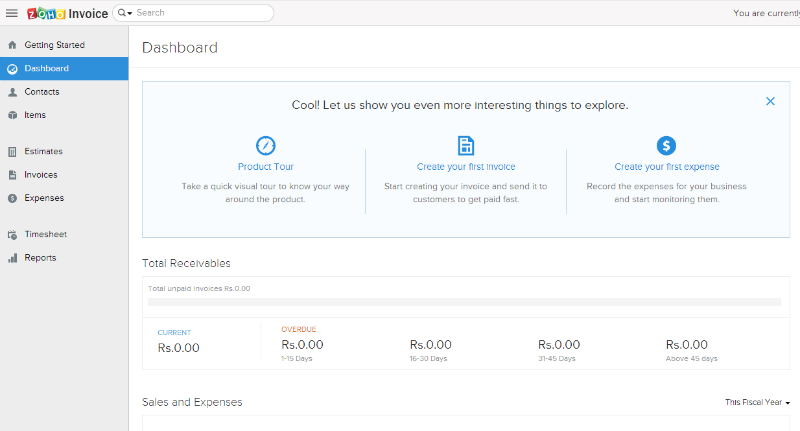 Unique selling point: solid reputation
Zoho Invoice is a top ranking invoicing and billing product from Zoho's stable of popular business productivity tools. It offers all standard accounting functionality for the needs of small and growing businesses. The free plan also includes prompt and reliable support which is usually only offered with premium paid packages.
Many businesses prefer Zoho Invoice over paid applications because the former is simple and easy to use. You don't need to worry about setup, maintenance, or upgrades. In addition, you can create and send personalized invoices in multiple languages and currencies which reduces human intervention in sensitive and large transactions.
Who can use Zoho Invoice?
It is recommended for small and growing businesses and sole proprietors who wish to streamline their invoice delivery. It is also ideal for users of other Zoho software products.
What features are offered free?
With the free package you get the same invoicing, customer support, and integrations features as the premium plans. The free plan is designed for single accountants and proprietors working with up to 5 clients per month.
Here are the free features:
Uploading of expense receipts

Time tracking

SSL encryption & two-factor authentication

Snail mail

RESTful API

Recurring invoices

Multi-language & multi-currency

Invoice templates

Integration with PayPal Payflow, PayPal, and Authorize.Net

Expense management

Collection of reports

Client portal for users

Calendar view of timesheets

Attach unbilled projects and expenses while creating invoice

Attach files to invoices
What are the paid features?
Zoho Invoice offers 3 paid packages:
Basic Plan ($7/month, 1 user, 50 customers)

Standard Plan ($15/month, 3 users, 50 customers)

Professional Plan ($30/month, unlimited users, unlimited customers)
The paid packages accommodate more number of users and customers but the feature suite is the same for all plans.