Moodboards are all the rave in creative professional environments, and there's no surprise why. 
It may seem like moodboards are just a collage of aesthetically cohesive images and words, but they're much more than that. 
Moodboards are a fantastic solution for getting inspired and organizing your inspiration. They assist in turning your inspiration into a comprehensive physical approach to creating something spectacular. 
They are used by all kinds of creative professionals, including writers, Graphic designers, photographers, interior designers, web developers, fashion designers, filmmakers, and brand designers.
This article explores the benefits of using a moodboard for brand design and some helpful tips to help you get started with the process. 
What Is A Moodboard?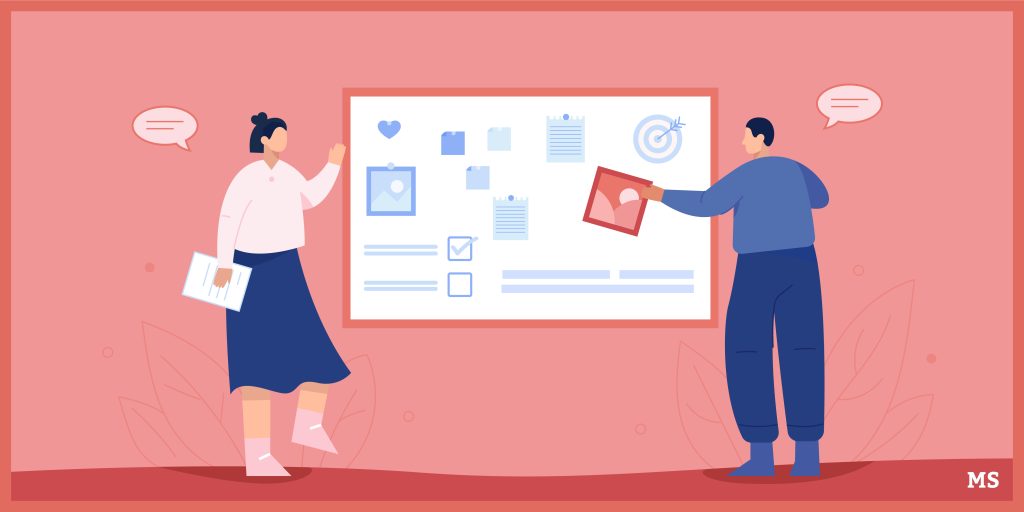 The definition of a moodboard is a physical or digital visual presentation or "collage" that uses images, text, or objects to convey ideas or feelings about a subject. 
Sometimes called inspiration boards, moodboards are an important tool in creative professional fields like graphic design, interior design, photography, web development, fashion, film, illustration, writing, and branding. 
In branding, moodboards are often used by design teams to help flesh out core concepts like the key themes, visual directions, design ideas, and targeted audience for a finished product. Moodboards are also an effective tool when presenting ideas to clients. 
When it comes to organizing and exploring ideas, they are spectacular tools, whether you are experimenting with different design pairings or communicating final creative decisions with other team members. 
Why Is A Moodboard Important In The Brand Design Process?           
Creating moodboards is often the first step when it comes to designing a product, as they are incredibly efficient visual communication tools, especially for expressing otherwise complicated visual ideas to team members and clients. 
Sometimes words don't convey information correctly. For instance, suppose you're selling a product intended for "health-conscious individuals," and you want your product's branding to reflect the design elements of pre-existing products in this market. 
However, the target market of "health-conscious individuals" can be interpreted as many different audiences, such as health and wellness communities, bodybuilding communities, yoga enthusiasts, or individuals trying to lose weight. 
The different interpretations can result in wildly different design approaches. 
Moodboards prevent this dilemma by providing a process for the branding team to explore and establish the design choices clearly and visual elements like color palettes, icons, patterns, and more that may or may not be incorporated into your finished product design. 
Moodboards enhance the design experience. As vision boards are not typically used as a final deliverable to clients, branding teams have the creative freedom to properly test out different design elements without consequence. 
Beyond the design aspects of branding, creating a moodboard during the branding process communicates to the client that you and your team have understood the client's vision and are working towards bringing it to fruition. 
Moodboards are also an excellent reference when working on other creative steps in the branding process. 
Benefits Of Utilizing A Moodboard In Your Brand Design Strategy
Let's look at the top 8 benefits of using a Moodboard when creating a brand design strategy. 
1. Establish A Design Foundation
Although the components of your moodboard will not directly affect the design of your product's branding, it does help establish the foundations on which your branding will be built.
For example, if we take a design element, like fonts, the branding inspiration board might include a script font to showcase the product's classic nature for a traditional all-natural baked goods product. 
The colors may consist of greens for purity and browns for baked goods and incorporate birds-eye photography to represent the customer's viewpoint of the baked goods. 
Although none of the images in the moodboard will be used in the final product, it does communicate the mood. It feels that your branding team can capture and present your product's branding. 
Brainstorming sessions will run much smoother if you've completed a mood board for your brand design as part of your prep work. Your branding team can use the moodboard as inspiration for ideas and rough sketches of your brand's design. 
2. Bring Clarity To A Design Vision
Moodboards are a fantastic way to compile ideas together and establish if or how they could work to attract new customers to your product. 
Clients may not have a clear vision of the message or feel they want their branding to convey. Beyond that, clients may know what they want for their branding but may not know how to articulate it. 
By building a moodboard or a couple of them, you can open up paths for communication and have real, productive conversations about projects and the design elements that a client likes or dislikes for their products' branding. 
Before creating a moodboard for the project, sit down and ask your client about different companies whose packaging inspires them, color schemes they might want to incorporate, and messages they want to convey with their messaging. 
If the client is having a tough time explaining their vision, has several different ideas, or doesn't have an idea, you can ask them to send you images, colors, and fonts that they believe resonate with the product. 
When preparing a moodboard for a branding client, it's a good idea to create a couple of options and set a few meetings where you can go back and forth with the client to understand the design aspects they like and dislike. 
This way, you can understand the client's vision without the need for the client to explain it. 
3. Easier Collaboration
Whether your board is digital or physical, collaborating with members of your team and other related groups is much easier when you've already prepared a moodboard to work off of. 
As mentioned above, moodboards are a communication tool that expresses the brand's look and feel, including design aspects like typography, colors scheme, illustrations, and photography. 
It easily communicates design aspects that might be difficult to express with words. 
When it's time to collaborate, moodboards can quickly and effectively communicate with all members involved what the branding will be like for the product without the need for long meetings and the risk of misinterpreted language. 
This is particularly helpful for small, in-house branding teams that may need to hire photographers and graphic designers to complete the entire project.
For collaboration purposes, it's best to use digital moodboards or digitize your physical moodboard. 
4. Involvement Of Clients
Working on a moodboard is a great way to involve clients and make them feel valued and respected during the branding process.
Remember, your client is a person with thoughts, emotions, and anxieties. Small businesses and startups might feel uneasy about offloading the branding process to a branding agency, even if they know the agency can do a far better job. 
One way to ease your client's anxieties is to involve them in the creative process early in the project. This doesn't mean you should let your client micro-manage every aspect of the design workflow. 
However, by initially collaborating with your client on a moodboard, you can build an excellent rapport with your clients and provide them with the ease of knowing that you understand their branding needs. 
To get the client involved, you can ask them to create a digital collage of ideas on colors, fonts, photographs, and packaging that they would like to see in their products' branding. This can be done easily on Pinterest, for example. 
Once you receive the client's digital collage, you can use those images and ideas to come up with moodboards to be presented to your client. 
When showcasing the moodboard to the client, ask the client questions that encourage your client to open up. Rather than asking which moodboard they like best, ask them what aspects of each moodboard they enjoy and what they can do without. 
5. Exploration Of Various Ideas
As mentioned above, moodboards are a great way to explore how different design elements can work together to convey a message or feeling. 
In particular, it's a great way to test out features that wouldn't traditionally work together, such as bold, edgy fonts selling flatware or Arabian-inspired fonts and visuals representing European cuisine. 
Because moodboards are relatively quick and simple to make and don't require any additional budget, exploring unconventional design aspects can sometimes be worthwhile, especially for products with target audiences in multiple niches. 
For instance, a dietary protein supplement product that sources its protein cleanly uses eco-friendly packaging, and has a net zero ecological footprint can be marketed to bodybuilders and climate-conscious individuals.
As such, you would want the branding to appeal to both groups of target audiences and may need to mix and match design elements to do so. This can be achieved by juxtaposing eco-friendly visual cues like bamboo and green leaves with bold, masculine fonts.
6. Cost And Time Effective
Although it takes a bit more time in the beginning to create a moodboard, it actually saves a lot of time in the long run. 
The initial time invested into creating, critiquing, and adjusting the moodboard goes a long way to ensuring that the branding reflects the design aesthetic and satisfies your client's vision. 
As stated previously, moodboards are incredibly powerful tools because they effectively communicate design aspects that are not easily explained with words. 
It's a game-changing design tool because it ensures everyone, including the design team, client, and any freelancers involved in the project, are on the same page. 
Traditionally, branding teams would have to create prototypes to display branding materials to the client. If the client wasn't happy with certain design elements, the brand design team would have to go back, fix the features the client didn't like, and then recreate a new prototype to present to the client. 
There was no guarantee that the client would like the first, second, or even third prototype. It wasn't always clear why the client disliked a prototype since not all clients are great at articulating design preferences. Overall, the process was costly in terms of money and time. 
Fortunately, with the popularity of moodboards as a tool for branding strategy, all design decisions are made before beginning the process. 
7. Ability To Modify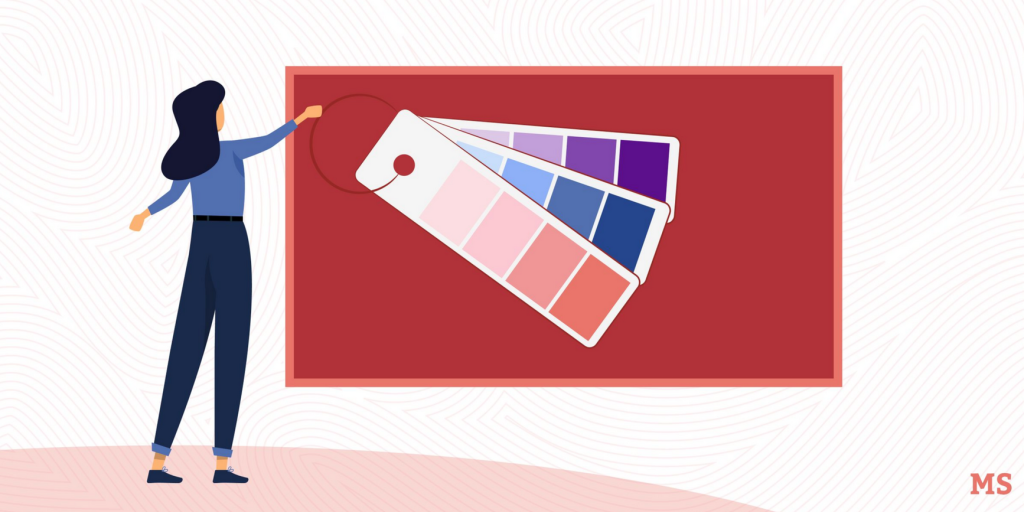 Moodboards are incredibly flexible documents that can be switched up or modified anytime. Because they are not a deliverable item to your client, you can change them in any way you please without consequences, as long as it accurately represents your client's vision. 
Suppose a design aspect defined on your moodboard doesn't work in practice when creating the branding materials. In that case, you can remove that aspect from your moodboard without any consequence or monetary setback. 
Moodboards are cheap or even free to make. They are as effective a tool for organizing and testing design elements as they are tools for presenting designs. 
8. They Are Fluid 
When people think of moodboards, they usually think of a collage filled with ideas, images, colors, and writing, such as quotes, to visually describe a subject, like a product or service. 
It may be a physical moodboard displayed on card stock with glued-on images and objects. Alternatively, one might use a digital mood board created by Photoshop or other graphic design software. 
However, this is far from the case in practice. 
A moodboard can be an image but can also be represented by a video with moving pictures and sounds. 
Although you may not want to post your mood board publicly, TikTok, along with several third-party editing apps for TikTok, has made it easy, simple, and cheap to create 15-second to 3-minute videos with quick editing, interesting transitions and plenty of audio snippets to choose from. 
Additionally, even physical moodboards can go beyond the presentation board and glue stick by adding 3-dimensional elements, including textures and scents. 
Helpful Resources For Moodboarding
Because moodboarding has become a very trendy topic for both personal use and for creative professionals, Tools, software, and online resources make the moodboarding process simpler. 
For physical moodboarding, it's best to take advantage of your local art stores and explore their scrapbooking selection, as many of those tools can also be used for creating a moodboard. 
One thing to remember with a physical moodboard is it's not as easy to make changes or modifications once you've glued your images to the presentation board. If you're making a physical moodboard, make sure you review and curate your photos and text before gluing them onto your board. 
Physical moodboards are mostly used in fashion, as they are better at displaying different fabrics and textures, and there's no concern about color distortion from screen to screen. 
On the other hand, digital moodboards are typically created on graphic design software and are incredibly easy to change, modify, and manipulate. A digital board can also contain images, text, videos, and sound for an entirely immersive experience. 
Adobe Spark, Canva, and NoteLedge's moodboard creator are both robust graphic design software that allows you to create moodboards and other visual materials. The software is fully equipped with thousands of images, videos, fonts, and music. 
Additionally, both software runs on a freemium pricing strategy. 
On the other hand, Milanote, InVision and some mind mapping tools can also be useful for moodboards and may not be as complex as Canva or Adobe Spark but are very straightforward, easy-to-use platforms. Milanote follows a freemium pricing strategy, while InVision is a subscription-based service with a free trial for new customers. 
Pinterest is the app that introduced moodboards to the public. Still, it may not the ideal app for creative professionals looking to share moodboards with their clients. However, Pinterest is a fantastic resource for generating inspiration and exploring design approaches. 
Unsplash and Pexels are fantastic online resources for sourcing royalty-free images. 
However, it's always a good idea to be on the lookout for inspiration in your daily life. Take pictures of anything that you think would fit in your moodboard. 
You won't necessarily need to use that picture in your mood board, but it's better to have it and not need it than need it and not have it. 
Whether you're working on a physical or digital moodboard, don't get stuck on ideas that don't seem to work out. The point of a moodboard is to see what works and what doesn't. Simply move on if you cannot make an idea or design concept work. 
Additionally, remember that less is more when it comes to moodboards. Adding too many images or words can throw the viewer off and confuse clients rather than get the point across. You're better off using your best 5 images than 50 images that felt like they conveyed the right message. 
The most important tip when creating a moodboard is to have fun. Creating moodboards is supposed to be stimulating and creative. They are a way to show the client your imaginative side, so play with the structures, layouts, typographies, images, and colors.