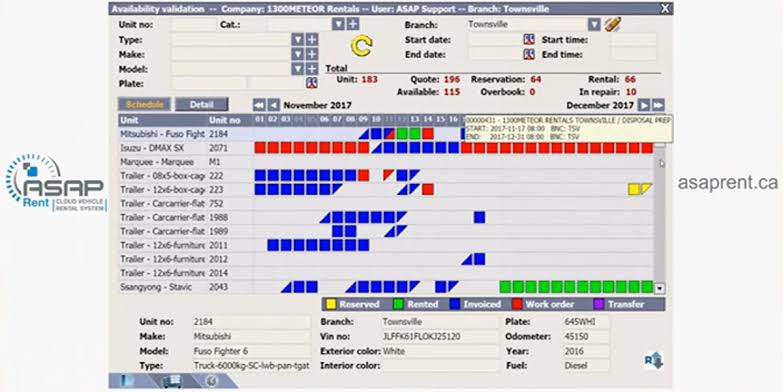 The main benefits of ASAP Rent are, it automates the car rental process, manages the multi-location business with ease, and leverages innovative technology. Here are more details:
Automate Car Rental Processes
ASAP Rent is a reliable solution built with a suite of impressive tools to streamline the entire car rental cycle. The software automates every facet of car rental business, from purchase to sales, enabling users to maximize fleet efficiency and optimize vehicle distribution. It provides a comprehensive system that systematizes the key tasks, making it easy for car rental operators to effectively implement business strategies. Even better ASAP Rent includes a fully web-enabled mode that accords operators the flexibility they need to run business with ease.
Manage Multi-Location Business with Ease
In addition, ASAP Rent is ideally perfect for multi-locational car rental businesses. It is a powerful solution that features highly innovative tools that help meet the high transaction need. Although the application is simple enough to empower small agencies, it has the functional and financial tools required by large enterprises to effectively manage multiple branches.
Leverage Innovative Technology
Better still, ASAP Rent is architected to utilizes sophisticated artificial intelligence and innovative technology to facilitate car rental business management. The technology makes it easy for car rental operators to optimize investments and maximize fleet efficiency. Also, with ASAP Rent, it's a breeze to monitor damage costs, utilization, and maintenance of vehicles.
Additionally, ASAP Rent provides innovative features such as Affiliate Agency login which helps distribution channels make quotes and reservations for car rental operators. The variance management system provides a range of reporting/analysis tools and trigger alerts.