Podcasting is relatively new compared to other online mediums but it holds much promise in the areas of marketing and revenue generation. The last five years have shown that it grew at a median year-on-year (YoY) rate of 18%. 2019 proved to be a landmark year for podcasts that streaming platforms have begun developing tools and investing in them.
This podcasting research offers insight into the growth of podcasts and its potential as a tool to reach a wider audience much the same way blogs did over a decade ago. Whether you are starting a new podcast or aiming to monetize your content library, use these data to shape your podcasts into a revenue-producing venture.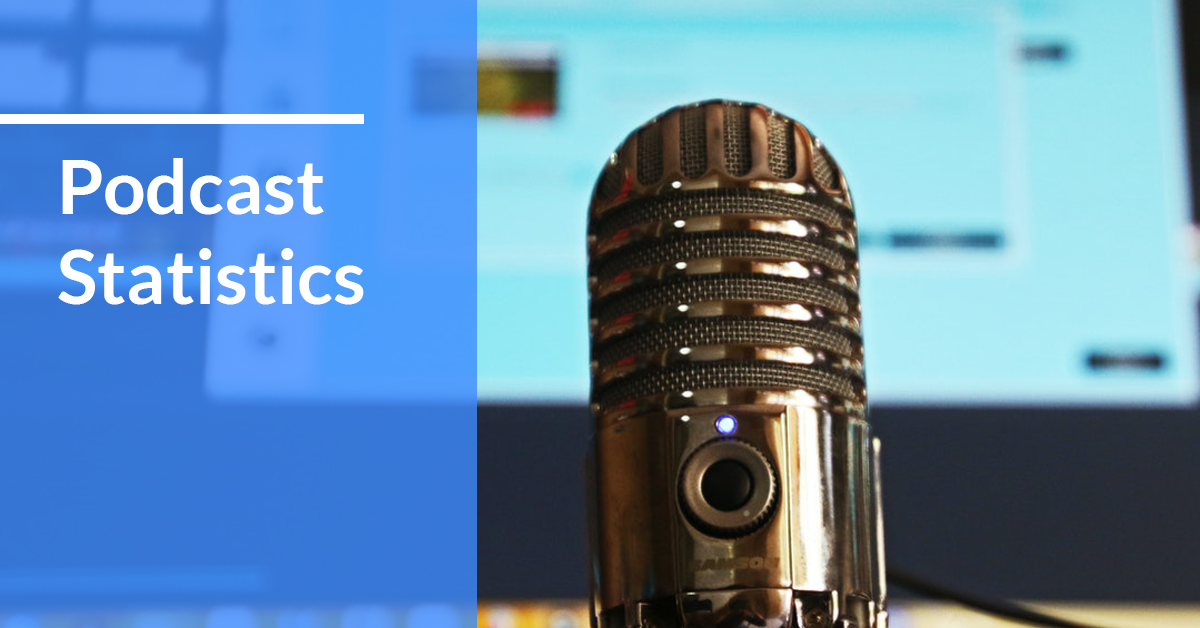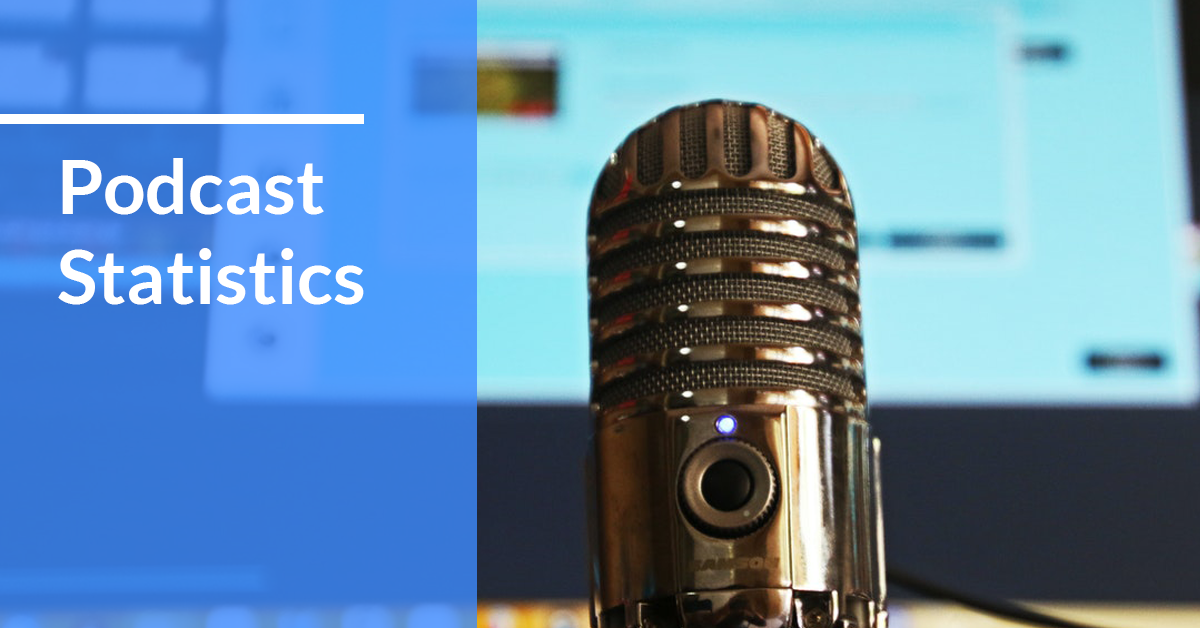 Podcasting Statistics Table of Contents
Podcast Statistics To Know
These podcasting statistics present a healthy outlook for the future of podcasting—choices for the podcast consumer and opportunities for the podcast producer.
Three-quarters of Americans or 212 million people know about podcasting.
55% of Americans listen to podcasts, up 37.5% compared to the previous year's 40%.
An estimated 68 million listen to podcasts weekly, up 2 points from 22% in 2019 to 24% for 2020.
Monthly podcast listeners are at 104 million, a healthy jump of five points from 2019's 32% to 37% for 2020.
Podcast listeners grew 16% YoY in 2020, surpassing 100 million listeners.
There are 30 million podcast episodes from 850,000 active podcasts globally.
NPR is the leading podcast publisher in the US with a unique monthly listener audience of 23.75 million.
South Korea leads the list of countries across the globe where podcasts are popular, 53% of the country have listened to a podcast.
Four of the five countries—Chile, Argentina, Peru, and Mexico—with the biggest growth month over month for podcasts in 2019 are Spanish-speaking.
Podcast Consumer Demographics Statistics
The demographic profile for a podcast consumer is young, educated, and employed with a full-time job. The age groups associated with podcast consumption corresponds to the ages of those born in the late '70s and early '80s, the early adopters to the audio format when it first came out in 2004. The Us is still a huge untapped market with only an estimated third of the population tuning in podcasts monthly.

The 12 – 34 age group is the most active monthly podcast listeners with a median increase of 7% points between 2017 to 2020.
The 35 – 54 age group listen to podcasts most often at 40% compared to 37% for 12 – 34 year-olds and 23% for the 55+ set.
There is a slight skew towards male podcasts listeners in the total US population – 51% to 49%.
Men also outnumber women in monthly podcast listening frequency 39% to 36%.
The ethnicity of podcast consumers in the US is predominantly white, making up 58%.
Ethnicity of US Podcast Listeners in the US
Source: Edison Research
Created by CompareCamp.com
Podcast consumers are educated with a fifth having grad school or advanced degrees. The biggest share, a combined 58%, have high school and college-level education.
Over 50% of podcasts consumers, on average, have an annual income of $250,000 and up.
Source: Edison Research, 2019
Podcast Consumer Behavior Statistics
Podcast consumers are comfortable with technology. They have high awareness levels of media devices although actual ownership values are lower. Despite the rise in smart speaker ownership—Amazon Alexa is the preferred brand—the majority of podcast consumers listen on their smartphones.
Podcast consumers listen to podcasts at home, playing it on the background while doing other tasks. Another telling behavior is the use of at least one social media account. There is a higher likelihood of subscribing to streaming services.
US podcast consumers averaged 6 podcasts a week in 2020, a 16.67% decrease from the previous year.
49% of US podcast consumers aged 12 – 34 listen to at least one podcast a month.
US podcast consumers spend an average of 6 hours, 39 minutes listening to podcasts weekly.
90% of US podcast consumers listen to podcasts at home, and 64% in a car.
94% of podcast consumers are active on at least one social media platform.
Podcast consumers are likely to subscribe to a streaming service such as Netflix or Amazon Prime.
43% of US podcast consumers listen to podcasts on Spotify.
Apple Podcast is the preferred podcast provider of 41% of adults in the US.
US podcast consumers have no preferences over podcast length.
65% of US podcast consumers prefer to use a smartphone or tablet to listen to a podcast.
36% of podcast consumers in the US listen to podcasts at work.
74% of US podcast consumers search the internet for podcasts to listen to while recommendations from social media posts and family or friends are 67% and 65% respectively.
28.9% of podcast consumers will give a new show 15 minutes to catch their attention.
Podcasts are judged more for its description rather than its title.
Reasons For Listening to Podcasts, 2019
Reasons For Listening to Podcasts, 2019
To learn new things: 74
To learn new things
%
Reasons For Listening to Podcasts, 2019
To be entertained: 71
To be entertained
%
Reasons For Listening to Podcasts, 2019
To stay up to date with latest topics: 60
To stay up to date with latest topics
%
Reasons For Listening to Podcasts, 2019
To relax: 51
To relax
%
Reasons For Listening to Podcasts, 2019
To feel inspired: 47
To feel inspired
%
Reasons For Listening to Podcasts, 2019
To escape: 37
To escape
%
Reasons For Listening to Podcasts, 2019
For companionship: 24
For companionship
%
Source: Edison Research 2019
Created by CompareCamp.com
Podcast Revenue Statistics
Podcasting is lucrative, attracting celebrities, sports heroes, and CEOs to the medium. Ad revenue is forecast to grow 28% from 2019's $515 million. Another positive that will work in the podcast industry's growth is the positive reactions of podcast consumers towards ads.
Over half of podcast consumers say they would consider buying a product or brand they heard advertised on a podcast.
The highest-earning podcast is "The Joe Rogan Experience" which earned an estimated $30 million in 2019.
Podcast ad revenue is increasing annually in the US—$659 million in projected 2020 revenue—an increase of 289.941% from 2016 to 2020.
By 2021, podcast ad revenue is expected to exceed $1 billion.
Ad slots can cost $10 – $50 with some charging premium fees for spots on podcasts with higher listener stats.
Close to 86% of podcast producers charge for ads with cost-per-1,000-impressions pricing.
54% of podcast consumers are inclined to consider the brands and products they hear about on podcasts.
Podcast consumers have positive attitudes towards ads with 53% claiming podcast ads they hear are engaging, and 68% saying they won't mind a few extra ads per show so their favorite podcasts can continue.
Host-read ads are the preferred ad type of 63.3% of podcast consumers.
Highest Earning Podcasters & Podcasts, 2019

1

Joe Rogan – The Joe Rogan Experience

$30 million

2

Karen Kilgariff and Georgia Hardstark – My Favorite Murder

$15 million

3

Dave Ramsey – The Dave Ramsey Show

$10 million

4

Dax Shepard – Armchair Expert

$9 million

5

Bill Simmons – The Bill Simmons Podcast

$7 million

Source: Forbes
Podcasting Trends
Podcast awareness will continue to grow with the podcast industry projected to generate $1 billion in ads by 2021. Edison Research places current podcast awareness rates of 75%, estimated at 155 million listeners for 2020.
Projections from Business Insider Intelligence are more conservative. Podcast consumers are expected to exceed 100 million in 2020 and reach 136 million by 2024 with an average YoY growth rate of 8% for the aforementioned period.
Source: Business Insider Intelligence
Podcasts will be as ubiquitous as blogs.
Blogs are common and essential for businesses large and small, more so for large corporations. Podcasting will go in the same direction with companies having internal and external podcasts targeted at specific audiences. Internal podcasts for employees can take the place of town-hall meetings, increase workforce engagements, or replace corporate communications. External podcasts are aimed at the consumer or user audience and feature company news, milestones, and other content aimed at engaging customers.
Established media names will create their own podcasting arms or acquire podcast shows and producers.
Spotify is betting on podcasts and has been snapping up podcast producers and content, four as of the last count, and the buying spree has been paying off with a 200% increase in monthly active users.
Spotify is not alone in the acquisition gameplan. Entercom, Apple Podcasts, Sony Music, and SiriusXM have dropped serious dollars on podcast producers to beef up their content library. Collaboration and developing shows that cover varied topics and genres open podcasting to new listeners and subscribers, or even cornering the market.
Top Podcasts of 2019

1

The Daily – The New York Times

2

This American Life – This American Life/Social

3

Stuff You Should Know – IHeartRadio

4

Up First – NPR

5

The Ben Shapiro Show – Daily Wire

6

The Ron Burgundy Show – IHeartRadio

7

TED Radio Hour – NPR

8

Pardon My Take – Barstool Sports

9

Fresh Air – NPR

10

Planet Monkey – NPR

Source: Buzzsprout
Podcast monetization opportunities will expand beyond ads.
Podcast hosts and producers make money from ads but as the competition among platforms and streaming services increases, opportunities for monetization may need to be creative to hook listeners and subscribers.
Subscriptions seem the most obvious but there are strategies to offer variety and options.
Paid-membership tiers using a membership platform like Patreon where patrons can be rewarded with exclusive podcast content, members-only AMAs, or podcast merchandise.
Offer premium versions of the available content. Premium could be ad-free episodes, video versions of the podcast, and additional content with show guests.
If you have a huge library of back catalog, you can offer your current episodes for free but older content is accessed with a subscription or a per download charge.
---
References:
Most used podcast providers in the U.S. 2019 | Statista

Podcast Discovery Stats in 2020 | How Listeners Discover New Shows

Chart: The Highest-Earning Podcasts | Statista

Chart: Is the Future of Podcasting in the Ad Business? | Statista

Podcast Ad Revenues Are Quickly Rising – eMarketer Trends, Forecasts &

How to Advertise on a Podcast [+Tips from a HubSpot Podcaster]

IAB FY 2018 Podcast Ad Revenue Study

The Podcast Industry Report from Business Insider Intelligence – Business

Spotify Podcast Listener Growth 200% Before Ringer Acquisition – Business

Podcast Statistics (2020) – Newest Available Data + Infographic