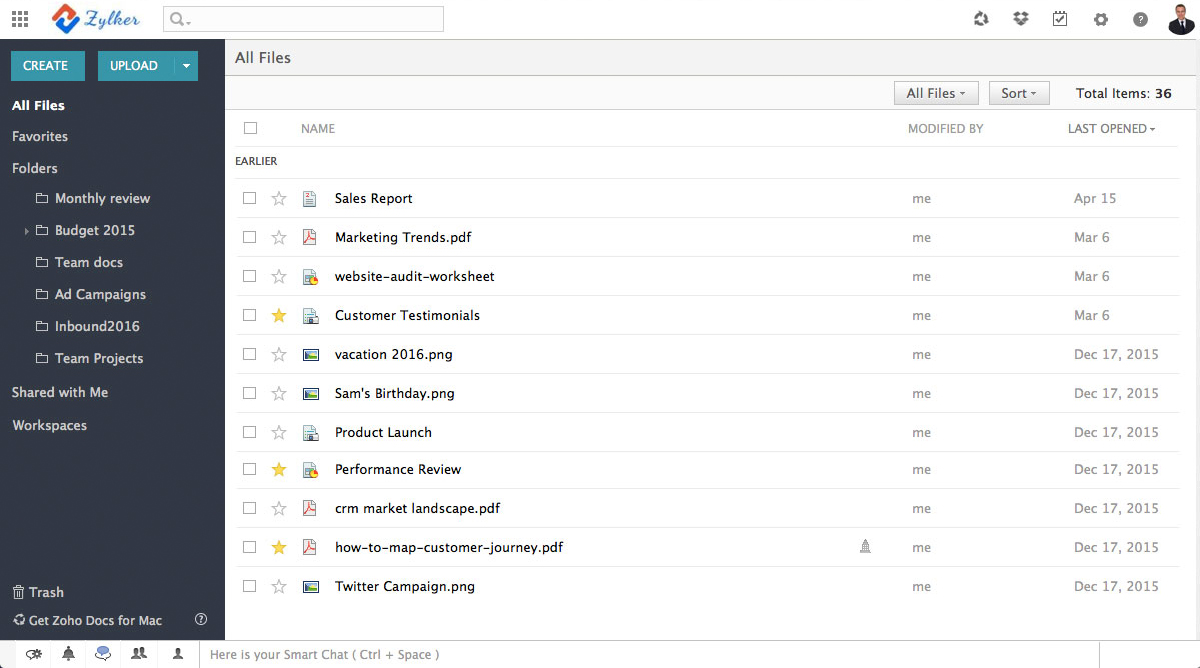 The main benefits of Zoho Workplace are, you can go paperless, be flexible with its mobile app and enjoy native Zoho integration. Here are the details:
Entire office on the cloud
Zoho Workplace allows businesses to go paperless as it lets users share files; communicate in real-time; create, store, and access documents; and build proposals and stunning proposals all in the cloud. Zoho Workplace provides all of that and more.
Work on the go with mobile apps
Team members can be productive wherever they may be, as Zoho Workplace has a lot of mobile apps that let them work on the go. These apps include Docs, Writer, Sheet, Zoho Mail, Inbox Insight, Zoho Mail Admin App, Showtime, Connect, Cliq, and Streams. Managers who handle remote teams will find all these apps very convenient.
Built-in Zoho tools
Zoho tools and apps easily work and integrate with one another, so there is no need to add any third party apps or integrations. Zoho Workplace has the right tool built into it for almost any job. Zoho Writer edits documents, Zoho Sheet edits spreadsheets, Zoho Sheet edits presentations. Zoho Docs stores and manages files, while Zoho Showtime has tools for audience engagement and presentation sharing. Zoho Mail has a modern business email. These and many more apps are available to users.
Free forever plan
One of the best things about Zoho Workplace is that a forever free version exists for companies that have small teams. Basic office functions are covered by this version, with the option to upgrade always available once businesses grow. Zoho's products are also ad-free, whether they are free or premium.
More improvements
Zoho takes customer feedback seriously. When users called for more Zoho Mail storage, they increased the 10GB of storage on the Standard plan to 30GB, and the 15GB of storage on the Pro plan to 100GB. Improvements to the Zoho Mail infrastructure are always being conducted to make it reliable, faster, and more secure. Inboxes are kept clean by new spam algorithms, and support teams have been strengthened to reduce response times and handle increased support traffic.