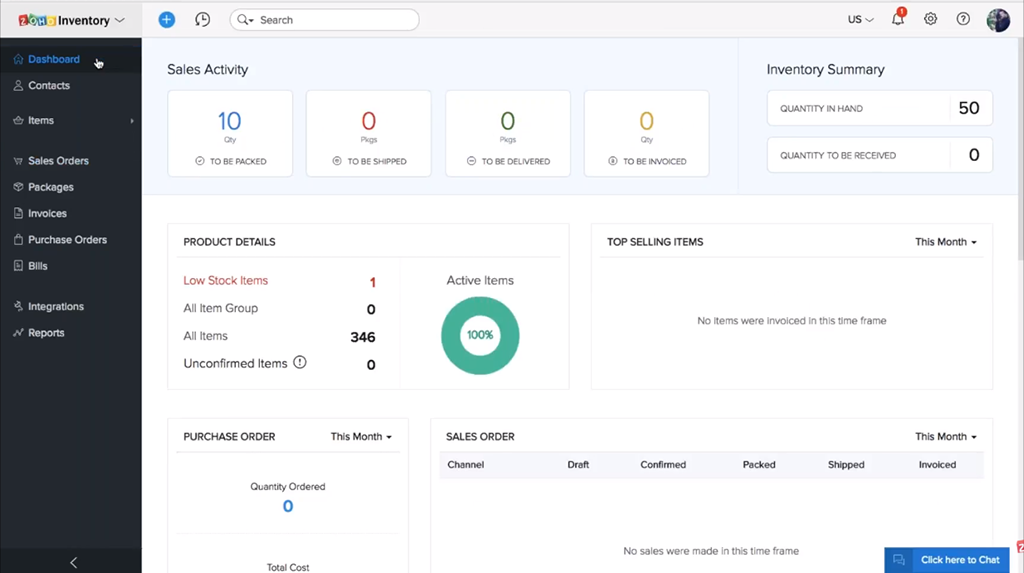 Zoho Inventory is a robust inventory management solution that offers an end-to-end solution for your stock, order and inventory management needs. Here are its main benefits:
Drive more sales
Zoho Inventory reviews indicate you can expand your business by selling your merchandise on Amazon, Shopify, Etsy, and eBay. It lets you keep track, manage and fulfill orders in these marketplaces by integrating with your online store easily while eliminating manual, repetitive tasks. Automating tasks also frees up your time to focus on more crucial processes to increase your revenue.
You can learn more about Zoho Inventory pricing here.
Optimize management solutions
Expedite your order processing by centralizing your order management. The software enables you to manage sales and purchase orders, create packages and send delivery updates from a single platform. In addition to inventory control and management, it also helps you maintain stock levels and manage inter-warehouse transfers. Tracking is streamlined with the tool's serial number and batch tracking feature.
Extend the tool's functionality
Zoho Inventory reviews share how the tool extends its capabilities by integrating with third-party systems. It has multiple shipping integrations to provide fast and efficient delivery service to your customers. Accounting and CRM integrations also sync your contacts and order data automatically to optimize financial data management with ease.
For more information about the software check out this Zoho Inventory review.