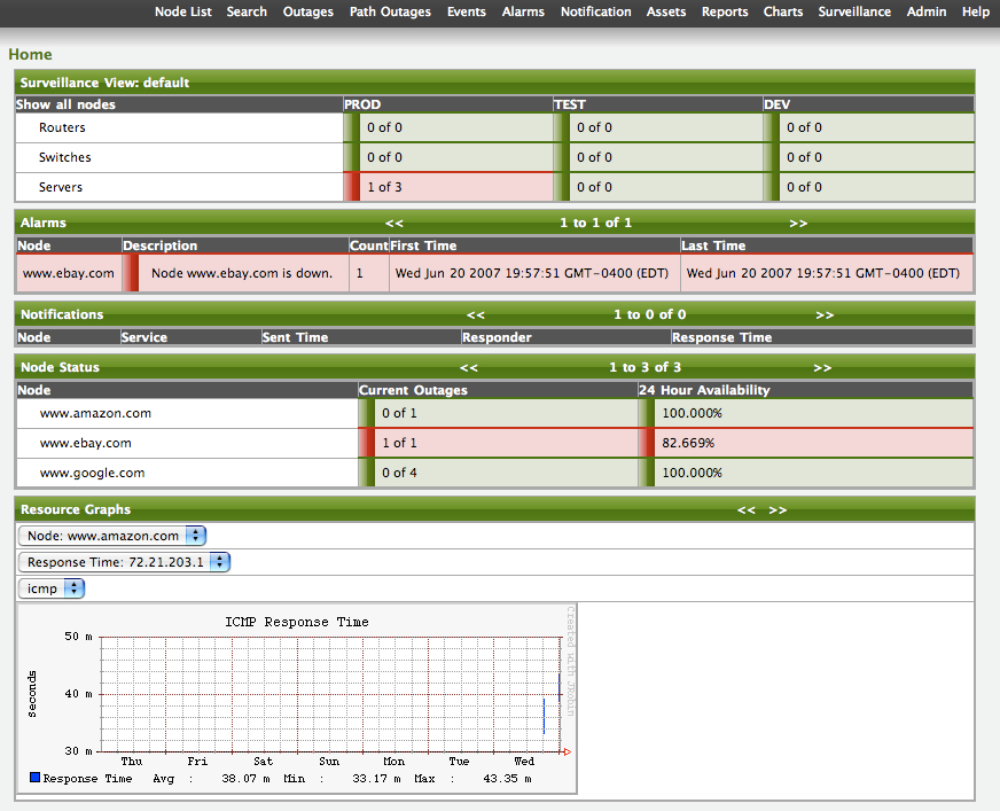 The main benefits of OpenNMS are its service monitors, its event-driven architecture, and its dashboard components.
Service monitors make up the OpenNMS framework and these come up with and collect monitoring information and data. With it, OpenNMS helps users monitor application and service availability, as well as identify latency issues that affect application and service performance.
An application's availability status can be tracked by these service monitors. They measure service response time and can also be used for interface and node outage detection. An example of this would be an online store providing a service dependent on database and web servers. OpenNMS users can configure an HTTP service monitor and then apply it to each web server so their response time and availability can be checked. Database status can be checked and tested with an SQL service monitor applied to each database server as well.
Whenever a network issue or outage happens, engineers, network operators, and service administrators are immediately notified, thanks to OpenNMS's event-driven architecture. Once a service monitor assigned to an application or service detects an outage or issue, OpenNMS creates an event and sends a notification or alarm built on that event.
OpenNMS's critical service feature makes monitoring an IP network's services simpler. This feature delivers events and generates alarms for critical services when that service is down. OpenNMS uses Internet Control Message Protocol as its default critical service.
This feature is important as it saves the time and resources of the user. When specific IP interface's critical service is down, the system does not generate an alarm or event for the IP interface's other services, but only says that there is an IP interface that is down. When multiple IP interfaces' critical services are down, the event that the platform sends says that the node is down, so users can assume that the IP interfaces' other services are also unreachable.
OpenNMS can also identify critical paths, which map out the connections of a network component that will be brought down during an outage. Identifying a critical path prevents a user from being drowned in notifications and alarms for all the components brought down by an outage. Users only get notifications and alarms for a network topology's critical components, which results in network issue monitoring that is streamlined.
Monitoring results can be organized in one place, which is OpenNMS' flexible dashboard. Monitoring results can be aggregated and its information filtered with the dashboard's Surveillance View component, which will display this in a matrix. With it, categories can be defined so node and service outages can be classified. Notifications and alarms associated with monitored nodes can also be viewed from the dashboard, as well as the accompanying severity levels. These notifications and alarms can also be acknowledged by engineers, servers administrators, and network operators from the dashboard, so it is clear which individuals are accountable when it comes to network issue resolution.