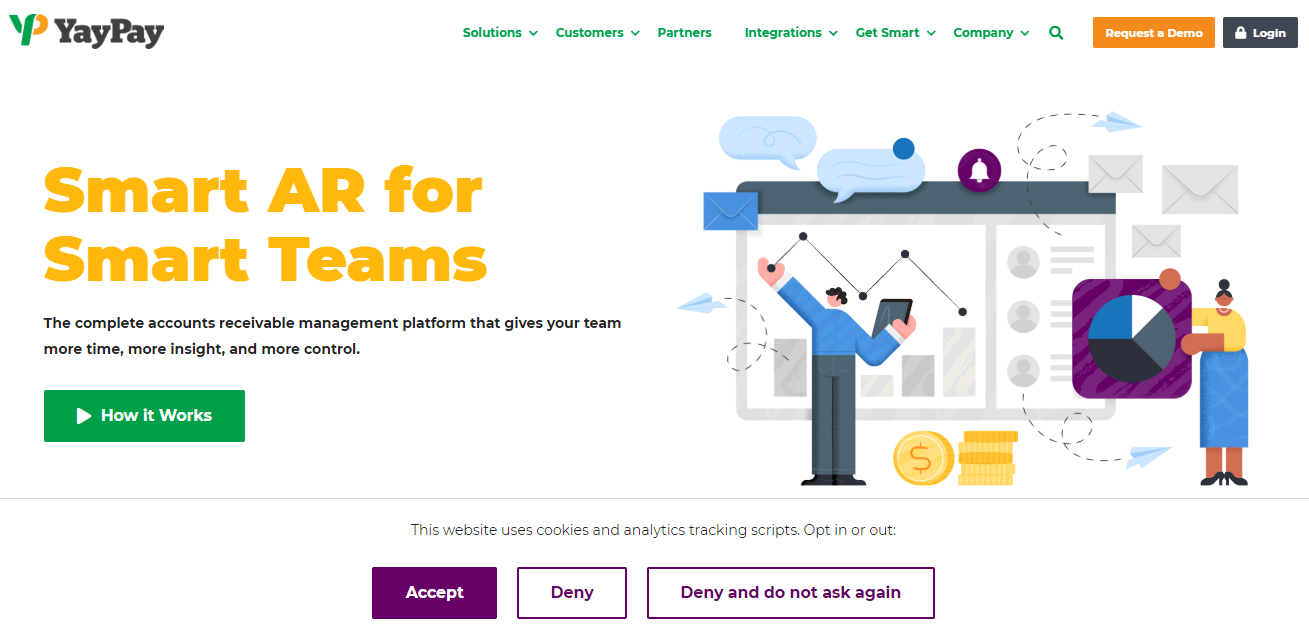 The main benefits of YayPay are its strategic reporting, predictive algorithms, maximized customer data, click-to-pay system, and streamlined communications.
Strategic Reporting
The YayPay interface is optimized to provide simple graphs, charts, and reports of your work for your reference. The AR dashboard, in particular, automatically adjusts to the data you put in and changes its analytics accordingly. It can give you an overview of your past transactions, present activities, and any predictions that can be derived out of the information you upload.
Predictive Algorithms
YayPay is an accounts receivable software that combines its smart reports and its predictive algorithms to provide insight into how your consumers may start behaving in the future, particularly when it comes to fees and payments. This allows you and your team to preemptively identify these issues and plan for the future.
Maximizing Customer Data
This software processes all the customer data you share with it—regardless of whether it is from your ERP, CRM, or any other sources—and updates it in real-time. This is an advantage for your business because your team spends less time monitoring and updating the software, freeing up time to focus on more meaningful activities.
Click-to-Pay
YayPay offers a secure payment portal for your customers, so anything they need to do to pay their invoices is just a few clicks away. This means enhanced flexibility and convenience for your customers and reduced DSO for you.
Streamlined Communication
Invoicing, reminders for payments, and internal escalations are all automated in the YayPay system. This improved system of communication means that your team is more efficient—and your customers are more satisfied.