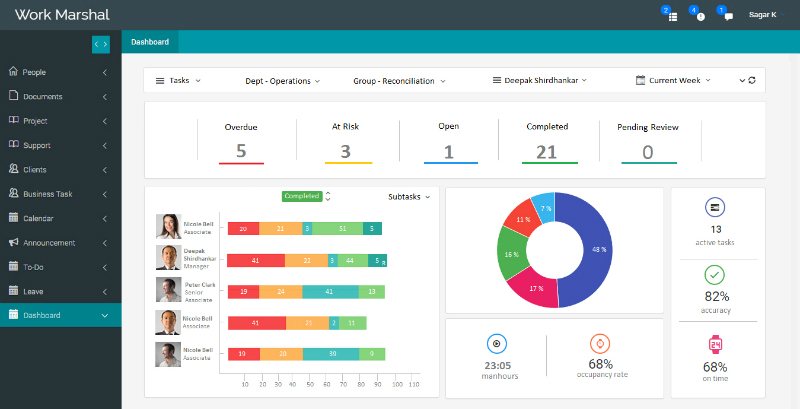 The main benefits of WorkMarshal are its comprehensive features, ease of use, simple and complex reports. Here are more details:
Manage Your Tasks Smartly
WorkMarshal empowers you to break all your business activities and processes into smaller tasks and subtasks. You can set ETA and ensure someone is responsible for each task. Complete action on each subtask by using tools such as textbox, attachment, tickbox etc. Use the dedicated dashboard to stay on top of all your tasks.
Manage Your Projects Effortlessly
You can plan your projects, delegate resources correctly, track process, and manage budgets to ensure successful project completion on schedule. Use notifications and chat to communicate with all stakeholders anytime. Data visualization and real-time data, graphs, and charts provide you insights on key project info. Break project tasks into smaller tasks to track progress easily. Maintain strong audit trails and utilize the budget tracking tool to keep your project budget under control.
Use Tickets for Client Service
Handle all customer issues by utilizing the shared inbox for effortless collaboration. Serve your clients by creating service groups and delegating roles. Clients can get their issues resolved by emailing a ticket to your service group email id. Enable your agents to collaborate efficiently to resolve tickets and use the client ratings tool to gauge client satisfaction. You can also monitor the time taken to resolve each ticket.
Assign To-do's
Assign to-do's to your team members which is more efficient than sending them an email. Track to-do progress by getting automatic notifications. Send timely reminders to team members on their tasks. Assign due dates to to-do's to facilitate effective management. Utilize the Quick Chat tool for seamless collaboration.
Generate Insightful Reports
WorkMarshal reviews reveal that reports are a major highlight of this software. You can easily and quickly generate simple as well as complex reports. Plus, you can import real-time data into your mailbox. Reports can be scheduled for any time of the day. Finally, you can request and obtain customized reports on key metrics.