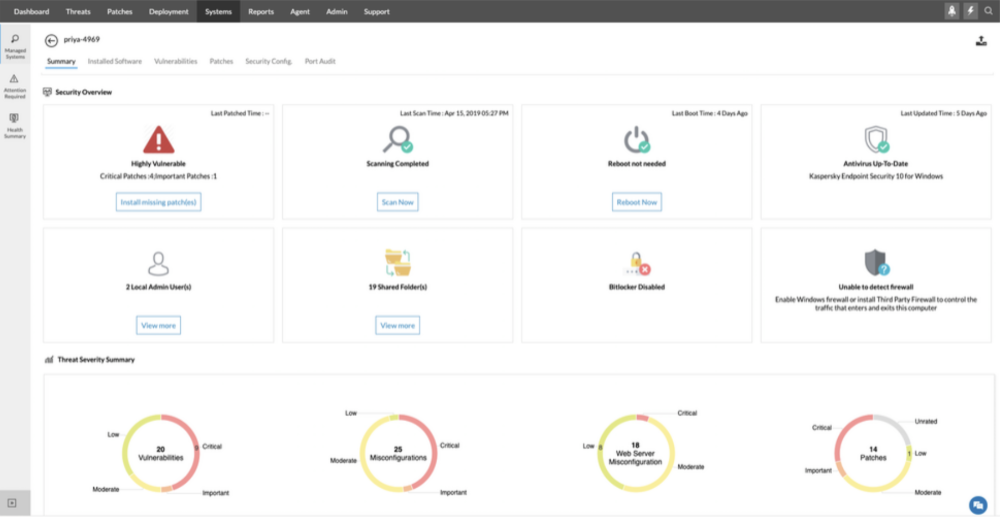 The main benefits of Vulnerability Manager Plus are vulnerability assessment, patch management, and zero-day vulnerability mitigation. Here are more details on the benefits of Vulnerability Manager Plus:
Vulnerability Assessment
Vulnerability Manager Plus scans for possible threats and exposures to your network, assesses their threat level, and categorizes them based on the risk they pose to your business. This helps you find out the riskiest threats and prioritize their removal. The software also gives you insights on areas of your network that are likely to be exploited so that you can quickly fix any loopholes and avoid future breaches.
Patch Management
After the software discovers the vulnerabilities in your network and assesses their threat levels, the subsequent action would be to patch up the security holes. Vulnerability Manager Plus has a built-in patch management module that automates the process for you. The module can manage patches for Mac, Windows, and Linux across desktops, laptops, servers, virtual machines, and remote devices. It can also patch more than 250 third-party applications such as Mozilla Firefox and Adobe. You are also able to customize every detail of the module and allow it to automate the process so that you can use your time to deal with other business activities.
Zero-day Day Vulnerability Mitigation
Vulnerability Manager Plus helps you find security flaws in any operating software or applications that are not identified by the vendors responsible for mitigating the flaws. This paves the way for attackers who want to exploit any loopholes and enter your systems. The benefits of having zero-day vulnerability mitigation are that you can see all the flaws in one place, get notified when zero-day vulnerability patches become available, deploy pre-built mitigation scripts to harden your systems, audit antivirus solutions, and manage security configuration.