Technology is an unstoppable force taking the world through a rapid pace of advancement that seemed impossible and even unthinkable decades ago. New trends pop up every year, or several times a year, each one promising to be better than the last—all of them promising to revolutionize user experience and improve the user's quality of life.
However, these trends are not developed overnight. Some of them take years to achieve their potential and more years for the world to recognize their importance. The latter plays a key role in a trend's life cycle; after all, a trend can only last as long as there are consumers after it, and consumers can remain loyal as long as their needs are met.
In this article, we take a look at the latest UX trends and ideas that are keeping developers and designers busy to meet the constantly changing taste of consumers.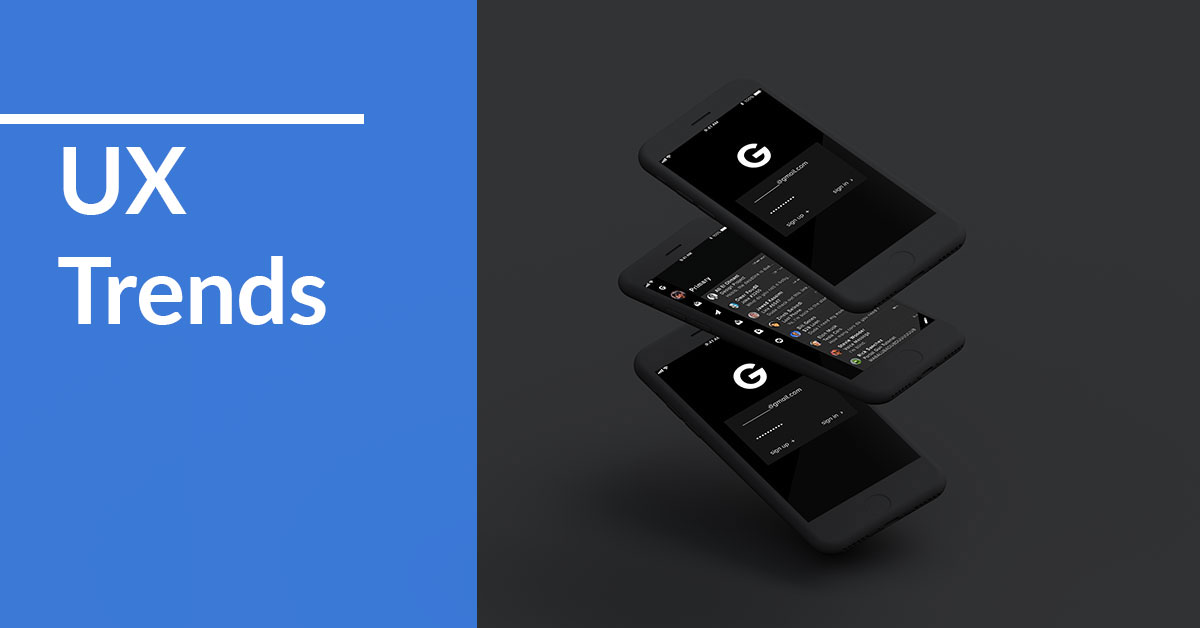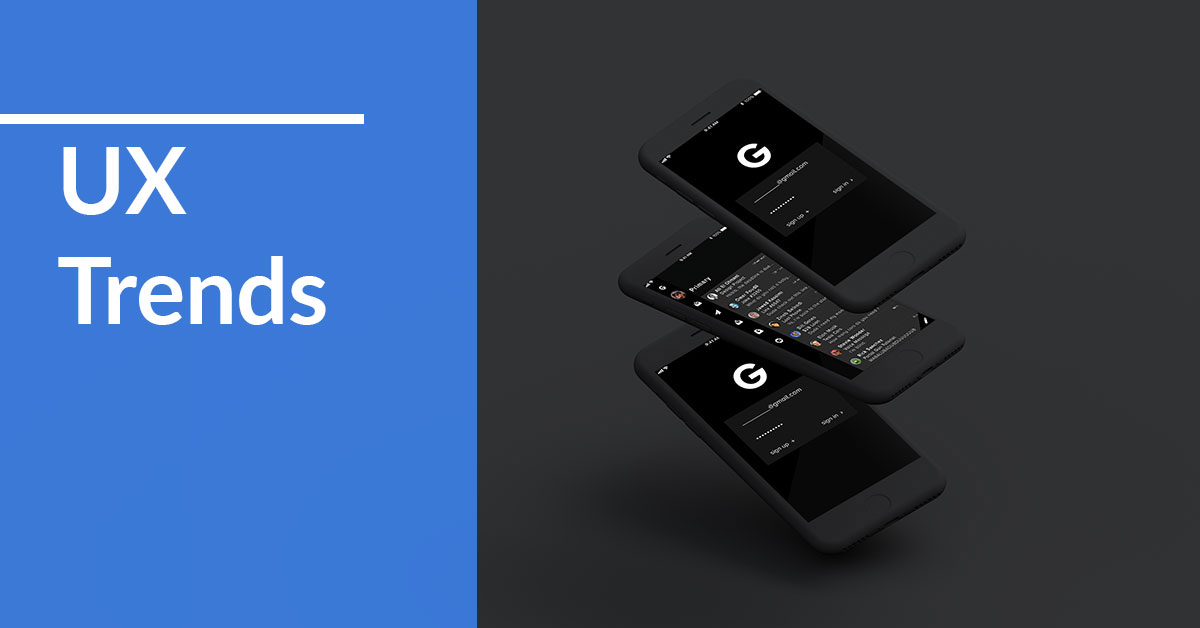 Latest UX Trends Table of Contents
Businesses take the role of their customers seriously. The trend is no longer just about which one has the latest and most sophisticated technology, but also which of them has a technology that can deliver the best experience users are after. In the US, B2B websites offer different user experience (UX) key functionalities.
B2B eCommerce Websites in the US Offering Key UX Functionalities
B2B eCommerce Websites in the US Offering Key UX Functionalities
Cross-sells/up-sells: 60.3
Cross-sells/up-sells
%
B2B eCommerce Websites in the US Offering Key UX Functionalities
Newsletter sign-up promotion: 51.3
Newsletter sign-up promotion
%
B2B eCommerce Websites in the US Offering Key UX Functionalities
Product ratings and reviews: 39.7
Product ratings and reviews
%
B2B eCommerce Websites in the US Offering Key UX Functionalities
Quick order/reorder functionality: 30.8
Quick order/reorder functionality
%
Source: Annual B2B Benchmarking Report
Created by CompareCamp.com
UX encompasses all aspects of a user's interaction with a product or a service. For businesses (B2B, B2C, etc.), user experience is now a significant part of business strategy instead of being just a unique selling point.
Despite this, however, only 50% of businesses are currently conducting testing. But all hope is not lost as a report on the state of UX in enterprise claims that more CEOs see user experience as a competitive differentiator along with customer service.
Source: State of UX in the Enterprise 2019
The ability to deliver seamless user experience is an intricate process and faced with various challenges. For UX designers, there is no room for personal preferences, only a profound understanding of the end-user experience and the never-ending quest to keep up with technological developments and the user's growing needs. In the following sections, we will share with you some of the UX trends shaping today's user experience landscape.
1. Using Illustrations
Illustrated graphics are not a new trend in UX design, but they have recently started becoming the more preferred visual elements in websites, applications, advertisements, etc. Customized illustrations lay down the foundation of originality, which is not really achieved when you are using stock photos pieced together.
Illustrated graphics, when done right, transfers the message faster, especially when used in storytelling. Using illustrations also allows you to set specific emotional appeal, not to mention maintaining theme consistency, which helps in making your brand more memorable to your consumers.
2. AR Implementation
Users jump on board with augmented reality, and this has been proven by Pokemon Go, the most popular AR game to date, with more than 1 billion downloads. AR, however, is more than its entertainment value.
Businesses are recognizing the benefits of using AR solutions in enhancing their customers' experience. AR technology helps users achieve their goals without too much physical and mental strain and help them make better purchase decisions faster. A good example of this is IKEA's AR app, which allows users to digitally place IKEA furniture inside their homes to provide realistic visualization of how the actual product would affect their home's interior design.
3. VR Adoption
Like AR, virtual reality is another game-changer in revolutionizing the user experience. Unlike AR, VR fully immerses its users in a three-dimensional environment instead of just interacting with the digital elements via a screen. Originally used for entertainment and gaming, VR is now also used for fitness training and elearning. Medical establishments are even looking at VR technology for physical therapy purposes.
When it comes to the number of users, VR users are far less than AR users, which can be attributed to the expensive hardware that comes with the VR set.
4. Voice User Interface (VUI)
AI-powered virtual voice assistants like Alexa, Siri, and Google Assistant provide users with a different level of convenience. Hands-free interaction with smart devices also boosts productivity as users spend less time looking and tap at display screens to trigger the response they are after.
The digital voice assistant is turning into a standard feature of intelligent devices, especially those that we use daily, and this is due to its growing number of users. In the United States alone, users of digital voice assistants have steadily grown since 2017, and the number is expected to reach 122.7 million by 2021.
Number of Voice Assistant Users in the United States
(in millions)
Number of Voice Assistant Users in the United States
2021: 122.7
2021
Number of Voice Assistant Users in the United States
2020: 117.7
2020
Number of Voice Assistant Users in the United States
2019: 111.8
2019
Number of Voice Assistant Users in the United States
2018: 102
2018
Number of Voice Assistant Users in the United States
2017: 79.9
2017
Source: eMarketer 2019
Created by CompareCamp.com
5. Advanced Personalization
Not to be confused with customization, which refers to users being able to tailor settings, features, tools, etc. Personalization happens at the back end and tailors the user's real-time experience according to the data collected from users and their online behaviors. Artificial technology in the form of bots and machine learning tools helps make this happen, but this will only be effective if the businesses understand their users' needs and goals.
Businesses can apply personalization using different channels and not just on their website. The website is only the second channel that gets the advanced personalization treatment, next only to emails according to a survey with 300 respondents. But when asked if they believe prospects and customers expect a personalized experience, the answer is an overwhelming yes.
6. More Mobile Gestures
Mobile devices continue to aim for the all-screen display and buttonless hardware. These design changes also pave the way for a variety of new gestures to emerge for the user to trigger the right functions on their smart devices. The standard tapping, scrolling, and pinch-to-zoom gestures are now joined by swipe, flick, etc., for the users to interact with their device.
The new generation of mobile devices is now also equipped with more powerful sensors to achieve seamless execution of air swipe gestures. The usability of this touchless technology, however, still remains to be adopted by the majority of users who currently prefer touch-based and voice-assisted interactions with their devices.
7. Mobile-First Design
Websites and applications are now being designed with device agnosticism in mind. It is no longer enough for a website or application to only seamlessly function on the computer; they also have to be responsive, feature-rich, and functional on mobile devices.
With more individuals using their mobile phone as their main device, the design concept of applications and even websites are created based on mobile device interface, functionalities, and limitations first. Previously, websites and applications were designed around a desktop computer's functionalities.
Source: Digital Market Outlook 2019
8. Video Content
Video is another effective way to deliver your message, but presenting it also comes with strategies to engage your audience. Video content will be more appreciated if the user can control it—whether to play it or not and when to watch it. Videos on autoplay can be considered more of a nuisance despite the quality of its content.
As one of the most consumed forms of media, the video becomes a powerful marketing medium, and businesses are taking advantage of it. Although producing video content requires more time and budget compared to other content formats, it is also perceived to have the highest ROI, according to marketers.
Perception of Marketers Worldwide on the ROI on Streaming Video Campaigns
Created by CompareCamp.com
9. Biometric Authentication
Also known as passwordless login, biometric authentication addresses the issues of having to remember complicated passwords and unauthorized logins. This UX trend comes with fingerprint and face recognition technologies being adopted by the new generation of mobile and computing devices.
The market for biometric authentication has grown rapidly in recent years due to the growing number of businesses and government agencies, incorporating it into their systems to enhance security. In the US alone, the technology has reached a market size worth $6 billion in 2019 and is forecast to reach $14.7 billion by 2024:
Source: Global Market Insights; Statista estimates
10. Inclusivity and Accessibility
According to a report by Pew Research Center, more than 56 million Americans live with a disability. Although technology has made it possible for PWDs to have access to web-based platforms and services, one in four adults has access to the Internet. This digital divide is gradually being conquered.
The World Wide Web, applications, etc., are still far from being usable for everyone, and it is one of UX design's goals to make different platforms more inclusive. UX designers are gearing toward inclusivity by integrating usability with accessibility to reduce the barriers that keep PWDs from utilizing technology. Inclusive UX design does not only accommodate the needs of all users, including persons with disabilities, it also aims to provide them with the same level of experience as the users who have no limitations.
11. Incorporating Compelling Storylines
Storytelling is not a new concept in the business industry, but it is a rising, albeit challenging UX trend among UX designers. Storytelling is an effective approach to leave an impact on end-users. According to psychological studies, our brain processes information better when delivered in story form rather than when details are presented in straightforward statistics, bullet lists, etc.
When it comes to applying this approach to UX design, storytelling can be a combination of the different elements above, carefully crafted together to deliver a compelling message to your audience. We commonly see this in advertisements, but some websites use storytelling to make the user experience more memorable.
12. UX for Wearables
We no longer just surround ourselves with smart devices; we wear them too. UX design in wearable technology combines durability, simplicity, seamless connectivity, and functionalities that can adapt to the needs of the users.
Currently, the popular wearables on the market include smartwatches, smart eyeglasses, and wireless earphones or headsets. Some of these wearables cater more to the tech-savvy niche, which is more particular with how these devices work and how they should work for them. Wearables are now also being adopted by various industries, particularly in healthcare. In general, users of wearables, especially smartwatches, expect them to be smartphone extensions.
Number of Connected Wearable Devices Worldwide from 2019 to 2022
(in millions)
Number of Connected Wearable Devices Worldwide from 2019 to 2022
2022: 1105
2022
Number of Connected Wearable Devices Worldwide from 2019 to 2022
2021: 929
2021
Number of Connected Wearable Devices Worldwide from 2019 to 2022
2020: 835
2020
Number of Connected Wearable Devices Worldwide from 2019 to 2022
2019: 722
2019
Source: Cisco Systems
Created by CompareCamp.com
13. Rise of the Dark Mode
The dark theme option would seem more like a hype spreading across social media platforms and other websites and applications. Dark themes, however, are more than just aesthetics and having a dramatic UI design. According to Microsoft, a dark interface is less straining to the eyes. Google also claims that dark themes help save battery life, especially on devices with OLED displays. But when it comes to users, dark mode is more of a preference than these, and it is always great to have this option.
UX as Part of the Daily Experience
Our interactions with smartphones, computers, and other intelligent devices happen daily. They have become part of our routine to the point where we never really pay attention to it unless there are issues or major updates that affect our experience when using them. A good UX design for our everyday devices is defined by its simplicity, effectiveness, and adaptability. They easily fit into our daily lives and become an extension of ourselves. For businesses, providing a great user experience builds strong relationships with their users and fosters loyalty. This is the key not only to making good brands last but also making them grow.
---
References:
Virtual Reality in Physical Therapy Clinics Going into 2020

US Virtual and Augmented Reality Users 2020

Podcast: US Voice Assistants Turn Up the Volume

2018 Trends in Personalization

Number of Smartphone Users in the United States from 2018 to 2024 (in millions)

The Future of Advertising

Size of the Biometrics Market in the United States from 2013 to 2024

Disabled Americans Are Less Likely to Use Technology

Cisco Annual Internet Report (2018–2023) White Paper