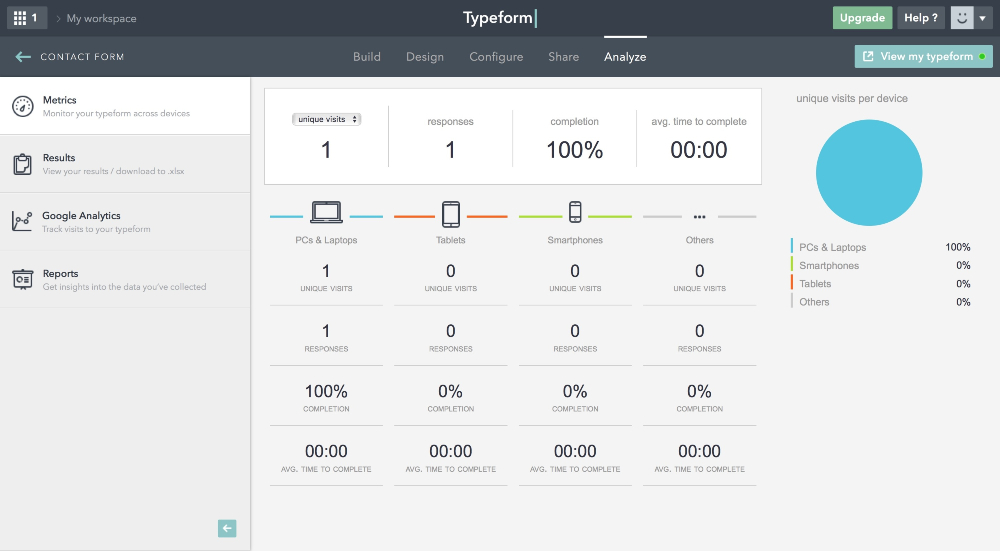 The main benefits of TypeForm are its flexibility, its free API, and its Logic Jumps.
TypeForm users get a lot of flexibility when they create their forms, thanks to the availability of a number of items as well as Typeform's drag and drop feature. Just some of the question types available to Typeform users are opinion scales, multiple choice questions, rating scales, and pictures to choose from. The solution's user-friendly and interactive interface is also a great help when coming up with surveys and forms that are meaningful and exciting.
Practical application and deployment are easy thanks to TypeForm's free API. Integration with other applications is facilitated by the API. The user's job is also made easy by the data export options which also come with Typeform.
The user's own survey logic can be integrated with the tools of TypeForm through the "Logic Jumps" tool.
Users don't need to worry if they are only using a free account as TypeForm allows for unlimited surveys and forms even with a free account. More dependable and credible data is also made possible with the higher return rates of forms and surveys that come with using TypeForm, leading to more accurate results.