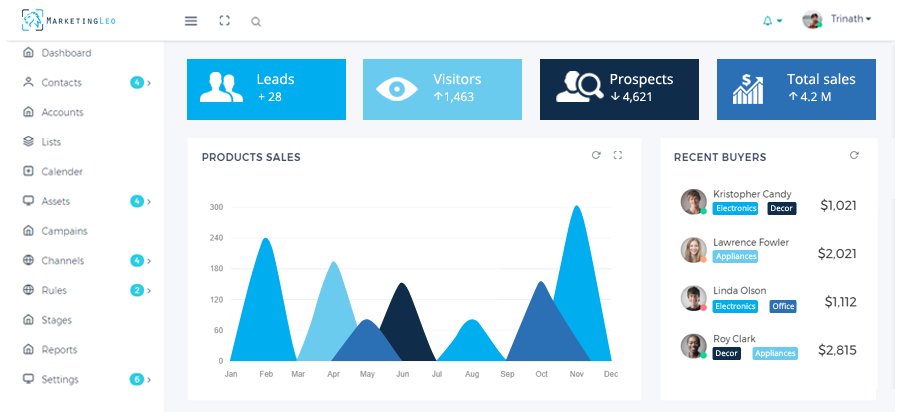 The platform offers an intuitive customizable dashboard for analytics and reporting that business owners and marketers can utilize to track campaigns and essential marketing metrics, and get an all-round view of their marketing campaigns. The dashboard provides a snapshot of all your marketing efforts. Plus, you get customizable reports for all needs. Enhance your analytics quality by integrating the app with Google Analytics.
Track and communicate with customers and prospects on different marketing channels in real time. Import HTML email templates or utilize the built-in email builder tool to create responsive emails. Send newsletters, automatic or manual emails, and run drip campaigns.
Create dynamic pop-ups to offer personalized content to website visitors. This helps to generate leads, improve engagement, and get sign-ups.
Use push notifications on the web browser to communicate with your leads even when they are away from your website. Utilize the social monitoring tools to track brand mentions and schedule and publish posts on LinkedIn, Facebook, Twitter, Instagram, and G+.
The strong lead management module assists you to dynamically segment and manage leads. Manage subscribers to your newsletters and blog and send them personalized content based on their interests.
Identify promising prospects from leads based on parameters such as online behavior, lead scores, and more. Deliver relevant content to these promising leads to close deals faster.
Create automation rules based on factors such as lead scores, conditions, actions, and triggers to ensure your customers and leads get relevant info at appropriate times. Trigger automatic marketing campaigns on multiple channels based on conditions, actions, events, and more.
Use the dynamic lead scoring module to prioritize promising leads in real-time. Utilize the intuitive drag-and-drop editor to create and manage your various marketing assets.
You don't need to invest in expensive landing page builder tools as you can make use of the mobile responsive tool offered by MarketingLeo. Display relevant content to your visitors based on their past interactions, lead stage, and more.
Use the content repository to store all marketing collaterals, share them with your prospects and customers, and monitor the open/click/download metrics. Finally, utilize the easy-to-create form builder for your mobile app or website.