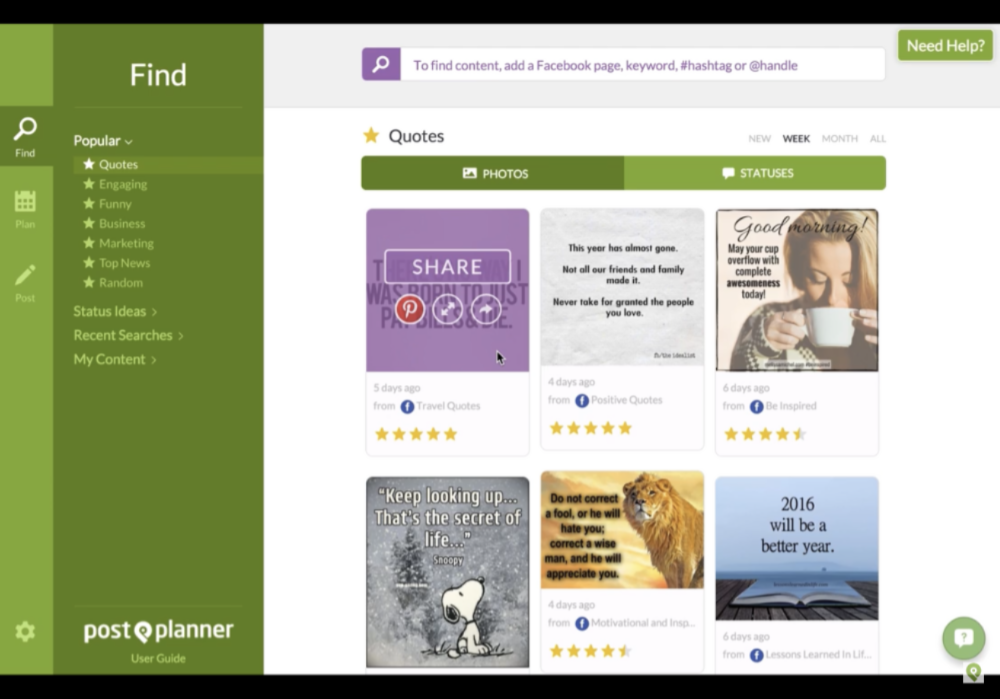 The main benefits of Post Planner are scheduled posts, content search engine and library, and social analytics. Here are more details on the benefits that Post Planner offers:
Scheduled Posts
Post Planner has a tool that you can use to schedule your posts. You can customize the posting times to daily, weekly, or even monthly. You can also post more than once a day. For example, you can post a quote in the morning to inspire your followers who are just starting their day, post a funny meme during lunch, an article by late afternoon, and a photo in the evening for a total of 4 posts a day.
Content Search Engine and Library
You can find content easily with Post Planner's content search engine. You can browse for quotes, photos, articles, or memes in the content search engine so that you never run out of status ideas. You can post a status immediately with just a few clicks. You can also save content for later so that you can build a custom library of content that is relevant for your specific pages. These features help you post more consistently and grow your social media following.
Social Analytics
Social analytics enables you to discover which content resonates with your audience. It also lets you identify the top-performing content on your sites. This helps you choose which posts to recycle or repost on other accounts using Post Planner's Recycle tool so that you can improve your social engagement. Integrating or utilizing a top reputation management software can also leverage your social media monitoring management strategies.