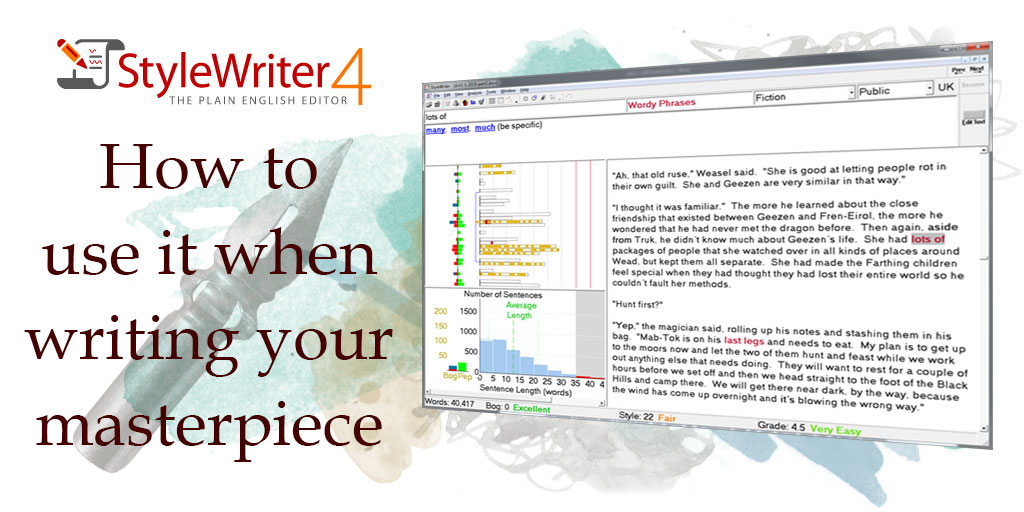 The main benefits of StyleWriter are its human-like editor, style issue, clarity, and readability analyzer, and a unique jargon buster. Here are the specifics:
Professional Human-Like Editor
StyleWriter functions like a professional human editor. It checks writing mistakes and offers advice, depending on your writing tasks, type of reader, and type of audience you're writing for, which you can freely select on the software. The software will automatically adjust its clarity, readability, style metrics, ratings, and writing instructions on your chosen task, audience, and reader.
Style Issue, Clarity, and Readability Analyzer
As a human-like editor, StyleWriter will check errors and style mistakes such as long, wordy sentences, complex words, and passive verbs on your documents. It even analyzes and highlights sentence varieties. Upon capturing and highlighting your writing errors, you can immediately correct and make your document concise, clear, and readable for your audience.
Unique Jargon Eliminator
StyleWriter detects jargon acronyms, phrases, abbreviations, and unusual words in your documents. You will receive suggestions for alternatives to make your documents compelling to your readers.
Spelling Checker
StyleWriter can capture words that are incorrectly spelled in your documents. It does this by highlighting the spelling mistakes that are possibly missed by other spelling checker programs in your system. Remember, some spelling checkers accept some misspelled words but StyleWriter ensures that these words won't be left undetected.
Innovative Graphic Representations and Writing Statistics
Below the text screen, you can see ratings and stats that relate to your document's readability, clarity, and style via graphs represented by the software.  Its graphs showcase readability and style of your sentences, readability of the entire document, and the variety of sentence lengths in your documents.