Awesome business plan plus slick pitch plus capital funding multiplied by gumption equals startup success story. Doable? Yes, but not all the time. In reality, taking an idea and turning it into a billion-dollar business is complex and involves long work hours, rejection, and less of the glamorized startup origin story.
Sure, the US is home to over 48,000 startups and is ranked as the most startup-friendly country in the world, but getting funding for a business and earning unicorn status isn't clear cut when 90% of startups fail.
In this article, we have collated and put together the latest and most relevant startup statistics that you can leverage to help your startup grow.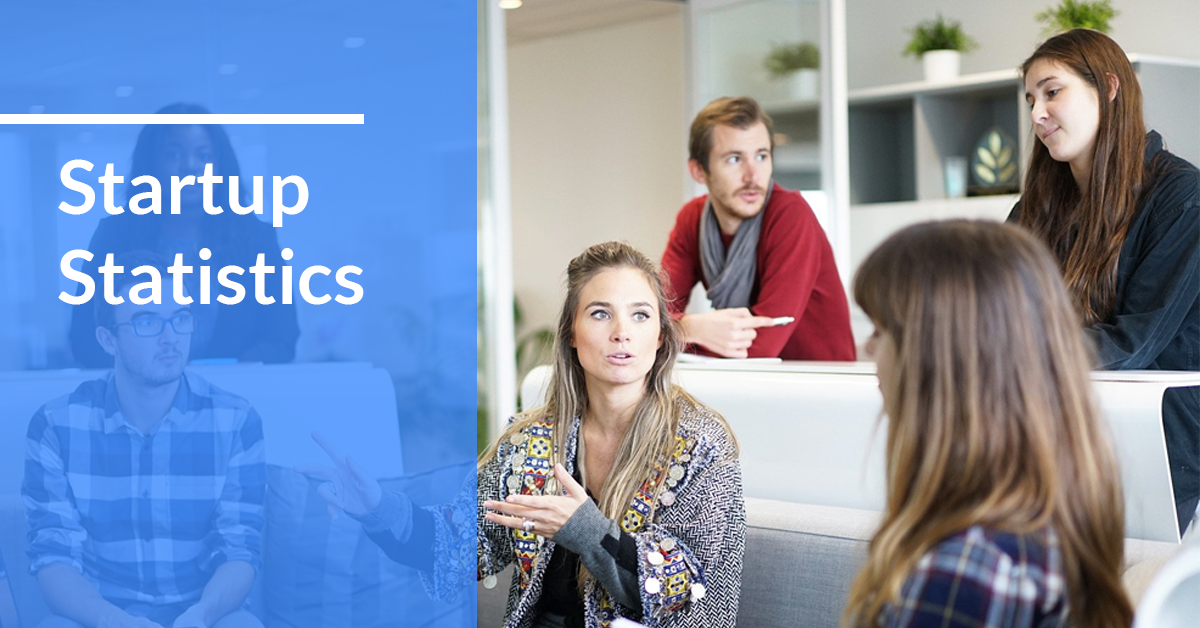 Startup Statistics Table of Contents
General startup statistics
A can-do attitude and an entrepreneurial bent are hallmarks of a business owner. These factors drive entrepreneurs to start their own small businesses; often from home, taking on a new mortgage to fund their startups.
Unicorns and startups are not mutually exclusive, the number of startup unicorns has increased in the last five years; up from 82 in 2015 to 390+ in 2019. But the odds of a startup achieving $1 billion valuations are less than 1%.
The number of unicorns (a company valued at $1 billion or more) worldwide has grown to 393 in 2019
The rate of companies reaching unicorn status grew 353.1% from 2013 to 2018
Homeowners are 10% more inclined to start a business by investing home equity as collateral
A readiness to be their own boss is cited by 53% of entrepreneurs as the motivation for starting their own business
Small business owners and solopreneurs spend over 40% of their day engaged in administrative, non-revenue generating tasks
Subscription box businesses grow revenue 5x faster compared to other businesses with food, health and beauty, and apparel subscription services are the most popular
An online poll asked for the best way to learn about entrepreneurship and 51% responded with "start a company."
An Economic report from the NSBA found 35% of businesses in the US in 2017 were LLCs
Motivations For Opening a Business, 2019
Motivations For Opening a Business, 2019
Ready to be your own boss: 53
Ready to be your own boss
%
Motivations For Opening a Business, 2019
Wanted to pursue your passions: 39
Wanted to pursue your passions
%
Motivations For Opening a Business, 2019
Dissatisfied with corporate USA: 25
Dissatisfied with corporate USA
%
Motivations For Opening a Business, 2019
Opportunity presented itself: 25
Opportunity presented itself
%
Motivations For Opening a Business, 2019
Laid off/Job outsourced: 11
Laid off/Job outsourced
%
Motivations For Opening a Business, 2019
Not ready to retire: 10
Not ready to retire
%
Motivations For Opening a Business, 2019
Life event: 4
Life event
%
Source: Guidant Financial
Created by CompareCamp.com
Startup success and failure rates
The US Labor Bureau found failure rates increased the longer a business has been in operation. Failure is statistically more common during the first two to five years of a startup's existence.
Although the figure presented for VC-funded startups that fail is huge, there is a bit of good news in there. The cliche "too big to fail" comes to mind as startups with larger investor numbers tend to be acquired rather than shut down.
With the current global pandemic and no immediate cure in sight, business confidence has slipped. Scaling a business will be a challenge—starting a new one, even more so.
Conventional startup wisdom says 9 out of 10 startups fail
There is an average 21% decrease in a business's success rate in its second year with each year after seeing increased failure rates
Businesses with an employee count between 11 – 50 are more apt to fail compared to other company sizes
64% of failed startups end up shutting down while those with investors numbering more than 20 were acquired
Of the reasons why a startup fails, 42% is a result of miscalculation of market demand for the product or service
Venture capital-funded startups have a 75% failure rate
Cashflow (mis)management has caused 82% of startups to fail
Only 4 out of 10 small businesses are profitable
The COVID-19 pandemic has ended the 39-month historic run of the Small Business Optimism index; falling from 104.5 in February to 96.4 in March
Only 13% of entrepreneurs think now is a good time to start a business compared to 26% in February
Over 75% of respondents in a small business trends survey from 2019 say their businesses were currently profitable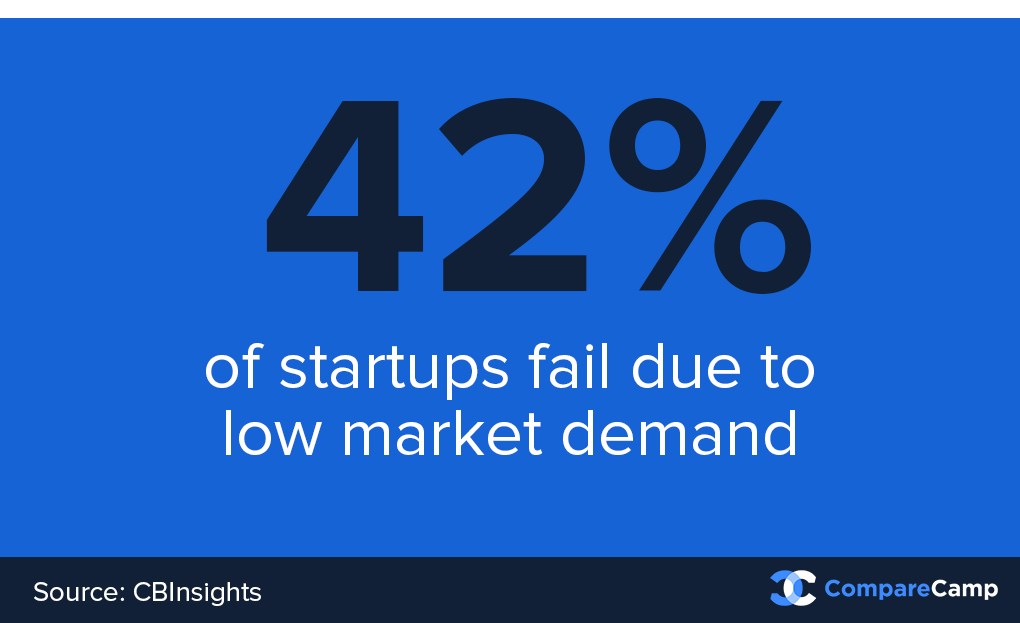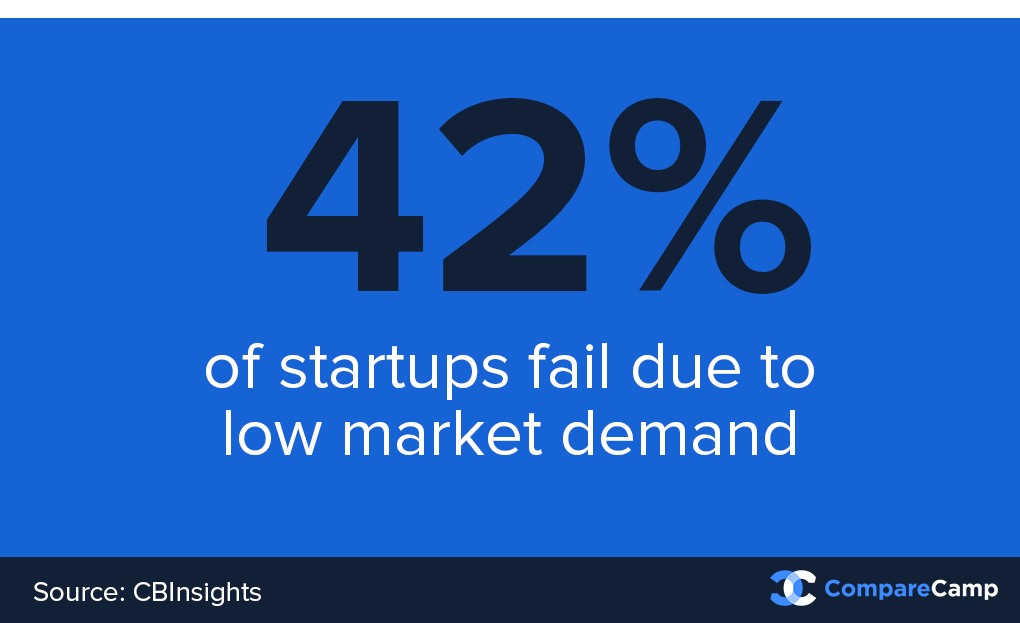 Startup employment statistics
If the length of a business is not a guarantee of startup success, the opposite is true for owners and founders' experience. Previous experience is a predictor of success with the odds increasing favorably when the prior experience was also successful.
Despite a majority of startups having fewer than 100 employees, these small businesses are job generators; providing employment to nearly 50% of the US's workforce.
Strides are being made as more female CEOS and business leaders breaking through the glass ceiling. However, there is still a gender gap in pay, in the number of board seats, founder roles, and in VC-funding received for female-led or co-led startups.
Research from the US Census Bureau and MIT found that tech entrepreneurs aged 60 years are 3.8x likely to found a successful startup compared to entrepreneurs who are in their mid-20s
The average age of a successful startup founder is 45
First-time entrepreneurs have an 18% chance of success for a new venture compared and up to 30% for those who had previous success with a prior venture
Team members not being the right fit make up 23% of the reason why a startup fails
The global ratio of women to men entrepreneurs is 7:10 in an Entrepreneurial Behavior and Attitudes study from 2019
Female-led startups received $3.3 billion in VC funding in 2019, up from $2.86 billion in 2018 or a 15.38% increase
Only 1 in 4 startups have a woman as the its founder
Startups take an average of six months to hire employees
50% of startups have a Chief Financial Officer
Small businesses employ 57.9 million people, making up 47.8% of US' workforce
66% of small businesses and entrepreneurs outsource services from other independent professionals
There were 3,142,941 jobs created in the US in 2019 by startups that were less than a year old
Startup outlay statistics
Starting a business can be done on $5,000—even less. However, it isn't the only expense that a business will pony up money for. Miscalculations and overshooting budgets impact business performance. Other elements that dictate a startup's expenditure are location, government fees, and payroll.
A third of successful small business started with less than $5,000
Even established companies and unicorns like Airbnb, Uber, and Didi Chuxing are getting into billion-dollar debt to raise equity
One of the biggest startup outlays is payroll, with an average of $305,000 for 5 full-time employees
A huge challenge for startup and small business survival is the cost of health insurance benefits
Annual median incomes for self-employed individuals of their own incorporated businesses is $50,347; self-employed individuals at their own unincorporated firms was $23,060
Business equipment costs can set back startups anywhere from $10,000 to $125,000
Manufacturing firms, medical offices, and restaurants are the most expensive businesses to start with initial costs totaling more than $100,000
Startups that need the smallest cash outlay to get started are accounting services, eCommerce stores, and construction and landscaping—needing as little as $5,000 or less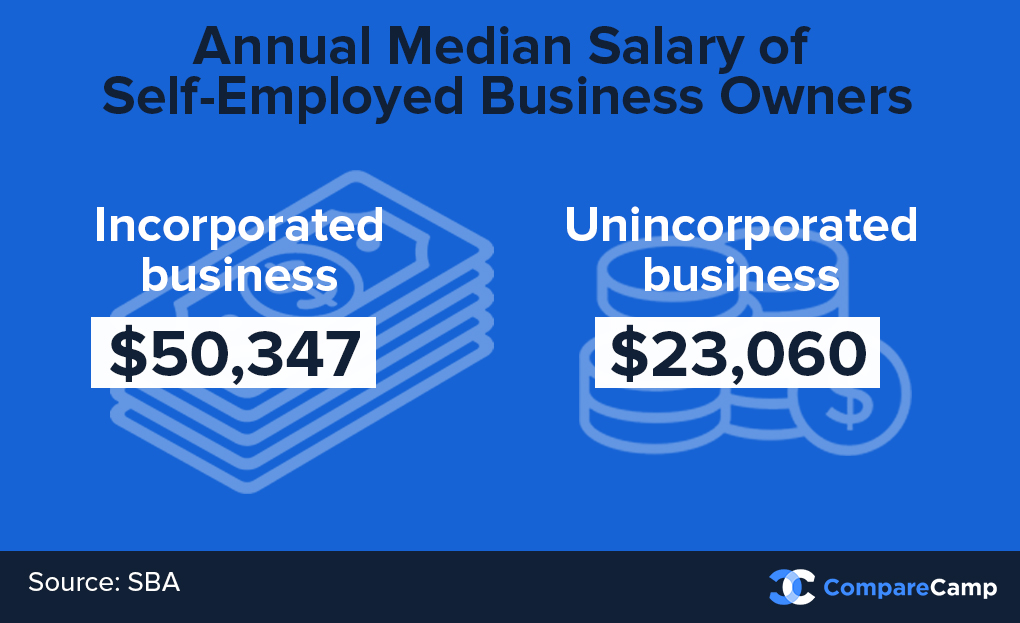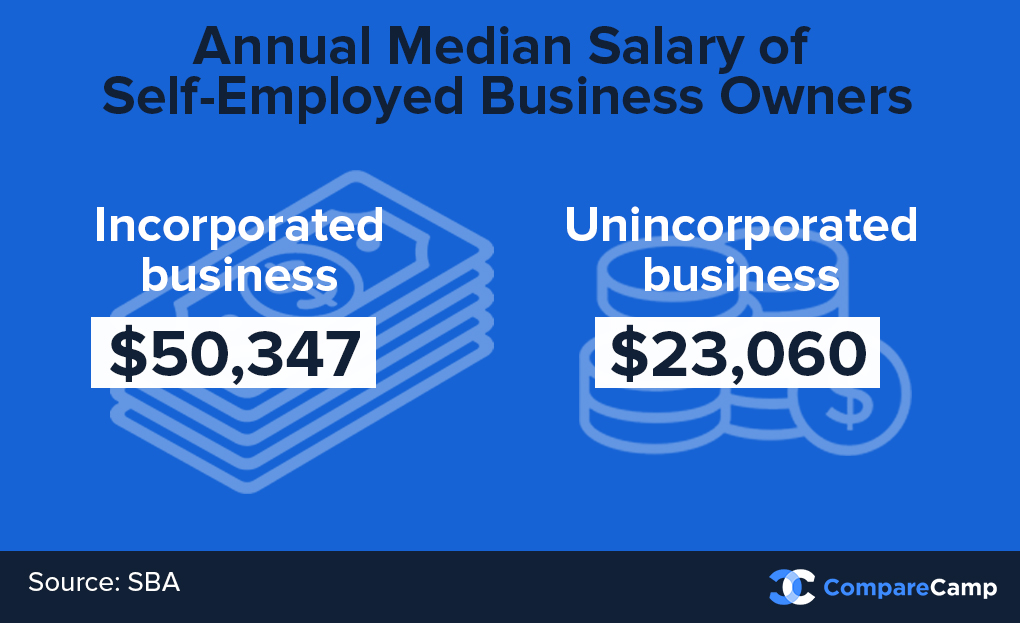 Financing and funding statistics
Over three-quarters of small business owners use personal savings to finance their business. Startups based on advanced technology rely on venture capital, crowdfunding, and other private equity funding to bankroll their business ideas.
The average time it takes to get funded from Seed to Series C is at six years; Seed to Series A in 22 months, Series A to B in 24 months, and Series B to C 27 months
Startups typically raise three Seed rounds before getting Series A funding
VC firms receive over 1,000 proposals annually; VCs are mostly interested in businesses that would need at least an initial $250,000 investment
Startup funding grew 50% across all startup industries between 2012 to 2017
The biggest value of VC investments in startups between the years 1995 to 2018 was from the year 2000 with $119.2 billion followed by 2018's $118.3 billion
2019 is the second-highest yearly venture capital investment on record with $136.5 billion
ANT Financial, a Chinese FinTech company, is the highest valued unicorn of 2020 at $125 billion
$72,271 is the amount in loans the average small business owners have taken on to grow their business
77% of small business owners and startups use personal assets to fund their business
Startup industries statistics
Advance manufacturing, blockchain, and AgTech lead startups industries seeing the most funding globally. The products from these startups aren't necessarily the most disruptive or groundbreaking but improve on current technology and standards particularly in 3D printing, and food production and security.
Although the US dominates the VC-funded starup market, VCs and startups have been globalized with Asia gaining ground and has cut into over 60% of the venture capital pie in 2019
CBD products is one of the high-growth industries of 2020, showing a 1568% growth since 2015
Internet startups got the most VC funding in 2019 with $10 billion, followed by healthcare with $4.9 billion, and mobile and telecoms with $2.9 billion
San Francisco is the city with the most investments per capita invested $17.4 million per 1 million residents
Beijing, San Francisco, New York, and Shanghai are responsible for driving 52.7% of global growth in venture capital investments in startups
The Blockchain industry posted a startup creation growth rate of 23.9% between the years 2011 to 2017
AdTech and Gaming register the biggest drop in startup creation rate – decreasing 56.47% and 62.22% respectively
VC investments in FinTech startups increased 2720.11% between 2010 to 2019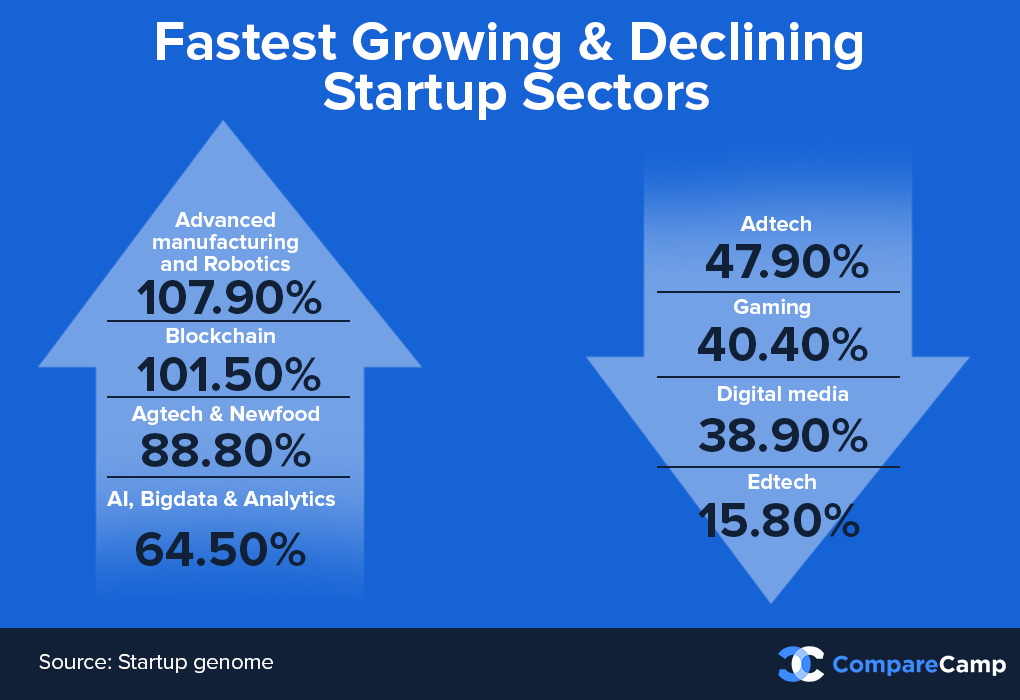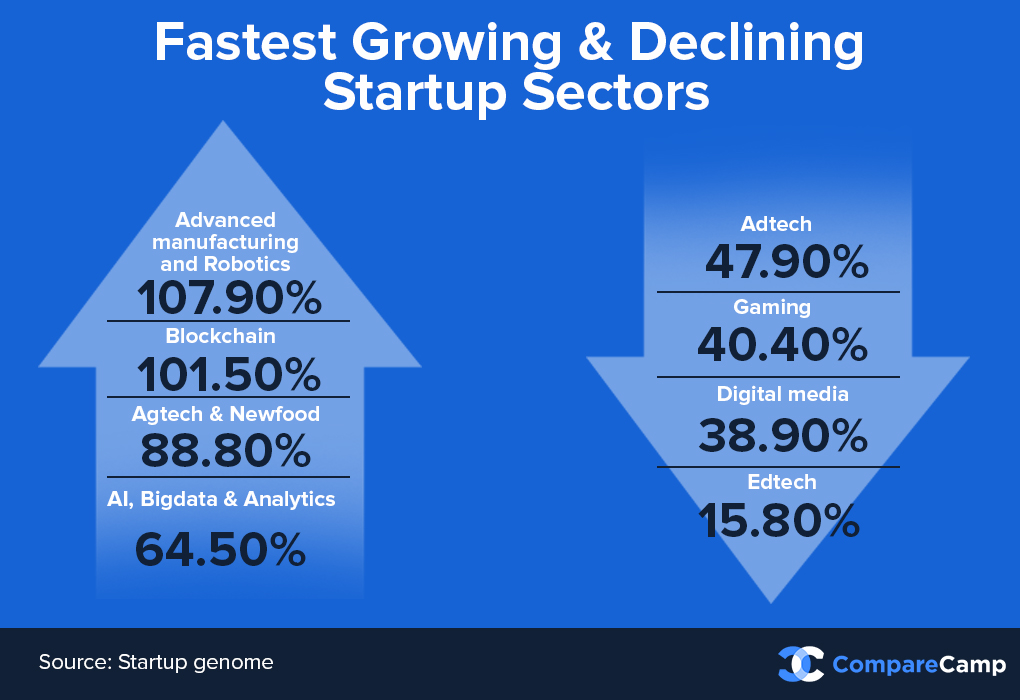 US startup statistics
Private equity firms pumping money into startups are mainly from the US. The country also ranks 6th in worldwide ease of doing business scores, making business setup less bureaucratic for American small business owners and startups.
The US ranks sixth out of 190 economies in ease of doing business with a score of 84
It takes four days for a business to get set up in New York
1 in 4 new businesses in the US are owned by immigrants
69% of US entrepreneurs start a business from their home
There were 187 active unicorns in the US in mid-2019 with a combined private valuation of over $600 billion
98.2% of surveyed firms in the US had fewer than 100 employees
Countries By Rank and Ease of Doing Business Scores, 2020

New Zealand

86.8

Singapore

86.2

Hong Kong SAR, China

85.3

Denmark

85.3

Republic of Korea

84

United States

84

Georgia

83.7

United Kingdom

83.5

Norway

82.6

Sweden

82
Global startup statistics
The spirit of enterprise is alive and well as manifested by the statistics below. The entrepreneurial dream of owning one's own business is universal and applies whether one is from the Americas, Asia, Africa, the Middle East, or Europe.
New Zealand has one of the best scores for setting up a business; it takes only 0.5 day to set up a business, everything is processed online
20% of entrepreneurs start businesses that will be owned and managed with family members
Brazil has the highest rate of solo entrepreneurs at 53% while Sweden has the lowest at 23%
The US and China have the most number of high value startups of 2020
Of the 20 leading unicorns of 2020, 55% are from the US, 35% are from China, and 10% from India
Indonesia, Thailand, Panama, Qatar, Madagascar, and Angola have equal entrepreneurial rates between women and men
Startups in Europe have over 2300 startup investments valued at over €16.9 billion for the first half of 2019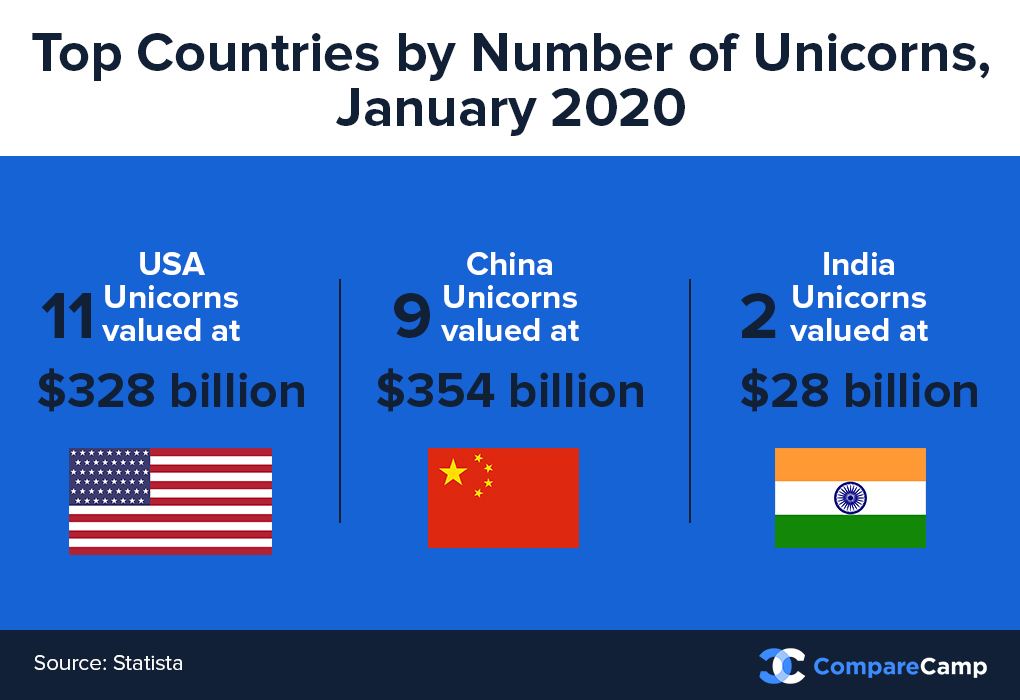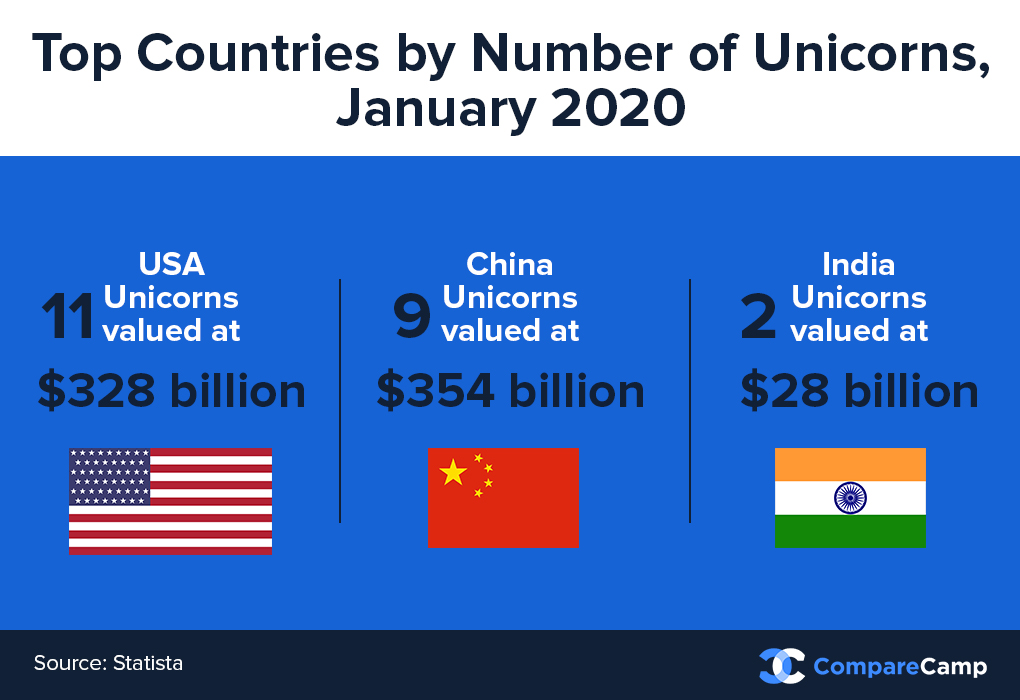 Startup trends
Trends and innovations will continue to develop but as previously mentioned, startups and their unique selling points aren't always about disruptive technology.
Taking after sharing economies-based startups like Uber and Airbnb— startups that utilize unused resources, vehicles and living spaces with technology and a review system—CloudKitchens received $400 million in funding from Saudi Arabia's wealth fund and has been valued to be worth $5 billion. It is the latest among the startup unicorns.
Digital marketing is still a priority for small businesses and startups with 92% of business owners believe that a website is the most effective digital marketing strategy. This has resulted in a disconnect for audience who have been bombarded with marketing material diluting the brand message in the process. Offline brand building is banking on marketing in the form of meetups and events for a more personalized brand experience.
---
References:
SBA | Immigrant Entrepreneurs and Small Business Owners, and their Access to Financial Capital

Small Business Trends: 2020

Is It Time to Outsource Human Resources?

SUBSCRIPTION ECONOMY INDEX

Learning by Doing and Entrepreneurship

NSBA | 2017 YEAR-END ECONOMIC REPORT

The Ultimate Startup Failure Rate Report [2020]

US Labor Bureau | Survival of private sector establishments by opening year

The Top 20 Reasons Startups Fail

75% of startups fail, but it's no biggie

Percentage Increase Calculator

Infographic: The Most Tried and Failed Small Businesses

NFIB | SMALL BUSINESSECONOMIC TRENDS

NFIB | Abrupt Turn in Small Business Optimism Ends 39-Month Historic Run

How Old Are Successful Tech Entrepreneurs?

Research: The Average Age of a Successful Startup Founder Is 45

NBER | SKILL VS. LUCK IN ENTREPRENEURSHIP AND VENTURE CAPITAL: EVIDENCE FROM SERIAL ENTREPRENEURS

A New Study Reveals the 20 Factors That Predict Startup Failure: Do Any Apply to You?

Entrepreneurial Behaviour and Attitudes

US VC investment in female founders hits all-time high

Silicon Valley Bank | Women in Technology Leadership 2019

What Makes Great Startup Teams, And How To Find It

Why You Don't Need to Be an Accountant to Be a CFO

SBA | Small Business Profile

FreshBooks Survey Finds Majority of Self-Employed Professionals Have No Intention of Returning to Traditional Employment; More than 7 in 10 Intend to Grow Their Business

Number of jobs created by start-up businesses that were less than one year old in the United States from 1994 to 2019

One-third of Small Businesses Start with Less Than $5,000

Cities With the Lowest Startup Costs – 2018 Edition

NSBA | 2018 Small Business Profile

14 Business Startup Costs Business Owners Need to Know

Raising capital for startups: how long does funding actually take?

New numbers illustrate how fast fundraising has changed for young startups

ow to Get Money to Start a Business – 8 Startup Financing Options

Global startups – Statistics & Facts

Value of venture capital investment in the United States from 1995 to 2018

Venture Capital Investment in U.S. in 2019 Hits $136.5 Billion – Second Highest on Record: KPMG Report

Leading unicorns worldwide as of January 2020

Small Business Owners: American Dream Is out of Reach

The Q4/EOY 2019 Global VC Report: A Strong End To A Good, But Not Fantastic, Year

Infographic: 4 High-Growth Startup Industries for Entrepreneurs in 2020

Internet Startups Still Win More VC Funding

Rise of the Global Startup City

Global Startup Ecosystem Report 2019

Value of global venture capital investment in Fintech companies from 2010 to 2019

Doing Business 2020

Immigrants Form 25% of New U.S. Businesses, Driving Entrepreneurship In 'Gateway' States

Study: Most U.S. Entrepreneurs Start Their Business at Home

Pitchbook | Unicorn Report 2019

Facts & Data on Small Business and Entrepreneurship

Global Entrepreneurship Monitor 2018 / 2019 Report

Total number of investments in startups in Europe from 1st half of 2015 to 1st half of 2019

CLOUDKITCHENS RAISES $400 MILLION TO BECOME TRAVIS KALANICK'S SECOND UNICORN

Small Business Marketing Trends for 2018 – 10 Stats and Insights