Technology is continuously changing the workforce. With the emergence of various companies that offers part-time and short-term contracts such as Uber, Lyft, and Fiverr, job seekers have more career options to explore. A portion of the current workforce is inclined to join the gig economy.
The gig economy is defined as "a labor market characterized by the prevalence of short-term contracts or freelance work as opposed to permanent jobs." Opportunities under this system give more power to the employees rather than the employer. And with the rise of demand for more flexibility, we compiled mind-blowing gig economy statistics that can give you a clearer picture before your next big career move.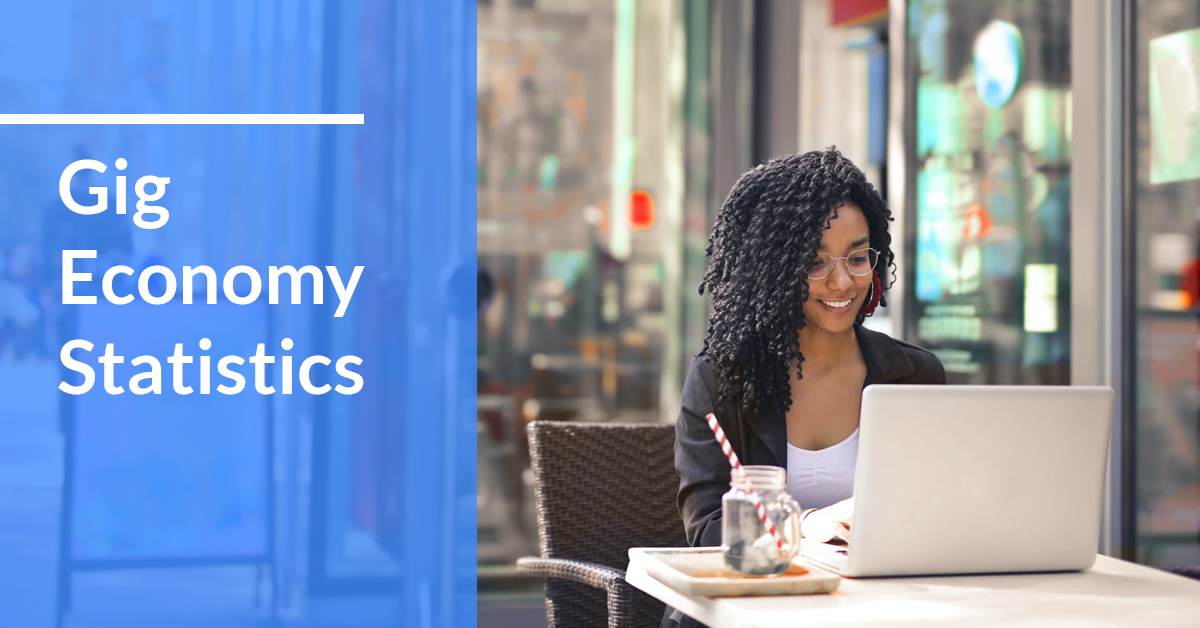 Gig Economy Statistics Table of Contents
Gig Economy: The Big Picture
Various studies and articles in the interwebs will tell you that the gig economy is thriving and that's true. With the presence of the Internet, the gig economy is continuously growing its workforce. Employers from around the globe are beginning to outsource their manpower across different countries — either by direct hire or through gig platforms. Additionally, they employ various types of collaboration software to maximize productivity. The economic implications of the gig economy cannot be also ignored. The total revenue of the gig economy can reach trillions of dollars.
The gig economy is expected to grow by 17.4% from 2018 to 2023
In 2019, the global gig economy reaches 4.5 trillion USD
The US freelancers added about $1.28 trillion in revenue to the gig economy in 2018
The UK's gig economy doubled in size from 2016 to 2019
Freelance Workforce Statistics
Gigs aren't just limited to artists and musicians anymore.
The gig economy is becoming a major force that transcends and transforms various industries. Gone are the days where your only option for a career is a 9-to5, cradle-to-grave job. Now, with the gig economy, job seekers are given more options like flexibility in the workplace and more. In the US, freelancers are on their way to becoming the largest part of the workforce. If you take a look at the statistics below, you'll know that a lot of people are inclined to do freelance jobs.
About 30 million freelancers are long-term oriented
63% of full-time executives are more likely to become an independent contractor
It is estimated 36% of US workers participate in the gig economy
A 2017 prediction stated that more than 50% of the US workforce will participate in it by 2027
There are 57 million freelancers in the US
29% of workers in the US have an alternative work arrangement as their primary job
55% of gig workers also have a regular or full-time job
37% of full-time freelancers, independent contractors and consultants are between the age of 21 and 38
The majority of freelancers or 57% have a bachelor's degree
32% of freelancers possess highly specialized skill sets
1 in 6 traditional workers will become a gig worker
Young people are more likely to freelance
60% of freelancers said they freelance by choice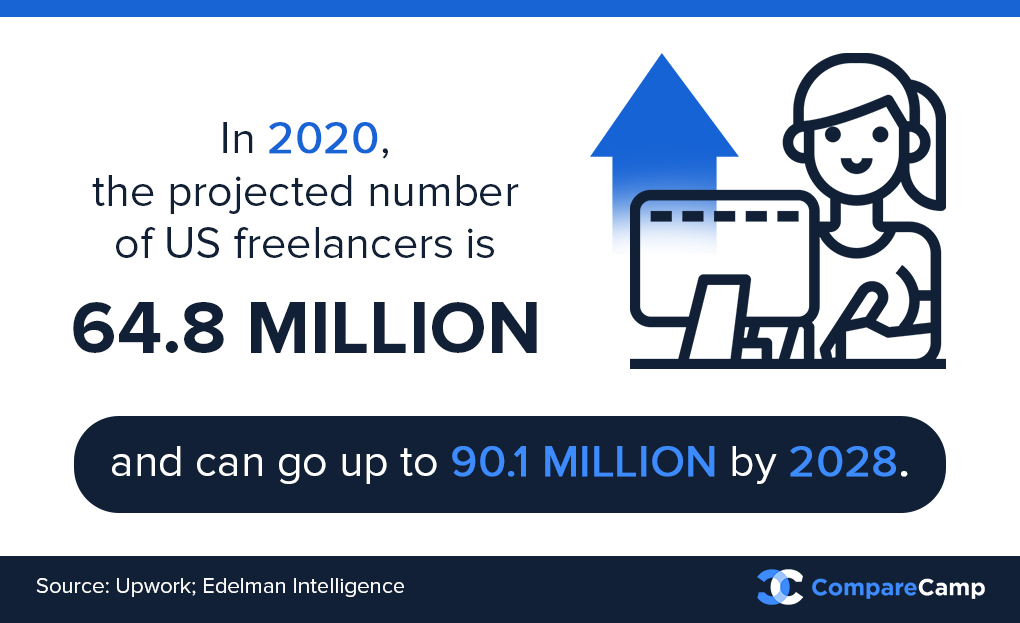 Technology in Gig Economy
It isn't just the companies using remote project management tools that are leveraging technology. Nowadays, searching for a job is easy, and looking for multiple gigs is even easier. With the help of your smartphone, finding your dream job is one click away. There is a wide array of platforms where you can find gig work. Moreover, social media is even used to promote their skills. One thing's for sure if you want to excel in the gig economy, know how to capitalize on technology to make you the stand-out candidate.
53% of those between 18-29 in the US use their smartphones to get a job
Over 70% of gig workers get their jobs from freelancer platforms and websites
About 3 out of 4 gig workers say technology makes their work easier to find
74% of freelancers use social media for self-promotion
Has the Number of Freelance Work You Obtained Online Changed in the Past Year?
Source: Upwork
Created by CompareCamp.com
Gig Employers Statistics
The workforce is slowly changing. The concept of work-and-life balance isn't the same as it was years ago. Before, the working life of employees was mostly dictated by their employers — their location, the ability to engage in side gigs, and more. Nowadays, with the widespread availability of the gig economy, people have more control over their time. To cope with this global migration of workers, companies need to learn and look at the various statistics to compel them to join the gig economy.
In the US, there are about 170 gig economy businesses that only employ freelancers
80% of major US companies are on their way to employing freelance workers
40% of companies see gig workers as a big part of their workforce in the coming years
30% of Fortune 500 companies are hiring via various freelancing platforms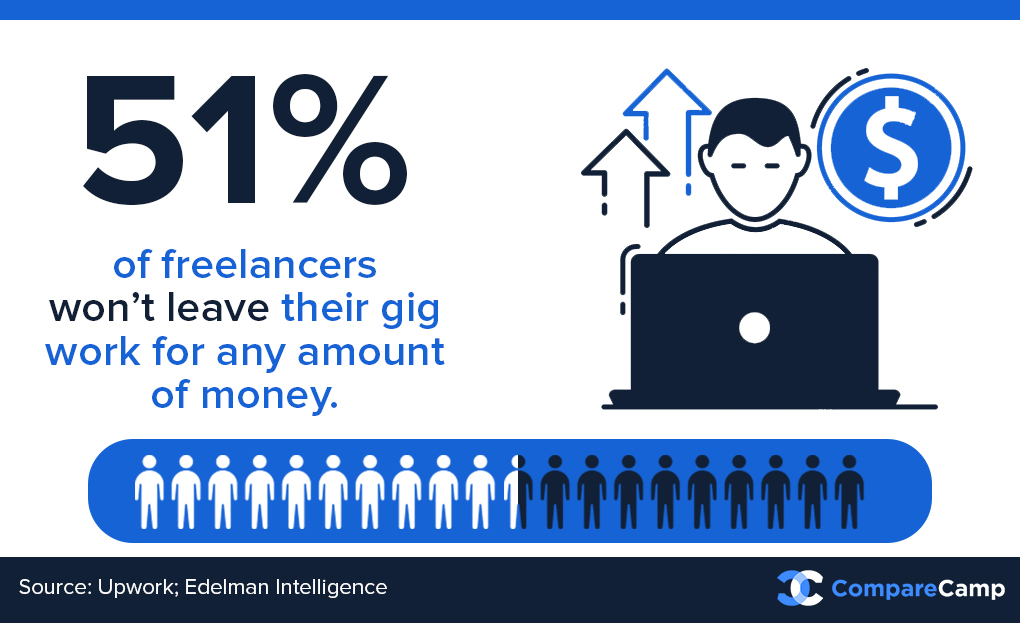 Gig Workers Income Statistics
The numbers don't lie — freelancing is a great source of income. This is only one of the many reasons that compel people to venture into freelancing. The setup for most gig works are work-from-home, this makes juggling multiple jobs easier. Furthermore, this means that people can now choose to have multiple sources of income without leaving the comforts of their own home. But is the risk of shifting your career worth the pay? Let the numbers below convince you.
The average freelance hourly rate for freelancers is $21 across the globe
The majority of freelancers earn an average of $67,175 a year
30% of freelance writers make under $10 per hour during their first year
Women freelancers have smaller pay gaps compared to their traditional counterpart
Companies in the field of artificial intelligence pay their gig workers an average of $115.06 per hour
40% of US-based workers generate a large part of their income via the gig economy
Gig Workers Satisfaction Statistics
There are many factors to consider before knowing if an employee is satisfied in his or her current job. Is the pay good? Is the work environment not toxic? Does the company promote a healthy work-life balance? These are only a few of the questions given by people engaged in traditional employment, and statistically speaking, gig workers are much happier and more satisfied than regular workers.
Over 50% of full-time gig workers feel more financially secure than regular workers
Working from home improves the performance of employees
Over 75% of freelancers say they wouldn't leave gig work behind for a full-time job
70% of freelancers said a better work-life balance as the reason they choose gig work
78% of gig workers say they're happier than traditional workers, while 68% say they're healthier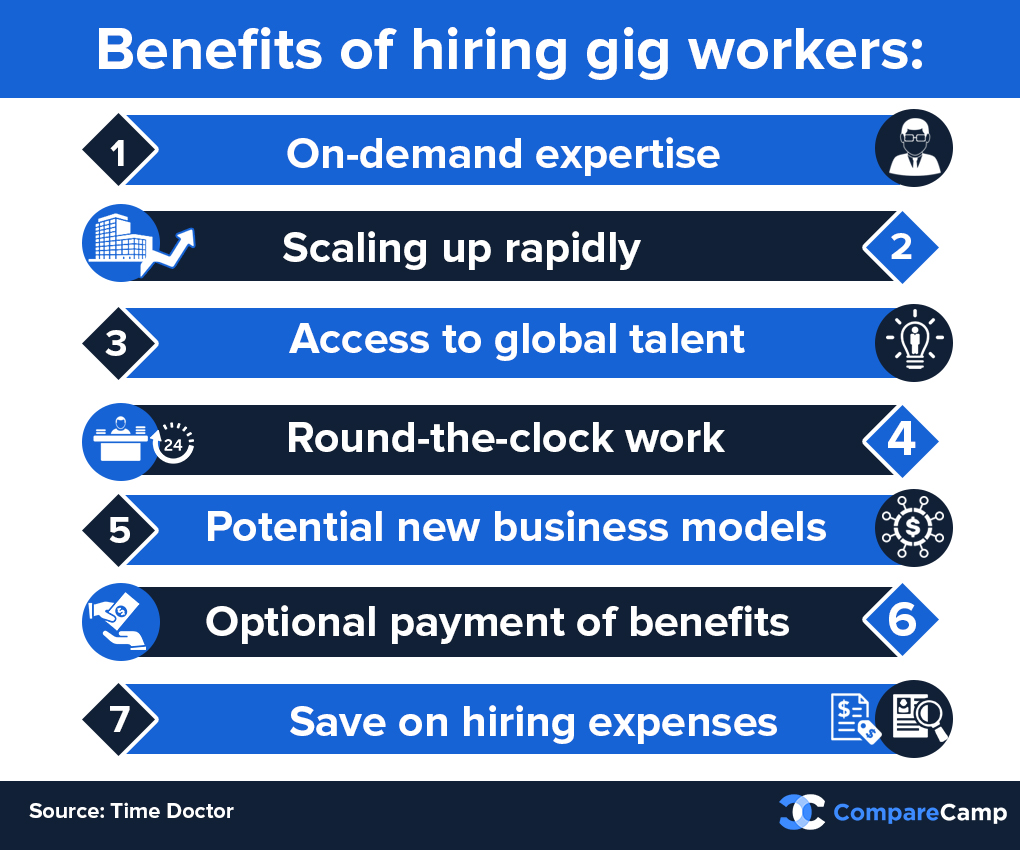 Gig Economy in the 2020s and Beyond
The gig economy is showing no signs of slowing down. More and more people are considering gig work as a more lucrative way to earn than a regular full-time job. Moreover, a lot of companies are seeing the potential of the gig economy by investing in various software to facilitate the new work-from-home setup that usually comes along with hiring freelancers.
At least 90% of Americans are open to the idea of freelancing
Half of the working population in the US will turn to freelance work over the coming years
63% of regular full-time employees will leave their current jobs for a freelance gig
Over the next five years, 52% of the U.S. adult workforce will either be working or will be part of the gig economy
Gig Economy: Should You Make Your Next Career Move?
So what do these numbers and statistics mean? Is it enough to make you shift your career into the gig economy? It depends. Various studies forecasted that the gig economy will continue to rise alongside the advancement of technology.
Looking at it on writing, freelancing sounds like an easy thing to do. However, there are still pros and cons for you to consider. Freelancing and gig work brings flexibility but takes away stability. If you're willing to do that trade-off then why not give it a try?
Most of the time, gigs require freelancers to work from home. Contrary to popular belief, working remotely is not remotely easy. You need to set up your own home office to limit distractions. There are also essential tools and apps that you need to have before you get started.
The statistics above are not only meant to inform potential gig workers but also to give startups and big businesses a clearer picture of how the gig economy works. Companies need to be ahead of the times to greatly capitalize on this global exodus of the workforce. However, if you are skeptical about having remote teams, there is a wide array of software to help you out.
---
References:
Gig economy in Britain doubles, accounting for 4.7 million workers

Sixth annual "Freelancing in America" study finds that more people than ever see freelancing as a long-term career path

Mavenlink Study Finds that Senior Executives, Not Millennials, Driving US Towards Gig Economy

What Workplace Leaders Can Learn From the Real Gig Economy

Freelancing in America: 2017

NEW REPORT: Understanding The Long Tail Of The Gig Economy

MBO partners | State of Independence in America 2018: The New Normal

Payoneer | 2020 Freelancer Income Report

PYMNTS | Gig Economy Index

McKinsey | INDEPENDENT WORK: CHOICE, NECESSITY, AND THE GIG ECONOMY

Will Your Smartphone Get You a Job?

Can the blockchain really disrupt the middleman freelance platform market?

4 gig economy trends that are radically transforming the US job market

Intuit | Intuit 2020 Report

THE NEW FREELANCERS: TAPPING TALENT IN THE GIG ECONOMY

Freelancing in America 2018

ZipRecruiter – Freelance Salary

30% of Freelance Writers Make Less Than $10 Per Hour Their First Year, Survey Says

10 Highest Paying Gig Economy Jobs of 2018

The Benefits of Working From Home

Here Are the Top Reasons People Choose to Freelance

Manpower Group | GigResponsibly