Skydiving gives a person a surge of adrenaline that makes one almost euphoric. Jumping from 14,000 feet above the ground has that kind of effect. Since 2000, the number of skydive jumps has risen. The fact that it is considered as a risky sport does not seem to have dampened people's enthusiasm for the activity.
In the following skydive statistics, we will see how the sport's industry itself is faring. We will also look at the costs of some of the equipment required for skydiving. After that, we will delve into essential numbers such as dives per year and the number of fatalities related to it.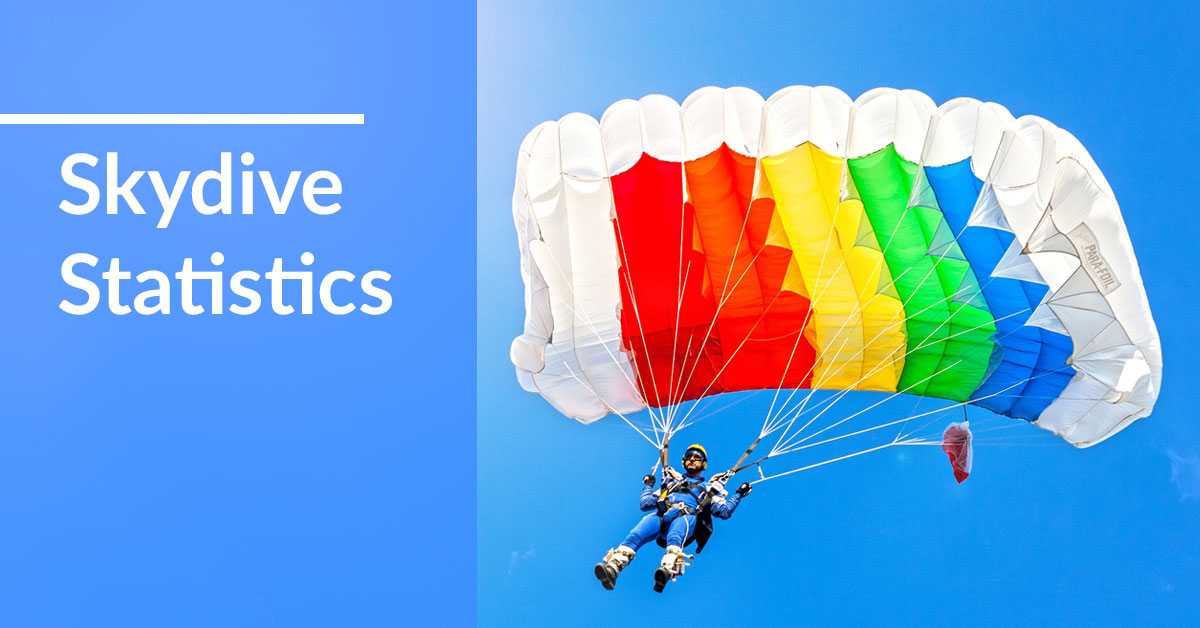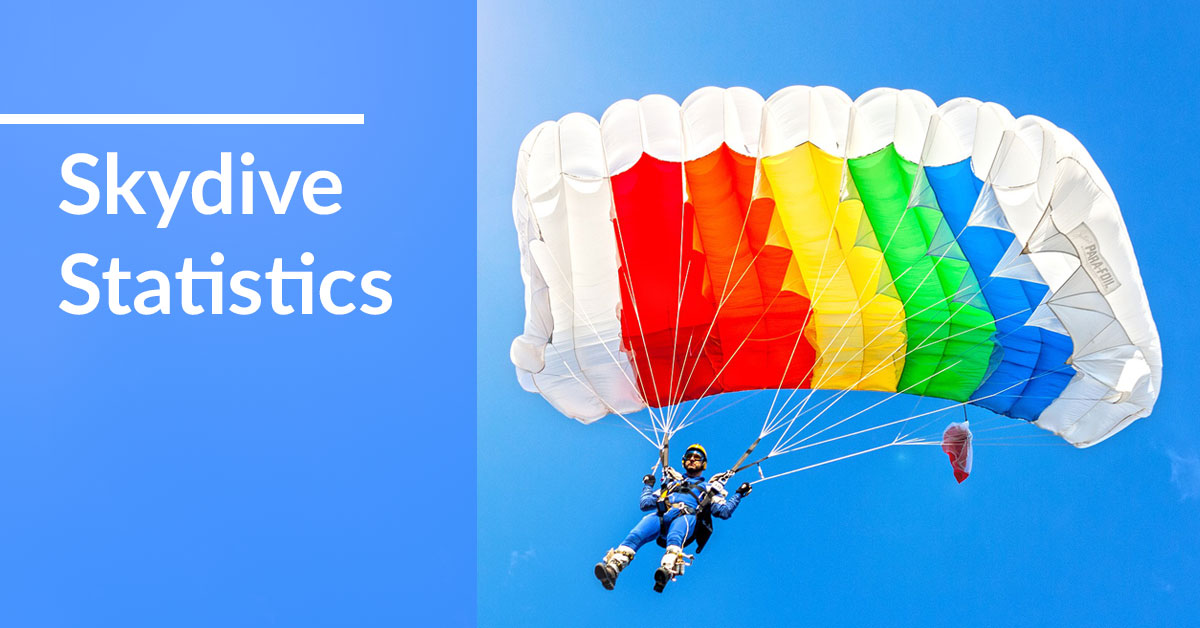 Skydive Statistics Table of Contents
Skydive Industry Statistics
Skydiving is a popular sport, and there are people that enjoy it in different corners of the world. It is on plenty of people's bucket lists. Plus, it is a sport in itself, and some do it almost every week and those who even join competitions. In the United States, the number of skydiving jumps per year has gone up steadily since 2007. How has the skydiving industry fared since then?
There are 230 drop zones in the US affiliated with the United States Parachute Association (USPA).
According to Glassdoor, the average base pay of a skydiving instructor is $37 per hour.
But another source says that an instructor can earn anywhere between $18,000 to $30,000 a year.
The Federal Aviation Administration (FAA) requires instructors to have logged 500 jumps with a minimum of three years' experience in parachuting.
Job growth rate projection is at 12%, particularly for self-enrichment education instructors.
Skydive Equipment Manufacturers
Skydiving has specialized equipment. Among the things that skydivers have to get ready are a skydiving container, a main parachute as well as a reserve parachute, an altimeter, and a helmet. Apart from that, those who are preparing to jump need to have the proper gear or apparel. People can opt to rent them or to buy them if they are serious about the sport.
Multiple sporting lines provide jumpsuits and equipment. But how much do they set back a skydiver?
Automatic Activation Device (AAD)
An AAD from recommended manufacturers is priced between $900 to $1,400 or higher.
It can have a lifetime of 12 to 15 years.
Maintenance, depending on the unit, is priced at $80 to $160 per year.
Parachutes
A full system that includes a main and a reserve parachute can cost anywhere between $2,500 to $3,000. And that is for used systems.
New and complete systems have a range of $5,000 to $9,000.
A used reserve parachute alone can cost as little as $600.
An expensive, but still used, reserve parachute can go for over $1,025.
A new reserve parachute can have a $2,000 price tag.
Reserve parachutes have to be repacked every six months. This costs $60 to $70.
It is recommended that used reserve parachutes have five or fewer rides and are 15 to 18 years old only.
A new main parachute can set back a jumper $2,000.
It is advisable that a used main parachute has 200 jumps or fewer.
Source: Performance Designs
Harness or Container
A used harness or container is recommended for those new to skydiving, as they tend to not land on their feet 100% of the time.
20% of newbies have difficulties finding a used harness that is suitable for their body size.
A container's minimum price is over $1,000 and can go beyond $3,000 these days.
Altimeter, Helmet, and Jumpsuit
There are economical altimeters that cost only $15, but these are not advisable for use in skydiving. What is recommended is a wrist-mount altimeter, which can cost upwards of $200.
Full-face skydiving helmets add around $200 to $300 of the gear cost.
Helmets that have no face protection have a $100 to $200 price range. But with the addition of goggles, the total could reach $300, too.
Jumpsuits can be anywhere between $300 to $500.
Skydive Activity by the Numbers
Now that we have an idea of how much a person needs to spend on full gear, let us see the statistics for the sports in the country and elsewhere in the world.
In 2018, there were an estimated 3.3 million jumps. This is 200,000 fewer jumps than 2015, which is the year with the most jumps so far since 2000.
Around 350,000 people complete these jumps each year.
The USPA has around 35,000 members who frequently make jumps.
When freefalling, a skydiver experiences wind at a speed of 100 miles per hour.
The most jumps completed in a day were 640, and the recognition goes to Jay Stokes. He made the jumps in less than 2 minutes and 25 seconds apart.
4,000 meters–this is the altitude of the freefall when a man in Sweden got the first tattoo done in mid-air.
400 skydivers made the most difficult and intricate group skydive at over 23,000 feet in 2006.
Source: United States Parachute Association
Skydive Accidents Statistics
Like in other sports, accidents do happen in skydiving. That is because, despite precautions and stringent regulations, factors beyond control still occur.
USPA members reported 2,147 skydiving injuries in 2018 that required professional medical care. That means there was one injury for every 1,537 dives.
Fatalities in the US numbered 13 in 2018. In contrast, there were 24 fatalities in 2017.
The highest number of fatalities in the US was in 2001 at 35.
Tandem skydiving has a better safety record than individual skydiving. The activity only had 0.003 student fatalities per 1,000 jumps over the past decade.
Parachute malfunction rate is one in 607 jumps.
In around 5,766 main parachute malfunctions in 2018, nine occurred among solo jumpers.
For reserve parachutes, that number is one in 640 deployments.
Compared to base jumping, which has a one in 60 fatality rate, skydiving is safer.
Source: United States Parachute Association
Are You Ready To Skydive?
Skydiving is a fun but costly activity. Apart from the steep cost of equipment, you still have to think about travel costs to an accredited center, the price of training, and the expense for a one way trip to the air via helicopter or airplane. Still, if you want to dedicate yourself to the sport, you can certainly say that investing in it is worth it.
Nevertheless, you have to be mindful of the state of your equipment, the weather, the aircraft, and the person you are skydiving with in case you are doing tandem jumps. Authorities at skydive centers take care of keeping up with regulations regarding aircraft, tandem jump partners, and making decisions regarding jumping in certain weather conditions. What is up to you is the maintenance of your equipment. While injuries and fatalities are low, you would not want to be a statistic either.
That said, have fun skydiving!
---
References:
Skydiver's Information Manual

Skydiving Instructor: Salary, Duties and Requirements

Skydiving Automatic Activation Device

AADs: Which One To Buy?

How Much Does Skydiving Cost?

Paragliding Reserve Parachute

How much does a parachute cost?

CHOOSING YOUR NEXT CANOPY

CONTAINER/HARNESS SYSTEMS

Helmets

How Skydiving Works

Skydiving Safety

Skydiving Facts

HOW SAFE IS TANDEM SKYDIVING

Statistics

YOUR CHANCES OF DYING RANKED BY SPORT AND ACTIVITY